Picture of Baptism: Water takes the shape of the Rosary
Argentina 10/24/2009: A single mother, Erica Mora, so poor to the point of not having a way to pay for a picture taken a photographer at the baptism of her son, Valentino Mora, asked Maria Silvana Salles ( who was io that church to take pictures of other babies) if she would take one to her son free of charges. The photographer said yes and took one to Valentino with a traditional camera with film. In receiving the picture from the development, Maria Silvana noticed with surprise that the water had taken the shape of the Rosary with cross. Now, the people of San Martín de Despeñaderos (Argentina) visit the studio of the photographer to see or buy the picture.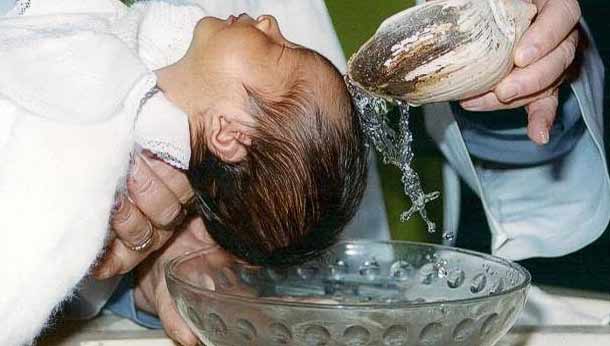 The photo of the baptism of Valentino Mora is sweeping the Internet, because in the very moment  Father Osvaldo Macaya pours holy water, the liquid that falls form a rosary. This story began with the baptism of Valentino, a baby of just over a month, son of Erica Mora, single mom, held in the Parish of the Assumption of Our Lady of the province of Cordoba Despeñaderos.
At the time that Valentino came to the baptismal font to receive the sacrament of baptism, Erica asked the photographer Maria Silvana Salles, who was in the hired by other parents place to take a picture of her son as a favor, since the young mother had no way to pay.
Maria Silvana,  the photographer, moved by Erica's request, agreed to take a picture of Valentino.
Maria Silvana works with a traditional camera and had to send the film to develop in Córdoba.
The surprise was even greater when he was sent copies and Silvana warned that spilled water from the head of Valentino formed a perfect rosary.
Silvana showed the picture to  Father Osvaldo Macaya who could not believe what his eyes were seeing.
The photo of the baptism of Valentino has awakened faith in the people of Despeñaderos who come to the humble studio of Erica Valentino Mora to look at.
The truth is that this sign mobilized Despeñaderos faith, whose neighbors who go through the study of Silvana to buy the picture as if it were a prayer card.
Meanwhile Maria Silvana Salles  told how he lived this experience: "I was hired to go to take pictures of a baptism and when I got to church this girl asked me if I could take pictures of his son as well,  when I got photos back from the development center, I realize that there there was a rosary "
"When I saw it I went to talk to Father (Macaya)… Many people come to see it even from other towns, this is a sign that you have to believe in God"