Pay attention to your thoughts, words and deeds
(Please read from begin to end)
June 27, 2018
Once again, I (Maureen) see a Great Flame that I have come to know as the Heart of God the Father. He says: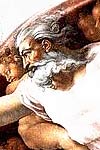 "I am your Heavenly Father. I come to pronounce the way of Wisdom and Truth. As you, My Messenger,* watch the newly-hatched birds grow each day, you note a steady progression in their quest to reach maturity. In the spiritual life, the soul's progress is not as steadily progressive as the physical growth of the little birds."
"There are many components working for and against deeper spirituality. The soul may be on fire with the Holy Spirit one day and in the dryness of the spiritual desert the next. He may progress up the ladder of virtue rapidly at first, but then fail in virtue and become too discouraged to continue forward. He may be attacked by friends and family for pursuing holiness and find it too difficult to continue on. Just as the baby birds have to learn the identity of other birds and animals who are a threat to them, the soul must learn to recognize spiritual danger – pastimes, certain people and even goals not in accord with God's Will."
"Be spiritually wise so that you can recognize spiritual dangers and overcome them."
* Maureen Sweeney-Kyle
June 26, 2018
Once again, I (Maureen) see a Great Flame that I have come to know as the Heart of God the Father. He says: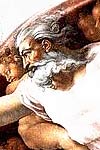 "I am the Eternal Now. I have come to ask of My Remnant Faithful the effort of appreciating the present moment. Your salvation is in the present moment, not in the past or the future. Trust is the key to living in the present. The soul must trust in My Mercy washing clean his past. He must trust in My Grace which awaits him in the future. As part of My Remnant, he must depend upon each present-moment grace."
"Remember always, in your acceptance is your surrender. In good times and in bad, your surrender will be challenged. You must be wise enough to discern every inspiration and every breach of trust. Never presume that you can be complacent in this regard. Guard the present moment by choosing wisely the activity around you."
"I am ready to give every grace to the Remnant to help them to succeed in using the present to their advantage. I am the Author of every present moment."
Read Psalm 19:14+
Let the words of my mouth and the meditation of my heart
be acceptable in your sight,
O Lord, my rock and my redeemer.
June 25, 2018
Once again, I (Maureen) see a Great Flame that I have come to know as the Heart of God the Father. He says: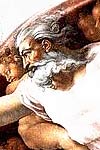 "I am the Father of all Ages and of all generations. I speak, once again, to My Remnant Faithful. You are hidden from the eyes of the world, but you are prominently present in My Heart. You must be stalwart and brave in a world which proclaims its own religion – a religion of self-love. This self-love takes the form of self-fulfillment in any fashion that pleases the soul – not Me."
"Do not be fooled into thinking that religions, even the Commandments, can be changed to suit individuals. The Commandments and religion were given to you from Me as a structured path to Heaven. Be persistent in your devotion to them. This obedience is far above any 'new' inspiration that leads you away from the Truth."
"The Truth leads you towards Heaven. Untruth is a compromise of reality and confuses the path to Heaven. You cannot circumvent My Commandments and still expect to reach Heaven. These days, there is a spirit of prideful independence which contradicts obedience to My Commandments. Search your hearts to discover any such motive that is leading you astray."
Read Deuteronomy 5:1+
And Moses summoned all Israel, and said to them, "Hear, O Israel, the statutes and the ordinances which I speak in your hearing this day, and you shall learn them and be careful to do them."
June 24, 2018 – Solemnity of the Nativity of St. John the Baptist
Once again, I (Maureen) see a Great Flame that I have come to know as the Heart of God the Father. He says: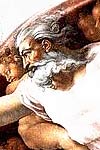 "The surrender of a heart to My Dominion requires an act of humility and an act of love. The soul must give up his own will in favor of My Will. This means he must accept what is happening to him in the present moment as part of My Plan for him. This is most difficult when humanly there does not seem to be a plausible reason for all that I allow in the soul's life."
"Often My reasons remain hidden and may not be revealed until eternity. This is difficult to accept in a world that demands justification. It is possible to accept only through a perfection in Holy Love. The cross is always a part of every life and purifies the soul of inordinate self-love. Love is the key to trust. So then, the more you love Me, the more you trust Me. I am preparing each soul for Paradise."
Read 1 Corinthians 2:9+
But, as it is written, "What no eye has seen, nor ear heard, nor the heart of man conceived, what God has prepared for those who love him,"
June 23, 2018
Once again, I (Maureen) see a Great Flame that I have come to know as the Heart of God the Father. He says: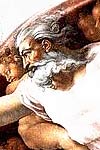 "I am the Father of all Ages. I come to remind the heart of the world of its place before Me. I am the Creator. I am the vindicator through My infinite Mercy. Therefore, O Man of Earth, show Me respect and pay Me homage. Do not trust in your own efforts apart from Me. Remember, sacrifice is what strengthens your prayers. When you offer Me sacrifices, I see your efforts and am moved to answer your prayers. Sacrifice brings you deeper into My Heart."
"I am now forming the Remnant – calling them from every stage of life and from many nations. The Remnant will be a nation unto itself – not recognized by all – but united in purpose. The purpose is to restore and to maintain the Tradition of Faith as practiced in ages past. These days, every sort of enemy attacks the Faith. All have one thing in common – the selfish desire to reinvent the Faith and to reinterpret My Commandments. I will not honor such efforts. Begin to understand that the Remnant is encouraged by Me to suit My purpose, not man's purpose. The Remnant must value and protect the Tradition of Faith in hearts."
Read Ephesians 2:19-22+
So then you are no longer strangers and sojourners, but you are fellow citizens with the saints and members of the household of God, built upon the foundation of the apostles and prophets, Christ Jesus himself being the cornerstone, in whom the whole structure is joined together and grows into a holy temple in the Lord; in whom you also are built into it for a dwelling place of God in the Spirit
June 22, 2018
Once again, I (Maureen) see a Great Flame that I have come to know as the Heart of God the Father. He says: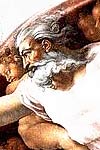 "I am the Father of all Ages. As My Remnant children, look for ways to get along peacefully with one another. Do not be critical of each other, but in Holy Love be peacemakers. Solve your differences with Holy Love. Do not look to be the one who must be pleased, but try to please others. Do not manufacture problems by being over critical."
"Form opinions based upon Holy Love. Do not allow your opinions to be unchangeable. Try to see some merit in others' opinions. Be open to making allowances."
"Once again, I tell you, it is important that My Remnant be united in Holy Love. Be united in the purpose of maintaining the Tradition of Faith for future generations. If you waste time squabbling over trivialities, you cannot be united in what is important."
Read Philippians 2:1-4+
So if there is any encouragement in Christ, any incentive of love, any participation in the Spirit, any affection and sympathy, complete my joy by being of the same mind, having the same love, being in full accord and of one mind. Do nothing from selfishness or conceit, but in humility count others better than yourselves. Let each of you look not only to his own interests, but also to the interests of others.
June 21, 2018
Once again, I (Maureen) see a Great Flame that I have come to know as the Heart of God the Father. He says: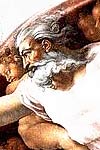 "I am the Eternal Now. I come to offer spiritual advice which is meant to ease the journey in spiritual holiness. Never try to impress others with the depth of your holiness. That needs to be between the soul and Me. Do not judge others in regards to the depth of their holiness. Once again, that is a matter between Me and every soul. Both of these situations I just mentioned are signs of spiritual pride."
"Be good examples of Holy Love by offering help when needed with a loving heart. Do not always count the cost to self in every situation. Think first of other's needs."
"Do not be too critical of yourself. That is a ploy of Satan. Examine your conscience with a resolve to improve but avoid scolding yourself. Be at peace."
Read Galatians 5:13-15 +
For you were called to freedom, brethren; only do not use your freedom as an opportunity for the flesh, but through love be servants of one another. For the whole Law is fulfilled in one word, "You shall love your neighbor as yourself." But if you bite and devour one another take heed that you are not consumed by one another.
June 20, 2018
Once again, I (Maureen) see a Great Flame that I have come to know as the Heart of God the Father. He says: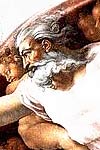 "I am the Lord of each present moment. Do not allow Satan to rob you of the present moment. Controversy fans the flames of confusion. These days, controversy begins in hearts, but rapidly becomes public, undermining reputations and authority. Federal and local governments and agencies are affected making Truth a controversy."
"When Truth is challenged, leadership is challenged. You must set the goal in your hearts which furthers the cause of Truth and continually go back to it, making sure you have adhered to the right path. Be careful whose advice you listen to, as not everyone has an honest goal. Following is as important as leading."
"Surrender any hidden ambition. Try to discover such ambition or jealousy in your own heart. Let My Son and the Most Holy Mother* lead you in humility. Humility is the foundation of a solid leadership. Such leadership puts an end to confusing controversy."
* Blessed Virgin Mary
Read Hebrews 3:12-13+
Take care, brethren, lest there be in any of you an evil, unbelieving heart, leading you to fall away from the living God. But exhort one another every day, as long as it is called "today," that none of you may be hardened by the deceitfulness of sin.
June 19, 2018
Once again, I (Maureen) see a Great Flame that I have come to know as the Heart of God the Father. He says: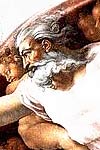 "I am God the Father, Creator of time and space. I come to tell you, as clearly as I can, that the perfection of My Call to mankind is perfection in Holy Love. This Call bespeaks perfection in your relationship with Me, My Son and the Holy Mother."*
"No one enters Heaven outside of Holy Love. Therefore, believe in your hearts that loving Me and pleasing Me, My Son and Mary Most Holy is the key to your salvation. I cannot tell you in clearer terms."
"The way to live in Holy Love is to obey My Commandments. These Commandments embody Holy Love and Holy Love embodies My Commandments. Remembering this should inspire you to embrace the meaning of Holy Love."
"You are given these extra present moments, hours, days to choose your own salvation. Choose to live in Holy Love and the key to Heaven will come alive in your heart. Become, in this way, a child of the Remnant Faithful."
* Blessed Virgin Mary
June 18, 2018
Once again, I (Maureen) see a Great Flame that I have come to know as the Heart of God the Father. He says: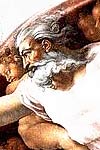 "I am the Father of all life and Lord of each present moment. No one exists without My Permission. Each soul is given ample opportunities to convert to the Truth. The Truth is My Commandments. I call each soul to renew commitment to the Truth in every present moment. Renew your commitment by obeying My Commandments."
"My Remnant Faithful must be outward signs of this obedience. Every thought, word and deed must be proof of this. Let all your appetites center on this obedience. It cannot be otherwise for My Remnant."
"Surrender, then, all worldly attachments and concerns. Allow yourselves a more intimate relationship with Me. When you desire this closeness, you will trust Me more than ever before. It is then you will be able to embrace My Divine Will, which is Love and Mercy itself."
Read Galatians 6:7-10+
Do not be deceived; God is not mocked, for whatever a man sows, that he will also reap. For he who sows to his own flesh will from the flesh reap corruption; but he who sows to the Spirit will from the Spirit reap eternal life. And let us not grow weary in well-doing, for in due season we shall reap, if we do not lose heart. So then, as we have opportunity, let us do good to all men, and especially to those who are of the household of faith.
June 17, 2018 – Father's Day
Once again, I (Maureen) see a Great Flame that I have come to know as the Heart of God the Father. He says: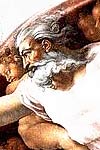 "In My Heart today, I see good and evil in hearts around the world. As Father of all people and all nations, I bring grace into the world to try to redirect evil. What is missing is man's desire to please Me and to choose good. Man is too dependent upon his own wits and does not see the power with which I am willing to use in his favor. There is a breach in loving trust in mankind's heart towards Me."
"Like any Father, I seek to correct error in the hearts of My children. I do not wish to correct them through the punishment of My Wrath. This is why I come to pull humanity back under the umbrella of My Commandments. Obedience to My Commandments is the key to My Heart and the way to My tender assistance in difficulties. Often, I am assisting souls but they do not recognize My Hand in their trials. Every trial has its purpose. The purpose is always the conversion of evil to good."
"So, today, which commemorates Fatherhood, turn your focus upon change. Seek to change evil to good by recognizing evil and by desiring to choose good. Love Me as a loving Father. Because you love Me, seek to please Me. Do not try to impress others with your holiness but seek to please Me with your efforts in personal holiness. Make this your goal in life."
Read Psalm 53:1-2+
These The fool says in his heart,
"There is no God."
They are corrupt, doing abominable iniquity;
there is none that does good.
God looks down from heaven
upon the sons of men
to see if there are any that are wise,
that seek after God.
June 16, 2018
Once again, I (Maureen) see a Great Flame that I have come to know as the Heart of God the Father. He says: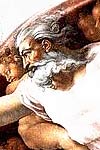 "I am the Father of all time. In each present moment, I see who is obeying My Commandments and who stubbornly disobeys them. I tally the numbers and try to balance the Scale of Justice."
"Man does not realize how closely he comes to the outpouring of My Wrath. He does not see how little sins make a big difference in the long run. Nor does he understand how important small acts of kindness performed with great love can save mankind from a great disaster. Many little prayers offered from a loving heart can forestall wars or even end wars. Small prayers and small sacrifices add up to a formidable arsenal."
"This is why Satan tries to discourage even the smallest prayer or sacrifice. He fears the power emanating from a loving heart. He does not want man to realize the reality of My Wrath or how close he is to its unveiling."
"I come as your loving Father to bring you these Truths. It is past time to pay attention."
Read Genesis 6:9,11-13+
These are the generations of Noah. Noah was a righteous man, blameless in his generation; Noah walked with God.
Now the earth was corrupt in God's sight, and the earth was filled with violence. And God saw the earth, and behold, it was corrupt; for all flesh had corrupted their way upon the earth. And God said to Noah, "I have determined to make an end of all flesh; for the earth is filled with violence through them; behold, I will destroy them with the earth."
June 15, 2018
Once again, I (Maureen) see a Great Flame that I have come to know as the Heart of God the Father. He says: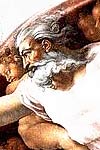 "I am Lord of the Universe. My Creation is eternal. I choose these times to render the grace of My Communication with humanity. I did not do so with Sodom and Gomorrah. I did not speak to all people in Noah's time. I do so here* for the sake of the Remnant Faithful, which I desire increase and strengthen. I am aware most will not listen."
"Dear children of the Remnant, increase in faith and in numbers. Speak of and stand for the Truth of My Commandments. Do not be intimidated by unbelievers. Structure your lives around the Truth. Do not allow self-righteousness or false discernment to take over your hearts. When souls get close to Me, these two flaws are Satan's entry. Call upon My Omnipotent Power when in need or in danger. It is you, dear children of the Remnant, I am counting upon."
* The apparition site of Maranatha Spring and Shrine.
Read Psalm 4:1-3+
Answer me when I call, O God of my right!
You have given me room when I was in distress.
Be gracious to me, and hear my prayer.
O sons of men, how long will you be dull of heart?
How long will you love vain words, and seek after lies? Selah
But know that the Lord has set apart the godly for himself;
the Lord hears when I call to him.
June 14, 2018
Once again, I (Maureen) see a Great Flame that I have come to know as the Heart of God the Father. He says: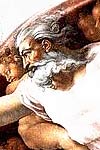 "I am the Creator of time and space. Every present moment is designed for the advantage of good over evil. If you are loving Me in the present moment, you are furthering the cause of good. Satan tries in devious ways to take possession of each present moment. He uses every tool to his advantage, turning the use of the five senses to conquer good and to promote evil."
"Pay attention to your thoughts, words and deeds. Are they serving good or evil? Do not be tricked to believe good is evil and vice versa. Very often, there is not room for margin of error. Sometimes you are being called to change your habits, attitudes and associations. If you love Me enough, this will be less difficult."
"I am calling upon My Remnant Faithful to pull together a strong army of believers during this age of confusion."
Read Ephesians 4:1-6+
I therefore, a prisoner for the Lord, beg you to walk in a manner worthy of the calling to which you have been called, with all lowliness and meekness, with patience, forbearing one another in love, eager to maintain the unity of the Spirit in the bond of peace. There is one body and one Spirit, just as you were called to the one hope that belongs to your call, one Lord, one faith, one baptism, one God and Father of us all, who is above all and through all and in all.
June 13, 2018
Once again, I (Maureen) see a Great Flame that I have come to know as the Heart of God the Father. He says: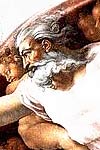 "My Presence in the world today feels diminished due to man's erroneous free-will choices. I am, however, still omnipresent, even though man does not recognize Me. Every breath man takes is ordered by My Will. Every success and every cross is the evidence of My Will in the world today."
"When man tries to step out on his own, it is then that I step back and allow him to fail. I was a great part of the peace talks in Singapore.* I had to be. Satan was there, too, trying to scramble the good efforts of your President.** In the long run, good won out. It will be more difficult now for Kim to make evil decisions since he has met Mr. Trump. Prayer made the difference."
"It is My Presence in your midst that inspires you to pray. Continue to respond to Me."
* The Trump (U.S.A.) and Kim Jong Un (North Korea) Peace Talks.
** President Donald J. Trump
June 12, 2018
Once again, I (Maureen) see a Great Flame that I have come to know as the Heart of God the Father. He says: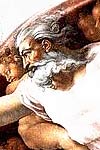 "I am the Creator of all life. I order all things mightily. I invite all mankind to repose in My Heart where true peace abides. You cannot be at peace without Me. Worry is the bad fruit of lack of trust. You cannot trust anyone you do not know. Therefore, it is important that mankind knows Me as a loving Father."
"As your loving Father, I desire to lead you away from the dangers of society today. Very often people naively trust the wrong people. They trust people, who on the surface appear honest, but hold ulterior motives in their hearts. Pray for wisdom – then you will see more clearly into hearts. Hidden agendas will be brought from darkness into light. I want you to trust one another, but not carelessly. In your dealings with each other, recognize what trust or lack of trust will bring."
"I am always in your midst. I try to inspire you through the Holy Spirit to accomplish My Good."
Read Wisdom 7:21-22+
Then I learned both what is secret and what is manifest,
for wisdom, the fashioner of all things, taught me.
Source: Holy Love
Fr. Michel Rodrigue explaines The Events of the End Times
Do you want a quick overview of the end times? Then read "The great events of purification will begin this fall". If you want all the details of the unfolding events, then go to "Virtual Spiritual Retreat with Fr. Michel Rodrigue about the End Times".
Messages of Holy Love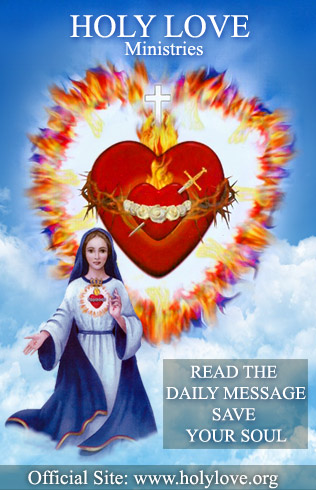 Read the daily messages
Catholics, we have entered the Pre-Tribulation, observe the Commandments, go to Confession; receive the Holy Eucharist; pray at least 3 Rosaries a day to keep your faith and save your loved ones. Prepare for the events that will devastate our planet: plagues, famine, WW3, cataclysms, antichrist's World Order