(CEV) From "The Poem of the Man-God", Vol. 5, p. 508
The lamb is almost consumed. Jesus, Who has eaten very little, and has only had a sip of wine at each chalice, but to compensate for that, has drunk a lot of water, as if He were feverish, resumes speaking:
Jesus: «[…] But now let us finish the rite."[…]»
Jesus takes a loaf still entire and places it on the chalice that has been filled. He blesses and offers both, He then breaks the bread and takes thirteen morsels of it, and gives one to each apostle saying: "Take this and eat it. This is My Body. Do this in remembrance of Me, Who am going away."
He gives the chalice and says:
Jesus: «Take this and drink it. This is My Blood. This is the chalice of the new alliance in My Blood and through My Blood, that will be shed for you, to remit your sins and give you the Life. Do this in remembrance of Me.»
Jesus is very sad. There is no smile, no trace of light, no color on His face. It is already an agonizing face. The apostles look at Him utterly anguished. […]
Jesus: «One of you will betray Me»
Jesus: «I have told you everything and I have given you everything. And I repeat. The new rite has been accomplished. Do this in remembrance of Me. I have washed your feet to teach you to be humble and pure like your Master. Because I solemnly tell you that disciples must be like their Master. Remember that, bear it in mind. Also when you are in high offices, remember that. There is no disciple greater than his Master. As I washed you, do the same to one another. That is, love one another like brothers, helping and respecting one another, setting an example to one another. And be pure, to be worthy of eating the living Bread that descended from Heaven, and have the strength, in yourselves and through It, to be My disciples in the hostile world that will hate you because of My Name. But one of you is not pure. One of you will betray Me. My Spirit is deeply perturbed… The hand of him who will betray Me is here with Me on this table, and neither My love, nor My Body and Blood, nor My word make him mend his ways and repent. I would forgive him going to My death also on his behalf.»
The disciples cast terrified glances at one another. They scrutinize one another suspiciously. […]
But the Iscariot is so sure of himself! In his turn he looks at Matthew, as if he suspected him. He then looks fixedly at Jesus and smiling he asks:
Judas: «Is it I perhaps?»
He seems to be the one who is most certain of his honesty and to say so, not to let the conversation drop. Jesus repeats His gesture saying:
Jesus: «You are saying so, Judas of Simon, not I. You are saying so. I have not mentioned your name. Why are you accusing yourself? […]»
But Peter, who is the most suspicious of Juda […] plucks John's sleeve, and when John, who has pressed against Jesus upon hearing Him speak of betrayal, turns round, he whispers to him:
Peter: «Ask Him who it is»
John takes his previous position again, he only raises his head slightly, as if he wanted to kiss Jesus, and in the meantime he whispers in His ear:
John: «Master, who is it?»
And Jesus in a very low voice, kissing him, in His turn, on his head, says:
Jesus: «It is he to whom I shall give a piece of bread dipped in the dish.»
And taking another entire loaf, not the remains of the one used for the Eucharist, He detaches a large morsel, He dips it into the lamb's sauce left in the tray, and says:
Jesus: «Take it, Judas. You like this»

Judas: «Thank You, Master. I do like it»
and unaware of what that morsel is, he eats it, while John, horrified […]
Jesus: «Well. Now that I have made you happy, go»
Says Jesus to Judas.
Jesus: «Everything has been accomplished, here (He lays much stress on the word). What is still left to be done elsewhere, do it quickly, Judas of Simon.»

Judas: «I will obey You at once, Master. Then I will join You at Gethsemane. You are going there, are You not? As usual?"

Jesus: "Yes… I am going there… as usual.»
Maria Valtorta: The Poem of The Man-God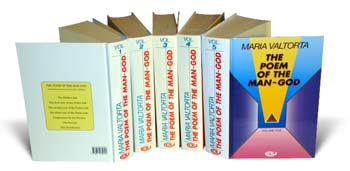 Evaluation of the Work of Maria Valtorta by Padre Livio Fanzaga, Catholic priest (Radio Maria):
"So I would say just that, dear friends, because I read The Poem of the Man-God, three times, 5 volumes ( CEV, ed), and then I am able to evaluate it in its complexity and its value, I feel like saying, dear friends, I do not know any more commentary on the Gospel more orthodox, more uplifting, more stimulating than this, and I would like, dear friends, that all of you would accept the invitation from the Virgin Mary to read this books because it's all true (They do not contain errors against faith and morals of the Catholic Church…) . Then read these books, my dear friends, because we would surely gain great benefits for your souls. It is not difficult to get them, and they do not cost a lot, 5 books that can be for you an indispensable spiritual nourishment "
Content taken from the works of Maria Valtorta with the permission of the "Centro Editoriale Valtortiano Srl"- Viale Piscicelli, 89/91 – 03036 Isola del Liri, (FR – Italy), www.mariavaltorta.com, which has all the rights upon Valtorta's Works.
Help the Lord spread His voice, time is running out
Please help spread these messages of faith, hope, salvation, defense against evil (by email, printing, Facebook, Twitter, and other media) to your loved ones, your friends, and all the people you may meet, who seek salvation or who are in danger of being eternally lost. The Lord gives great graces and blessings to those of goodwill who, according to their own possibilities, collaborate with His Plan of Salvation. Who helps the Lord save a soul predestine his own, independently from the outcome.
The truth about the Coronavirus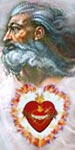 May 1, 2020 - God the Father says: "Today, I invite you to realize that this virus - the coronavirus - is no ordinary disease. It has been created from human ingenuity to specifically target the elderly and physically challenged. This is the plan of future generations to purify the human race around the world. It was released into the general population ahead of schedule - by accident. Those in charge were waiting for less capable government officials in your country (USA) to be in office. Nevertheless, proposed harm is being unleashed on the whole human race."
"I tell you these things to help you to realize the underlying evil at work and hidden in hearts these days. You cannot be confounded by any turn of events. Over all situations, I am in Dominion. No one will be given power over you that is more powerful than your Eternal Father. Therefore, be emboldened with this knowledge. If you persevere in Truth, you have loaded your weapons against what seems to be and discharged them with Truth." (Source: Holy Love)