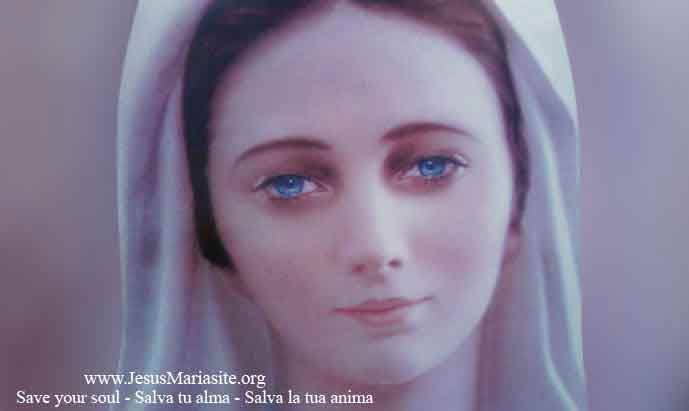 Maria says: (Maria Mother and Teacher, Vol. 1) "I have gathered your prayers, your desires, your hopes. Behold, I am the sunrise that precedes the Sun and I come to tell you: open wide your hearts to welcome the divine sun of grace.
In the morning when you pass your hand over the grass of the meadow, you draw it back fresh and wet; the flowers of the gardens and the hedges open up their corollas to gather that fresh dew which, reviving the life in them, gives great joy to everyone. In this way you now, like calyxes open to the sun of grace, are waiting from me my good morning.
Yes, children, I wish you a good morning, the first in a long series, but always short in comparison to the mornings that await you and which will be only a great mid-day without sunrise and without sunset.
Good morning, I say to the young who bring to the altar the fragrance and ardor of their youth. Good morning, to the mothers who come with the load of their sorrows and their precious tears with which they can wash away the sins of many.
Good morning to the men who, giving proof of faith and fortitude, shall be to the young an example and guide. Good morning to all, young and old, small and great, of whatever social class, mission or professional category.
You are all my children and I, since I love you, want to be a part of your life. I want to enter in you, I want to look after your needs, I want to know your aspirations.
I want to direct all and I want to bring to completion the mission that my Son has entrusted to me and which you have authorized me to do with your consecration. Make me share in everything and I shall be happy to do my maternal duty towards you.
May the day, good for the goodness of actions, for the perfection that accompanies it, be for you the beginning of that endless day in which your heavenly Mother shall be your joy for all eternity."
The thoughts, the reflections and the meditations in this booklet, were inspired by Our Mother Maria, Mother of Jesus, to Carmela Negri Carabelli. They are, however, addressed to all those souls, who, desirous to love the Lord, seek to put into practice his teachings and to live the Christian life more perfectly. May Jesus bless these pages and those who read them with the desire to improve themselves, granting the help of his grace.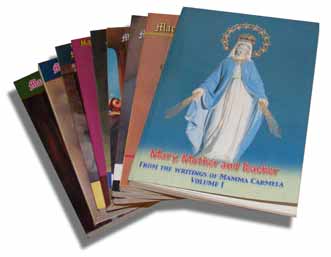 For more information about these magnificent teachings, for any spiritual assistance you may need or to participate and spread throughout the world the cenacles of prayer and the apostolate of the Divine Mercy, please contact:
"CENACOLO DELLA DIVINA MISERICORDIA",
Viale Lunigiana 30, 20125 Milano, Italy
Nihil Obstat: Reverend Gerard Diamond MA (Oxon), LSS,
D. Theol, Diocesan Censor
Imprimatur: Rev. Monsignor Les Tomlinson, Vicar General
Date: 20th July 2007
The Nihil Obstat and Imprimatur are official declarations that a book or pamphlet is free of doctrinal or moral error. No implication is contained therein that those who have granted the Nihil Obstat and Imprimatur agree with the contents, opinions or statements expressed. They do not necessarily signify that the work is approved as a basic text for catechetical instruction.
Catholic Archdiocese of Melbourne