Tuesday, August 29, 2017:
Jesus said: "My people, in today's Gospel I chastised the Scribes and Pharisees for being hypocrites and blind guides. I told the people to listen to their words about My law, but do not follow their actions. I made the outside of your body and the inside of your soul. Many times the Pharisees did things for show, but the intentions in their hearts were just the opposite. So be humble in your actions, and sincere in the intentions in your heart. If you are fasting, do not tell people, but keep it to yourself, and My Father will reward you. When you greet people in love, do not talk about them behind their back. You need to love everyone all the time, even if they mistreat you. You also need to be willing to share your wealth and your faith with people. It is not easy to live a good Christian life, because you will be criticized for believing in My Name. When you follow My ways, they are not like man's ways. So continue to follow My commands to love Me and love your neighbor as yourself."
(5:00 p.m. Mass) (Passion of St. John the Baptist) Jesus said: "My people, in today's Gospel you read how Herod had St. John the Baptist beheaded by an executioner to satisfy his wife's daughter's request, because of Herod's oath in front of his guests. Even in your world today you are seeing jihadists beheading Christians, because they feel justified to kill infidels. These are brutal killings that are never justified in My eyes. You see these killings in Arab countries now, but during the tribulation, there will be demon led people who want to kill all the people who believe in Me. When you read Chapter 20 in the Book of Revelation, you are reading about those people who will be beheaded for My sake as martyrs. They will be raised up from the dead, and they will join My people in My Era of Peace. So do not have any fear of these evil ones, because even My martyrs will be raised up from the dead during the tribulation."
Monday, August 28, 2017: (St. Augustine)
Jesus said: "My people, I am showing you in all of My glory, much like I showed Myself to My apostles at the Transfiguration, before My crucifixion and the persecution of Christians. You are about to see another time when all of My faithful will be persecuted for believing in My Name. At first the evil ones will attack the priests and religious, and all those people who openly profess My Word. All of your prayer groups will need to be conducted in the secrecy of your homes. This means the evil ones will close all the public churches of worship. It will be nearly impossible to go out and give your talks, or you will be placed in prison. Your website will be closed down, and you will need to stay at the safety of your refuge. This persecution will also signify the time of My coming Warning experience. Trust in Me that I will protect My faithful at My refuges."
Jesus said: "My son, before you consecrated your chapel, you saw an attack of Beelzebub with thousands of flies. Once you got rid of the flies, you had your priest friend exorcise any remaining evil influence. You have had a few problems that could have been the evil one trying to upset your peace. You are being protected by My angels from any natural disasters, as you survived your heavy winds without any damage. You also need to pray that no evil is brought in on people who come into your refuge. You are praying daily as you have followed My directions. Praying before My monstrance and your Adoration DVD is needed, especially during the tribulation to protect your souls from any evil influence. I told you that your chapel is holy ground, as you have seen several miracles on your walls. Continue to follow all of My recommendations for what you will need for your refuge. Your time for making preparations is almost over, and then you will have to rely on My angels and My multiplications. Keep praying for My protection from the evil ones."
Sunday, August 27, 2017:
Jesus said: "My people, you are seeing many events going on around you, as this current Hurricane Harvey. I told you that you would be seeing serious natural disasters, and struggles in various countries, along with threats of wars. The vision today relates to the swirling events of your lives, that you will see in your individual Warning experiences. The vision of dirt means that you will see great changes in the earth that will occur when I recreate the earth as it was in Adam's time. You are living in the end times, and My Warning will come before the events leading up to the Antichrist's declaration. Not long after the Warning, I will call My faithful to My refuges. It is good that you are practicing with an overnight stay with your water and stored foods. You will need to assign jobs, prepare bedding, prepare meals, and plan your prayers and Adoration hours. I will be giving you messages to help calm your people in the time of tribulation. I will be sending you to various refuges in bi-location, as you have seen some people experience. You will learn a lot of what is needed by making this effort to experience refuge life. Trust in My angel protection, and My multiplication of what you will need."
Saturday, August 26, 2017:
Jesus said: "My people, you have prided yourself with all kinds of rich buildings without much concern for natural disasters that occur in this area along your coastlines. You have many refineries and deep water oil rigs where you know historically that hurricanes come in there in the Gulf of Mexico. You have become complacent with your storm preparations, because you have not seen any major hurricanes recently. Because of your pride and complacency, you could be seeing some serious damage and loss of life with this latest hurricane. You have made some changes to prepare, but you were not ready for a 130 mph hurricane on the Texas shore. You are praying for these people in your storm prayer, and your government may have to help with the flood damage. Even donations may be encouraged to help those people who lost their homes. This storm could be a shared punishment, if your gas supplies are threatened for any length of time. Let this be a lesson for all of your Southern coastlines that could be struck by such a storm. You could see more such natural disasters in the future. Trust in Me to help you through your daily trials."
Jesus said: "My son, I could see you trying out your new chainsaw, once you charged the batteries and put oil in it. You also were getting your new generator ready for running with your propane tanks. You have also ordered some more food cans when you saw how one of your cans only fed thirteen people. You need to be able to use all three kinds of your food to have a variety. Having a large kettle of soup may be easy for serving people. You may have to limit yourselves to two meals a day so your food will last longer. You also need to limit your water usage for the same reason. You will be planning how to use your cots and beds for when people have to sleep. You may want to get twenty wind-up flashlights so people could move around at night. Trying to supply enough water and food will be a challenge, so you need to have Me multiply your food, water, and fuels for your survival. Trust in Me and I will provide for your needs. You could also survive with even just receiving daily Holy Communion as some of My saints have done in the past. Do not worry, because you will have enough of what you need to survive."
Friday, August 25, 2017: (St. Louis)
Jesus said: "My people, you are about to see the devastation of the Texas shore from high winds, rain, and storm surge waves. The people in this area have not seen such flooding in a long time, and many have had to prepare quickly. The people in vulnerable areas need to evacuate quickly. If people heed the warnings of your weather people, you could see fewer lives lost. These people need your prayers, and they will need some financial help to restore any damage. You have seen what water damage has done to your shores on Lake Ontario, but this coming storm will continue for days. Flooding and wind damage will be the worst. This will be one of the big natural disasters that I warned you about."
Jesus said: "My people, you are seeing two incidents portrayed by a clock. In the first scene you are seeing the minute hand and the hour hand rotating around at a fast pace. This represents your Warning experience and how fast time is passing by. As you look close at a time line of your life, you will see every action you did during every year of your life. At the end of your life review, you will see how you would be judged, as if you were to die today. You will be placed back into your body in time, and you will be given another chance to improve your life, as you learned from your mistakes. In the second scene you are seeing the clock move slowly to twelve o'clock. This is a sign that you will see a war, and the tribulation that is about to start as the Antichrist declares himself. I call on My faithful to have no fear, and be prepared to come to My refuge for your safe haven. The Antichrist will have a short reign before I will bring My victory over all of the evil ones, who will be cast into hell. Those people, who are faithful to My Word, will receive their reward in My Era of Peace and later in heaven."
Wednesday, August 23, 2017: (St. Rose of Lima)
Jesus said: "My people, I call all of My faithful to go out and work in My vineyard. During your lives you need to find jobs so you can support yourself and your family. It is not easy to toil day after day at your job, and put up with any inconveniences to keep your job. You appreciate your employers who keep paying you for your work week after week. Your jobs give you an opportunity to be creative in coming up with new products to help people. You may work to help charities in your spare time. In a spiritual sense I give everyone an equal opportunity to gain heaven, even if they are converted in the last hours of their lives. This is My true generosity to give people the grace to save their souls from hell, and to be with Me in heaven."
Jesus said: "My people, I told you that Satan's time is running out, so he is making one last push to get the world under the control of the Antichrist. I will allow him to go only so far, so My faithful are protected. Your President has tried to stem the tide of evil from the one world people. He is fighting even NAFTA and the North American Union. This is why you are seeing so many attacks on your President, as the evil ones are trying to cause a martial law takeover to stop your President. You will be seeing natural disasters and more severe wars as part of a world takeover by the Antichrist. I have been warning My refuge builders to finish up their projects, because you are seeing signs of a coming takeover. You have seen communist takeovers before, and these evil ones are poised to take you over. Once your lives are in danger I will warn My people to leave for My refuges. Before the Antichrist comes into power, I will send My Warning to all sinners, to give them one last chance to convert their lives to My ways. Be ready to leave for My refuges when I give you My sign."
Help the Lord spread His voice, time is running out
Please help spread these messages of faith, hope, salvation, defense against evil (by email, printing, Facebook, Twitter, and other media) to your loved ones, your friends, and all the people you may meet, who seek salvation or who are in danger of being eternally lost. The Lord gives great graces and blessings to those of goodwill who, according to their own possibilities, collaborate with His Plan of Salvation. Who helps the Lord save a soul predestine his own, independently from the outcome.
The truth about the Coronavirus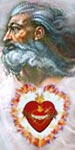 May 1, 2020 - God the Father says: "Today, I invite you to realize that this virus - the coronavirus - is no ordinary disease. It has been created from human ingenuity to specifically target the elderly and physically challenged. This is the plan of future generations to purify the human race around the world. It was released into the general population ahead of schedule - by accident. Those in charge were waiting for less capable government officials in your country (USA) to be in office. Nevertheless, proposed harm is being unleashed on the whole human race."
"I tell you these things to help you to realize the underlying evil at work and hidden in hearts these days. You cannot be confounded by any turn of events. Over all situations, I am in Dominion. No one will be given power over you that is more powerful than your Eternal Father. Therefore, be emboldened with this knowledge. If you persevere in Truth, you have loaded your weapons against what seems to be and discharged them with Truth." (Source: Holy Love)