Wednesday, November 30, 2016
(St. Andrew) Jesus said: "My people, on this feast of St. Andrew, you are reading how he and his brother, St. Peter, were called by Me to be fishers of men. So they left their fishing jobs to follow Me in My unknown mission for the world. I also send out a call in the hearts of those men who could be My priest sons. I am always asking you to pray for vocations to the priesthood. I call all of My faithful to be evangelists, so more people could be saved by the Gospel. In the vision, My son, you remember how I asked you to do a mission for Me, and you accepted to do My Will. It was unknown to you that I was calling you to be one of My prophets for the end times. This has been a long and difficult process to give talks, write messages, and evangelize souls to be saved from hell. I thank you for your 'yes' and all that you have done through the years in your persistent effort for your mission. Continue to pray and follow Me in all that I ask of you. This applies to all of My faithful as well."
Jesus said: "My people, I have told you how you will be seeing more disasters this year, and you are seeing serious fires in Tennessee that have taken lives and destroyed homes. These fires are happening because of a drought and there are some fires that were set by arson. You also are seeing several tornadoes in the South which is unusual for this time of year. In the political arena you are seeing the Democrats pushing for recounts in several states with close contests. They are even trying to threaten the electors to change their votes. You could still see a potential martial law, if this is the last resort to keep your President-Elect from taking office. The one world people are concerned that all of their work to control America could be undone by your new President. This is why they will try many ways to oust him. Be prepared for My Warning if the evil ones will threaten your lives. In the end I will protect My faithful because My power is greater than the evil ones' power."
Tuesday, November 29, 2016
Jesus said: "My people, before I came to the earth, you read how Isaiah and the prophets spoke of My coming. Ever since Adam's sin, I have promised man that I would send him a Redeemer. So for many years the people were waiting for the Messiah to come. In Micah you even have the foretelling of My coming in Bethlehem. In Isaiah's reading you are even seeing some descriptions of the coming Era of Peace. Just as My prophets foretold My first coming, so My prophets of today are preparing you for My Warning, the tribulation, and My coming victory over the evil ones. You are celebrating Advent before Christmas, but you will also be pleased when I come to defeat the Antichrist and Satan. They will be sealed in hell during My Era of Peace, as you will have no evil present, and Isaiah's prophecy will be fulfilled."
Monday, November 28, 2016
Jesus said: "My people, it is true in the Gospel how I was surprised at the great faith in Me that the Roman centurion had, that I could heal his servant, even from a distance. The centurion understood his own authority over his soldiers, and he could see My authority in healing people. But he was also humble that he did not want Me to come under his roof, in case it would defile Me. It would be pleasing to Me if everyone could have such a strong faith, so I could heal many people both in their bodies and in their souls. Faith is a gift that I freely give to everyone. It is up to each person whether he or she wants to accept Me or not. If people do accept Me in faith, then it is to what extent they have faith in Me, that will determine how much I can use people for My work of saving souls. So if you have faith in Me, then give your whole mind, heart, and soul over to Me, so I can use you to the full extent of your gifts."
Jesus said: "My people, you have seen the possible connection between the one world people and all the various attempts to stop your President-Elect from taking office. Even after the election was certified, you have had many protest marches in several states. You have also seen attempts to get the electors of the electoral college to change their votes. You are also seeing the latest attempts to have a recount of votes in Wisconsin which would not change the outcome. These people are doing everything possible to change the outcome of a completed election. My people need to continue your prayers that your President-Elect is allowed to take office in January. Any interruption of this new President in taking office, would be a violation of the people's choice, and a violation of your current law. You did prayers for the election, and thanksgiving prayers for the outcome. Now you are continuing your prayers for a new administration to lead your country back to Me."
Sunday, November 27, 2016
(First Sunday of Advent) – Jesus said: "My people, at the end of the Church Year and at the beginning of Advent, you receive a similar message in the readings to be awake and watch for My coming. This stairway to heaven is everyone's dream, but you do not know the day nor the hour of My coming. So have your souls pure with frequent Confession, and be ready to receive Me at your judgment. You will either see Me coming in the clouds for everyone, or I could be calling you home to Me in death. So stay alert for the day I will bring you into heaven, or into My Era of Peace."
Saturday, November 26, 2016
Jesus said: "My people, I have told you before, that fears, worries, and anxieties are from the evil one trying to bring you down. If you have Me by your side, who can harm you? I want you to have hope and faith in Me, even as you are about to endure the persecution of the tribulation. You and My refuge builders are all prepared to help My faithful with My angels watching over My safe havens. Whatever you are faced with, trust that you will not be tested beyond your endurance. One day I am coming in victory to defeat all of the evil ones, and I will cast them into hell. My faithful will then be happy to be with Me in My Era of Peace with the new heavens and the new earth."
Jesus said: "My people, many people have an opportunity to get degrees at affordable colleges. Some people need to go to two year Community Colleges, and then to State Colleges for two years so they do not have large loans to pay off. Once you have a degree, it still takes time to find a good paying job that you can live on. Even college graduates have to take jobs that are not what they trained for. It is your corporations and the one world people who make the laws so they can exploit the cheap labor overseas. The current establishment with all of their free trade, has sent many of your good paying manufacturing jobs overseas. This is why your average salaries are low, and some need two jobs to survive. You can see why your President-Elect won, because he was pushing to keep jobs in America. Many of the one world people are only helping themselves, and they do not try to protect American jobs for your own workers. Pray that your President-Elect is allowed a chance to change your socialist government back to a government of the people, and not just for special interests."
Friday, November 25, 2016
(St. Catherine of Alexandria) – Jesus said: "My son, you have been reading the Book of Revelation this last week of the Church Year, and this is your mission to prepare the people for the end times. Very few priests want to talk about the new heavens and the new earth in the Era of Peace. You will be entering this time of tribulation where My faithful will be persecuted by the Antichrist and the evil people. This is why you are preparing the people to understand the need for My refuges as safe havens from those who want to kill you. You will only have to bear this trial for less than 3½ years. Then you will experience My victory in My Era of Peace. In the Book of Revelation (chap 20) you will see how all the martyrs will be raised up and joining with My faithful in My Era of Peace. This will be a glorious time when My faithful will be prepared to be saints for their entry into heaven. This is a hope filled message of My love and victory over the evil ones."
Jesus said: "My people, I told you the evil one world people will make an attempt to get the electors to change their votes to the opposite party. You need to pray that the electors do not change their votes. You also need to pray that you do not see a martial law that would prevent your President-Elect from taking his office as President in January. You further need to pray for My angel protection so your President-Elect does not get assassinated. If this change in power does not occur, then your current President would stay in power. If such a power is taken away from the people, you could see a massive revolution to try and take over your government. This could create another civil war among your people. This struggle would call on Me to bring My Warning, and then you would go to My refuges for your protection with My angels. Trust in My angel protection, for you are about to see a great turmoil in your country."
Thursday, November 24, 2016
(Thanksgiving Day) – Jesus said: "My people, today's Gospel is about the ten lepers, who were healed. This is a sign of how many people forget to thank Me for all the healings and gifts that I give to them. Only one Samaritan returned to give Me thanks for his healing of leprosy. I asked him where were the other nine, but I blessed the Samaritan, and I told him his faith had saved him. Many people are praying prayers of petition, but when their prayers are answered, they need to remember their prayers of thanksgiving. In many ways I allow good things to happen for you that you did not even ask for. You also should be thanking Me for all of My gifts, even the ones you did not realize, as your existence, the air you breathe, the sun on everything, and even the rain that comes. It is good that you celebrate such a feast, because it gives you a chance to ponder all the things that I do for everyone. Give praise and thanks to Me for your gifts and talents to survive both physically and spiritually."
Jesus said: "My son, when you help people, you feel good, even if you do not get much thanks. I help a lot of people, and I do not get much gratitude either. You really are helping people more because you love them, and not just to receive a thank you. So keep up your prayers for souls, and doing what you can to spread My messages. You can share your donations of money, and you can share your faith and love of Me. You appreciate My love and help, and you want other souls to have the same experience. When you help souls by evangelizing and praying for the souls in purgatory, you are helping them, and storing up treasure in heaven for yourself."
Wednesday, November 23, 2016
Jesus said: "My people, as you think about the first Thanksgiving meals with the pilgrims, they came to America for freedom to worship Me as they chose. For many years you have had freedom of religion that was guaranteed by your founding fathers in your Constitution. Now, you are seeing the atheists and Muslims persecuting Christians for displaying My Name in public. You are seeing openly that the Muslims here are not coming to blend in with your people, but they are coming to take over your country. This is your future when My believers will be persecuted, and some will be martyred for proclaiming My Name. Rejoice that I am having My faithful refuge builders set up safe havens, where My faithful can come and be protected by My angels from those people who want to kill you. As you are eating your Thanksgiving meal tomorrow, pray for your physical protection from the one world people who still want to take over your country by force. Trust in Me and My angels to protect you during the coming tribulation and persecution of My believers."
Jesus said: "My people, this 'boat of St. Peter' is how he led the Church as its leader, once I ascended into heaven. The apostles had to wait for the Holy Spirit to come down upon them. Then with the gift of tongues, they were able to speak foreign languages. My Church has been directed by St. Peter's successors as Popes down through the ages. My Church has been tested by time as I told you that the gates of hell would not prevail over My Church. You remember when I was on the sea with My apostles, and they were frightened by the waves of a large storm. They awakened Me, and I calmed the storm. (Matt. 8:23-27) There was another scene when I was walking on the water, and I called St. Peter to come to Me on the water. He walked on the water briefly, but then he faltered, and I had to save him from drowning. (Matt. 4:22-33) Many times I enabled My apostles to have large catches of fish. (John 21:1-14) Despite all the problems and heresies that My Church had to endure, I was leading My people as I calmed the storms. Now, you will be seeing another time when there will be a division in My Church, but I will still be looking after My faithful remnant, even throughout the tribulation. Trust in Me to continue leading My Church on the sea of life."
Tuesday, November 22, 2016
(St. Cecilia) – Jesus said: "My people, this Gospel of the five wise virgins, who bought extra oil, and the five unwise virgins, who did not, is all about making preparations. When the bridegroom was coming, the five virgins, who did not bring extra oil, had to go buy some oil because their lamps were going out. When they returned, they could not enter because the door was closed. So it is with preparing for the end times, when you will be facing the tribulation of the Antichrist. I have called some faithful souls to build refuges with supplies, and My angels will protect these safe havens from the evil ones who want to kill Christians. Those people, who do not have refuges, need to prepare backpacks or roller boards with food and clothing, so they can be ready to travel to the nearest refuge that My angel will lead them. It is this preparation that is similar to the five wise virgins who were prepared with extra oil for their lamps. Having oil lamps and lamp oil is one of the preparations to have light at night if you should have a power outage. My refuge builders are also storing food, water, and fuels during the winter. If you do not have electricity or natural gas for your heaters, then you will need alternate sources of fuel for heating your house in the winter. You could use wood, kerosene, or propane, if they are available, with the appropriate heaters to stay warm. You will also need fuels for any cooking device as a Coleman stove, or even an outside grill. You will also need spiritual preparations as an altar for Mass and perpetual Adoration. You also may need rosaries, Bibles, candles, bread and wine for Mass. In the house you will also need cots, beds, pillows, and blankets for sleeping. I will multiply what you need for living through this short reign of evil. Have trust and faith in My protection, and fulfilling all of your needs."
Prayer Group:
Jesus said: "My son, you know how badly it was snowing on your highway on Sunday night as you were returning home from your talk in Utica, New York. You read in your morning paper how you had 14 inches of snow mostly east and south of Rochester, New York. Those people on the west of the city only had a few inches. You are still recovering from a drought, so this did give you some water. Pray for the safety of your drivers as people will be traveling for Thanksgiving Day dinner."
Jesus said: "My people, when you see power outages this is a reminder to have some alternate fuels for heating and some oil lamps for light. It is difficult to be without power, especially in winter. You could also stock up on some extra food if such an outage lasts into weeks. This loss of power could also come from an EMP attack which could cause people to starve if they do not have much food. Be prepared also to come to My refuges if your power is out for a long time."
Jesus said: "My people, Thanksgiving Day is a great time for your family reunions as you share in a great meal. Be sure to pray a special prayer of thanksgiving before you eat your meal. Thank Me personally for all I have done in your lives. As you greet your family, you can think of how you can pray for all the souls who need to come closer to Me in their faith. Remember this moment also when you come together at the Warning when you could evangelize these souls so they could receive My crosses on their foreheads. After the Warning, these souls will be seeking My forgiveness."
Jesus said: "My people, I have asked you to pray the long form of the St. Michael prayer so your family members could be converted. Make a cross over their pictures with holy water to help break any addictions. Your persistent prayers for your family members could help save them from hell. If any of your family is sick or dying, you could also pray a Chaplet of Divine Mercy for their intention. If you could get family members to wear blessed sacramentals, it could guard them from demon attacks. The best help you could give your family, is to help save their souls from hell."
Jesus said: "My people, you remember when I directed you to go to your room in quiet to pray your prayers to Me. Some people have set up a designated prayer room where they could pray, away from the noise of the world. When you pray in silence, then you can listen for My words to your heart so I can direct you what to do for Me. By being open and listening for My Word, then you could receive My message and direction for your life. Trust in Me as I lead you in your mission on earth."
Jesus said: "My people, once you come to Me in prayer, I allow you to see what is needed in your life to bring you closer to Me. When you see your imperfections, you want to repent of your sins, and come to Me in Confession so I can forgive your sins. You should try to have your sins forgiven in Confession at least once a month. By keeping your souls pure, then you will be prepared to meet Me at your judgment whenever I will call you home to Me. Encourage your family and friends to come closer to Me, especially in coming to Mass and Confession."
Jesus said: "My people, I give you many gifts each day, and when you pray to Me, it is your way of thanking Me for all that I do for you. I love My prayer warriors, and I thank you for all of your prayers. By being faithful to Me, you will receive your reward both in My Era of Peace and later in heaven. Continue to pray for the conversion of sinners so they can love Me and be saved from hell. When you all come together in prayer, I am there in your midst. You all share in My joy when you pray together. I long for the day when I can welcome all of you into heaven where you will share My peace and love for all eternity."
Monday, November 21, 2016
(Presentation of the Blessed Virgin Mary) – Jesus said: "My son, yesterday you had a very difficult time getting home from Utica, New York because of snowy conditions at night. You saw several accidents and cars off the road. By My grace and the angels, you were spared getting into any accident or going off of the icy and snowy roads. There were even a few power outages in your area from cars hitting poles, and trees falling on your power lines. You were again spared such outages. Just as you were thankful to get home safely and stay warm, you should pray for all the people who had car problems, and had to deal with power outages. Winter has returned, and you can see all the problems associated with it. This again is another reason to have alternate fuels, candles, and oil lamps for light. Even your wind-up flashlights would be helpful. Having extra food and water will also be needed."
Jesus said: "My people, in America you have plenty of food when you go into most of your grocery stores. Your fields are fertile, and you see a lot of fields of corn, soybeans, and wheat. You even export some of your grain crops because you have so much of a harvest. This symbol of a cornucopia is appropriate for your coming turkey dinner this week. Even though the farmers grow your food, they have a hard time making a profit because they are at the mercy of your rainfall. Without irrigation and a large farm, it is hard to make money at farming. So when you see all of your food on the table, you truly need to thank your farmers for what you are eating. You need good cooks and some planning for everyone to bring a different dish. Just as you are blessed with enough food now, so you will have what you need at My refuges. Give praise and thanks to Me to help your refuge builders, and for your refuge builders who gave Me their 'yes' to My call. Call on Me to multiply your food and water, so you all will have enough to survive."
Sunday, November 20, 2016
(Christ the King) – Jesus said: "My people, today all of you can give praise and glory to your King of the Universe. On such a happy occasion your people should be singing out as loud as they can at Mass. There are many people who view My creation every day, but they still do not appreciate the Creator, and give Me glory. I give all of you many gifts, and you should be thanking Me every day, especially in this Thanksgiving week. I love all of you so much, and I pray that many people would love Me as well. It is sad that many people ignore Me, and they do not seek My peace, or they would have less troubles. When you pray to Me and ask Me to be a part of your life, I will send you many blessings, and you will always be happy with Me at your side. I bless all of My faithful who give Me praise, and talk to Me in their prayers. I love you so much, and I say to you, 'You will be with Me in paradise one day.'"
Jesus said: "My people, I am so happy to see all of you who came to pray My Blessed Mother's rosary. I know it is cold and snowy, but you are still here despite the bad weather. By your presence I know you love Me so much as your King and your Creator. You all are to be commended for keeping up this Shrine in remembrance of My messages here. I thank all of your leaders for organizing this Shrine. I thank all of My faithful prayer warriors for being true to Me, and I offer you this same promise that I gave to the good thief. I told him: 'This day thou shall be with Me in paradise.' Go forward and evangelize as many souls as you can, so they can share in My love for all eternity. Keep praying for poor sinners and for the souls in purgatory with your daily rosaries and your Chaplet of Divine Mercy. Thank you again for giving Me praise and glory on this feast of My Kingship."
Saturday, November 19, 2016
Jesus said: "My people, the Sadducees were badly mistaken when they asked Me about the seven brothers who married a woman. In heaven My saints do not marry, but they are like angels who constantly praise My glory. These people did not believe that there was life after death. After your soul has been purified, you will be coming to heaven. Truly your soul lives on forever. When the women came to My tomb, My angels said: 'Why do you seek the Living One among the dead? He is not here, but has risen.' (Luke 24:5-6) Just as I rose from the dead, so My faithful will have resurrected bodies on the day of judgment. This life is passing away. So focus your life around Me, so I can take you into the next life in heaven. It is your eternal destination that is most important for your soul. So truly there is life after death, and this is why saving souls from hell, is such an important work while you are still on earth. Give praise and thanks to Me for all that I do to bring souls to Me. I give you the gift of faith, and I offer every soul an opportunity to be with the One who loves them, and not Satan who hates them."
Jesus said: "My people, you have Thanksgiving Day coming next week when all of your family comes together for a turkey dinner. Even as you prepare for this get together, you have many things to be thankful for. You can thank Me for your President-Elect's election and your wife's healing of breast cancer. You have seen other cancer healings as well. You can thank Me for the health of both of your bodies, and helping you in your travels to share My messages. You can thank Me for your inheritances and the building of your refuge. You can thank Me for your gifts of faith and many other blessings. The most important is to keep your souls pure with frequent Confession. Remember to thank Me, especially when I answer your prayers."
Friday, November 18, 2016
(Dedication of St.Peter & St.Paul Basilicas) – Jesus said: "My people, when you are on the stage of life every day, you have everyone looking at you in your actions. Even people know you more by your deeds than by just your physical appearance. You can be educated in the best schools, but it is what you do with your knowledge that makes it most useful. You could have many degrees, but if you do not use them for some good purpose, then it is a wasted effort. Even now because there are not enough good jobs available, students coming out of today's colleges have difficulties in finding jobs to match their skills. I give everyone brains, and you have the opportunity to use them to gain a good education. You have My Commandments and your faith, so it is your actions that you will be judged on. You are all good people because I created you, but it is what you do with your life that matters most. So do not waste your time or your life on frivolous things or living off handouts, but gain your own living by the work of your God-given skills. Even in St. Paul's writings he says that those people, who do not work, should not eat. Use your God-given skills for the right purpose, and you will be judged worthy to enter heaven."
Jesus said: "My son, you have been protected from evil because of your mission, and because you love Me enough to do all that I ask of you. I am letting you see that many people ignore Me, and some people even worship the devil as you know. I have only a small remnant that I can depend on as My prayer warriors. I thank all of you for being faithful to Me, and you need to reach out to evangelize souls. If you truly understood how evil this world is, you would be on your knees praying for souls constantly. I have told you in the Scriptures that many are called, but only a few are chosen who have faith and truly love Me. You are definitely in the minority, which is why the demons are attacking My faithful more, because they already control the weak sinners, especially people with addictions. When you were addicted to computer programming, you gave Me only a small part of your time. Now, you give Me a lot more time because you see the need for so much prayer for converting sinners, and helping souls get out of purgatory. Learn this lesson that you need to pray more because I am depending on My prayer warriors."
Thursday, November 17, 2016
(St. Elizabeth of Hungary) – The Blessed Mother said: "My dear son, I want you to be at peace through all of the events that are about to take place. You trust in my Son's grace to help and protect you. In the coming events many people will be frightened and upset because they have little faith in my Son. You are right in thinking that this coming year is a year of my Son's justice. The evil of your world is so great that it will require my Son's intervention because the evil ones are mocking and killing Christians. Yes, the Warning is coming, and it will shake all sinners to the core. This will be my Son's last call to prepare everyone for the evil that will come in the Antichrist's brief reign. It is also true that My faithful will need the protection of my Son's angels at His refuges. So be at peace, my son, and do not fear, because my Son is allowing this test of all sinners. We will be with you and protect your people at your refuge. Just have faith in my Son, Jesus."
Prayer Group:
Jesus said: "My people, you have had many messages about being prepared to come to My refuges when the tribulation starts. This message is about having your car in good repair so you will be able to travel to your nearest refuge. This means having good tires, and a good engine so you have dependable transportation. You also should have your bikes in good repair with pumped up tires so you have a backup transportation in case of an EMP attack, or if gasoline is not available."
Jesus said: "My people of America, your new President is proposing an increase in infrastructure spending, and an increase in defense spending. These things are needed, but with reduced taxes, it may be hard to control your deficit on the National Debt. There will have to be some modification in your spending, and a retirement of programs that are no longer needed. This will create some resistance in reducing your socialist programs. Pray that your leaders will vote for the best budget to help your people and not just for private interests."
Jesus said: "My people, it is a week after your election, and some people are still marching in protest of the latest election. There is increasing evidence that these protests are being purposely planned by the same people who caused problems at your President-Elect's campaign rallies. The one world people are still trying to cause enough trouble to start a martial law. Pray that My angels will be instrumental in stopping any martial law. Trust in My power that is stronger than the evil ones."
Jesus said: "My people, as you see an increase in the number of Warning messages, you are seeing a stronger case for the Warning to come soon because of this increase. Many people are not seeing how your children and your adults are being brainwashed by your socialist government leaders, and your socialist teachers in your schools and colleges. By removing My teachings from your schools and the workplace, you are going along with the atheist people. It is time now to put aside your politically correct thinking, and embrace My love and My ways in your society. Those people, who control your media and your school teaching, need to be changed back to God-fearing traditions that your country was founded on."
Jesus said: "My people, now is the time to start putting prayer and My Name back into the public view. Do not let the atheists control you. You have freedom of speech and freedom of religion. Do not let the atheists and Muslims dictate your religious norms. If Muslims can pray anywhere, then Christians can express themselves as well. Stand up for your Constitutional rights, or they will be taken away. Pray for love and unity, but there should be a fair expression for everyone."
Jesus said: "My people, your people have spoken out against your socialist policies of your current President, but now your prayers are needed for a smooth transition of power. Keep praying for the safety of your new President, and pray that martial law does not stop your new President from taking office. This was a Divine election, and it needs preserving with your prayers. You will be seeing a lot of political resistance to changing your government, but without a cleaning out of evil policies, your country will be punished."
Jesus said: "My people, beware of any made up disturbances by left leaning organizations who are trying to steal your government from the people. Many of the seeming protests are being organized against the vote of your people. Pray that your police and military are willing to protect your laws and the will of the people. All of your violent protesters should be restrained and even jailed for crimes of destruction of property. If you cannot establish proper law and order, then you are allowing the anarchists to control you. Pray that these illegal damaging protests can be brought under control."
Wednesday, November 16, 2016
(St. Gertrude) – Jesus said: "My people, in today's Gospel you read of the two good servants who increased the coins that they were given, but the third servant did nothing with his master's money. You are all given certain talents, so you can use them to serve Me and your neighbor. I am looking to see the fruits of your labor, but you need to use your gifts for a good purpose, and not just for yourself. Those people, who do not use their talents, will have to answer to Me at their judgment. There are some people who do not work on purpose by living off of other people without using their talents. There are also people in the spiritual life who do not use their gift of faith, and they rely on themselves instead of Me. You have spiritual talents as well, and you need to share your faith in evangelizing souls. Do not just keep your faith to yourself. My love was meant to be shared. So use your gifts both in the physical world and the spiritual world, and you will be rewarded in heaven."
Jesus said: "My people, you are reading from the Book of Revelation that is foretelling the events of the end times. St. John is describing the beauty of heaven as appearing with beautiful gems, and lightning and thunder coming from the throne of God. You are reading of the four living creatures that could be a sign of the four Evangelists. The angels are worshiping God along with the twenty-four elders. They sang: 'Holy, holy, holy, the Lord God Almighty, who was, who is, and who is coming.' There are many scrolls and seals of terrible things that will happen during the tribulation of the Antichrist. This is why I will be protecting My faithful at My refuges. So do not have any fear, but trust that I will watch out for My people."
Jesus said: "My people, when you see digging in the dirt, it could be a preparation for making a basement, or for making a grave for a dead person. There is another use for clay in having a potter make vases on his wheel. I make all of you out of the dust of the earth as I am the Potter, and you are My creations. You will also return to dust when you die. Even as I am forming babies in the womb, there are a good number of people who are aborting My babies. Abortion has been one of your Presidential campaign issues that can still be turned around with a conservative Supreme Court. Keep praying for your new President and that he can change some of the evil laws on your books. Also pray for his protection from the demons and the evil one world people who want to stop him from being inaugurated President. He was Divinely elected by My power and the angels at the election booths. There are still many people who do not want him to succeed. Your prayers can help soften the hearts of those people who are rejecting My truths and My ways. Whether people like it or not, your new President can change much of your evil society if he is allowed to act on it. Keep praying for your country's success in getting closer to Me in your actions. The more you can convert sinners to faith believing people, the more souls you can save."
Source: http://www.johnleary.com
About John Leary:

John Leary lives near Rochester, New York. He is a father and grandfather. He has both a spiritual director and a pastor who confirm that he is emotionally balanced and a Roman Catholic in good standing. John has attended daily Mass and received Holy Communion every day since he was 17 years old, excepting sickness. He has been receiving messages from Jesus and Mary since his 1993 trip to Medjugorje.
The truth about the Coronavirus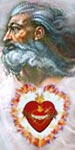 May 1, 2020 - God the Father says: "Today, I invite you to realize that this virus - the coronavirus - is no ordinary disease. It has been created from human ingenuity to specifically target the elderly and physically challenged. This is the plan of future generations to purify the human race around the world. It was released into the general population ahead of schedule - by accident. Those in charge were waiting for less capable government officials in your country (USA) to be in office. Nevertheless, proposed harm is being unleashed on the whole human race."
"I tell you these things to help you to realize the underlying evil at work and hidden in hearts these days. You cannot be confounded by any turn of events. Over all situations, I am in Dominion. No one will be given power over you that is more powerful than your Eternal Father. Therefore, be emboldened with this knowledge. If you persevere in Truth, you have loaded your weapons against what seems to be and discharged them with Truth." (Source: Holy Love)
Help the Lord spread His voice, time is running out
Please help spread these messages of faith, hope, salvation,
defense
against evil (by email, printing, Facebook, Twitter, and other media) to your loved ones, your friends, and all the people you may meet, who seek salvation or who are in danger of being eternally lost. The Lord gives great graces and blessings to those of goodwill who, according to their own possibilities, collaborate with His Plan of Salvation.
Who helps the Lord save a soul predestine his own
, independently from the outcome.