29 November, 2013
Urgent call of Jesus in the Blessed Sacrament to the Catholic world.
"Noli Me Tangere!"  Do not touch Me!
"My children, My peace be with you.
Everything is reaching its limit, so My Father has arranged it. The time of Mercy is running out, it is very close to be consumed totally.  Soon the time for Justice will come, and everything that you see in the creation will be transformed; with The Warning and The Miracle, the time of Mercy will end.
Heaven keeps warning humanity to be prepared for this great event, which will transform his lives.  How sad that many do not want to believe and continue in their daily lives ignoring Our calls.  Children of little faith, if the events, described in the Holy Word and in the messages that we have been giving to mankind through the end-times prophets, have not been fulfilled, it is because of My Father's Mercy, who has kept on hold because of the intercession of My Mother so that all be accomplished.
Heaven together with My Mother are interceding for this humanity, but when the last second of Mercy runs out, everything will break loose.  Understand that My Father is not pleased with the death of the sinner.
Pray in chain, My children, so that the communion in the hand and lay giving communion be abolished in My Church, because this sacrilege makes the sky mourn and it makes My father sad.  Remember that the power or the prayer chain, fasting and penance, make everything crumble. 
Its hurts and saddens Me to see the way many lay and religious desecrate My Divinity, by taking me in their hand and others by giving Me as if I were a material object or piece of bread; they do not realize that I am alive and real,  Who becomes life in you in the simplicity of Consecrated history.  Look at the way  I am outraged, is this the reward that you give me for My Love? 
Many souls are in the depths of purgatory and others have been condemned for this vile desecration.
"Noli Me Tangere!"  Do not touch Me!
Because your hands are not worth receiving Me and giving Me. This Sacred Ministry I have only given My Priests, Bishops, Cardinals and the Pope, only consecrated hands by the anointing priesthood can touch Me.
Make good confessions, mortify your senses and pray Psalm 51, which I gave to My servant David, before to receive Me (in communion), if you do not take part in My Paschal Supper, you cannot be nourished with My Body and My Blood.  I say this to you because many arrive at the end of the Holy Sacrifice to receive Me as if I were something mundane given to them; others receive Me in mortal sin, not knowing that this way they are drinking the cup of their own condemnation. 
You must confess each month at least, but if you commit serious offenses, you must do it immediately, many have many months without going to have a confession, because according to them, they have no sin; I say to you that you all are sinners, God alone is Holy.
Oh, what a deceived you are, and what a lack of evangelization in My Church!   I remind you the words of Psalm 51 that says: "I was brought forth in iniquity, and in sin did my mother conceive me" (Psalm 51, 7).
What a sadness I feel at seeing so many of My children, receiving My Body and My Blood without having confessed first.  Apostasy entered My House, many of My Houses remain empty and others have turned into museums and I, I am being kept forgotten in the silence of their Tabernacles.
Oh, what an ingratitude!  Loneliness and sadness have taken Me!  What a suffering I feel at seeing the vast majority of humanity so lost!  When the dark days come, you are not going to have My Houses open, and then, you will cry: Lord, Lord, where are you"? Come and save us, but not one will hear you.
Come to visit Me, do not leave Me alone, it is your Father and your Savior Who is waiting for you, do not reject the Source of Mercy that I am offering you; come to soothe your hunger and quench your thirst, I am waiting with open arms to give you My love, My forgiveness and My Life in abundance.
Your beloved Jesus in the Blessed Sacrament.
Make this message be known to all mankind."
Source:
Urgent call of Jesus the Eternal High Priest
August 9th 2020 from 12:00 am to 6:00 pm - Worldwide day of fasting and of prayer to the Heavenly Father for the protection of Catholic Temples, Shrines and Holy Places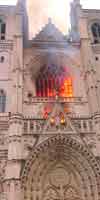 "I make an urgent call to the whole Catholic world for a day of fasting and of prayer to be held worldwide on August 9th with the prayer of the Rosary of my Most Precious Blood and with the prayer of the Exorcism of St. Michael, from 12:00 am to 6:00 pm, asking the Heavenly Father for the protection of my Temples, Shrines and Holy Places, which are being destroyed and desecrated by the forces of evil of this world. I'm counting on you, my Flock." —Jesus the Eternal High Priest
The truth about the Coronavirus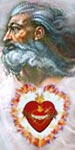 May 1, 2020 - God the Father says: "Today, I invite you to realize that this virus - the coronavirus - is no ordinary disease. It has been created from human ingenuity to specifically target the elderly and physically challenged. This is the plan of future generations to purify the human race around the world. It was released into the general population ahead of schedule - by accident. Those in charge were waiting for less capable government officials in your country (USA) to be in office. Nevertheless, proposed harm is being unleashed on the whole human race."
"I tell you these things to help you to realize the underlying evil at work and hidden in hearts these days. You cannot be confounded by any turn of events. Over all situations, I am in Dominion. No one will be given power over you that is more powerful than your Eternal Father. Therefore, be emboldened with this knowledge. If you persevere in Truth, you have loaded your weapons against what seems to be and discharged them with Truth." (Source: Holy Love)
Help the Lord spread His voice, time is running out
Please help spread these messages of faith, hope, salvation,
defense
against evil (by email, printing, Facebook, Twitter, and other media) to your loved ones, your friends, and all the people you may meet, who seek salvation or who are in danger of being eternally lost. The Lord gives great graces and blessings to those of goodwill who, according to their own possibilities, collaborate with His Plan of Salvation.
Who helps the Lord save a soul predestine his own
, independently from the outcome.