Tuesday, March 7, 2017: (St. Perpetua & St. Felicity)
Jesus said: "My people, a time is coming when you will be seeing an increase in natural disasters that could cause some power outages. When these incidents become severe, as with major earthquakes, you will see a national martial law declared. When your lives are threatened, I will call all of My people to My refuges, and you will not return to your homes. My refuges will be protected by My angels from any physical harm. When the one world people plan to take over America, they will find a way to turn off your electricity. This is why some of My refuges will have some electricity from solar power and generators. This is also why you will need some sources of heat during the winter, and means for light at night, that do not require electricity. You may want to look into a relatively inexpensive backup generator, so you could have some electricity during the winter months. You may have to see how you could add something to your current solar system, or use separate wires."
For Al: Jesus said: "My son, you all have gifts for your own missions. When you are called to a healing ministry, it means that you should have faith that I can heal people. The person being prayed over, also needs to have faith that I can heal them. Not everyone, who you pray over, will have an outward healing. You could be giving a spiritual healing that could help the soul. Not all healings are instant, and it could take time and prayers. Trust and have faith in Me to use your gifts."
Monday, March 6, 2017:
Jesus said: "My people, when you come to your judgment, I will settle accounts with everyone on how you lived your lives. This will be a test to see if you have enough evidence that you were loving of Me and loving of your neighbor. All of your good deeds in your heavenly treasure will be used as your defense. Today's Gospel is a somber revelation of what it will be like at your judgment. I will ask you if you fed the hungry poor people? Did you clothe the naked? Did you physically help people in need? Did you give water to the thirsty? Did you visit people in prison? Did you take in people who needed shelter? Did you give money to the poor and My Church? Did you show your love for Me in prayer and at Sunday Mass? If you did this for the least of your neighbors, you did it for Me in them. Those souls, who can say 'yes' to these things, will be allowed into heaven as an eternal reward. But those souls, who did not love Me, and did not reach out to Me in their neighbors, will be cast into hell as their punishment, never to see Me again."
Sunday, March 5, 2017: (First Sunday of Lent)
Jesus said: "My people, in the first reading from Genesis, you saw how the devil in the serpent tricked Adam and Eve into eating the fruit from the forbidden tree of the Knowledge of Good and Evil. Satan is the great liar and deceiver, who tempts people into sin with your earthly pride and desires. In the Gospel you again saw how Satan tempted Me with food after forty days of not eating. He tempted Me to fall off a cliff, and he tempted Me to kneel and praise him to gain all the kingdoms of the world. I read him Scriptures for all of his temptations, but I did not fall like Adam and Eve did. So one man sinned and he brought sin, suffering, and death upon mankind. I, as another man, have brought salvation of your sins, and eternal life for those people who obey My Commandments. This is the trial of this life that Satan and the demons will be tempting you every day of your life. So do not let your guard down because the devil never sleeps, nor does he take a vacation. This is why you need Me and My angels to fight the devil's temptations. This is also why I gave you Confession to cleanse your sins when you fall like Adam. I know you are weak, but you can ask My forgiveness of your sins. Keep focused on Me, and you will have your eternal reward with Me in heaven."
Friday, March 3, 2017: (St. Katherine Drexel)
Jesus said: "My people, during Lent you are called to fast between meals, especially on the Fridays of Lent. Today is also First Friday of the month, so you need to remember to pray your Stations of the Cross on Friday. In your lives you meet with all kinds of trials, so instead of getting angry, offer them up to Me, and I will help you. I know what you need, but you need to unite yourself with Me to let Me work out your problems. Even today you can call on Me to help you get your car out of a rut of mud. Have faith in Me that I can help you, and you will find a solution to your problem. After you have solved your problem, then you can give Me prayers of thanksgiving."
Saturday, March 4, 2017: (St. Casimir)
Jesus said: "My people, in the Gospel you read how I called Levi, the tax collector, to be one of My disciples. Then he held a dinner for Me and his friends. The Pharisees and Scribes questioned Me, why I was eating with sinners and tax collectors. Tax collectors were considered traitors in collecting taxes for the Romans, who occupied Israel. I answered them: 'Those people, who are not sick, do not need a physician, but the sick people do. I have come to heal and forgive sinners, and not the self-righteous.' All of you are sinners and you are weak to sin. I came to the earth as your Redeemer in sacrificing My life for all peoples who want to repent and be forgiven. Those people, who refuse to repent, and do not love Me, are on the path to hell.
My son, you had an extreme ordeal in trying to get your car out of the mud yesterday. But then you finally gave up struggling with your own efforts, and you called a truck to pull you out with his winch and a long cable. It cost you some money, but you were able to get your car back, and you washed off the mud. You were upset how you would get the car out, but I told you not to worry, that I would find a way for you. At times you want to do things on your own, but when it is overwhelming, you need to call on others to help. When you have troubles, you can call on Me and others to help solve your problems. You need to pray some prayers of thanksgiving to have your car back. I help all sinners in both their physical and spiritual ways."
Jesus said: "My son, I told you to make use of your extra time from this short reprieve that I have given you. You still have a few things to finish up. You need to finish the roof on your outhouse and put some brackets on it so several people could lift it over a deep hole that you will have to dig out later. You might want to cut up some of your wood outside so it will fit in your fireplace grate. Your solar panels will not work much in the months of winter when you have snow on them, or you have cloudy days. You will need your wood and kerosene for heat, and your oil lamps for light. You might put tape or insulation around your water lines going through your root cellar, so your lines do not freeze on cold days. You also need to try your MREs and your dehydrated food as I asked you before. You have a list of action items to go along with your other duties. Be thankful that you have your own refuge, but you will be doing a lot of work to help people through the coming Warning and tribulation."
Source: John Leary
Urgent call of Jesus the Eternal High Priest
August 9th 2020 from 12:00 am to 6:00 pm - Worldwide day of fasting and of prayer to the Heavenly Father for the protection of Catholic Temples, Shrines and Holy Places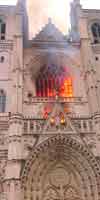 "I make an urgent call to the whole Catholic world for a day of fasting and of prayer to be held worldwide on August 9th with the prayer of the Rosary of my Most Precious Blood and with the prayer of the Exorcism of St. Michael, from 12:00 am to 6:00 pm, asking the Heavenly Father for the protection of my Temples, Shrines and Holy Places, which are being destroyed and desecrated by the forces of evil of this world. I'm counting on you, my Flock." —Jesus the Eternal High Priest
The truth about the Coronavirus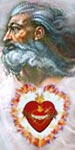 May 1, 2020 - God the Father says: "Today, I invite you to realize that this virus - the coronavirus - is no ordinary disease. It has been created from human ingenuity to specifically target the elderly and physically challenged. This is the plan of future generations to purify the human race around the world. It was released into the general population ahead of schedule - by accident. Those in charge were waiting for less capable government officials in your country (USA) to be in office. Nevertheless, proposed harm is being unleashed on the whole human race."
"I tell you these things to help you to realize the underlying evil at work and hidden in hearts these days. You cannot be confounded by any turn of events. Over all situations, I am in Dominion. No one will be given power over you that is more powerful than your Eternal Father. Therefore, be emboldened with this knowledge. If you persevere in Truth, you have loaded your weapons against what seems to be and discharged them with Truth." (Source: Holy Love)
Help the Lord spread His voice, time is running out
Please help spread these messages of faith, hope, salvation,
defense
against evil (by email, printing, Facebook, Twitter, and other media) to your loved ones, your friends, and all the people you may meet, who seek salvation or who are in danger of being eternally lost. The Lord gives great graces and blessings to those of goodwill who, according to their own possibilities, collaborate with His Plan of Salvation.
Who helps the Lord save a soul predestine his own
, independently from the outcome.