Wednesday, August 14, 2019: (St. Maximillian Kolbe)
Jesus said: "My people, do not forget that many nuns and priests were also killed with the Jews in Hitler's death camps. Where there is evil killings, the devil will also try to remove My priests and those who believe in Me. The Holocaust in World War II was so horrible, yet you did not think this could happen again. You are killing a million of My babies every year in your country alone. You are also seeing Christians being killed in Muslim countries. You are again seeing gunmen committing mass killings in your various cities. I will not allow this constant killing of innocent people much longer. My Warning and the tribulation are coming soon, then I will send all of these evil people to their deaths, and their souls into hell by My justice. Have patience and be ready to come to My refuges of safety, where I will separate the good people from the evil people."
Jesus said: "My people, you have heard and read stories of how the farmers were unable to plant all of their land because of the muddy fields. They did some late planting, but it is unsure if that late planting will have enough time to mature. Do not be surprised if your farmers have less crops to harvest this fall. I have even warned My people to stock up on your dried foods, because there could be a shortage of crops for your people to eat. When you see shortages in your stores, you will remember My warnings. You will be seeing more years of bad crop yields, which is another reason to continue adding to your supply every year. Remember Joseph in Egypt when he had the people grow as much as possible during the years of plenty. He also had them store extra food for the lean years. You are about to see some lean years, and those people, who are stocking up now, will be the people who will have food during your lean years of a coming famine. This is not hoarding food, but it is prudent storage for a time of need in the coming famine. You need to start planning for your next refuge practice run. You could choose a date acceptable to your prayer group, when you are not traveling."
Thursday, August 15, 2019: (The Assumption of Mary into heaven)
Mary said: "My dear children, today's Gospel is about my coming to be with my cousin, Elizabeth. I was pregnant with my Son, Jesus, by the Holy Spirit, and as I entered, St. John the Baptist in Elizabeth's womb leaped for joy. This was in Ein Karem, Israel, and after Elizabeth's greeting, I recited my Magnificat giving glory to God for both our unborn babies. You, my son, have been to Mexico City to see Juan Diego's miraculous image of me on his tilma. This image was of me clothed in the sun, and I was pregnant at the time. I am the Immaculate Conception, and I am the Patroness of all the Americas. Today is a great feast day of my Assumption into heaven, when the Lord took me into heaven so I would not suffer corruption of my body. The Church confirms this miracle, and I am your Blessed Mother where I place my mantle of protection over all the Americas. Call on me to bless and protect your children from all the temptations of the devil and the world."
Prayer Group:
Jesus said: "My people, you are seeing more gun incidents where police were shot in Philadelphia, Pa. You also are seeing many places that want to have stricter gun laws. Even if your guns were taken away, the criminals would find a way to get assault rifles and the ammunition. When you have gun laws that restrict people from having guns, you are only restricting law abiding citizens who need guns for protection. All of these incidents have taking away your guns as the reason why they are being orchestrated. Eventually, I will call My people to My refuges where you will be safe from these gunmen."
Jesus said: "My people, because your 10 yr Treasury bond yields are higher than other countries, many people are buying them as safe assets. When stocks go down, those people in stocks switch to the 10 yr bonds. The more people who buy these treasury bonds, the lower the yield goes. This is why you are seeing an inverted bond yield where the two year bond yield is almost equal to the ten year bond. In the past, such inverted bond yields have been a sign of a coming recession. Many countries are having trouble with their economies. It is these low GDP numbers that other countries are having, that is contributing to a lower stock market. Pray that your economy does not falter as the other countries are doing."
Jesus said: "My people, today's feast day of My Blessed Mother celebrates her Assumption into heaven. This was a blessing given to My Blessed Mother to honor her life without sin, and for answering the angel's call to be My mother. She is the one person who was sinless on earth, as I was sinless. Give praise and thanks to Me for giving you My Blessed Mother to guide you to Me."
Jesus said: "My people, you have seen Iran capture a British oil tanker because Great Britain seized one of their oil tankers. Now, Great Britain has released the seized Iranian oil tanker, but it is not certain that Iran will release the captured British tanker. Iran's seizure of ships and damage to other ships has raised tensions in the Persian Gulf. Continue to pray that no war will come from Iran's actions."
Jesus said: "My people, your President is using tariffs on China's exports to try and change their bad trading habits. This can be dangerous in affecting your import prices from China, and it could affect the global economies. It is this uncertainty of tariffs that are affecting your stock prices. Keep praying that your two countries can come to a fair trade agreement."
Jesus said: "My people, I have called a good number of people to set up refuges so My faithful will have a safe haven to come to for their protection. I am even asking you to have your fourth refuge practice run with your prayer group. This would be a good practice to do for all of My refuges. You need to be ready to accept people at your refuges for sleeping, eating, and praying together. I told you this will be how I will separate My believers from the evil people."
Jesus said: "My people, My Warning is needed at this time to wake up the sinners who are ignoring Me, and not repenting of their sins. Once My people face their life review and mini-judgment, they all will see how much their sins offend Me. Many people after the Warning will have a strong need for Confession. You can come to frequent Confession before My Warning, so you do not see hell in your mini-judgment. This world needs a wake-up call because your sins are getting worse every day. Only My believers will receive a cross on their foreheads. So work on converting your family members during the six weeks after the Warning, or else they may be lost and not allowed into My refuges. You do not want to see any family members lost in the eternal flames of hell."
Friday, August 16, 2019: (St. Stephen of Hungary)
Jesus said: "My people, in the first reading I was showing the Hebrew people how they were led by Moses and Joshua. I was instrumental in protecting them from the Egyptians. When they crossed over the Jordan River, I also helped them to defeat the various people on the Promised Land. I helped them in battle, and I sent hornets to clear the land for the Hebrews. This is a lesson even for My faithful of today, so you can see how I protect My people even from the evil forces of communism and the jihadist Muslims. There are many forces, who follow the devil, who will try to kill My faithful. Have no fear because I will protect you at My refuges. You will have My angels to defend you, but do not take any pride in these actions of Mine, because it is I who am defeating your enemies."
Jesus said: "My people, you have had several bad storms approach your refuge, but when you prayed your storm prayer, they broke up and did not cause any damage. You have faith that I will protect all of your refuges so you will have a safe place of protection. In other words your refuge angel will protect your place from damage, even before the Warning and the tribulation. I have told you that after the Warning, your refuge angel will put a shield of invisibility over your refuge so the evil ones will not see you. This same angel will also put a shield over you that will protect you from any damage from storms or bombs. If you can believe in such miraculous protection during the tribulation, then you can believe that the same angel will protect your refuge even before the Warning. Continue to put your trust in My Word, and you will have no worries of the Warning and tribulation to come."
Saturday, August 17, 2019:
Jesus said: "My people, in the Book of Joshua you are reading about the covenant that Joshua made with Me and his people. He did not want them praying to the false gods of their neighbors, and he emphasized their allegiance to Me by making markers and statues to Me. He said: (Joshua 24:15) 'As for me and my household, we will serve the Lord.' You have My Commandments that were given to Moses. This is My covenant with all of humanity that you will love Me, and your neighbor as yourself. These laws are the two great commandments that spell out My love for you. I am your Creator, and you are made in My image. You are here to know, love, and serve Me as when you were taught in your early years. Hold fast to My laws of love, and you will have your reward in heaven."
Jesus said: "My son, I have asked you to prepare for your fourth refuge practice run because My people need to be prepared for the coming tribulation. My refuges will be your places of safety, as you will be protected by your refuge angel, St. Meridia, at your refuge. Your last practice run was done on February 2, 2019, but you are seeing events getting more serious now. It is because of the closeness of the Warning, and your need to practice what you learned, that I am calling you to plan your fourth refuge practice run. You usually start at 7:00 p.m. on Friday and you go to 7:00 p.m. on Saturday. You first plan the hours on a sign up sheet for the constant hours of Adoration in your chapel. You then assign jobs and plan what you will have for your meals. You will be using your stored food, without using any electricity or ovens. You used your butane burner and fuel for heating water and your food. You used your propane oven to bake your loaves of bread. If it is cold out, you can use your kerosene burners, and/or your wood fireplace for keeping you warm. You will be using your well water for water, and your pump powered by your solar panels during the day. You have wind-up flashlights, and rechargeable battery powered lanterns for light at night. You will need cots, pillows, and blankets for sleeping at night. You may also try washing your clothes by hand and your wringer. By having a plan for people to have various jobs, you can handle sleeping, eating, the latrine, and providing water and food. You will need fuels to run your heaters and ovens. All of these things will need to be multiplied by faith in Me, so your people can survive several years if needed. Plan a specific date so most of your people could come to your practice run."
Sunday, August 18, 2019:
Jesus said: "My people, in today's Gospel I am speaking about how faith in Me is dividing families. There are some family members who pray and come to Sunday Mass, but there are other family members in the same family, who ignore My love, and they refuse to come to Sunday Mass. Now, you are seeing even more cause for problems in My Church with the latest old pedophile cases that could bankrupt your dioceses. There are some true abuses, but it is your governor and the lawyers who are trying to bring down My churches with exorbitant settlements that the churches cannot afford. In addition to pedophile cases, you are also going to see a further division in My Church between a schismatic church and My faithful remnant. When you see heresies promoted in these schismatic churches, you are to leave such churches for My faithful churches. You will also see My Churches persecuted by your government for taxes and hate crimes. You can see how eventually, My faithful remnant will need to come to My refuges of safety for Mass and prayers. When your lives are in danger, I will call My faithful to leave their homes, and come to My refuges, where My angels will protect you and provide for what you need to survive. Trust in Me to help you through My Warning and the tribulation of the Antichrist. Have no fear and follow My angels."
Monday, August 19, 2019: (St. John Eudes, anniv Mass Jeanne Marie)
Jeanne Marie said: "My dear husband Al, how I love you so much, and we are separated for now. But we will see each other again when you come to heaven. I am watching over you for now. Remember, how our love is forever beyond this fence of time in the world."
(Lee Campanella Funeral Mass)
Lee said: "I love My wife, Rosetta, and all of my family. Thank you all for attending my funeral. I also want to thank all of my care-givers in the last years of my life. I thank Lori for a nice eulogy. The Lord has accepted me into heaven because I was able to do my purgatory on earth. Keep your focus on Jesus and your prayers, and he will guide you through life. It is your faith and good deeds that will help you into heaven. I pray that all of my family members will follow my example. I will be watching over you, so have no fear."
Tuesday, August 20, 2019: (Evelyn Gravino memorial Mass)
Jesus said: "My people, there are times when some people are always agitating others because they are mean spirited. Even if one person causes you stress, do not be like the other person, but show your Christian kindness, even to evil people. Because someone causes trouble, do not let them spoil your life, but be loving to everyone. Evelyn was part of your lives, and she deserves some respect for her life among you, despite what others have done. It is better to pay your respects for her funeral, than to hold any hate for someone. Any hate or dislike for someone can only hurt your own life. It is better to have peace about the passing of your relatives."
Jesus said: "My people, you have seen some serious earthquakes in California over the last few months. In southern California you saw a 6.6 and a 7.1 earthquake. More recently, you have seen a swarm of smaller earthquakes along the San Andreas fault. These swarms of earthquakes have been occurring more frequently. You will be seeing more such swarms along this same fault line. There are several fault lines that are even connected to Yellowstone's super volcano. If you see more serious earthquakes, you could see them cause an eruption of this volcano that could kill many people, and it could cover our fields with three inches of dust. Pray that your people will be ready to evacuate from the San Andreas fault, so they will be saved from any destruction."
Wednesday, August 21, 2019: (St. Pius X)
Jesus said: "My people, today's Gospel seems a bit unfair to the worldly people who always complain if things do not look fair. In the parable the owner of the vineyard sent workers out into the vineyard for various numbers of hours of the day. They all agreed to work for the daily usual wage. When they received their pay, they all received the same daily wage. Some people complained that they should have received more for working longer hours. The owner asked them if they were envious because he was generous to those workers who only worked one hour. This parable has a deeper spiritual meaning than just the daily wage. This represents how people may be converted to their faith in Me at various ages of life. Some people may be faithful to Me their whole lives, and they are saved in heaven. Few people may even be saved at their death bed in the last hours of their lives, but they receive the same gift of heaven. I am more than just generous, but I am merciful even to a sinner who repents at the last hour before death. So do not risk waiting to the last hour to be saved, but repent of your sins, and let Me lead your life as soon as possible. Then you too, can receive eternal salvation with Me in heaven. When you come to Me, you will truly receive your eternal prize of being with Me in heaven."
Jesus said: "My people, I am showing you a map of the United States, but the edges are on fire. This represents how the demons and the flames of hell are affecting your people with the filth of their evil. You are seeing how the socialist agenda is taking over your opposition party. This socialist communist plan is also infecting your opposition party with atheism as well. It is the Godless part of communism that is inviting more demons to take over your country. Once you take Me out of your schools and public buildings, the demons will take over this void. This is why your schools and colleges are brainwashing your young adults with atheistic communism. They are taking away the faith in Me that you taught your children. These same liberals are trying to do away with your history, traditions, and even your treasured Constitution. This is why they want to do away with your electoral college and any mention of My Name in public. You need to re-educate your youth in the faith, or their souls could be lost to the demons who are trying to take over your country."
Thursday, August 22, 2019: (Queenship of the Blessed Virgin Mary)
The Blessed Mother said: "My dear children, I am happy to celebrate my feast day with you, as I place my mantle of protection over all of my children. I bring you to my Son, Jesus, so you can share in the love of our Two Hearts. We are seeing the terrible killings going on in your world, especially all of your abortions of God's little ones. We both love all of you so much, and we pray to save as many souls as possible. You can imitate our lives, but you need to give your free will over to my Son's Divine Will, so you can carry out the mission He has given each of you. I want to thank Queenship Publishing for all they do to spread the messages of God's love in all the books and DVDs that they sell. I pray for their success, so they can carry on their mission. I also thank them for honoring me with their title. Continue to pray my rosary every day, and wear my scapular as a sign of your faith in Me and my Son, Jesus."
Prayer Group:
Jesus said: "My people, your President is making some more changes in your immigration rules at the border. There have been many complaints about separating parents from children while the parents wait for a court date for their asylum claim. Now the new rule is not to separate the children, even though separating children was done under your previous President. Another new rule is to implement an existing law of mandating a DNA test for everyone, so criminals found guilty of crimes, cannot enter the country. This law was stopped under your previous President, but now it is being reinstated because so many criminal immigrants are seeking asylum."
Jesus said: "My people, you are seeing some mentally unstable people able to get guns and large ammunition clips. When they announce their killing plans to friends, or they put it on your social media, now people are warning police of possible mass killing attempts. You have seen three or more such people arrested for having many weapons and large magazines of bullets in their houses along with their threats. Such discoveries are saving lives, and people need to warn the police of such dangerous situations. Pray that you can continue to stop these mass killings."
Jesus said: "My people, you have seen the opposition party and the media try to impeach your President over the Russian collusion and other fake news. Now these same people are talking about a recession and how they can blame your President for a bad economy. You have seen an inverted yield curve where the 10 yr bond yield is less than the 2 yr bond yield. The 10 yr bond yield is being artificially lowered by so many investors both here and abroad who are seeking safe assets with positive interest. Foreign bonds are even charging negative interest rates. Many economists are dismissing this recession sign since consumers are still buying things. Pray that your economy can continue to prosper."
Jesus said: "My people, you are seeing the opposition party candidates proposing issues that do not make financial sense to carry out. The 'Green' issue of doing away with fossil fuels is not practically possible. Claiming Medicare for all is another financial impossibility that would bankrupt this program that was only meant for seniors at or over 65. Claiming to pay for free college, or forgiving such loans is another financial impossibility. These candidates are making outrageous proposals without any plan for how to pay for them. Another danger is to propose a socialist takeover of your government. This may eventually happen, but it is not supported by your voters now. Be ready to come to My refuges if the socialists threaten to take over your country, because your lives would be in danger."
Jesus said: "My people, you will soon see a conflict in your country between those people proposing a socialistic society vs those people who support capitalism and your Constitutional rules. You are seeing poor economies in communist countries, and a lack of love of Me in their atheistic ways. Capitalism has some flaws, but it does reward people who work hard to earn a living. Pray that your country will not turn to socialism, since it is a stepping stone to atheistic communism."
Jesus said: "My people, there are some people who want the popular vote to replace the electoral college vote, but this would require an amendment to the Constitution. The electoral college is meant to equalize the representation of high population states with low population states. Now some states want to force all of their votes to go to the candidate with the most votes. This replaces district by district votes that splits up the states' tallies. You can see this as another means to try and prevent your President from winning again. Pray for a fair election according to your Constitution."
Jesus said: "My people, you are seeing more and more evil coming into your society because your people are not obeying My Commandments. Your families are not staying together, and you continue killing a million of My little ones every year. Unless you repent and change your evil ways, I will allow more natural disasters, and your enemies to take you over. In the Old Testament you saw how I allowed Israel's enemies to overtake them when they followed foreign gods instead of Me. When your lives are threatened, I will call My faithful to My refuges. Then I will destroy the evil ones and cast their souls into hell."
Friday, August 23, 2019: (St. Rose of Lima)
Jesus said: "My people, you are here in this magnificent basilica which is a testimony to all the beautiful things that Fr. Baker did for the people. He is a Servant of God on his way to sainthood. He touched many lives with his leadership, and it was by his daily prayers that I accomplished his mission in accessing funds for his projects. It was the spiritual gifts that he shared, that helped so many souls through hard times. He is an inspiration of faith to see what you can accomplish if you have faith and trust in Me. He faced many trials, but My graces were sufficient for him to succeed in his projects. All of My people are faced with trials in life, but when you give it all over to Me, I can help you succeed also in carrying out your individual missions. Continue to trust in Me, even in your refuge mission, where I will provide for all the people who will come to your refuge. By My grace you will be able to house and feed the people who I will send to you."
Jesus said: "My people, abortion is killing one million babies every year, which makes this subject the biggest threat to human life on your planet. You have seen the Holocaust kill millions of Jews, priests, and nuns in World War II by Hitler. Now, you have a new holocaust of abortions that is threatening all unborn babies. This movie of 'Unplanned' about Abby Johnson shows you exactly how Planned Parenthood and its doctors are killing millions of babies for profit. It is pointed out in the movie how money received for abortions is their main source of income. Now Planned Parenthood is refusing to take Title X funds from the taxpayer. The interviews on this DVD shows how a Planned Parenthood clinic director turned to pro-life when she witnessed a baby being sucked out of the womb. When your people realize they are killing their babies with every abortion, then they may wake up to how cruel this killing is, and how it offends Me very much. Do not listen to the devil who tells you to kill babies out of convenience, but think about how you are violating My Fifth Commandment in killing your baby. Life is too precious to kill, because these babies will never see a chance to fulfill the mission that was meant for each baby. You are committing a mortal sin by killing your baby, and you are violating My Divine Will for the purpose of this life."
Saturday, August 24, 2019: (St. Bartholomew)
Jesus said: "My people, My apostles were all chosen by heaven, and it was not easy for them to leave their families and follow Me. They did not realize how important their mission would be to share My very words of the Gospel to all the nations. They were given the gifts of the Holy Spirit to speak different languages, and they had gifts of healing, and some could even raise people from the dead. They also had protection from the demons and could exorcize demons out of people. I sent them out two by two to spread My message of love. Today, I am also calling on My new apostles of the end times to save souls, and prepare the people for the Warning and the tribulation of the Antichrist. All of My original apostles, except St. John, were persecuted and martyred for My Name's sake. So in the end times My apostles will also be persecuted, and some may be martyred as well. I am having My refuge builders prepare safe havens for My faithful to come and be protected by My angels. I will separate the good people at My refuges, from the evil people who will be killed and cast into hell with My Comet of Chastisement. Trust in My power as I will protect My apostles and My faithful at My refuges."
Jesus said: "My people, socialism is giving more power over to the federal government, and it eventually takes away all of your freedoms guaranteed by your current Bill of Rights. One of the most flagrant loss of rights in socialism is the acceptance of atheism and the loss of your right to worship Me. You can see how the devil promotes socialistic communism because it will push Me out of your churches. You see socialists who want free health care and education paid for by the government. Medicare for all and free college for everyone would cost more money from your taxpayer. Right now the middle class pays most of the taxes and has voting rights. In a true communist government, you would lose your right to vote, and the party leaders would benefit the most. Capitalism allows you to have the reward of your work, and you keep your freedoms according to your Constitution. Your people have had their freedoms too long to give them up over to the socialist communists. Pray that your people continue to vote against communist tactics. The worst thing about communism, is that the socialists hope their constant lies will be believed as true when you hear it over and over on your media. Pray to keep your Christian faith, and vote against your atheistic socialist plans for taking over your country."
Sunday, August 25, 2019:
Jesus said: "My people, in the Gospel someone asked Me 'Are only a few people going to be saved? I answered him: (Luke 13:24) 'Strive to enter by the narrow gate; for many I tell you, will seek to enter and will not be able to.' You have two choices: you can either enter the narrow gate to heaven by witnessing your faith in Me by your actions, or you can enter the broad road to hell where the devil tempts you with all kinds of worldly pleasures. In Matt 22:14 I told My people: 'For many are called but few are chosen.' This was at the end of My parable about the wedding feast when the people invited, failed to attend. So the king wanted to fill his room with guests, so people were invited off the street. Some people, who were invited, were not dressed with wedding garments, so they were bound and thrown outside. It is not enough to hear My Word, but you must put My Word into action by making Me the center of your life. Those people, who accept Me, will have their reward in heaven, but those people, who refuse to give up their own will to Me, will be punished in hell."
Monday, August 26, 2019:
Jesus said: "My people, in today's Gospel I called out the woes on the Pharisees for how they were swearing by the temple and the altar. The Pharisees were lovers of money, and their directions were the obligations of swearing by the temple's collections. They put money before worshiping Me. Just as I was calling out the evils of My society, so My faithful need to call out the woes of your society's evils as well. It is one thing to call for repentance of your sins, but it is more important to name those sins, and call on people to change their lives. Call out publically the need to stop your abortions, to stop fornicating without marriage, to stop engaging in homosexual sins, and to stop promoting pornography. Many of your priests are afraid to talk about abortion and sexual sins in their homilies from the pulpit. Yet many souls are going to hell because of these sins. Instead of trying to hide the woes on these sins, they should be exposed for the true evil in your society. You have a 'politically correct' fear of talking about My Commandments, but this is the devil's trick to avoid the shame of your sins, and the need for repentance and conversion from a sinful life. Do not have fear about speaking out about your society's sins, but speak out about the need for Confession and a daily prayer life. People commit their sins in the dark, and try to keep them hidden. By exposing these sins in the light, you can help save souls from their sinful habits."
Jesus said: "My son, what you are seeing, is the moment of My victory over the Antichrist and the evil people. When your lives are in danger, I will call all of My faithful to come to My refuges. Once My faithful are safely at My refuges, then I will bring My Comet of Chastisement to kill all the evil people, and then I will cast the evil ones into hell. You saw My Comet of Chastisement pass close to the moon, and then it struck in the middle of the Atlantic Ocean. My faithful will be protected from being killed at My refuges by the shields of My angels. The faithful will then be raised up into the air so I could renew the earth into a Garden of Eden all over the earth. Then I will bring My faithful down into My Era of Peace where they will live a long time. Once you die, you will be like saints entering into heaven. Rejoice that you are living in this glorious time."
Tuesday, August 27, 2019: (St. Monica)
Jesus said: "My people, I called woes down upon the Pharisees and scribes because they were hypocrites, and they did not practice what they preached. They were people full of pride and desiring to lord their authority over people. I even told the people to listen to their words, but do not imitate their actions. It is one thing to listen to My words, but it is another thing to act on My words in showing your love for Me and your neighbor. I am warning My faithful not to be hypocrites as well, because it is important to give a good example by living out what you are preaching. Today, you are honoring the feast day of St. Monica. She prayed persistently for the conversion of her son, Augustine. After thirty years of St. Monica praying, St. Augustine was converted and he accomplished great things for My Church. St. Monica is a good example for all of you who have wayward children. Parents can pray persistently for their children and other family members to help save their souls. You saw how years of prayers helped save your wife's father. So you see the need to pray for all of your family, especially for those members who are not coming to Mass on Sunday. Your prayers are being stored in heaven for the time of My Warning, when they will desire repentance, if they so choose. Keep remembering to pray for the souls of your family every day, to show Me how sincere you are in helping to save their souls."
Source: John Leary
Fr. Michel Rodrigue explaines The Events of the End Times
Do you want a quick overview of the end times? Then read "The great events of purification will begin this fall". If you want all the details of the unfolding events, then go to "Virtual Spiritual Retreat with Fr. Michel Rodrigue about the End Times".
Messages of Holy Love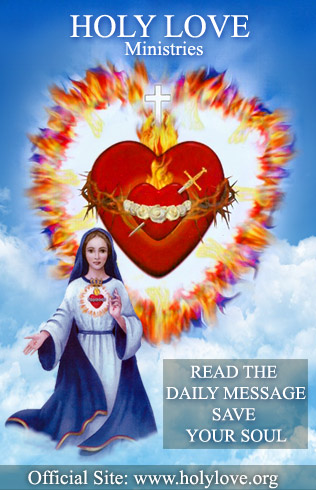 Read the daily messages
Catholics, we have entered the Pre-Tribulation, observe the Commandments, go to Confession; receive the Holy Eucharist; pray at least 3 Rosaries a day to keep your faith and save your loved ones. Prepare for the events that will devastate our planet: plagues, famine, WW3, cataclysms, antichrist's World Order