MESSAGE FROM OUR LORD JESUS​CHRIST
TO HIS BELOVED DAUGHTER LUZ DE MARIA
FEAST OF THE SACRED HEART OF JESUS
JUNE 8, 2018
My Mother is a zealous defender of souls
"My Beloved People:
MY HEART BURNS WITH LOVE FOR ALL HUMANITY.
MY MOTHER'S HEART HAS RECEIVED ALL HUMANITY TO LOVE IT AS SHE LOVES ME.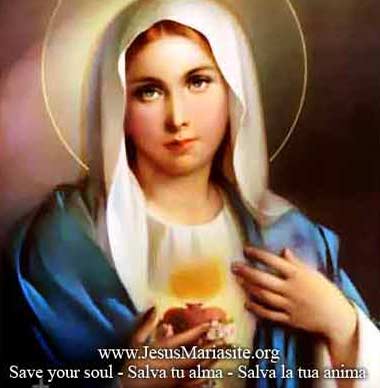 You receive the greatest Treasure of My Heart: this is My Infinite Mercy.
My Mother fills you with blessings, She leads you to Salvation by Her Hand.
My Mother is a zealous defender of souls.
All of My Mother's work is for the Glory of Our Trinity and thus it is that She wants each one of you to be able to overcome all the feelings, actions and acts that can cause you to fall, because My Mother keeps each creature imprinted in Her Heart.
CHILDREN, YOU KNOW FULL WELL THAT SATAN HAS SET UP A GREAT AND POWERFUL EMPIRE FROM WHERE, AND THROUGH ITS TENTACLES, HE MANIPULATES WHAT HAPPENS IN HUMANITY: fashions, immorality, abortion with consentment, euthanasia, permissiveness contrary to Our Will, vices of all kinds, the unbridled desire of the flesh, acts that bring Me shame on the part of some of My Priests, the lack of charity in allowing My children to die of hunger, greed, insults towards My true instruments, refusal of the Calls of My Mother, diseases developed in laboratories, agreements in secret among international organizations against My People, religious persecutions…
Evil has sought to immobilize the thought of man, incapacitating him so that he is not creative, but a follower; thereby My children do not think, but accept the thoughts of others that are saturated with evil, with a clear goal: to take over the mind of Humanity.
MY CHILDREN NEED TO BECOME INDEPENDENT OF MISUSED TECHNOLOGY, BECAUSE BY SUCH MEANS THE DEVIL MONOPOLIZES, ABSORBS AND CANCELS OUT THE GIFT THAT MAN POSSESSES: COMMUNICATION AND FRATERNITY.
My beloved People, the devil does not let an instant go by without working so that souls get lost. My People slumber in the midst of human caprice. My Mother will not tire of calling you; this is the Request of Our Trinity to Her.
You, My People, do not celebrate Our Sacred Hearts just once: do not forget that you must stay within Our Hearts at all instants in order not to be lost.
Do not toil in the affairs of the world, instead strive to remain in Grace and to be witnesses to that Love that can only come from on High.
I bless you
Your Jesus."
HAIL MARY MOST PURE, CONCEIVED WITHOUT SIN
HAIL MARY MOST PURE, CONCEIVED WITHOUT SIN
HAIL MARY MOST PURE, CONCEIVED WITHOUT SIN
Source: Revelaciones Marianas
Fr. Michel Rodrigue explaines The Events of the End Times
Do you want a quick overview of the end times? Then read "The great events of purification will begin this fall". If you want all the details of the unfolding events, then go to "Virtual Spiritual Retreat with Fr. Michel Rodrigue about the End Times".
The Rosary is the weapon of these times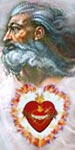 God the Father: "Children, the best way to change the conscience of the world and this country (U.S.A.) in particular is much prayer and many sacrifices. You may not see the effects of your efforts but persevere and do not be discouraged. Use your Rosaries as the mighty weapons that they are. A Rosary said from the heart is more powerful than any weapon of mass destruction. The Rosary is the weapon of these times. Do not let the daily news frighten you. Often, what you hear is not the Truth and only meant to influence your opinions..." (Read more..)
The truth about the Coronavirus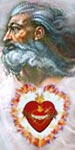 God the Father: "Today, I invite you to realize that this virus - the coronavirus - is no ordinary disease. It has been created from human ingenuity to specifically target the elderly and physically challenged. This is the plan of future generations to purify the human race around the world. It was released into the general population ahead of schedule - by accident. Those in charge were waiting for less capable government officials in your country (USA) to be in office. Nevertheless, proposed harm is being unleashed on the whole human race." (Read more...)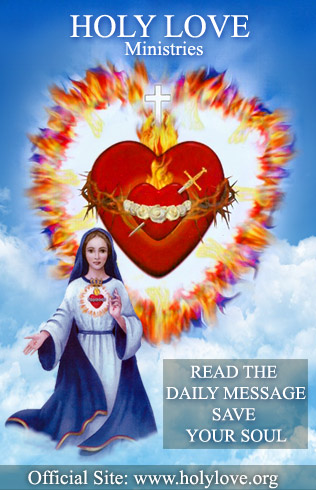 Read the daily messages
Help the Lord spread His voice, time is running out
Please help spread these messages of faith, hope, salvation, collaborate with God's Plan of Salvation. Who helps the Lord save a soul predestine his own, independently from the outcome.