June 12, 2020
Call of Jesus in the Blessed Sacrament to His Faithful People. Message to Enoch.
My Holy Sacrifice will no longer be the same
"My Peace be with you, Beloved Children.
What a sadness I feel in my Loving Heart at the view of contempt, humiliation and sacrilege, that I am going to receive from many of my Shepherds and of my Children, when my Houses are opened again! I say unto you, that my Holy Sacrifice will no longer be the same; the pretext of the pandemic will cause many of my Priests and Leaders of my Church to desecrate my Divinity by giving my Body and Blood to my Flock in the hand as if it were any piece of bread. Unfaithful Shepherds, don't you not that I dwell in all the Consecrated Hosts, Alive and Real, giving Myself as Immolated Lamb, as Spiritual Food, for my People? What a lack of judgement! What a lack of charity, for Me and my Flock that you are going to commit when my Holy Sacrifice resumes!
I am the Lamb of God who comes down from Heaven at every Consecration made by my Faithful Shepherds; every Consecrated Host is a spiritual nourishment for my Sheep. In every Host Consecrated by my Priests the Mystery of the Transubstantiation of my Body and Blood is carried out. It is I, in all my Divinity, who comes down from Heaven to become Life, to give Myself as Spiritual Food to My Flock and who dwells in the heart of each of my faithful Children, who receive Me worthily. I am not just any piece of bread. I am the Living Bread coming down from Heaven. I am the Spiritual Manna, which satiates hunger and quenches the thirst of my Flock. I am your God One and Triune, who comes to give you Life in Abundance. I ask you: do I deserve such a vile outrage from some of my Shepherds who give Me out to my people, as if it were any piece of bread? Do I deserve such a vile abuse when I am received by many of my Children, unworthily or in their hand? Truly I say unto you, whoever gives Me, or receives Me unworthily, or in their hand, is "Guilty" and commits sacrilege, if he does not repent and repair for it. As you treat Me in this world, so you will also be treated in eternity, when you stand before Me.
Think again, Pastors of my Church; think again foolish sheep, so that tomorrow you may not have nothing to lament! I am the Lamb of God who gives Himself for Love to you and who becomes life in the simplicity of every Consecrated Host. Do not forget it, so you do not keep on mistreating my Divinity!
 My Peace I leave you, my Peace I give you. Repent and Be converted, for the Kingdom of God is near.
Your Lamb, Jesus in the Blessed Sacrament.
Make my messages known to all mankind, Flock of Mine." 
Source: mensajesdelbuenpastor
Fr. Michel Rodrigue explaines The Events of the End Times
Do you want a quick overview of the end times? Then read "The great events of purification will begin this fall". If you want all the details of the unfolding events, then go to "Virtual Spiritual Retreat with Fr. Michel Rodrigue about the End Times".
The truth about the Coronavirus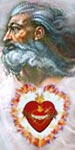 May 1, 2020 - God the Father says: "Today, I invite you to realize that this virus - the coronavirus - is no ordinary disease. It has been created from human ingenuity to specifically target the elderly and physically challenged. This is the plan of future generations to purify the human race around the world. It was released into the general population ahead of schedule - by accident. Those in charge were waiting for less capable government officials in your country (USA) to be in office. Nevertheless, proposed harm is being unleashed on the whole human race."
"I tell you these things to help you to realize the underlying evil at work and hidden in hearts these days. You cannot be confounded by any turn of events. Over all situations, I am in Dominion. No one will be given power over you that is more powerful than your Eternal Father. Therefore, be emboldened with this knowledge. If you persevere in Truth, you have loaded your weapons against what seems to be and discharged them with Truth." (Source: Holy Love)
Help the Lord spread His voice, time is running out
Please help spread these messages of faith, hope, salvation,
defense
against evil (by email, printing, Facebook, Twitter, and other media) to your loved ones, your friends, and all the people you may meet, who seek salvation or who are in danger of being eternally lost. The Lord gives great graces and blessings to those of goodwill who, according to their own possibilities, collaborate with His Plan of Salvation.
Who helps the Lord save a soul predestine his own
, independently from the outcome.