Monday, July 15, 2019: (St. Bonaventure)
Jesus said: "My people, in today's Gospel I am calling people to let Me be the center of their lives. When you help people, you are helping Me in them. Be willing to reach out and help people in need both financially and spiritually encourage their faith. By your good example you may be able to lead people to Me and away from bad lifestyles. I mentioned how in one way I was dividing families, but only how each member believes in Me or not. My believers are on a road to heaven, but those people, who reject My love and refuse to repent of their sins, are on a path to My justice in hell. Pray for sinners and your family that they could be converted to the faith and be saved. It is everyone's free will to choose their eternal destination."
Jesus said: "My people, you know in the Bible how it speaks of a time of tribulation under the Antichrist. I will allow him partial control of the world for less than three and one-half years. When this is allowed, I will warn My faithful to come to My refuges of protection. This will mean at some point America will be taken over by the one world people as your punishment for your abortions and sexual sins. This takeover could come in many possible ways. The first is an EMP attack from several nuclear bombs that would take out your electricity, vehicles, and microchips. Another takeover could be from a communist takeover of your government. Still others would involve a crash of your money or your stock market. You could have mandatory chips in your body, or a combination of natural disasters that could cause a famine. Even a pandemic virus could kill a lot of people. Have no fear because My faithful will be protected at My refuges, although some could die as martyrs from the evil ones. Trust in Me that I will have My angels defend you from the demons and evil people. The reign of evil will be brief before I will bring My destruction upon all the evil ones. Be patient during this purgatory of the tribulation, and you will have your reward in My Era of Peace, and later in heaven."
Tuesday, July 16, 2019: (Our Lady of Mt. Carmel)
Jesus said: "My people, in the Gospel I called out woes to the towns where I performed most of My miracles. Corosin, Bethsaida, and Capharnum were all rebuked for not repenting of their sins, when I preached My words of salvation. I told them that the Kingdom of God is at hand, but they still did not repent of their sins. That is when I told them that they would go down into the nether world for not believing in My words. I told them that their judgment would be worse than Sodom. Now I am calling, 'Woe to America', for you have heard My words of My Gospel and you have still not repented. You were struck a blow on 9-11-01 in your Twin Towers and you did not repent, but you built another Freedom Tower in defiance of My judgment in Isaiah 9:10. Your country will be brought to its knees by natural disasters, and you will be taken over as a punishment for your abortions and sexual sins. Repent now for those people, who want to save their souls. I will protect My believers at My refuges."
Jesus said: "My son, earlier in the planting of crops, it appeared your farmers were not going to be able to plant their normal fields because of the muddy fields. The yield of your crops will be down, but it is not known how much of a shortage you could have. You could see some shortages in your stores as time goes on, and this will tell you about any shortages in your fields. Your friend is right that it may be a good idea to stock up on some food before you may not be able to order it. I asked you to get some more eggs and meat which you ordered, and you got some other foods. Now your friend is replacing some food that you donated to your priest friend. Be grateful for the people at My refuges who are storing food for the tribulation time. Do not worry about having enough food for those people who will come to your refuge, because I will multiply your food, water, and fuels for your survival."
Wednesday, July 17, 2019:
God the Father said: "I AM WHO AM is telling you how I saw the Hebrews suffering from the slavery of the Egyptians. This is why I appointed Moses as the 'deliverer' of My people. Another king took over after Joseph's help with the food, and the Pharaoh put the Hebrews into slave labor to build his supply cities. Just as I appointed Moses, so now I am appointing many prophets to prepare the people for the coming Warning and tribulation. The people of this world are being led astray by the devil, and they are turning evil in their lifestyles. I am preparing My faithful to be separated into My refuges, so I can bring My punishment down upon the idolaters of sex and greed. Trust that I will protect My faithful."
Jesus said: "My people, without Me, you are nothing. My Body and Blood feeds you your spiritual sustenance, and only those people who eat My Body and drink My Blood will have eternal life. This is why the devil is trying to get rid of My Eucharist in the Host because he is weak to My power. This is why the devil attacks the priests, the hierarchy, and My Church people. He wants to do away with the Mass because My consecrated Hosts are his number one target. This is why you need to pray for your priests, bishops, and cardinals to remain faithful to Me. Pray that the Mass is not changed, since it should not be a one world religion. When you see a division in My Church, you are to remain with My faithful remnant, and do not accept the coming schismatic church. At My refuges you will have My true Mass, and My angels will bring you daily Holy Communion. Treasure My Adoration hours as your grace and strength that will help you to remain faithful to My love. I love all of you, and I will be with you to the end of time in My Eucharist."
Thursday, July 18, 2019:
Jesus said: "My people of America, in the vision I am showing you the Tower of Babel and how the pride of man blinded their eyes in not obeying Me. Because of their pride, I caused them to be confused with many languages. Today, you are seeing a similar pride in your technology, and in building your Freedom Tower. The devil has also blinded your people with greed, changing gender, and a lack of My Presence in your lives. You have been witnessing several power outages from unexplained sources. When your electricity goes out, many of you suffer in darkness without air conditioning in your current heat wave. Your people should get ready to endure more disasters from earthquakes, storms, and more power outages as a punishment for not repenting from your abortions and sexual sins. Pray that you do not have any wars, especially in the Middle East with Iran. Your people need to come to Me in church to repent of your sins. Those people, who make Me the center of their lives, will have My reward in heaven, and I will see to their protection during the coming tribulation at My refuges."
(Funeral Mass Robert Brennan) Jesus said: "My people, you heard about Robert Brennan from his son's words about his father. Robert was a gracious and generous man in helping his family and others. He was a model father for people to imitate. You knew his wife when she came to your prayer group in the beginning of your ministry. Robert is with Me now, for he is worthy of his heavenly reward. He will be praying for his family and watching over them. His family can call on him for prayers and help."
Prayer Group:
Jesus said: "My people, your weather forecasters are predicting 100 F days for the weekend. This could be a heat stroke threat for those people without any cooling. If many people use their air conditioners all at once, you could have brown outs or power outages. This is another test from your natural disasters. Be prepared for more of these heat waves, as you could see occasional record highs this summer. Trust in Me that I will protect My faithful."
Jesus said: "My people, your Congress finally authorized $4.5 billion for humanitarian aid for your border facilities that are overwhelmed by too many illegal immigrants who are seeking asylum. Your Congress has failed to act to correct your asylum laws. This is why you are holding people until their trials. Some flee into your country in violation of their judgments. Those people in Congress, who are complaining about the overcrowding, should look at their neglect to have better immigration laws."
Jesus said: "My people, you have just seen Iran take control of an oil tanker with engine problems. You also saw your Navy shoot down an Iranian drone, similar to when Iran shot down your drone. As more incidents keep occurring, you could be getting close to some kind of conflict with Iran. Keep praying that there is no war in this area."
Jesus said: "My people, in the last week three cities experienced unexplained partial power outages. They were New York City, Washington, D.C., and Fullerton, Orange County, California. These events were not connected to the coming heat wave, and they could possibly be related to cyber attacks from other countries. Your National electric grid, water, and communication lines are vulnerable to virus attacks by hackers. Pray that your people can protect you from such attacks. Now, tonight you had your own partial blackout at your house."
Jesus said: "My people, you have the one world people and the Justice Democrats giving media time to your socialist communist activists that are proposing tactics opposed to your Constitution. It is a constant drumbeat of anti- democratic policies that you keep hearing on your media and in your colleges. There is a plan for the one world people to cause riots in the streets for these activists to get their way of a communist takeover. As your opposition party moves further left to adopt such communist goals, you could see a coming civil war. Pray that your voters see the errors in these atheistic plans and keep your current democratic republic. Pray for calm and not constant hate."
Jesus said: "My people, with all of your summer heat, there is more of a need for fresh water. Some rivers and reservoirs could be drying up, and this could make your drinkable water in short supply. Keep some water on hand in case your wells or water sources have little water. This is why I am asking My refuge builders to have water wells on their land. You cannot live without sufficient amounts of drinkable water."
Jesus said: "My people, I have been warning My people to stock up on some extra food throughout the year. If your farmers continue to predict some food shortages from your harvests, you could see stores with empty shelves. If food is in short supply, this could cause some panic among your people in a partial famine. It is better to have a full pantry than very little in a food shortage. In the future you also may need a chip in the body to buy any food. When your lives, or your food supply is threatened, I will lead you to My refuges where I will multiply your food."
Friday, July 19, 2019:
Jesus said: "My people, this reading from the Book of Exodus about the Passover, is connected to your salvation in My Sacrifice on the cross. Moses received from Me that they were to kill a spotless male lamb, and put its blood on the lintel and door posts. Then when the destroying angel came, the angel would pass over that house. All the Egyptian houses had the first born killed. It was this last plague that Pharaoh allowed My people to leave Egypt for the Promised Land. In My death on the cross, I was the unblemished male that became the Lamb of God who was offered up in atonement for all of your sins. The Last Supper was the first Mass modeled after the Jewish Passover. During the Mass you receive My Body and Blood in the consecrated bread and wine. My Eucharist is your spiritual food to make you strong in your faith, and it helps heal any weakness to your sins. Give thanks and praise to Me for dying on the cross for your salvation."
Jesus said:"My people, all over your country you are seeing hot temperatures, and I want you to pray for those people who may be susceptible to heat strokes. Some people may have air conditioning or fans, but others may not. You are also seeing power outages in various places, that could prevent people from being cooled off. Pray also for those people who have lost their power as you did last night. You could see more power outages throughout your summer, so have your solar backup checked out."
Saturday, July 20, 2019: (celebrating Our Lady of Mt. Carmel)
Our Blessed Mother said: "My dear children, I am happy to see all of you come to celebrate my feast of Mt. Carmel. I know you all are suffering from today's heat, but I thank all of you for your rosaries and today's Mass. I am blessing all of you and your families to keep faith with our two hearts of my Immaculate Heart and my Son's Sacred Heart. Your world is being tempted by the devil with all manner of sin in your abortions and sexual sins. Pray for peace in your world which is heading toward a war in the Middle East with Iran. America needs to repent of its sins as the one world people are preparing for the coming Warning and the tribulation. Do not fear because my Son will protect you at His refuges. Trust in us for all of your needs."
Jesus said: "My son, you have had a few power outages when your batteries worked to put some lights on, but this time the inverter did not work. Your system provides power when you have sun, but you need to search why your alternative circuit box did not go on. This will be another project to check with your solar installer. You could also try to learn how to fix this problem in the future when your larger system will be off grid. You also had some problems with some of your battery powered lanterns not working. Now, you replaced all the bad batteries with rechargeable batteries, and you put paper stoppers on the contacts so they would not discharge. The lanterns with rechargeable batteries are renewable and safer than your oil lamps for light. This latest power outage is a wake up call for your solar system. Your second set of panels, which are off-grid, works fine, and during the day it powers your basement dehumidifier. Get this main system working now for when you will need it."
Sunday, July 21, 2019:
Jesus said: "My people, with all of your bad weather problems, your people will be fortunate to have enough food to eat for your people this fall. The heat will be hard to endure through this summer, as each year seems to have more problems. You are looking around at several communist countries, and they have food shortages in many cases because of their lack of incentives to work. It is hard to farm crops with bad weather, but a communist form of government makes food shortages even worse. Your people do not want a socialist government, if you want to have enough food to eat for everyone. Trust in Me to provide the food that you need, and I will multiply your food at My refuges.
Monday, July 22, 2019: (St. Mary Magdalene)
Jesus said: "My people, St. Mary Magdalene was given the honor of being the first person to witness My resurrected Body. When she reported this to the apostles that she had seen Me, they did not want to believe her. So St. Peter and St. John went to the tomb, and they found it empty, and they believed in My Resurrection. Later, I appeared to two disciples on the road to Emmaus, and then to My apostles. Their witness testimony is true, and now I am asking all of My followers to share the Good News of My Resurrection. I suffered death on the cross for the salvation of all souls who want to repent and believe in Me. My apostles saw Me, and they believed, but blessed are those people, who did not witness My resurrected Body, and they still believe. My true followers, who love Me and accept Me as their Savior, will be resurrected with a glorified body as well on the last day."
Jesus said: "My people, pray that you will be strong in your faith when the religious persecution comes against My Church. Soon the churches will be forced to pay taxes, and there will be many new laws restricting My Name in public, and even in churches and schools. You will be seeing attacks against My churches to set them on fire, and to steal My Hosts from My tabernacles. Even the priests will be harassed for offering Mass. Your prayer services and Masses will need to go underground, and soon you will only find safety at the protection of My angels at your refuges. Never deny Me, even if you have to die as a martyr for My Name. The evil will get so bad that I will call all of My faithful to come to My refuges to save their lives and their souls. Be ready when I will call you to the safety of My refuges."
Tuesday, July 23, 2019: (St. Bridget)
Jesus said: "My people, you just read the account of how I enabled Moses to bring the destruction upon Pharaoh's army at the Red Sea. I allowed Moses to stretch his staff over the Red Sea to divide it, and allow his people to pass through it on dry land. Then Pharaoh's army followed them, but the chariots were stuck in the ground, and the waters flowed back and drowned Pharaoh's army. Then My son, I gave you a vision of how I will protect you and your people at your refuge. Just as I performed a miracle to protect Moses and his people, so I will perform another miracle as I will bring destruction upon the evil people at the end of the tribulation. My Comet of Chastisement will kill the evil ones, but My refuge angels will shield My refuge people from this destruction. This will be My victory over the Antichrist, the devil, and all the evil people and demons as they will be cast into hell. You will then rejoice as I will bring you into My Era of Peace, and later into heaven."
Jesus said: "My people, you know how My first mission was to save the lost people of the Jewish faith. During My three years of ministry, I told the people, the Kingdom of God is at hand. I was forming My apostles to teach My new way to all the nations, even to the Gentiles. I formed My Church on the rock of St. Peter. It was St. Paul who brought the Gentiles to the faith. To be a good Christian follower, you need to be able to follow My Will and obey My Commandments. I have a plan for everyone's life, but you can only fulfill that plan by allowing Me to run your life. If people only want to run their own lives, then their desires will get in the way of My mission for them. In order to fulfill the mission I have given you, you need to die to self, and let Me lead you. I have died on the cross to bring salvation to all souls, but you must repent of your sins, and accept Me as your Savior. Your true mission for everyone is to save souls, and this is why I call My faithful to go out to all the nations and share My Good News of My Resurrection. You now see why your deep roots of faith are needed to be one of My devoted disciples. Trust in Me and follow Me, and you will have your reward in heaven."
Wednesday, July 24, 2019:
Jesus said: "My son, you are seeing some signs of how evil your society is getting by the new laws that your liberal states are passing. You are seeing some states allowing euthanasia and recreational marijuana. There is also a breakdown in your respect for your laws which allow immigrant criminals to roam your streets, and even your police are facing abuse by your citizens. Some states are trying to do away with your Electoral College which is not according to your Constitution. This lawless state along with the coming persecution of My churches will soon lead up to the tribulation time when I will call My faithful to hide at My angel protected refuges. This is why you are seeing yourself preparing your food to eat at your refuge during the tribulation. You also will be preparing yourself with monthly Confession for My coming Warning. When you come to My refuges, when I call you, you will see the Luminous Cross in the sky that will heal people of any ills by looking on it. Trust in Me to protect My faithful from the evil ones who want to kill you from the devil's hate."
Jesus said: "My people, you have seen how the opposition party was depending on the Mueller Report to launch their impeachment attack on your President. After today's testimony by Robert Mueller, many people were disappointed in the results of this testimony. There are some who will still seek impeachment, but this cause is not supported by the people who watched these testimonies. Because the opposition party has lost credibility on the reasons for impeachment, they will act like a cornered rat, and they will cause riots in the streets to try and overthrow your President from office. These activists will use any means to try and remove your President from office. They could even resort to assassinate your President. Your President needs to protect himself from all the attempts on his life, fix any manipulation of the voting machines, and correct any illegal voting. Pray for peace among your people, and pray to stop all the hateful activity against your President."
Thursday, July 25, 2019: (St. James, apostle)
Jesus said: "My people, it is a corporal work of mercy to visit the sick and comfort them. You can even pray with them to get better. Sometimes your priests or deacons can pray with the sick, and even anoint them if they have a serious illness. You know for yourself how you feel when you have pain, or you are sick with an illness. You are thankful for people who visit you, or bring you flowers to cheer you up. When you comfort the sick, or visit the elderly, you are doing it for Me in them. Prayers for the sick are also helpful in requesting their healing. When you make these visits, you will be storing up treasure in heaven."
Prayer Group:
Jesus said: "My people, many people have seen this video of how two New York City policemen were abused by people pouring pails of water on them. The police were warned by the mayor not to use violence against such abuse. Once other people protested this abuse, the police arrested three suspects who threw the water. You also are seeing abuse of your border patrols and ICE agents who are trying to protect your people from criminals on the border. It is time that your people started respecting your authorities, or you are inviting chaos and riots in the streets. Your people also need to respect Me, your Creator and Savior."
Jesus said: "My people, you are seeing how much the opposition party still wants to impeach your President, even though the Mueller Report brought no charges against your President. These people have harassed your President since he was legally elected by the people. Pray for peace in your country despite all of your divisions and criticisms by the media and the opposition party."
Jesus said: "My people, your society is having many problems with your children because the majority of your households have only one parent. With just one parent it is difficult to work a job and still have time to take care of the children. Your couples need to commit themselves to keeping the marriage together where possible. Pray for your young people to get married before having children. Your nation needs to restore marriage as a proper institution, so you can have a loving environment for your families."
Jesus said: "My people, your scientists and weather people are showing you record high temperatures in your country this summer. You are seeing heat records being set in Europe as well as in America. There are several factors contributing to your global warming by the Sun. There may be some effect from your green house gases. There is a larger effect coming from the decrease in the strength of your magnetosphere where more solar wind from the sun is coming through to warm your atmosphere. Pray that your people can protect themselves with some form of cooling."
Jesus said: "My people, I told you that you would be tested by more severe natural disasters because of your sins. It is true that you have had 20% more tornadoes than average. You also have had 30% more floods than average, which caused your farmers to have trouble with muddy fields that did not allow them to plant all of their fields. Pray for all the victims of your storms, tornadoes, and floods."
Jesus said: "My people, you are seeing how evil your society is becoming, and your country will be taken over because of it. Even in your courts and investigations, the oath of truth is not followed by 'So help me God' as in the past. You are seeing My Name taken out of the schools and public buildings. By not getting married in My Church, I am not being asked to bless the marriage. You also are seeing more persecution of traditional Christians even in America. You see more pornography, sexual sins, and continuing abortions. My judgment is coming against your country for your many sins against Me, so be prepared when I call My faithful to come to My refuges."
Friday, July 26, 2019: (St. Anne and St. Joachim)
Jesus said: "My people, you have been reading from the Book of Exodus, and today you are reading the Ten Commandments that I gave Moses and his people as My covenant. I am a merciful God, but a just God as well. I came on the earth to fulfill My love of mankind to die for your sins, and fulfill My laws of love. You are seeing visions of My justice on the evil people of Noah's time when they were killed in the flood. In Abraham's time you saw My justice in destroying the evil people of Sodom with fire and brimstone. In Moses' time I destroyed Pharaoh's army to protect My people. Now in your time I will destroy the evil people at the end of the tribulation with My Comet of Chastisement. I give everyone an opportunity to obey My laws or not. My faithful love Me and obey My Commandments, and they will be rewarded in heaven. But the evil ones who do not love Me and disobey My laws, will all face their judgment in hell. Choose life with Me and you will see heaven, choose the curse of the devil and you will see hell."
Jesus said: "My people, I am showing you the edge of a cliff, and you will see the weather that is reflecting the extremes in your society. You will see extreme heat in the summer, and extreme cold in the winter. Your people are neither hot nor cold, because many are lukewarm, and they are ignoring their God. There are some rich one world people who are using sentiment in your markets to make a recession into a self-fulfilling prophesy. The fear of a trade war with China is restraining your companies, and this could push your economy into a recession and some drastic swings in your stock market. In addition to a bad stock market, you could see problems with food shortages in various places. I have asked My faithful to stock up on food because you could see problems with your harvests. When your recession comes, you will again see your companies make some drastic lay-offs, and many people will have problems paying their bills without their jobs. You may want to also save some money now to get you by, if you should lose your jobs. When the evil ones are allowed to take over your country, I will call My faithful to My refuges of protection. At My refuges I will multiply your food, water, and fuels. Trust in Me to provide for you, even among riots and evil people who will try to kill you."
Saturday, July 27, 2019:
Jesus said: "My people, I am showing you how I am the center of your life in the two visions. When you think of stability in your life around Me, this is how you are anchored to Me for all that you need. When you think of how you are spiritually nourished, you see how the branches get fed by the Vine of My life line. You all have choices in this life to follow Me or not, because I do not force people to love Me. You must choose to love Me of your own free will. This is why I chose today's Gospel because you choose to be a weed who does not love Me, or you can be the wheat of My faithful. At the harvest of souls, My angels will separate the weeds of the evil people from the wheat of My faithful. The evil ones will be burned up in hell, but My faithful will be gathered into My barn of heaven. Continue to hold fast to Me by loving Me and obeying My Commandments. The more good deeds you do, and souls that you save, the more treasure you will be storing up in heaven for your judgment."
Sunday, July 28, 2019:
Jesus said: "My people, you have several spots of conventional wars that could break out at any time, especially with Iran harassing the oil tankers. Pray that any such skirmishes do not break out into more serious conflicts. Later on, you are seeing a war with nuclear weapons. Before such a war, I will call My people to the protection of My refuges. If your initial war starts in the Middle East, you could see a disruption in oil deliveries that could upset some economies and your world finances. Keep praying for peace, but be prepared for a war that America could be drawn into."
Jesus said: "My people, many people use their television for recreation and news, and when their signal or TV is not working, it becomes an inconvenience for your pleasures. Then when all the lights go out, you need to find a source of light at night as you did last week. It is good to have a wind-up flashlight handy to find your lanterns for light. You have been seeing several power outages from your hot weather and the air conditioners. This blackout is another sign of how vulnerable your electric grid is to various ways of losing power. The most damaging effect would be an EMP attack on your electric grid. This would stop your vehicles, your banks, and it would be hard to get your grid working again. This is why I want My people to have backup electric sources as your solar system and batteries, or at least some sources of light at night. If your power is out for an extended length of time, I will call My people to come to My refuges for lights, food, water, and fuels which My angels could multiply. Fear not the coming tribulation, for your guardian angels will lead you to the nearest refuge. You will be healed of your ills when you look upon My luminous cross. I will protect My faithful from the evil ones, and you will even be protected from My Comet of Chastisement. So do not worry where you will go, because My angel will lead you to a safe place nearby."
Monday, July 29, 2019: (St. Martha)
Jesus said: "My people, I am the Resurrection and the Life, and he who believes in Me, even if he dies, shall live; and whoever lives and believes in Me shall never die.'(John 11:25,26) I was comforting St. Martha after her brother, Lazarus, had died. She believed that he would rise again on the last day. I took that opportunity to call Lazarus up from the dead, and I called him to come forth from the tomb. All the people were amazed that I had the power to raise someone from the dead. Later on, the people and My apostles were even further amazed when I rose from the dead by Myself at My Resurrection. I still had My wounds which St. Thomas had to touch to believe. Give thanks and praise that I died on the cross to bring salvation to those people who repented and accepted Me as their Savior."
Jesus said: "My people, every year you see wild fires in the West and where it may have dried out underbrush. A good share of your fires are started by arson and lightning. You will see more such fires and some people could be trapped and killed. Pray for the victims of these fires and that they are able to start over in making their homes. Pray also for the firemen who are trying to bring these fires under control."
Tuesday, July 30, 2019: (St. Peter Chrysologous)
Jesus said: "My people, you are entering your hurricane season, and you see some dark clouds and heavy waves coming ashore. Be prepared for more serious events that will be testing your people. You could see serious storms, flooding, earthquakes, and fires. I told you before that you will have one event after another. You will be seeing more destruction from your natural disasters as a punishment for your abortions and sexual sins. Some of your people are being misled by the devil in changing their gender, or committing homosexual acts. Many of the reasons I destroyed Sodom are happening among your people. I will separate My faithful in My refuges before I will punish the evil ones. Pray for your families that they will follow Me after the six weeks after the Warning."
Source: John Leary
Fr. Michel Rodrigue explaines The Events of the End Times
Do you want a quick overview of the end times? Then read "The great events of purification will begin this fall". If you want all the details of the unfolding events, then go to "Virtual Spiritual Retreat with Fr. Michel Rodrigue about the End Times".
Messages of Holy Love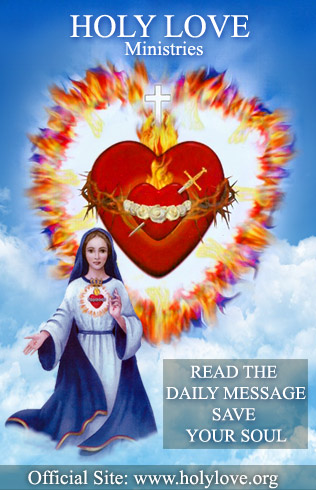 Read the daily messages
Catholics, we have entered the Pre-Tribulation, observe the Commandments, go to Confession; receive the Holy Eucharist; pray at least 3 Rosaries a day to keep your faith and save your loved ones. Prepare for the events that will devastate our planet: plagues, famine, WW3, cataclysms, antichrist's World Order