MESSAGE FROM OUR LORD JESUS ​​CHRIST
TO HIS BELOVED DAUGHTER LUZ DE MARIA
MARCH 24, 2018
My Church is gaining enemies with speed. Italy suffers heavily
"Beloved children of My Heart:
MY PEOPLE ARE THE APPLE OF MY EYES (Cr. Zech. 2,8) AND I AM THE LAMP THAT ENLIGHTENS YOU SO THAT THE DARKNESS OF EVIL DO NOT COVER THOSE WHO STILL WISH TO BE SAVED.
At this instant I warn My children so that they do not allow themselves to be confused.
PRAYER MUST NOT STOP…
PERSONAL OFFERING MUST NOT BE PUT ASIDE…
OBEDIENCE IS A PRECIOUS PEARL THAT DISTINGUISHES THE CREATURES THAT FOLLOW MY FOOTSTEPS…
AND LOVE IS THE SEAL OF THOSE WHO ARE DEVOTED TO ME…
The lukewarm creature is easy ground for evil to cultivate in it everything that distances it from Me.
Those who do not want to change it is not because they cannot, but because they do not want to make an effort.
The man without conscience does not obey and disguises, with everything he finds at hand, his dedication to the worldly vices and pleasures in which he lives. You do not take Me seriously, you forget Me at your convenience in order to please the human ego that strays from Me through human will.
How much I suffer because of the offenses that creatures immersed in vices carry out against their own life, again and again! Those who take refuge in vices in this "Holy Commemoration", are creatures who live halfway: one moment they feed on Me, but this food is not enough for nor satisfies them, and they seek what is worldly, which leads them into states in which their spirit decays by surrendering to disobedience with their minds, thoughts and hearts.
Licentiousness hurts and offends Me greatly: those who live in licentiousness live by one-day promises, then everything is forgotten.
JUST AS YOU TAKE MY ANNOUNCEMENTS TO WAKE UP, LIGHTLY, SO YOU DO WITH WHAT REFERS TO ME, AND YOU HAVE RELEGATED ME TO THE LAST PLACE.
The world and its machinations offer a life of enjoyment in pleasures, but of eternal pain if you do not change your lives. Sin is the travelling companion of the way of the majority when breaking the order of the Eternal Law, and it causes you to fall to the level of the beasts. Man's disorder in entering into sin leads him to suffer gratuitously as a result of a grave and bad choice.
YOU KNOW GOOD AND EVIL FULL WELL: CHOICE IS PERSONAL, THEREFORE I CALL YOU TO STRENGTHEN YOUR FAITH, TO STRENGTHEN YOURSELVES BY RECEIVING ME PROPERLY PREPARED.
My People must live by Divine Will so that free will loves living in Me and not oppose what I Desire. My Desire is for all to be saved (Cf. 2 Peter 3,9) but My Desire requires man to want to be saved.
You commemorate My Passion that remains before you at every instant… yet you do not see it because everyone lives in their human will, so much that this Commemoration is the pretext for renewing old sins.
I LOVE YOU AND I DO NOT FIND THE APPROPRIATE CORRESPONDENCE IN MY PEOPLE …
MY SIDE STAYS OPEN DUE TO ACTS OF IRREVERENCE, ABERRATIONS, DISOBEDIENCE AND REBELLION AGAINST THE COMMANDMENTS.
I DO NOT IMPOSE MYSELF, I ALLOW THE FREEDOM OF MY CHILDREN SO THAT THEY MAY SEEK ME OUT OF LOVE.
MY PEOPLE MUST PROSTRATE THEMSELVES BEFORE OUR TRINITY.
HUMAN TIME PASSES IN THE MIDST OF THE DISTRACTIONS THAT THE ENEMY OF THE SOUL PLACES BEFORE ALL OF YOU SO THAT YOU ARE LOST AND NOT WAKE UP.
You must prostrate yourselves because you are not capable of thinking of the reality in which you are living. The majority, prey to error, give free rein to their mistakes.
The great powers have supplied dangerous weapons to small countries so that they become part of the chaos. The atomic arsenal exceeds that necessary for the destruction of the Earth and even so they continue building more bacteriological and nuclear weapons.
Man, in his madness for power has lost the notion that whoever breaks out against the Earth with so much evil will be judged by the suffering of the number of creatures who are the victims.
MAN HAS CREATED WONDERS AND, AT THE SAME TIME, HIS SELF-DESTRUCTION, causing it to be so painful that later the human being will repent for having acted with such haste, having caused all Humanity to suffer in one way or another, and the Earth will have to be renewed so man may have new fruits and new food.
Sometimes it seems that all has been lost and you think that your efforts have been in vain, but it is not like that, My children. The enemy of the soul wants to discourage you so that you do not continue striving.
YOU LIVE WITH THE ASSURANCE THAT YOU ARE NOT ALONE, BUT ACCOMPANIED BY OUR TRINITY.
My pain grows because of the muzzle that you place on My true instruments so that they do not convey My Will, and this deciphers the devil's dominion over men.
My pain increases at the Masonic domination within My Church, as well as at the power of international organizations freely conditioned to act and work as the devil himself proposes to them.
At this instant you must discern concerning evil's power over Humanity, cancelling Me out as King on Earth. You have forgotten that not because you annulled My Power before men that it ceases to prevail over all things: "I am who I am" (Ex 3, 14).
AT THE PRECISE INSTANT I WILL ARISE WITH POWER AND THE WHOLE OF CREATION WILL TREMBLE BEFORE MY MAJESTY, NOT OUT OF FEAR, BUT BEFORE MY INFINITE LOVE: EVERYTHING WILL BE SHAKEN.
Heresies are rising…
Offenses against the Divine are occurring everywhere…
The apostates are coming out into the light …
Abominations are seen as something normal …
Ignoring the Divine Law is accepted by the majority …
CHILDREN, THIS IS THE ANTICIPATION OF THE APPEARANCE OF THE ANTICHRIST ON EARTH, IT IS THE ANTICIPATION OF MY PEOPLE'S ENSLAVEMENT.
I have announced this to My People again and again; they looked at it from afar, but My children are being persecuted and silenced, the Truth is hated and falsehood fervently welcomed.
In some of My Consecrated I see estrangement from prayer, from their duties, entering into the taste for comforts, desiring the world and seeing their state as something to be taken lightly.
IN MY CONSECRATED I NEED A PURE HEART OF DEVOTION TO THE PEOPLE, TO THEIR DUTIES, AND ABOVE ALL, LOVERS OF MY MOTHER AND THEREFORE OF THE POOR AND HELPLESS, AT ALL INSTANTS BEING INFATIGABLE SEEKERS OF THE SALVATION OF SOULS.
Watch carefully the progress of the great nation of China and how it has spread beyond its borders.
My Church is gaining enemies with great speed, being the cause of greater sufferings. Italy suffers heavily.
Russia surprises the world and the United States is increasingly purified.
Argentina breaks the thread of sanity.
Central America suffers, the earth and the spirit of man shake.
MY PEOPLE MUST PRAY AND STAY AWAKE, PREPARING FOR THE ATTACKS THAT THE ENEMY OF THE SOUL WILL REDOUBLE AGAINST THOSE WHO ARE MINE.
Therefore, pray My children, pray with your works and actions, pray and offer without faltering. Take your Palms and declare that I am a King of Power and Majesty, of Glory and Triumph, that I sacrifice Myself for the love of My children, and My children know Me.
I BLESS YOU AND I CALL YOU TO FRATERNITY AND SILENCE.
I love you.
Your Jesus."
HAIL MARY MOST PURE, CONCEIVED WITHOUT SIN
HAIL MARY MOST PURE, CONCEIVED WITHOUT SIN
HAIL MARY MOST PURE, CONCEIVED WITHOUT SIN
Source: Revelaciones Marianas
Fr. Michel Rodrigue explaines The Events of the End Times
Do you want a quick overview of the end times? Then read "The great events of purification will begin this fall". If you want all the details of the unfolding events, then go to "Virtual Spiritual Retreat with Fr. Michel Rodrigue about the End Times".
The Rosary is the weapon of these times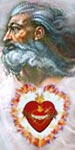 God the Father: "Children, the best way to change the conscience of the world and this country (U.S.A.) in particular is much prayer and many sacrifices. You may not see the effects of your efforts but persevere and do not be discouraged. Use your Rosaries as the mighty weapons that they are. A Rosary said from the heart is more powerful than any weapon of mass destruction. The Rosary is the weapon of these times. Do not let the daily news frighten you. Often, what you hear is not the Truth and only meant to influence your opinions..." (Read more..)
The truth about the Coronavirus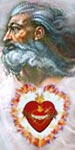 God the Father: "Today, I invite you to realize that this virus - the coronavirus - is no ordinary disease. It has been created from human ingenuity to specifically target the elderly and physically challenged. This is the plan of future generations to purify the human race around the world. It was released into the general population ahead of schedule - by accident. Those in charge were waiting for less capable government officials in your country (USA) to be in office. Nevertheless, proposed harm is being unleashed on the whole human race." (Read more...)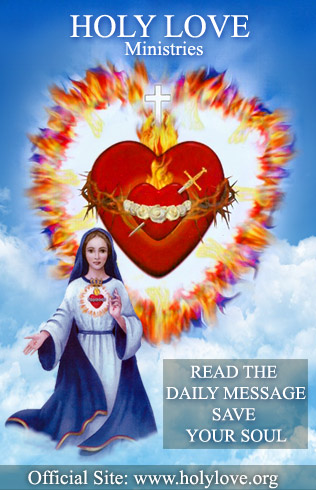 Read the daily messages
Help the Lord spread His voice, time is running out
Please help spread these messages of faith, hope, salvation, collaborate with God's Plan of Salvation. Who helps the Lord save a soul predestine his own, independently from the outcome.