Translation of this message is available in  Italian
May 17 2016: Message to the seer Lily of the Holy Face of Jesus (Giglio del Santo Volto)
Mother of God: The time for war is ripe
Dear children, as established by Church the recurrence of the Feast of My Birth is getting close.
The closer it gets, the more I wish your hearts to be in full communion with God.
Hence I invite you to draw close to the Sacrament of Reconciliation (Confession) and of the Eucharist with sincere contrition.
Take it as a new beginning, as if you would be born again to a new sacramental life, spiritual and physical.
Become new creatures, become similar to the Angels of Heaven; desire and long for perfection and entrust yourselves to the Woman (the Mother of God) who can guide you on the path of sanctification.
I am waiting for you with open arms to receive, in this particular year, the special Grace given by the Most High to be able to start a new life.
Accept my request; this is the most beautiful gift that you can give to your Heavenly Mother.
Courage, little beloved children.
Ask for forgiveness and stand up again in God and in His Sanctifying Grace.
Actively work, since the toughest times are approaching, for my beloved children.
Pope Benedict is growing in the suffering of his heart and in his soul.
He is getting weaker and weaker and it is more and more difficult for him to hold the heavy Cross he agreed to carry.
Only with your prayers, he will be able to fully accomplish the Will of the Lord with a lightened spirit, for he desires the salvation of souls, more than anyone else in the world.
He accepted the Palm of martyrdom, with firmness before the Most High, because he knows the Lord is faithful in all His promises.
He, in turn, will keep the commitment to lead the remaining Army passing through the Sorrowful Road.
Support him, I beg you, because the time for war is ripe, the enemy is almost at the door.
You will soon see fulfilled part of the prophecies revealed in past years.
Hate sin and you will be saved; graces and protection will fall upon you and your families by following what God is asking.
Arm yourself with the Holy Rosary and with all the tools given in recent years specifically for the current times; they will be extremely useful.
Listen to the Celestial advices and you will be able to survive anything that will rage against you in years to come.
Be praised and thanked the Most Holy Trinity, forever and ever.
Add, if you wish, the Twelve Privileges in my honor, on the day of September 8th, because it is very pleasing to my Heart and to the Most Holy Father, Mine and Your Creator.
I bless you and I walk together with you with the love that only a mother can give to her little children.
Little Chaplet of the Twelve Privileges of the Most Blessed Virgin Mary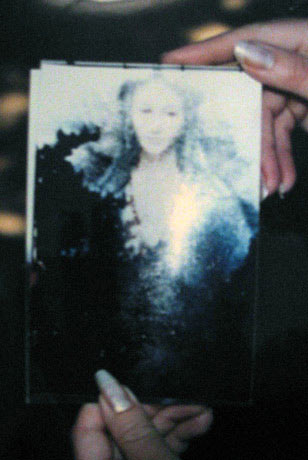 ( composed by Saint Andrew Avellino )
By a Brief of June 26, 1860, the Sovereign Pontiff Pope Pius IX granted to all the faithful the indulgence of 300 days, who, once a day, devoutly and with contrite heart, say the following little Chaplet; and The plenary indulgence once a month, to be gained by saying it every day for the space of one month, provided that on any one day at pleasure in the same month, being truly penitent, having Confessed and Communicated, they shall visit some one church or public oratory, and there pray to God for concord among Christians princes, for the extirpation of heresies, and for the exaltation of our holy Mother the Church.
The Chaplet
In the name of the Father, and of the Son, and of the Holy Ghost. Amen.
Incline unto my aid, O God.
O Lord, make speed to help me .
I. Hail to thee, purest, holiest Mother of Jesus.
We humbly pray thee, by thy Predestination, whereby thou wast even from all eternity elected Mother of God;
by thy Immaculate Conception, whereby thou wast Conceived without stain of original sin;
by thy most perfect resignation, whereby thou wast ever conformed to the will of God;
and lastly by thy consummate holiness, whereby throughout thy whole life thou didst never commit one single fault:
we pray thee to become our advocate with our Lord, that He may pardon so many sins of ours, which are the cause of His wrath.
And Thou, O Father Almighty, by the merits of these privileges vouchsafed to this Thy well-beloved Daughter, hear her supplications for us, and pardon us her clients.
Spare, O Lord, spare Thy people.
One Pater, four Ave's, and one Gloria. 
By thy Holy and Immaculate Conception deliver us, glorious Virgin Mary. Amen
II. Hail to thee, purest, holiest Mother of Jesus.
We humbly pray thee, by thy most holy Annunciation, when thou didst conceive the Divine Word in thy womb;
by thy most happy delivery, in which thou didst experience no pain;
by thy perpetual virginity, which thou didst unite with the fruitfulness of a mother;
and lastly, by the bitter martyrdom when thou didst undergo in our Saviour's death:
we pray thee to become our Mediatrix, that we may reap the fruit of the precious death of thy Son.
And Thou, O divine Son, by the merits of these privileges granted to Thy well-beloved Mother, hear our supplications and forgive our sins.
Spare, O Lord, spare Thy people. Amen
One Pater, four Ave's, and one Gloria.
By thy Holy and Immaculate Conception deliver us, glorious Virgin Mary. Amen
III. Hail to thee, purest, holiest Mother of Jesus.
We humbly pray thee by the joys which thou didst feel in thy heart at the Resurrection and Ascension of Jesus Christ;
by thy Assumption into Heaven, whereby thou wast exalted above all the choirs of the angels;
by the glory which God has given thee to be Queen of all Saints;
and lastly, by that most powerful intercession, whereby thou art able to obtain all that thou dost request
we pray thee obtain for us true love of God.
And Thou, O Holy Ghost, by the merits of these privileges of Thy well-beloved Spouse, hear her supplications, and pardon us her children. Amen.
Spare, O Lord, spare Thy people.
One Pater, four Ave's, and one Gloria. 
By thy Holy and Immaculate Conception deliver us, glorious Virgin Mary. Amen
Here, at pleasure, the Litany of Loretto may be said, to gain another Indulgence of 300 days. See above. Afterwards add:
Thy Conception, Virgin Mother of God, brought tidings of joy to the whole world, for from thee arose the Son of Justice, Christ our God; Who, loosing the Curse, gave the blessing, and confounding death, granted unto us eternal life.
In thy Conception, O Mary the Virgin, thou wast Immaculate.
Pray for as to the Father, whose Son Jesus, conceived of the Holy Ghost, thou didst bring forth.
Let us pray.
God of mercy, God of pity, God of tenderness, Who hast compassion upon the affliction of Thy people, and didst say to the angel smiting Thy people, "Stay thy hand;" for the love of that glorious Mother, whose precious breasts Thou didst sweetly suck, as the antidote of our sins, grant us the help of Thy grace, that we may be safely freed from every evil, and mercifully preserved from the attack of all destruction. Who livest and reignest for ever and ever. Amen. 

The seer Lily of the Holy Face of Jesus (Giglio del Santo Volto), is a woman from Italy who lives a humble and hidden life. Those people whose heart belong to God, will recognize in these messages the voice of the Good Shepherd, God the Almighty, The Triune God: God the Father, God the Son, God the Holy Spirit, Who call all to salvation. Be the one who listens by abandoning a sinful life, by embracing prayer and by following the eternal 10 Commandments. Time is running out.