September 1, 2016: Message to the seer Luz De Maria
Pray for Europe, it will suffer the agonizing scourge of terrorism
Beloved children of My Immaculate Heart:
I WATCH OVER HUMANITY, WHICH I PROTECT AND LOVE AS YOU ARE ALL MY CHILDREN. 
Man continues on his way through life and at this instant he should stop to see himself within, even if he has no notion of what it is to see oneself within. In order to see within he must silence his mind and heart, in order that, in the silence, the Holy Spirit guide him to within himself and so that man perceive the Divine Presence. 
MY SON REMAINS WITH YOU …
YOU ARE THE ONES WHO REFUSE TO ENTRUST YOURSELVES TO MY SON GIVEN THE DECEIT OF THE WORLD THAT REMAINS IN THE HANDS OF EVIL.
Humanity has changed, it has been transformed into the machinery that moves the tentacles of evil. Every day a new deception emerges with which satan surrounds My children. Instant by instant, evil raises its possession of souls to unimaginable levels through contempt for what is right and therefore a manifestation of good.
IN THIS INSTANT THE DISTANCE HAS BEEN accentuated BETWEEN THE ONLY TWO PATHS THAT REMAIN FOR HUMANITY: GOOD OR EVIL. You cannot call good that which is contrary to God's Law.
Woe to My Priests who induce the people of My Son to act wrongly!
Woe to My Priests who love what is worldly, strive in what is worldly and put being shepherds of souls to one side!
My children should know that in the end, evil will pounce upon My Son's People, and THAT END IS THIS PRECISE INSTANT OF THIS GENERATION, the one which has been taken hold of by the legions of evil while it was distracted, submerging it in all kinds of sins through the tentacles of the devil, oppressing the mind and hardening the heart so that it act against what God ordered it to respect.
DO NOT WAIT FOR MORE SIGNS OF THE TIMES, MY CHILDREN, THESE ARE ALREADY BEING GIVEN THROUGHOUT THE EARTH.
WAKE UP!, LOOK AT THEM! DO NOT WAIT FOR THE POWERS OF HEAVEN TO BE SHAKEN.  
I have mentioned war to you, which has rushed forward stealthily, famines, increasing natural phenomena, persecution, and I have called you to center your life on God. BE LOVE, SAVE THE SOUL!
I see the majority of My children curious with the dates and events.
What does man achieve by knowing a date if his work and action is not in accordance with the Divine Will?
How does curiosity increase the determination towards conversion?
Man has to till the soil in order to obtain good seed.
MY CHILDREN MUST NOT LIVE IN CURIOSITY, BUT IN FAITH AND IN THE FULFILLMENT OF GOOD INTENTIONS.
Beloved children of My Immaculate Heart: You must not sin any more! Stop! Do not be blinded, do not let your thinking be captured by the one who should not have the first place in the life of a true child of God.
Live in peace; you have not allowed yourselves to see in the light of the Truth how satan remains standing over you, in order for peace to be abolished at the personal, family, social and global level. 
SATAN'S PLAN, THE ONE TO WHICH YOU CONSENT OUT OF FOOLISHNESS, IS THE LOSS OF LOVE.
AS LESS LOVE EXISTS IN THE WORLD, SO MORE LEGIONS OF SATAN PENETRATE AND CREATE DISCORD.
Little children, you need to be humble to recognize that pride leads you to see yourselves in the first place and to put your brothers and sisters in other places. With pain I see how what you have constructed with spiritual and physical hard work crumbles in an instant for lack of humility. The one who is proud feeds evil.
I ANNOUNCE TO YOU THE TRIUMPH OF MY IMMACULATE HEART, and for this triumph I need each one of My children: those who do not offend My Son, those who do not offend their brothers and sisters, the humble, those who do not rebel against God.
I love My children: those who offer their suffering for the salvation of their brothers and sisters, those who remain attentive to their neighbor, those who do not justify sin, those who heed the Divine Word, those who evangelize with their testimony, those who repent of their mistakes.
Beloved children: 
I HAVE ANNOUNCED TO YOU THE ARRIVAL OF THE ANGEL OF PEACE, WHO COMES TO ASSIST MY SON'S PEOPLE IN THE CRUELLEST INSTANT THAT YOU WILL COME TO LIVE.
HE WILL BE PEACE, LOVE, CHARITY, FORGIVENESS, HOPE, FAITH FOR ALL OF YOU. 
THE PEOPLE OF MY SON WILL NOT BE ABANDONED. 
You are in the instant of the instants, when evil does not lie in wait but pounces upon the children of God. Therefore, I am among you to help you.
The demon attacks you in all your senses, it does not rest, it remains attentive to detonate his weapons of disunity, and with pain I see how you are so weak and in instants fall into disunity. This is because you act on impulse, you do not ponder how to respond or how your action will affect your brothers and sisters.
The great children of God are seen in the small details.  
Beloved children of My Immaculate Heart, pray for Europe, it will suffer the agonizing scourge of terrorism.
Beloved children, pray for Turkey, blood covers that land, impiety leaves its mark.
Beloved children of My Immaculate Heart, pray, the threat to Earth is emerging from space.
Beloved children pray, Freemasonry will strike an unexpected blow within in the Church of My Son, and I grieve for you, My children.
Beloved children, pray for Venezuela, pain hangs like a cloud over this people, whom I do not leave abandoned. It will be shaken. 
The coasts will be shaken, the water of the seas penetrates into the land.
Humanity will be surprised at the force of Nature when it shakes.
With the awakening of the instant, Nature does not delay. As soon as man sins, Nature calls him to return to friendship with God. Man suffers through the elements, they purify him. The volcanoes emerge with unexpected eruptions. The surface of Earth changes its color and man strives to continue handing it to over the devil.
My Children, a discovery will make the Church and science come into great conflict that will unsettle Humanity.
I CALL YOU TO RECEIVE MY SON IN THE EUCHARIST PROPERLY PREPARED.
I CALL YOU TO PRAY THE ROSARY, MEDITATING EVERY WORD WITH WHICH YOU GO OVER MY SON'S LIFE.
SURRENDER EVERY INSTANT TO THE DIVINE WILL AND ENTRUST YOURSELVES TO ST MICHAEL THE ARCHANGEL AND HIS LEGIONS.
Man must reflect before evil causes him to be a persecutor of his own family.
I will hear the lament of the man who did not listen to the Calls of Heaven. My pain has no comparison, it is intense.
Children, it is precisely the human ego that you must govern in order to bring it to say "YES"!: yes in favor of good deeds and good works.
CHOOSE GRACE, DO NOT ENTER INTO SIN, THIS LEADS YOU TO MISERY, AND THE HUMAN CREATURE IS NOT ONE OF MISERY, BUT OF GLORY. 
Children of My Immaculate Heart, receive My blessing.
 
Mother Mary.
HAIL MARY MOST PURE, CONCEIVED WITHOUT SIN
HAIL MARY MOST PURE, CONCEIVED WITHOUT SIN
HAIL MARY MOST PURE, CONCEIVED WITHOUT SIN
Source: Revelaciones Marianas
Luz de María de Bonilla
The life of Luz de Maria has been one guided by God from her birth in a small Central American country: Costa Rica. At present she resides in Argentina. She comes from a family with deep Christian roots in which, along  with her siblings, she grows up surrounded by an atmosphere of spirituality, with the Eucharist as the center of her life. Her  youth is spent alongside the presence of her beloved Guardian Angels and of the Blessed Mother who are her companions and confidants. Since then they share with her Heavenly. Manifestations, thus foreshadowing what would materialize little by little years later.  
Along with the development of her professional life, she forms a home which is constituted today of 15 members, who accompany her as Divine Manifestations begin to take place in her home: such as exudations from  religious images, inexplicable aromas, among others, in this way  making her family and loved ones witnesses of Luz de Maria's spiritual experience. 
During Holy Week of 1990, the definitive encounter takes place with the Blessed Mother, who announces to her the physical recovery from an  illness Luz de Maria was suffering and receives her in a special way to prepare  her for the encounter with Her Divine Son. So begins a long path  long which  they begin to subtly clarify to Luz de Maria the mission Heaven had designated  for her.   
Thus begins a new stage in her mystic experience, which would  lead her to experience profound ecstasy not only in the presence of her family, but also of people close to her that would later gather to pray, so forming a Cenacle that accompanies her to this day.  
As the years pass, Jesus and the Blessed Mother form her so that she is a useful instrument in the hands of the Divine Potter and so she abandons herself in the Will of the Lord, bearing along with Christ the pain of the Cross that penetrates physically in her body and in her soul.
After a long wait during which Christ and the Blessed Mother gradually prepare her asking her discretion in that period, Heaven orders her to communicate the Divine Word she has received, and continues to receive, to all of humanity. From that moment, Christ opens the way for her and directs her steps wherever the Divine Will desires Heaven's Call to reach. 
After they give her the Divine Order to make herself known, and under the inspiration of the Holy Spirit, she begins to visit various countries, especially those of Latin America, giving radio interviews and conferences open to the public. From there have arisen brothers and sisters desirous of putting into practice the teachings of the Divine Word, forming Cenacles of prayer and praxis of the Gospel, remaining in a constant battle to reach a life full in the fulfillment of God's Will and the love of neighbor.  
Luz de María begins to perceive that as time goes by, the Word of Christ and of the Blessed Mother takes on a different voice regarding its magnitude and intensity, due to the proximity of the events humanity will face. 
In each Divine Call, however, prevails Love, Mercy and at the same time Divine Justice. And they announce and denounce the reality of the purification of the  human race — a purification that is a fruit of the disobedience of present-day  man and of the mismanagement he has given to advances in all fields, with man thus transforming himself into his own scourge. 
Christ makes known to her the persecution, injustice, defamation and slander  which she will face from those who do not accept these Divine Calls and who  will not tire of persecuting her so as to end this Work, but she accepts,  knowing that as an instrument of Christ she must follow the same path Christ walked on Earth. 
The Blessed Mother is her counselor, and hand-in-hand with the Mother, up to this day, she continues to be a faithful disciple of Christ, living various mystic experiences in which Christ shares His suffering on the Cross.  
Beside her, Priests from several countries have remained who guide her, but as Christ himself tells her" "I am your true spiritual director," for it is Christ who guides each one of her steps and  all that she does.  Father Jose Maria Fernandez Rojas, who from the beginning of the manifestations has been beside her as her confessor, has also accompanied her prayer group of which three women religious have been an inseparable part since the Cenacle was formed 24 years ago, with one of these women religious having a degree in theology, the most strict observance and analysis of the revealed word has been maintained.
The Mission of Luz de Maria, in total obedience to Christ, is to be an instrument of the Divine Truth in this instant and to announce and denounce what Our Lord Jesus Christ and Our Blessed Mother indicate to her so that the children of God continue to fight for their own conversion and that of all their brothers and sisters, recognizing and strongly battling the evil that surrounds them, and dedicated, continue on the path of Salvation in all aspects of life. 
It is thus that the Divine Word that Luz de Maria receives invites humanity, as children of the same Father, to reach unity of all brothers and sisters, fulfilling the First Commandment and echo of the Call of Christ that calls His People to be one. 
Urgent call of Jesus the Eternal High Priest
August 9th 2020 from 12:00 am to 6:00 pm - Worldwide day of fasting and of prayer to the Heavenly Father for the protection of Catholic Temples, Shrines and Holy Places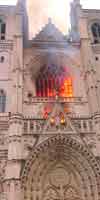 "I make an urgent call to the whole Catholic world for a day of fasting and of prayer to be held worldwide on August 9th with the prayer of the Rosary of my Most Precious Blood and with the prayer of the Exorcism of St. Michael, from 12:00 am to 6:00 pm, asking the Heavenly Father for the protection of my Temples, Shrines and Holy Places, which are being destroyed and desecrated by the forces of evil of this world. I'm counting on you, my Flock." —Jesus the Eternal High Priest
The truth about the Coronavirus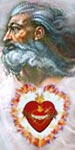 May 1, 2020 - God the Father says: "Today, I invite you to realize that this virus - the coronavirus - is no ordinary disease. It has been created from human ingenuity to specifically target the elderly and physically challenged. This is the plan of future generations to purify the human race around the world. It was released into the general population ahead of schedule - by accident. Those in charge were waiting for less capable government officials in your country (USA) to be in office. Nevertheless, proposed harm is being unleashed on the whole human race."
"I tell you these things to help you to realize the underlying evil at work and hidden in hearts these days. You cannot be confounded by any turn of events. Over all situations, I am in Dominion. No one will be given power over you that is more powerful than your Eternal Father. Therefore, be emboldened with this knowledge. If you persevere in Truth, you have loaded your weapons against what seems to be and discharged them with Truth." (Source: Holy Love)
Help the Lord spread His voice, time is running out
Please help spread these messages of faith, hope, salvation,
defense
against evil (by email, printing, Facebook, Twitter, and other media) to your loved ones, your friends, and all the people you may meet, who seek salvation or who are in danger of being eternally lost. The Lord gives great graces and blessings to those of goodwill who, according to their own possibilities, collaborate with His Plan of Salvation.
Who helps the Lord save a soul predestine his own
, independently from the outcome.