January 1, 2017 – Our Lady of Light
Mother of God: People of USA have chosen to turn away from the One World Order demonic plans
"My children,
On the beginning of this new year, you can expect great changes for the better in your world's affairs, but only with your powerful prayers and your assistance can these great changes be accomplished, for the evil one is desperate and anxious, for he can now see that he is facing the direct intervention of the Father in Heaven through his Son and Redeemer, Jesus Christ.
For the people of the world, you must watch and learn from the nations that have begun to turn themselves away from the devil and his new world order, for these nations are leading you to challenge the plan of the evil one.
For the nations who have chosen to turn away from the evil one and his demonic plans, you will recognize now the intervention of the Father and His Son in your affairs, in your governments, your institutions, your educational entities, and in all facets of your citizens' lives that there is a new awareness of who the evil one and his minions truly are.
Now is the time to defeat the evil one and you as a people in each and every nation have an opportunity now to defeat the purveyors of darkness who have planned a feudal and draconian system for all peoples.
But now the Heavenly Father is here to assist you through His Son to defeat the evil one, satan, also known as lucifer, and all the demons of the dark underworld.
For the people of the United States of America, you have an opportunity now, for the first time in over 100 years, to finally defeat the draconian system that has attempted to enslave all of you through your government, your economies, and your banking system, which has been covertly and sinisterly co-opted by the evil one and his minions.
Now for the first time in your lifetimes, you have chosen leaders in your executive and legislative branches who have the motivation to usurp the power from the dark forces and return your nation to a republic that stands within the Light of your Father in Heaven, for His Son is intervening now in the affairs of your freedom and democracy to remove the evil one and his minions, who have been controlling and suppressing your interests for decades now.
Alas, the opportunity is now for you to achieve great prosperity and freedom, if you pray powerfully and assist your chosen leaders who can restore your nation to its former greatness.
However, you must be aware now that the evil one and his minions are thrust into chaos and confusion by recent events.
At the moment that they thought the evil one had further secured his dominion over all of you, much to their surprise, goodness has prevailed.
You must recognize though that even within the reactions of many of your family members and friends that great hatred and anger seems to have possessed so many of your brothers and sisters that they are not clearly thinking in their desperation to explain to themselves why they have lost, for they are living under an illusion that their leaders were the right choices for them, for they were deceived by the old ways, and so they, therefore, cannot see the direction of your country today moving toward the Light of the Father in Heaven.
Your country is in great danger now, not as much from outside sources, as from your very own people, who through their anger and hatred, their disillusionment with the results of you elections, and because they are so misguided by their own leader from the Other Side, even though they may not recognize that he is controlling their thoughts and behaviors, that they may act out with extreme prejudice against your newly elected officials.
The forces of darkness and their leader, satan, is and will be encouraging them to act in the most violent ways against anyone, who they perceive as their own enemy, for they cannot see or recognize that they are acting out in the interests of the prince of darkness.
Your powerful prayers and your continued support for the new leaders in whom you believe is necessary for their protection as well as their ability to lead.
Many of you may be confused by the direction of your country, because you are questioning the wisdom of your leaders, but rest assured that the Father in Heaven and His Son, your Redeemer, have chosen your leaders, even with their flaws, because the Father in Heaven has His plan in effect and the results will give you the assurances that you may now lack in your faith and trust in the direction of your country.
Prayer and support of the new direction of your country is essential, for you are now moving in the direction of a great transformation through your new leadership.
But again, I must warn you that the forces of evil are desperate and dangerous now and are planning to sabotage your progress in the most sinister ways.
It is up to you, the powerful prayerful warriors, to support your leaders who you discern are doing God's work and to pray powerfully for their direction and guidance.
Alas, the Pontiff in Rome and those who counsel him at the Vatican have chosen a course that is not always compatible with the plans of the Father in Heaven.
The Pontiff and his conclave have been deceived by the worldly leaders and power brokers whose agenda is the new world order, and it is necessary now for the Church of Rome to recognize the power of the Holy Spirit that is moving in a different direction to bring a New Heaven and New Earth to all of God's people.
Perhaps, the Pontiff in Rome will listen to the new direction that the new leaders of the world are hoping to lead you, which is away from the old order that has been secretly and covertly thrust upon all of the peoples, as well as upon the Church of Rome.
A New Day is Dawning – the Day of the Lord – and all of you, both clergy and secular, must recognize that things are not the same today as they were yesterday. You must all recognize that the power of the Holy Spirit is in the air and that great changes are coming to the Earth.
Your prayers and your support will be necessary to enable the great changes to take place, resulting in the Great Transformation and a New Heaven and A New Earth.
Thanks be to God!"
Our Lady of Light
Ned Dougherty's Near-Death Experience and His Visions of the Future
In his mid-thirties, Ned Dougherty (an Irish name, pronounced "Dock-erty") had everything: money, women, property, prestige, and power. He was a real estate broker for twenty-six years owning popular nightclubs in Palm Beach, Florida, and the Hampton's, Long Island's exclusive playground for the rich and famous. He lived in the fast lane every hour of the day, pursuing every pleasure money could buy. Despite his religious upbringing as a Roman Catholic, he had no interest in a spiritual life because he didn't believe in an afterlife.
He was too busy searching for a good time to be bothered with such things. This all changed on July 2, 1984 when he had a near-death experience (NDE) resulting from a heart attack after a heated – almost murderous – fist fight with a business associate.
Dougherty's NDE caused him to undergo a radical life transformation in which he gave up his nightclub business and party lifestyle and embraced his hitherto neglected Catholic religion. His NDE gave him a conscious awareness of his mission in life which was to embark upon charitable and missionary work. During his NDE, a wonderful "Lady of Light" (whom he identified as the Virgin Mary) revealed to him future global catastrophes many of which have already occurred which you will read in this article.
Today, Dougherty is a featured speaker, a former director and media spokesperson for the International Association for Near-Death Studies (www.iands.org). He also founded a spiritual center as revealed in his NDE called the Mission of Angels Foundation (www.fastlanetoheaven.com) through which he speaks on life-after-death issues, NDEs, Marian apparitions, and other spiritual matters.
He also hosts End Times Daily (www.endtimesdaily.com) – a Catholic news site focusing on eschatology – where he publishes interior locutions he has been receiving on a monthly basis since 2005.
Book: Fast Lane to Heaven: Celestial Encounters that Changed My Life
Published in March of 2001. This book documents his amazing NDE and visions of Earth's future.
Ned Dougherty's End of Days Website:
Urgent call of Jesus the Eternal High Priest
August 9th 2020 from 12:00 am to 6:00 pm - Worldwide day of fasting and of prayer to the Heavenly Father for the protection of Catholic Temples, Shrines and Holy Places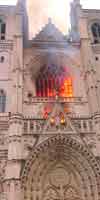 "I make an urgent call to the whole Catholic world for a day of fasting and of prayer to be held worldwide on August 9th with the prayer of the Rosary of my Most Precious Blood and with the prayer of the Exorcism of St. Michael, from 12:00 am to 6:00 pm, asking the Heavenly Father for the protection of my Temples, Shrines and Holy Places, which are being destroyed and desecrated by the forces of evil of this world. I'm counting on you, my Flock." —Jesus the Eternal High Priest
The truth about the Coronavirus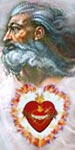 May 1, 2020 - God the Father says: "Today, I invite you to realize that this virus - the coronavirus - is no ordinary disease. It has been created from human ingenuity to specifically target the elderly and physically challenged. This is the plan of future generations to purify the human race around the world. It was released into the general population ahead of schedule - by accident. Those in charge were waiting for less capable government officials in your country (USA) to be in office. Nevertheless, proposed harm is being unleashed on the whole human race."
"I tell you these things to help you to realize the underlying evil at work and hidden in hearts these days. You cannot be confounded by any turn of events. Over all situations, I am in Dominion. No one will be given power over you that is more powerful than your Eternal Father. Therefore, be emboldened with this knowledge. If you persevere in Truth, you have loaded your weapons against what seems to be and discharged them with Truth." (Source: Holy Love)
Help the Lord spread His voice, time is running out
Please help spread these messages of faith, hope, salvation,
defense
against evil (by email, printing, Facebook, Twitter, and other media) to your loved ones, your friends, and all the people you may meet, who seek salvation or who are in danger of being eternally lost. The Lord gives great graces and blessings to those of goodwill who, according to their own possibilities, collaborate with His Plan of Salvation.
Who helps the Lord save a soul predestine his own
, independently from the outcome.