September 23, 2015: Message to the seer Lily of the Holy Face of Jesus (Giglio del Santo Volto)
Mother of God: CERN, Extraordinary powerful Wave; Explosions in succession
"My children, I am the Mother who wants to reassure you once more about the very special protection you are going to have, when you call upon the Saints Messengers (Angels).
I reiterate this very important revelation, because of the confusion that the evil one is creating, to take you away from the Truth and from the holy and powerful protections that Heaven wants to bring you.
Terrible things are about to happen in Europe and you do not know what is hiding in your eyes while, totally unaware, you are distracted in front of (tv, pc) screens, which transmit only false truth and conceal huge deceptions, in order to give you the illusion that  the reality that you are living in, is characterized by relief and comfort and that you are walking towards a future of amazing scientific discoveries.
Nothing could be more false, My dear children.
The experiment, from which you are being prospected significant expectations, will prove to be a real scourge and will cause death and despair, as I previously announced by Divine permission.
You are saving many souls with your prayers and sacrifices, Heaven will give you the right reward.
Have no doubt, dear children, and do not forget to knock the door of God, whenever you can, to be able to open the eyes of as many people as possible.
There will be a wave of tremendous power and a succession of explosions like small, but of multiple atomic bombs, which will break the dimensional barrier put by the Father as protection, when everything was contaminated by sin.
It was necessary to try to protect the earthly creatures by placing some blocks, some dimensional barriers of protection.
It has been foretold in the Book of the Apocalypse, My beloved and I am giving you confirmation, as Daughter of the God of Absolute Truth.
I am talking about the realization of an existing prophecy in the Holy Scripture and therefore nothing can be stopped, as event in itself; but it is certain, My children, that the power of your urgent plea can be of great help to ease the terrible consequences of such a disastrous event.
There will be punishments that can not be mitigated and it is My duty as a Mother and Messenger of Heaven, to warn you about this.
But, right where the Mercy of the Most High can intervene, know that I will manifest Myself through the instruments chosen by Heaven, to activate the chain of prayer that will alleviate with power part of  the coming pain.
It will be the Holy Rosary, finally, the wonderful Weapon that will move the Mercy of the Father, where He decides to intervene.
Try to keep yourself always pure, My little ones and take advantage of the grace of the Sacrament of Reconciliation (Confession) with open heart.
You are living difficult times and to find a holy Priest who can listen to you and guide you according to the True Law, it is an increasingly rare reality.
Therefore give thank to the Father, if you were allowed to have at your side holy priests and spiritual guides who comply with the Holy and True Doctrine.
For all those who instead, are suffering because they are not benefiting from this Grace, I want to bring the comfort of My Son to you, and remember that when you before an Consecrated Minister, you have the duty to confess any deficiency, since it is Jesus Himself, who takes over and it is behind him.
Therefore, be prepared even before to start, by following a guide for a good Confession, which is conformed to the Holy Church and the Law of God, and, if the case requires it, I suggest you to write down what you understand, during the examination of your conscience, to be a sin in the eyes of God.
Do not be afraid, My little ones, and take with you your notes, so that all may come officially to light before the Priest that is Jesus Himself, and present your faults to Him.
The Absolution will ultimately be valid and you will not have to fear anything, because if you should not be understood, or be even mocked by Priests who call themselves "modernists", be assured that My Son has heard you and forgiven you fully.
My Children, Heaven sees the discomfort in which you live at this particular juncture.
Thus He wants to encourage you not to lose hope and to tell you, through Me, His Beloved Bride, that the validity of the Sacraments will not be lost, for those who with sincere heart are faithful.
You will always find a Priest who will assure you to be able to receive the Most Holy Eucharist.
Always look for the Truth in your hearts.
I am promising you that you will not be turned away, but It will continue to live, for you who faithfully and with love, will follow My Son and will love Him unconditionally.
The Most Holy Mother is blessing you.
Be praised the Most Holy Trinity for the Graces you have been granted. "
Source: Allison Misti

The seer Lily of the Holy Face of Jesus (Giglio del Santo Volto), is a woman from Italy who lives a humble and hidden life. Those people whose heart belong to God, will recognize in these messages the voice of the Good Shepherd, God the Almighty, The Triune God: God the Father, God the Son, God the Holy Spirit, Who call all to salvation. Be the one who listens by abandoning a sinful life, by embracing prayer and by following the eternal 10 Commandments. Time is running out.
The truth about the Coronavirus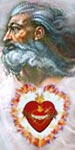 May 1, 2020 - God the Father says: "Today, I invite you to realize that this virus - the coronavirus - is no ordinary disease. It has been created from human ingenuity to specifically target the elderly and physically challenged. This is the plan of future generations to purify the human race around the world. It was released into the general population ahead of schedule - by accident. Those in charge were waiting for less capable government officials in your country (USA) to be in office. Nevertheless, proposed harm is being unleashed on the whole human race."
"I tell you these things to help you to realize the underlying evil at work and hidden in hearts these days. You cannot be confounded by any turn of events. Over all situations, I am in Dominion. No one will be given power over you that is more powerful than your Eternal Father. Therefore, be emboldened with this knowledge. If you persevere in Truth, you have loaded your weapons against what seems to be and discharged them with Truth." (Source: Holy Love)
Help the Lord spread His voice, time is running out
Please help spread these messages of faith, hope, salvation,
defense
against evil (by email, printing, Facebook, Twitter, and other media) to your loved ones, your friends, and all the people you may meet, who seek salvation or who are in danger of being eternally lost. The Lord gives great graces and blessings to those of goodwill who, according to their own possibilities, collaborate with His Plan of Salvation.
Who helps the Lord save a soul predestine his own
, independently from the outcome.