Bibliography
The Poem of the Man God, ISBN 978-88-7987-067-2
The Book of Azariah, ISBN 978-88-7987-013-9
The Notebooks 1945-1950 ISBN 978-88-7987-032-0
Lessons on the Epistle of St.Paul to the Romans ISBN 978-88-7987-147-1
Autobiography ISBN 978-88-7987-068-9
Maria Valtorta is considered to be one of the most edifying visionaries of our time, in that she recorded the most comprehensive and detailed Private Revelation of the Gospels ever; "The Gospel as it Was Revealed to Me" in Italy, and later published in English as the "Poem of the Man-God" after her death. She was born in Caserta, Italy in 1897, passed away in Viareggio in 1961 and is buried under the altar of the Capitular Chapel of the Servants of Mary at The Basilica of the Annunciation in Florence. Her dictations and visions took place during the times of WWII and give a wonderfully detailed account of the lives of Jesus and Mary. Maria Valtorta's visions are the only Private Revelations to attain a Papal Order to Publish. Her writings were presented to Pope Pius XII in 1947, who examined them for ten months. His Holiness agreed to a special meeting in 1948, in which He ordered the publishing before three Priests: Fr. Corrado Berti (Professor of Dogmatic and Sacramental Theology at the Pontifical "Marianum" Theological Faculty of Rome from 1939 onward, later becoming Secretary of the Faculty from 1950 to 1959, as well as consultant to the Fathers of the Second Vatican Council), Fr. Romualdo M. Migliorini (Prefect Apostle in Africa), and Fr. Andrew M. Cecchin (Prior of the International College of the Servites of Mary in Rome). These aforementioned Priests documented this event immediately afterwards with signed testimony. The fact that the Pope did grant this audience was historically documented the next day, February 27, 1948 in L'Osservatore Romano Citta Del Vaticano, no. 48, p.1. Since Maria Valtorta's writings encountered several obstacles when the Head of the Holy Office took offense at being circumnavigated in the Church approval process, Edouard Cardinal Gagnon (who served as Peritus during the second Vatican Council, that is the Expert Theologian Advisor and Consultant. He had a Doctorate in Theology and taught Canon law for ten years at the Grand Seminary),wrote from the Vatican that Pope Pius XII's action was: "The kind of official Imprimatur granted before witnesses by the Holy Father in 1948. An "Official Imprimatur" of the Supreme Authority of the Church". The Code of Canon Law – Book II, Part II, Section I, Chapter I, Article I – gives the Pope full and supreme power over all levels of the Church and free use to exercise this power. The Papal order came first. Canon law prohibits this Papal order from being reversed by subordinate levels of Church authority. Canon law clearly requires that this Papal order be embraced with unconditional acceptance and submission.
First Vatican Council, Session IV, Chp. IV, p.IX: "So, then, if anyone says that the Roman Pontiff has merely an office of supervision and guidance, and not the full and supreme power of jurisdiction over the whole Church, and this not only in matters of faith and morals, but also in those which concern the discipline and government of the Church dispersed throughout the whole world; or that he has only the principal part, but not the absolute fullness, of this supreme power; or that this power of his is not ordinary and immediate both over all and each of the Churches and over all and each of the pastors and faithful: let him be anathema." – Catechism of the Catholic Church, 883 – "The college or body of bishops has no authority unless united with the Roman Pontiff, Peter's successor, as its head."
Maria Valtorta's writings received and Imrimaturs from Bishop Roman Danylak (Titular Bishop of Nysea, Rome), Bishop Bonicilli (Abano, Italy) and Archbishop Soosa Pakian of Trimandrum. In addition a Nihil Obstat was given by Msgr. Luigi Lovazzano (Vicar-General). If the Vatican thought these Imprimaturs were in error, it would have requested them to be removed. Nonetheless, the Vatican has let these Imprimaturs stand).
Renowned Mariologist Father Gabriel Roschini, OSM was an outstanding advocate of Maria Valtorta's writings. Pope John Paul II often referred to Father Gabriel M. Roschini as one of the greatest Marioligists who ever lived. He was a decorated professor at the "Marianum" Pontifical Faculty of Theology in Rome, and an advisor to the Holy Office. He wrote over 130 Books on the Blessed Mother, all of which are in the Vatican Library. In his last book (which Father Gabriel said was his greatest, "The Virgin Mary In The Writings of Maria Valtorta"), the first two pages contain a letter of endorsement by Pope Paul VI. Page one displays a photocopy of the original letter in Italian complete with Vatican insignia, and page two contains the English translation. When Pope Paul VI was Archbishop of Milan, after evaluating Maria Valtorta's writings, He ordered her entire works to be sent to the Milan Seminary library.
Blessed Gabriel Allegra, OFM was the only Scripture scholar beatified by Pope John Paul II, which took place on April 23, 2002. A St Jerome of our time, he was the first to translate the entire Bible into Chinese. He was also a prominent advocate and defender of Maria Valtorta's writings. Being that the Holy Pontiff was well aware of Father Gabriel Allegra's resolute dedication to publishing articles advocating the Poem, many argue that this beatification was an indirect Papal endorsement of Maria Valtorta's writings by Pope John Paul II.
Father Padre Pio was also an advocate of Maria Valtorta's writings. One year before Padre Pio's death, a woman named Mrs. Elisa Lucchi asked him if he advised reading Maria Valtorta's writings. He replied, "I don't just advise you, I insist that you read them!". Fr. Leo, a personal chaplain of Mother Theresa of Calcutta for 3 years, noticed that she always carried 3 books with her, wherever she went. One was the Bible and the other was her breviary. He asked about the third, and it was by Maria Valtorta. He asked her what it was about, and she told him "Read it". He asked her again, and she responded with the same answer, "Read it". Additionally, in 1996, Mother Theresa made a personal request of artist Susan Conroy to render a depiction of Our Blessed Mother as She appeared in a description by Maria Valtorta.
Bio
She was born in Caserta to Lombard parents on March 14, 1897. Her father, Giuseppe Valtorta, born in Mantova in 1862, served in the Nineteenth Regiment of the Light Cavalry Guides with the rank of chief armorer warrant officer. Good and submissive, he was to be the loving educator of his only daughter.
Her mother, Iside Fioravanzi, born in Cremona in 1861, had been a French teacher. Peevish and selfish, she oppressed her husband and daughter with irrational and sometimes cruel severity.
After coming close to dying at her birth, Maria was entrusted to a wet nurse with bad habits. At the age of eighteen months, when her family moved to Faenza to follow the transfer of the Regiment, the child shifted from the burning heat of the south (she attributed her passionate nature to this fact and to the milk of her wet nurse) to the temperate climate of the northern regions.
Later moves to Milan and Voghera marked the stages of her growth and her cultural and religious training, in which she displayed her strong character, outstanding capacities, and deep spiritual sensitivity. She crowned off her studies at the prestigious Bianconi School in Monza, which was her peaceful nest for four years, at the end of which she grasped what her inner life would be like in God's plan.
In 1913 her father retired for health reasons, and the family established its residence in Florence, where it would remain for eleven-and-a-half years. Maria was content in that city, which suited her cultural sensitivity and, during the first world war, gave her the chance to exercise her love for her neighbor as a "Samaritan Nurse" at the military hospital. But in Florence she was also beset by very harsh trials through the actions of her fearsome mother and a subversive: the former twice crushed her legitimate dreams of love, and the latter struck a blow at her lower back on the street, paving the way for her infirmity.
It was then that Maria Valtorta got the providential opportunity to spend two years in Reggio Calabria, from 1920 to 1922, as the guest of relatives running a hotel who with their affection, joined to the natural beauty of the place, contributed to reinvigorating her in body and soul. During that vacation she felt new impulses towards a life rooted in Christ, but her return to Florence, where she would remain for two more years, submerged her again in bitter memories.
In 1924 her parents bought a house in Viareggio, where they settled and where an inexorable ascetic activity began for Maria expressing itself in firm intentions and culminating in heroic offerings of herself out of love for God and mankind. At the same time she devoted herself to the parish as the cultural delegate for the young women of Catholic Action and gave talks which began to be attended even by the nonobservant.
But it was harder and harder for her to move. On January 4, 1933 she left her house for the last time, with extreme exertion, and from April 1, 1934 on she no longer got out of bed.
On May 24, 1935 a young person who had been left orphaned and alone, Marta Diciotti, was taken into the house, and she became Maria's helper and confidante for the rest of her life. A month later, on June 30, her beloved father died, and Maria nearly died of grief. Her mother, whom she always loved by virtue of a natural duty and a supernatural sentiment, died on October 4, 1943, never having ceased to oppress her daughter.
Athoritative Testimonials
His Holiness Pope Pius XlI, February 26 1948:
"Publish this work as it is. there is no need to give an opinion about its origin, whether it be extraordinary or not. Who reads it, will understand."
The names of the three Servite priests were listed the next day in l'Osservatore Romano as having had the private audience with the pope: Fr. R. Migliorini (Maria's spiritual director), Fr. C. Berti, professor of Dogmatic and Sacramental Theology at Marianum, Pontifical Faculty of Theology, in Rome, and Fr. A. Cecchin, Prior of the Servites International College. Fr Peter Mary Rookey, a well known healing priest based in the Chicago area, had a conversation with Fr. Cecchin in the 1990's who recalled that the pope did indeed order the work to be published, but that the pope also advised them to try to find a bishop who would give it an Imprimatur.
Archbishop Alfonso Carinci, Secretary of the Congregation of the Sacred Rites (1946):
" There is nothing therein which is contrary to the Gospel. Rather, this work, a good complement to the Gospel, contributes towards a better understanding of its meaning."

Fr. Dreyfus, of the French Biblical and Archeological School, Jerusalem (1986)
"I was greatly impressed on finding in Maria Valtorta's work the names of at least six or seven towns, which are absent from the Old and New Testaments. These names are known but to a few specialists, and through non-biblical sources… […] Now, how could she have known these names, if not through the revelations she claims that she had?"
John Haffert, author, (1995)
"I have the 10 volumes of The Poem of the Men-God in Italian and French. It is the most wonderful work I have ever read and I consider it a blessing of God. I'm in my seventies. And in my entire life, among all the books I've read, The Poem of the Man-God is the one that has done me the most good in my spiritual life."

Msgr. Ugo Lattanzi, dean of the Faculty of Theology of the Lateran Pontifical University, adviser to the Holy Office (1951)
"The author could not have written such an abundant amount of material without being under the influence of a supernatural power."
Fr. Agostino Bea (future Cardinal), Jesuit, rector of the Pontifical Biblical Institute and advisor to the Holy Office (1952)
"I have read in typed manuscripts many of the books written by Maria Valtorta […] As far as exegesis is concerned, I did not find any errors in the parts which I examined."

Fr, Marco Giraudo, 0.P. Commissioner of the Holy Office in 1961, to Fr, Berti, representing the Order of the Servants of Mary, and made responsible for her writings by Maria Vallorta herself (1961)
"You have our complete approval to continue the publication of this second edition of Valtorta's Poem of the Man-God"
Sister Monica Foltier, Cincinnati, Ohio (1987)
"lt is fantastic. I could hardly let it out of my hands. After I finished it once, I immediately began to read it again. It is going to have a terrific impact on those who wish to live a more religious life."
Jean Aulagnier, specialist in ancient calendars, author of a book on Valtorta's work (1995)
"Having established a scientific chronolgy of all events and occurrences in Maria Valtorta's work, I cannot but say it remains unexplainable otherwise than by divine intervention."
Wayne Weible, International reporter and Christian preacher, South Carolina (1987)
"I must tell you that I consider this book to be the greatest book I have ever read outside of the holy scriptures. It is a full amplification of the gospel stories of Jesus. I am forever indebted to Maria [Valtorta] for this tremendous work. I am promoting it as the best source for details of the life of Christ and His BIessed Mother. Everywhere I speak I recommend it."
Roulie Stadelmen, Great Modowa, N.J, (1987)
"The Poem of the Man-God, I LOVE IT. My only regret is that I have not read it before."
David Ottman, Mississauga, Ontario, Canada (1987)
"The Poem of the Man-God should be put into the hands of as many sincere people as possible […] It is a wonderful book and I have been so deeply touched by the simple beauty of the account of Our Lord's Life."
Msgr. Macchi. private secretary of Pope Paul VI, to Fr. C. M. Berti OSM, in an hour long interview (1963)
"When His Holiness (Paul VI) was Archbishop of Milan, he read one of the books of The Poem of the Man-God. He told me how he appreciated it, and had me send the complete work to the Library of the diocesan Seminary."

Msgr. Gianfranco Nolli, director of the Vatican Museum, author (1971)
"Whoever reads The Poem of the Man-God is favored with spiritual blessing and inner peace."
Fr. Gabriel M. Roschini, professor at "Marianum", Pontifical Faculty of Theology in Rome, famous mariologist, author of 130 books, and advisor to the Holy Office (1972)
"I must candidly admit that the Mariology found in Maria Valtorta's writings, whether published or not, has been for me a real discovery. No other Marian writing, not even the sum total of all the writings I have read and studied were able to give me as clear, as lively, as complete, as luminous, or as fascinating an image, both simple and sublime, of Mary, God's masterpiece."
Dr, Vittorio Tredici, geologist and mineralogist, Italy (1952)
"I wish to underline the author's unexplainably precise knowledge of Palestine in its panoramic, topographic, geological and mineralogical aspects."
Fr. A.S. Rosso, ofm, missionary, professor, editor (1974)
"I always find something new in it, even after reading it eight times."
Prof, Fabrizio Braccini, University of Palermo (1979)
"What constitutes the finish line for others, so to speak, is, on the contrary Maria Valtorta's ascetic starting point."
Fr. Gabriel Allegre, Servant of God, OFM, , Macao/Hong-Kong (1970). Father Gabriel was the first to transtlate the entire Bible into Chinese. He started the first Biblical institute in China. The title "Servant of God" shows that this pre-eminent scripture scholar has passed the first test in the process of becoming a recognized saint of the Roman Catholic Church. Mandarin Chinese is the most spoken language in the world. "The finger of God is here. As for theological justification of a book as convincing, as charismatic, as extraordinary even from a merely human point of view, as is Maria Valtorta's POEM OF THE MAN-GOD, I find it in St. Paul's First Epistle to the Corinthians 14,6 where he writes: Take me, for instance brothers, of what use could I be to you, if I were to come to you speaking tongues, but without revelation or knowledge, prophecy or doctrine?"
H.E. George H. Pearce, s.m., former Archbishop of Suva, Fiji, now active in Providence, Rhode Island (1987)
"I first came in contact with the work of Maria Valtorta in 1979 […] I find it tremendously inspiring. It is impossible for me to imagine that anyone could read this tremendous work with an open mind and not be convinced that its author can be no one but the Holy Spirit of God."
Fr. Gino C. Violini, Calgary Alberta, Canada (1987)
"lt is the gospel proclaimed with new vigor and detail. It is a powerful light beamed on the person of Jesus Christ and his eternal teachings. Indeed this work appears to be the only true vision-and-word revelation on the gospels ever granted to mankind."
Rev. E. Vitchkoski, M. I. C., Thompson, Connecticut (1987)
"I have read the story of the Adoration of the Shepherds… at least 8 times… to individuals, small groups, and even a group of 24. The reaction is amazing. All are touched profoundly. […] All are enthusiastic. I believe that this is the age to know more about Our Lord and Lady. The time is ripe and the people ready and thirsting to know and love."
Fr. Brendan O'Keefe, St Louis, Missouri (1987)
"lt seemed to have a mystifying effect on me bringing a deep inner peace."
Mentions by other mystics
In the 1980s, she was mentioned in the visions of two of the visionaries in Medjugorje. The Medjugorje visions by Marija Pavlovic and Vicka Ivankovic both stated that Maria Valtorta's records of her conversations with Jesus are truthful. According to Ivankovic, in 1981 the Virgin Mary told her at Medjugorje: "If a person wants to know Jesus he should read Maria Valtorta".According to printed records of Medjugorje messages, Marija Pavlovic stated that she was told at Medjugorje by the Virgin Mary that it was permitted to read Maria Valtorta's book.
A 2009 Yale University Report details the intricate connection between the Medjugorje apparitions and the writings of Maria Valtorta.
Maria Valtorta's work is also mentioned in the writings of Archbishop Don Ottavio Michelini, from Mirandola, who reported a series of Dictations and Visions given to him by Jesus Christ and the Virgin Mary from 1975 to 1979. He reported these words dictated to him by Christ:
I have dictated to Maria Valtorta, a victim soul, a marvelous work. Of this work I am the Author. You yourself, Son, have taken account of the raging reactions of Satan…. You have verified the resistance that many priests oppose to this work. This also proves, Son, that he who has not sensed in the Poem the savor of the Divine, the perfume of the Supernatural, has a soul encumbered and darkened. If it were — I do not say "read" –but studied and meditated, it would bring an immense good to souls. This work is a well-spring of serious and solid culture…. This is a work willed by Wisdom and Divine Providence for the new times. It is a spring of living and pure water. It is I, the Word living and eternal, Who have given Myself anew as nourishment to the souls that I love. I, Myself, am the Light, and the Light cannot be confused with, and still less blend Itself with, the darkness. Where I am found, the darkness is dissolved to make room for the Light.
The particular Michelini book from which this quotation was taken is called La medida está colmada in its Spanish version and remains in the library of The Archidiocesan Minor Seminary of Monterrey in the city of San Pedro Garza García. It is worth noting that the first page of the book has a seal that reads "Biblioteca Seminario Menor de Monterrey Donativo del Sr. Emmo. Adolfo Antonio Cardenal Suárez Rivera", ("Library of the Minor Seminary of Monterrey Donated by Sr. Eminentísimo Adolfo Cardinal Suárez Rivera"). He was for many years Cardinal Archbishop of the Diocese of Monterrey. This Spanish edition of Michelini's writings where supposedly Christ himself defends Valtorta's Work, comes with a copy of two letters between Bishops (within the first pages). The first letter is from the Bishop of León, México Anselmo Zarza Bernal and is addressed to Bishop Miguel García Franco at the time Bishop of Mazatlán. The response to Bishop Zarza is the second letter. In the first letter, Bishop Zarza recommends to Bishop García Franco the reading and reflection of Michelini's book (where among many supposed dictations from Christ, there is one defending Valtorta's work), on response (second letter) Bishop García wrote: "I received your letter…that came with the book" (Michelini's Book) "…I find all the doctrine contained in the book 100% orthodox, more yet, in whole coincident with the writings of Mrs. Conchita Cabrera de Armida…" (the Venerable Concepción Cabrera de Armida a Mexican mystic in the process of canonization) "… and with the book of Father Esteban Gobbi (In Italian Stefano Gobbi), books for which we have ecclesiastic aprobation".
The Nihil Obstat and Imprimatur, which the Catholic Church affixes to religious books, was and is a testimonial to the orthodoxy of doctrine of a given book. It need not necessarily convey the views or convictions of either the delegated priest/theologian censor who gives his Nihil Obstat, or of the bishop, who granted permission to print the book. It is a guarantee that there is nothing against the Christian and Catholic faith or moral doctrine. This practice served the needs of the faithful well. There were, nonetheless, abuses in past history. We hear stories of Catholic ecclesiastics (bishops, priests and theologians who would proscribe books, nay even order men and women who were accused of heresy, to be burned at the stake. We have the examples of Saint Joan of Arc and Savonarola, both of whom were burned at the stake on harges of heresy. Then there are the stories of the Spanish Inquisition. Two other saints, mystics and theologians, Saint Thomas Aquinas and Blessed Padre Pio of Pietralcina, were hounded by their ecclesiastical superiors with accusations of heresy, hysteria. In the end the Church acknowledged them as saints. There are similar events in our times. Zealous witch hunters intent on defending doctrinal purity denounce the writings not only of suspect modernist theologians, but also even of devout and holy people, whose writings or claims to heavenly messages don't fit their particular mental schema. Accusations of channeling, and whatever. Several such names come to mind. Luisa Picchiaretta, Concepcion Cabrera de Armida (Conchita), Maria Valtorta, Julia Kim and others. In modern times there were also Blessed Maria Agreda and the Venerable Catherine Emmerich. Theologians and bishops have problems with supernatural phenomena.
I wish to address the various issues involved with the life and writings of one of these, Maria Valtorta. She was born in Caserta, Italy in 1887 and died in Viareggio in 1961. She was bedridden from the late 1930's, following a mindless attack by a young hood that smashed her back with a crowbar. The Lord accepted her readiness to carry her cross in union with His passion. She became a victim soul. Jesus rewarded her generosity in suffering with boundless graces. She became his amanuensis. He dictated or unfolded to her the story of His life, death and resurrection, that of His mother and the early Church in a series of private revelations that began in 1943 and continued to 1954. With other holy souls it had suited His purpose to give external signs of the stigmata of His passion. He respected the self-effacing humility of Maria Valtorta, who asked that the signs of her passion remain invisible to the external world. In the last years of her life she totally withdrew into herself. Yet her literary productivity in the 12 years between 1943 and 1954 filled many volumes.
Maria, faithful to Christ and to His Church was in total obedience to the laws and rules of the Catholic Church. Nothing was to be printed without ecclesiastical approbation. Notwithstanding this insistence her spiritual director Fr. Migliorini and the first editor of her works Michele Pisani, began to divulge fragments of the writings. Three Servite Fathers had presented Pope Pius XII a typed copy of the first volume of The Poem of the Man-God. The pope said to them "Let it be published adding nothing to it nor taking away anything."
M. Pisani published the first volumes of Valtorta's Life of Christ, The Poem of the Man-God, without the approval of the local bishop. Zealous ecclesiastics brought this to the attention of their superiors. ThePoem of the Man-God was placed on the index of forbidden books, not because of doctrinal errors, but because it was printed without the required nihil obstat and imprimatur.
The Poem of the Man-God, as it is titled in the current English translation, or the "Gospel as it was revealed to me", as it is known in subsequent Italian editions, is now in its fourth Italian edition. It has been translated into many other languages. Cardinal Ratzinger in private letters has acknowledged that this work is free from errors in doctrine or morals. The Conference of Italian Bishops has acknowledged the same in its correspondence with the current editor, Dr. Emilio Pisani.
Pope Paul VI abrogated the Institution of the Index of Forbidden Books in 1965/6. Prior approval of writings reporting new revelations is no longer required. The authors and publishers must submit their judgment concerning the alleged revelations to the ultimate judgment of the Church, without making claims of their truth. This ruling is retroactive to accounts even of earlier revelations if there is nothing contrary to faith and morals. Through a comedy of errors, some of these same ecclesiastics themselves now ignore the rule of canon law, and continue to condemn the writings of Maria Valtorta.
The big issue is this: "Is there anything against faith or morals in her writings?" All her critics begrudgingly have acknowledged that there is nothing against faith and morals. The old Index of Forbidden Books has been abolished. Yet allegedly Catholic theologians, priests, Catholic websites, newspapers and even radio programs insist on bringing out old skeletons, the original condemnation of the Congregation for Doctrine of the Faith in 1958. Not only is this bad scholarship; it is outright immoral and sinful to continue to level their accusing fingers at this gift of heaven and God's faithful servant and victim soul, Maria Valtorta.
The above is a somewhat lengthy introduction to my original intent: to present a letter of commendation, aNihil Obstat, Imprimatur and a testimonial to this website of a Catholic monk on the writings of Maria Valtorta. Not only am I saying that there is nothing objectionable in The Poem of the Man-God and all the other writings of Valtorta in so far as faith and morals are concerned. I commend the painstaking scholarship of this monk that has brought together an array of the writings of a variety of theologians, like Fr. Karl Rahner on the significance of private revelation, of countless others who have given testimonies and writings of Maria Valtorta, the theological commentaries to her writings of one of her early spiritual directors, Fr. Corrado Berti; and the numerous other testimonies and studies on various aspects of Maria's writings. Biblical experts, geographers of the Holy Land, theologians, prelates and scientists, consistorial lawyers, who knew and visited Maria Valtorta in her lifetime. He adduces the testimony of the Blessed Fr.Gabriel Allegra, OFM, biblical exegete and missionary; and the painstaking scholarship of the present editor, and publisher of the works, Dr. Emilio Pisani, who has collated all the arguments, pro et contra, on the writings of Maria Valtorta. This is a website worth visiting many times both for those that have acquired the writings of Maria Valtorta, as well as for those who have not yet read this Life of Christ and the Blessed Mother, and especially for those who want to cast stones.
Dated Rome, Italy
February 13, 2002
+ Roman Danylak, bishop
Fr. Michel Rodrigue explaines The Events of the End Times
Do you want a quick overview of the end times? Then read "The great events of purification will begin this fall". If you want all the details of the unfolding events, then go to "Virtual Spiritual Retreat with Fr. Michel Rodrigue about the End Times".
Messages of Holy Love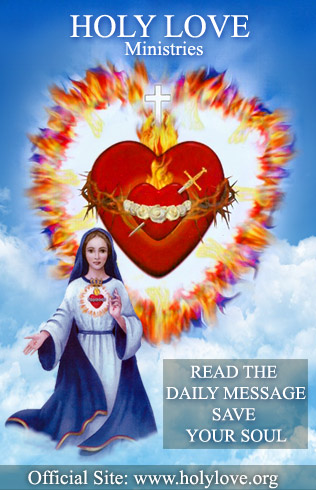 Read the daily messages
Catholics, we have entered the Pre-Tribulation, observe the Commandments, go to Confession; receive the Holy Eucharist; pray at least 3 Rosaries a day to keep your faith and save your loved ones. Prepare for the events that will devastate our planet: plagues, famine, WW3, cataclysms, antichrist's World Order