November 5, 2019
Once again, I (Maureen) see a Great Flame that I have come to know as the Heart of God the Father. He says:
"The gift of time is given to the world so that souls have the opportunity to love Me and to love their neighbor as themselves. These Messages* are given to the world to enhance the gift of time and to draw souls into My Paternal Heart. These days, however, time is being used to separate the heart of men from Me and from My Commandments."
"The present moment will never return to you. You will never be given the same grace of the moment to use towards your own salvation and the salvation of others. See what a gift each moment is and use it to the fullest. Choose to be united to My Holy Divine Will in each moment. Renounce your weaknesses and your sins in an effort to please Me. When you love Me and desire to please Me, you are living in My Will."
"I love each soul in each present moment. It grieves Me when souls do not even acknowledge My existence or My interest in them. As I give to you the gift of time, return My favor by using it wisely. Use each moment to improve your relationship with Me."
* The Messages of Holy and Divine Love at Maranatha Spring and Shrine.
Read Galatians 6:7-10+
Do not be deceived; God is not mocked, for whatever a man sows, that he will also reap. For he who sows to his own flesh will from the flesh reap corruption; but he who sows to the Spirit will from the Spirit reap eternal life. And let us not grow weary in well-doing, for in due season we shall reap, if we do not lose heart. So then, as we have opportunity, let us do good to all men, and especially to those who are of the household of faith.
November 6, 2019
Once again, I (Maureen) see a Great Flame that I have come to know as the Heart of God the Father. He says:
"The quickest way to deeper holiness is to accept whatever the present moment gives you as My Will for you. Difficulties are permitted by Me to increase your patience and trust in My Will. Nothing happens in any present moment that I am unaware of. It is in your acceptance of all the present moment brings, that your purification and sanctification unfold."
"Just as I share the difficulties in life with you, I also celebrate every victory with you – great and small. No one walks the journey through life that I have not created and known about since the beginning of time. It is what is in each one's heart which helps him or hinders him in cooperating with each present-moment grace. I never abandon any soul – it is the soul that abandons Me. It is the soul who chooses his own eternity – Heaven or Hell. Disbelief in this is not an exoneration. Therefore, understand that it is each soul that chooses his eternity. Pray for the grace to accept My Will in every moment and in all situations."
Read Ephesians 5:15-17, 20+
Look carefully then how you walk, not as unwise men but as wise, making the most of the time, because the days are evil. Therefore do not be foolish, but understand what the will of the Lord is; always and for everything giving thanks in the name of our Lord Jesus Christ to God the Father.
November 7, 2019
Once again, I (Maureen) see a Great Flame that I have come to know as the Heart of God the Father. He says:
"The key to the doorway of sanctity and deeper personal holiness is selflessness. The more charity within the heart, the greater the strides in holiness. Ask for the grace to remove the shackles on your heart which bind you to the allurements of the world. These shackles are – physical appearance, power, money and authority – indeed anything which enhances the soul's comforts or status in the world. The world as you know it is passing away. It will be replaced by the New Jerusalem which is My Kingdom to come and the victory of My Divine Will."
"Pray for the enlightenment as to what form of disordered self-love is holding you back. Once you are purified of these chains on your heart, happiness and peace will be yours. These Truths I give you out of My profound love for each soul."
Read 2 Timothy 2:21-22+
If any one purifies himself from what is ignoble, then he will be a vessel for noble use, consecrated and useful to the master of the house, ready for any good work. So shun youthful passions and aim at righteousness, faith, love, and peace, along with those who call upon the Lord from a pure heart.
November 8, 2019
Once again, I (Maureen) see a Great Flame that I have come to know as the Heart of God the Father. He says:
"The days that lie ahead will be shortened for the sake of the elect. Many will be misled by the doctrines of demons which is already in progress. Sound leadership will be compromised in an effort to please people – not Me. Power and authority will be placed in unworthy hands. Many of these things the wise can discern to be at hand already."
"For these reasons, I am protecting My Church by merit of the formation of a Remnant Faithful. This small Remnant will be the one true Church upon earth. Mary, Protectress of the Faith will preside over this small flock. Therefore, have hope in these Words I give to you today. Pray for all those who have and will oppose Me. Pray for this faith-filled Remnant."
Read 2 Thessalonians 2:13-15+
But we are bound to give thanks to God always for you, brethren beloved by the Lord, because God chose you from the beginning to be saved, through sanctification by the Spirit and belief in the truth. To this he called you through our gospel, so that you may obtain the glory of our Lord Jesus Christ. So then, brethren, stand firm and hold to the traditions which you were taught by us, either by word of mouth or by letter.
Read 1 Timothy 4:1-2+
Now the Spirit expressly says that in later times some will depart from the faith by giving heed to deceitful spirits and doctrines of demons, through the pretensions of liars whose consciences are seared.
November 9, 2019
Once again, I (Maureen) see a Great Flame that I have come to know as the Heart of God the Father. He says:
"These times are given over to evil. This is so, because man lives in the present moment only for himself and not to please Me in any way. Human pleasures will never be able to compare to a close relationship with Me. I desire with all My Heart to be closer to man – every man. Satan, however, has taken this desire out of the heart of the world."
"Worldly concerns are always a part of every present moment. Man gets lost in these concerns mainly through lack of trust in My Provision. To know Me, is to understand My Love for you, which is perfect in every way. It is this same love that calls the sinner to repentance. It is the same love that helps each soul through every difficulty. Prayer is the way to increase your love and your trust in Me. Prayer changes things."
"Therefore, today, I ask each one of My children to use the present moment as an opportunity to come closer to Me through trustful prayer. Any moment can be sanctified if you choose to surrender your day to Me each morning. Then your whole day is a prayer."
Read Philippians 4:4-7+
Rejoice in the Lord always; again I will say, Rejoice. Let all men know your forbearance. The Lord is at hand. Have no anxiety about anything, but in everything by prayer and supplication with thanksgiving let your requests be made known to God. And the peace of God, which passes all understanding, will keep your hearts and your minds in Christ Jesus.
November 10, 2019
Once again, I (Maureen) see a Great Flame that I have come to know as the Heart of God the Father. He says:
"These Messages* will be your refuge in times of trouble, anxiety and even the hour of My Wrath. For now, I desire each one of you draw closer to Me as a child draws closer to his father in times of uncertainty. It is your relationship with Me that comforts you and protects you in your every hour of need."
"Have I not chosen each one of you who listens to these Messages to be an apostle of Holy Love? Yes, each of you is an evangelizer of Love by merit of your everyday lives. I provide your every need and situation to do so. The ones you come in contact with are the ones I have sent you in that present moment. These are the ones you must give witness to as a true apostle of love would."
"It is My call to My Remnant to unite spiritually in the Truth. Let the Truth of My Commandments lead you – guide you."
* The Messages of Holy and Divine Love at Maranatha Spring and Shrine.
Read 1 Corinthians 6:17+
But he who is united to the Lord becomes one spirit with him.
Read 2 Corinthians 4:13-15+
Since we have the same spirit of faith as he had who wrote, "I believed, and so I spoke," we too believe, and so we speak, knowing that he who raised the Lord Jesus will raise us also with Jesus and bring us with you into his presence. For it is all for your sake, so that as grace extends to more and more people it may increase thanksgiving, to the glory of God.
November 11, 2019
Once again, I (Maureen) see a Great Flame that I have come to know as the Heart of God the Father. He says:
"These days, the mass media has been taken over by evil and promotes its evil agenda. The average citizen cannot ferret out the Truth and is easily misled by his misguided trust in the media in general. This is how the media uses its power and influence to promote evils such as the proposed impeachment of your President.* Without the force of the media behind this movement it could not even be considered as a possibility."
"Evil uses the media to paint pictures of distortion over the Truth. It is in this way, they gain power in the heart of the world. The apostleship of Holy Love has not escaped the evil influences of mass media. Thousands more would believe if the Truth of this Mission** was supported in the public eye. Those strictly opposed to the Truth of this Mission have used their influence to sway the media to negatively influence public opinion in regards to the good fruits of My Mission here.*** This is the age of untruths in hearts and in the world. Ask your angels to stand guard over your hearts so as not to be misled by the mass media."
* President Donald J. Trump.
** The ecumenical Mission of Holy and Divine Love at Maranatha Spring and Shrine.
*** The apparition site of Maranatha Spring and Shrine in North Ridgeville, Ohio
Read 2 Timothy 4:1-5+
I charge you in the presence of God and of Christ Jesus who is to judge the living and the dead, and by his appearing and his kingdom: preach the word, be urgent in season and out of season, convince, rebuke, and exhort, be unfailing in patience and in teaching. For the time is coming when people will not endure sound teaching, but having itching ears they will accumulate for themselves teachers to suit their own likings, and will turn away from listening to the truth and wander into myths. As for you, always be steady, endure suffering, do the work of an evangelist, fulfil your ministry.
November 12, 2019
Once again, I (Maureen) see a Great Flame that I have come to know as the Heart of God the Father. He says:
"Once again, I caution you against any sin that takes root in your heart. When you are sin-free, your hearts are as white as snow. When you have chosen sin, your hearts are difficult for Me to look at. I look only at hearts. I do not care about physical appearances or any accomplishment in the world. The greatest saints are those who live only for others. Do not take pride in your spiritual journey. This in itself is sinful. Nor should you compare your spirituality to anyone else's. Just place your hearts in Mine and I will place My Heart in yours."
"Use time as your passport to Heaven. In that way, you sanctify the present moment. Never give in to discouragement, thinking that I am far distant from you and do not notice your temptations or your attempts in personal holiness. I oversee every present moment in each one's life. I can do this as I am Omnipotent – therefore, omnipresent."
"Be assured of My eternal love for you and out of love for Me, work out your salvation so that we can be together for all eternity."
Read Romans 8:28+
We know that in everything God works for good with those who love him, who are called according to his purpose.
November 13, 2019
Once again, I (Maureen) see a Great Flame that I have come to know as the Heart of God the Father. He says:
"When man wants everything his own way and does not accept the present moment as it is presented to him, it is then he separates himself from Me and from My Will. Often times it is not apparent why certain things happen or why certain crosses are permitted. It is then the soul needs to patiently wait on My timing, trusting that My Will is always towards the welfare of his soul."
"Some souls have much more difficult journeys to travel than others. You do not see now how eternal rewards are measured out and with what precision My Will interacts with time. This is why trust in My Will merits you peace amidst any difficulty. My call to you today is to immerse your hearts in My Will so that My Divine Peace permeates your entire being. Whatever is happening in the present moment is My Will – My Permitting Will or My Ordaining Will. Unite the present moment to My Divine Will."
Read Psalm 5+
Give ear to my words, O LORD;
give heed to my groaning.
Listen to the sound of my cry,
my King and my God,
for to you do I pray.
O LORD, in the morning you hear my voice;
in the morning I prepare a sacrifice for you, and watch.
For you are not a God who delights in wickedness;
evil may not sojourn with you.
The boastful may not stand before your eyes;
you hate all evildoers.
You destroy those who speak lies;
the LORD abhors bloodthirsty and deceitful men.
But I through the abundance of your merciful love
will enter your house,
I will worship toward your holy temple
in the fear of you.
Lead me, O LORD, in your righteousness
because of my enemies;
make your way straight before me.
For there is no truth in their mouth;
their heart is destruction,
their throat is an open sepulchre,
they flatter with their tongue.
Make them bear their guilt, O God;
let them fall by their own counsels;
because of their many transgressions cast them out,
for they have rebelled against you.
But let all who take refuge in you rejoice,
let them ever sing for joy;
and do defend them,
that those who love your name may exult in you.
For you bless the righteous, O LORD;
you cover him with favor as with a shield.
Read Ephesians 2:8-10+
For by grace you have been saved through faith; and this is not your own doing, it is the gift of God – not because of works, lest any man should boast. For we are his workmanship, created in Christ Jesus for good works, which God prepared beforehand, that we should walk in them.
November 14, 2019
Once again, I (Maureen) see a Great Flame that I have come to know as the Heart of God the Father. He says:
"Children, the first step on your journey into My Paternal Heart is self-abandonment. The last step before the doorway to My Heart opens is self-abandonment. The soul has to lose himself to find Me. The soul that can do this is at peace for he has no concerns in his worldly existence."
"During this age when the mass media is king, it is a call to complete conversion of the heart – to abandon self to Me. Hidden within this call is the need to trust – to hope and most of all to love. The soul must replace his disordered love of self and his creature comforts with love of Me. My Provision is the only thing that makes any sense in a world nurtured by consumerism."
"Do not let the mass media be your guide to peace and happiness. Allow Me My rightful place in dominion over your heart."
Read Philippians 2:14-16+
Do all things without grumbling or questioning, that you may be blameless and innocent, children of God without blemish in the midst of a crooked and perverse generation, among whom you shine as lights in the world, holding fast the word of life, so that in the day of Christ I may be proud that I did not run in vain or labor in vain.
November 15, 2019
Once again, I (Maureen) see a Great Flame that I have come to know as the Heart of God the Father. He says:
"Children, the depth of your journey into My Paternal Heart is reflected in the depth of your self-abandonment."
"If you are deep in My Heart, you will not be concerned about what lies ahead. Nothing in the future is beyond My Provision for you. Therefore, your trust in Me is one with your self-abandonment."
"So many read these Messages* with an eye towards the future tribulation and what it will hold. You are prepared for any event if you are prepared in your hearts to trust in Me. Your trust is only as deep as your Holy Love is deep. So, we go back to the beginning with Holy Love. Read the Messages already given to you on Holy Love and the Church of Atonement.** Those who trust are steeped in sacrifice for themselves and others. The smallest sacrifice is as worthy as the love with which it is offered."
* The Messages of Holy and Divine Love at Maranatha Spring and Shrine.
** To facilitate this request, please consider using the 'Search Messages' feature on our website – www.holylove.org/search_messages.php.
Read 1 Peter 4:7-8+
The end of all things is at hand; therefore keep sane and sober for your prayers. Above all hold unfailing your love for one another, since love covers a multitude of sins.
Source: Holy Love
Fr. Michel Rodrigue explaines The Events of the End Times
Do you want a quick overview of the end times? Then read "The great events of purification will begin this fall". If you want all the details of the unfolding events, then go to "Virtual Spiritual Retreat with Fr. Michel Rodrigue about the End Times".
Messages of Holy Love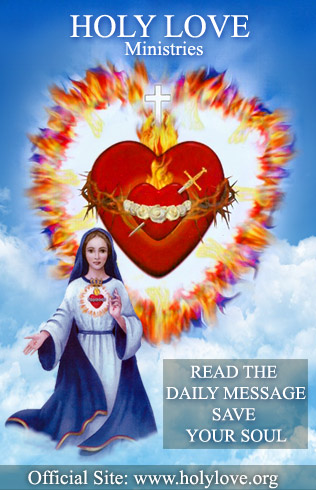 Read the daily messages
Catholics, we have entered the Pre-Tribulation, observe the Commandments, go to Confession; receive the Holy Eucharist; pray at least 3 Rosaries a day to keep your faith and save your loved ones. Prepare for the events that will devastate our planet: plagues, famine, WW3, cataclysms, antichrist's World Order