November 07, 2016
Very urgent appeal by Maria Mystical Rose to humanity
Many souls will be lost when the day of the Warning comes
"Little children of My Heart, may the peace of my Lord be with you and my maternal protection free you from all evil.
Run little children to pass through the door of Mercy and spiritually, to pass through it all of your relatives who are more distant from God.
The door of Mercy is already about closing, run for your safe-conduct so that you can resist the passage through eternity.
Children, many, many souls will be lost when the day of the Warning comes, because they do not want to accept this year of grace and forgiveness that God gave you; and for not wanting to respond to the appeals of Heaven.
Many souls are going to take the Warning in mortal sin or in spiritual lukewarmness and they will not return to this world anymore.
Therefore I am asking you, little children, to rush in going through the door of Mercy, and spiritually let all those friends, family members, relatives and neighbors, who are more distant from God, to pass through it [the Warning], so that they can resist the judgment being cast upon them in eternity and withstand their different stay in purgatory and in hell, in accordance to the state of their souls.
Children, entire families are going to be lost if they do not accept these last ringing bells of Mercy.
The bad use of the technology of this world will lead many to eternal death. Many of my young people are going to get themselves lost due to their bad use of technology; they are turning away from prayer and from the Sacraments and are enslaved by their cell phones, computers, television and other technology of this world, which they have turned into their gods.
My children, the day is approaching in which you will go through the Supreme Tribunal, where only your good works will count.
The immense majority of this humanity is waiting for the fire of purgatory or of hell; they are very few, they can be counted in the hands, those who go to Heaven.
Hurry rebellious children, because your life is in danger!
It depends on you that you have a second chance or that you lose yourself eternally! If you do not hurry up in passing through the door of Mercy your family members, friends, relatives and neighbors who are far from God, perhaps after the Warning they will no longer be among you.
Little children, for a moment between fifteen and twenty minutes of your time, you will be in eternity and what a sadness that for many souls it will be their eternal death.
I am making an urgent appeal to all those who are in mortal sin or in spiritual lukewarmness, so that they may reconsider and may return to God before the doors of Mercy are closed. By not doing it and by not having anybody who passes (prays or makes sacrifice for) them spiritually, they are running the risk of losing themselves eternally.
Think rebellious little children, that what awaits you in eternity is the fire of hell, with which all the souls of this world, who turned away from God, are punished and, as the same as you now, they turned their backs instead of their faces, when I was calling them in order to hear Him (God) and to go back to Him, from the heart!
This year of Mercy, that is about to end, is the safe-conduct so that tomorrow you may, after the Warning, return to this world. If you do not welcome Him (God), many of you risk losing yourselves eternally.
Only children will be exempt from the passage through eternity: babies and children under the age of seven, they will remain asleep for the duration of the Warning.
Humanity then get prepared because everything is about to be fulfilled. The Mercy of God is moving away to give way to His Justice.
The days of purification are about to begin; run to put your accounts in order and stop worrying for the worries and anxieties of this world, because everything in it is vanity of vanities.
Do not make plans in the short or long term; rather worry to save your soul, because the great and terrible Day of the Lord is near.
Your Mother loves you, Maria Mystical Rose
Let my children know my messages to all humanity."
Source: mensajesdelbuenpastorenoc.org
The truth about the Coronavirus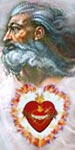 May 1, 2020 - God the Father says: "Today, I invite you to realize that this virus - the coronavirus - is no ordinary disease. It has been created from human ingenuity to specifically target the elderly and physically challenged. This is the plan of future generations to purify the human race around the world. It was released into the general population ahead of schedule - by accident. Those in charge were waiting for less capable government officials in your country (USA) to be in office. Nevertheless, proposed harm is being unleashed on the whole human race."
"I tell you these things to help you to realize the underlying evil at work and hidden in hearts these days. You cannot be confounded by any turn of events. Over all situations, I am in Dominion. No one will be given power over you that is more powerful than your Eternal Father. Therefore, be emboldened with this knowledge. If you persevere in Truth, you have loaded your weapons against what seems to be and discharged them with Truth." (Source: Holy Love)
Help the Lord spread His voice, time is running out
Please help spread these messages of faith, hope, salvation,
defense
against evil (by email, printing, Facebook, Twitter, and other media) to your loved ones, your friends, and all the people you may meet, who seek salvation or who are in danger of being eternally lost. The Lord gives great graces and blessings to those of goodwill who, according to their own possibilities, collaborate with His Plan of Salvation.
Who helps the Lord save a soul predestine his own
, independently from the outcome.