August 22, 2019
Call of Jesus of Mercy to His faithful people.
Message to Enoch.
Many of my Predilects are desecrating my Houses
"My children, my Peace and Mercy, always accompany you."
I am Jesus of the Infinite Mercy and today I want to tell you, that you are already at the clemency of the Father's Mercy, who is faithful and truthful and who is patiently waiting for the time of the Warning and the Miracle to come, in order to usher in the time of His Justice.
Beloved Children, it is already the time in which you must pray, fast, and do penance, so that you may be spiritually strengthened, and thus resist the days of the Divine Justice that are about to come. You have been warned about it so that you are caught by nothing, by surprise; in truth I say unto you, that the abomination is already starting, many of my Houses are already being desecrated and my Eucharistic Divinity trampled on; days are coming where my Houses will be closed and the Daily Worship suspended. Everything that has been written is being fulfilled, the Apostasy is on the rise, millions of souls already do not believe any longer in my existence. The worldly rationalism and the scandals within my Church are leading many to move away from God.
There is already no respect or fear of God on the part of many, and the saddest thing: many of my predilects (the consecrated ones), are desecrating my Houses, by allowing in them pagan rites, parties, concerts of mundane music, banquets and in many of my Houses shameless acts have been presented; all under the complacency of some of my Predilects. Woe to you unfaithful Shepherds, who have turned my Houses into places of impurity and into places of amusement, for I truly tell you, that you have already received your pay! Hell is awaiting you; the eternal fire will be your pay.
My children, your greatest treasure is your salvation; from now on go forward giving no importance to the things of this world, for very soon, it will be gone; worry about attaining the treasure of your salvation in eternity; because in truth I tell you, that everything in this world is vanity of vanities. The true Life is in eternity, you only come to this world to Love and Serve; in Love and Service hides the mystery of salvation. In Love and Service God is, love and serve your neighbour because in him the face of God hides; life is love and service, and to the extent you do this, you will find the key that opens the door of salvation.
I tell you all this, my children, so that you take it into account, during the trials of purification that are about to come, because only through love and service to your brethren you will be able to overcome them. You will need each other to advance through the desert of purification. You will only be able to overcome the trials if you love and help each other. Salvation is for all, because all of you are called to attain it, but this treasure you find only, in the love and the brotherly service. Remember, you are not like independent islands, the essence and the foundation of your existence is Love. God is Love, and the one who lives in Love lives in God and God (lives in) him (1 John 4. 16)
My Peace I leave you, my Peace I give you. Repent and be converted, for the Kingdom of God is near.
Your Teacher, Jesus of the Infinite Mercy.
Let my messages be known to all mankind, Beloved Children of mine."
Source: mensajesdelbuenpastor
Urgent call of Jesus the Eternal High Priest
August 9th 2020 from 12:00 am to 6:00 pm - Worldwide day of fasting and of prayer to the Heavenly Father for the protection of Catholic Temples, Shrines and Holy Places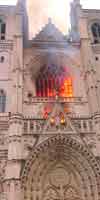 "I make an urgent call to the whole Catholic world for a day of fasting and of prayer to be held worldwide on August 9th with the prayer of the Rosary of my Most Precious Blood and with the prayer of the Exorcism of St. Michael, from 12:00 am to 6:00 pm, asking the Heavenly Father for the protection of my Temples, Shrines and Holy Places, which are being destroyed and desecrated by the forces of evil of this world. I'm counting on you, my Flock." —Jesus the Eternal High Priest
The truth about the Coronavirus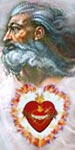 May 1, 2020 - God the Father says: "Today, I invite you to realize that this virus - the coronavirus - is no ordinary disease. It has been created from human ingenuity to specifically target the elderly and physically challenged. This is the plan of future generations to purify the human race around the world. It was released into the general population ahead of schedule - by accident. Those in charge were waiting for less capable government officials in your country (USA) to be in office. Nevertheless, proposed harm is being unleashed on the whole human race."
"I tell you these things to help you to realize the underlying evil at work and hidden in hearts these days. You cannot be confounded by any turn of events. Over all situations, I am in Dominion. No one will be given power over you that is more powerful than your Eternal Father. Therefore, be emboldened with this knowledge. If you persevere in Truth, you have loaded your weapons against what seems to be and discharged them with Truth." (Source: Holy Love)
Help the Lord spread His voice, time is running out
Please help spread these messages of faith, hope, salvation,
defense
against evil (by email, printing, Facebook, Twitter, and other media) to your loved ones, your friends, and all the people you may meet, who seek salvation or who are in danger of being eternally lost. The Lord gives great graces and blessings to those of goodwill who, according to their own possibilities, collaborate with His Plan of Salvation.
Who helps the Lord save a soul predestine his own
, independently from the outcome.