Magnetic North Pole is moving toward Russia 40 miles every year
(Please read all from begin to end)
Wednesday, August 1, 2018: (St. Alphonsus Liguori)

Jesus said: "My son, many times you find yourself in difficult or impossible situations that you do not know how to resolve. You are having a problem finding the time, and the right help to finish your new solar setup. You need to pray for help, and call the original contact to finish your job. On the good side you are thankful that you had your new heater and air conditioner fully installed and working. This heat was a problem for your guests, but now this problem is finally resolved. The problem of record heat is still causing record fires, and power outages all across your country. This is becoming another natural disaster for many of your States. Pray for less loss of life, and a moderation of your high temperatures."

Jesus said: "My people, you are seeing fires all over the dry West that has no rain and intense sun. California has seen the most damage, and the most homes burned by the fires. You are still seeing continuous lava flows in Hawaii, and heavy rains with floods along the Eastern United States. You have seen continuous high pressure systems in the West and of the East coast. These high pressure systems have been almost stationary, indicating the HAARP machine is actively causing the highs. Amidst all the heat and high humidity, it is good that you had a more powerful air conditioner installed. Many people are suffering from the heat and lost homes. Pray that your fires can be brought under control, and that the heat will subside. Pray also that you can get your solar charge controller fixed."
Thursday, August 2, 2018:

Jesus said: "My people, just as in the vision, I am the potter, and I form each of you with My loving hands. You are like sand and dust when I made you, and you will return to dust, just as on Ash Wednesday. Many people even have their bodies cremated into ashes, although this is not respectful for your body in My eyes. Your life is but a few years on the earth, and you are ready to die. So while you are alive, see your time as a gift, so you could save as many souls for those who want to love Me and be saved. Use your time for prayers and good deeds, when you are not working for a living. Even in the workplace you can show your love for your fellow workers by helping them and sharing with them. Take advantage of every opportunity to help people out of love for Me. When you ignore others in need, you could be committing sins of omission. Those faithful, who use their time wisely in helping others, are storing up treasure in heaven for their judgments. Keep praying for sinners and the souls in purgatory. Make time for Me in prayer every day, and you will be rewarded in heaven."

Jesus said: "My people, I thank Juliet for obtaining a nice tabernacle for storing Holy Communion for a short time. I am also pleased that you are honoring My Blessed Mother's request for Raoul to have a vigil of prayer this Saturday and Sunday. My Blessed Mother and I will bless all of your preparations that you have made for this vigil. In order to prepare your people so they will be protected from any attacks of the devil, it would be good if you could come to Confession before you make this vigil, so you could have a clean heart and a clean soul. Those people, who come to Confession, would be more enlightened to be able to see My Blessed Mother. Pray that the people have open minds and open hearts to see this revelation."
Friday, August 3, 2018: (First Friday)

Jesus said: "My people, I am showing you this clock going backwards as a sign of My coming Warning. The clock is going counterclockwise as you will have a life review. When you go back in time in the Bible, you can start with St. Joseph (Matt. Chap 1) and My Blessed Mother, and you go back through each generation of parents until Adam and Eve. You could also go back and start with Adam and Eve and go forward through all the generations up to St. Joseph. (Luke chap 3) This is how it will be in your Warning experience with your personal life review. Some will review their lives backward from now back to their conception in their mother's womb. Others will start their review from conception and move forward to the present moment. You will pass over all of your forgiven sins, but your unforgiven sins will stop and move on. When you come back into your body, you will remember every unforgiven sin and how you offended Me greatly. I will forgive all repentant sinners, and after this Warning experience, you will have a strong desire for Confession. This night vigil that you are about to take part in, is a preparation for when you will have your Warning experience. By coming to frequent Confession and loving Me every day, then you could avoid a mini-judgment of being judged to hell. All those people, who see a judgment to hell, will have one last chance to change their lives and be saved. Some will accept Me, but others will continue on a path to hell. Pray for all sinners and your family, so they could be saved from hell and come into My loving arms."

Jesus said: "My people, this falls in the vision represents how My graces flow into your heart and soul. At Baptism you receive My graces that cleanse your original sin from your soul. At Confession you repent of your sins, and I cleanse your sins from your soul. At Holy Communion you receive My graces that heal your soul from the effects of your sins. Rejoice in receiving My ever flowing graces, so you can be prepared to come to heaven. You are about to pray your vigil, so it would be well for all of you to come to Confession so you could be prepared. In the Gospel I told you how a prophet is not always respected in his hometown. I send out My prophets to share My Good News, so everyone will have an opportunity to be saved."
Saturday, August 4, 2018:

Jesus said: "My people, you have seen helicopters used to rescue people's lives in emergencies of various kinds, as in the vision. In the news you can see helicopters lifting people from lava fields, from rooftops in floods, and for emergencies to a hospital. For My faithful you can think of yourselves as being spiritual helicopters, where you are trying to rescue souls from the demons and from going to hell. I give My faithful many helps in your rescue attempts. I provide you the money to live, and have the means of travel vehicles to get to the people. I provide you the food you need so you can maintain your health. I give you My angel protection and your deliverance prayers to help fight the demons, so souls can be saved. You are My arms and legs, and I give you this mission to help save souls. So do not just live to save your own soul, because you have been enabled with My gifts to go out and evangelize souls in all the nations. When you arrive at your judgment I will ask you how much you loved Me and your neighbors? I will also ask you how many souls were you able to rescue with all of your time to evangelize souls? So do not be spiritually lazy, when you could be praying for sinners to be saved, or working in the fields to help be a spiritual helicopter to save souls."

Jesus said: "My people, I have a spotlight on every soul, and all of heaven is watching your every action. Be conscious of performing every action out of love for Me in following My Will. Be a good example for all the people on earth who are watching your every move. I know you are weak from Adam's sin, and you will commit sins in your lifetime. It is how you react to your sin that I am watching to see if you are sorry for your sins, and are willing to seek My forgiveness. You are celebrating My Blessed Mother's birthday, and she is happy for your honoring her. The best present you could give her is your sincere prayers and love."
Sunday, August 5, 2018:

Jesus said: "My people, in the Gospel I told the people: 'I am the Bread of life.' This was the sign that the people were seeking. I give you My Real Presence in My Eucharistic Host. Just as I multiplied the loaves of bread for the 5,000 and the 4,000, so I multiply Myself so all of you can receive Me in Holy Communion. In the Old Testament I sent My people manna in the desert. Now, I give My people the spiritual Bread of Myself in every consecrated Host."

Jesus said: "My son, you are seeing unusually hot summers both in America and now in Europe. Some people think this global warming is coming from increased carbon dioxide, but this is being caused by other factors. You have researched the polar shift when your magnetic North Pole is moving toward Russia 40 miles every year. When this pole changes, it will shift the weather as well. You also read how the strength of the magnetic North Pole is diminishing as well. The earth is protected from the sun's radiation by the strength of your magnetic poles. As the strength of this magnetism diminishes, you will be heated more by the solar wind of the sun. Do some more research on the effects of this polar shift and diminishing magnetism. As this heat of the earth increases, you will see more severe droughts, and more violent weather. The increase in natural disasters is also a reflection of the effects of increased sin and how less people are coming to Sunday Mass. America needs to repent and make Me more a part of your lives, or you will see more damage from your natural disasters."
Monday, August 6, 2018:

Jesus said: "My people, you may not realize it or not, but your religious freedom to worship Me, is being challenged by the progressives, almost communists, and the Muslims in your country. For a short time your President is protecting your constitutional freedoms. Many of the progressives are moving toward socialism which is a cousin of atheistic communism. These people have abortion in their platform, and they have other views against My laws. They are a threat to your President and your freedoms. You also have a militant Muslim population that has its goal to out populate you, and take over from the grass roots. My faithful are close to Me, but there are many lukewarm Christians, who are not close to Me in their actions. You even have the beginning of a division in your Roman Catholic Church. New age teachings and liberal theology is dividing My Church, and you will see a split between a schismatic church and My faithful remnant. You also have some faithful who are preparing refuges for protection during the coming tribulation. I am warning My faithful that a time is coming when you will be persecuted from the communists, the atheists, the Muslims, and those people following the devil. This is why I have asked you to be prepared to leave for My refuges, when your lives and souls will be in danger. Just as I was persecuted in life, so My faithful are and will be persecuted as well. Trust in Me and My angels to protect you from the evil ones at all times."
(The Transfiguration of Jesus)


Jesus said: "My people, I took St. Peter, St. James, and St. John up to the top of Mt. Tabor. Before them I was transfigured with My Glorified Body, and Elijah and Moses appeared on either side. Then God the Father spoke out: 'This is My beloved Son, listen to Him.' St. Peter wanted to make three booths for all three in the appearance. When they looked up, only I was there in front of My apostles. I cautioned My apostles not to reveal this experience until after I would rise from the dead. I told My apostles several times that it was My mission to die on the cross for all the sins of mankind, and I would rise from the dead on the third day. My transfiguration is a preview of My Resurrection where I conquered sin and death. This is even how I will come at the end on the clouds as I will claim victory over all of the evil ones. My transfiguration was meant to build up confidence in My apostles so they should not worry about being martyrs for My new Church. They could see My power that is greater than all the evil ones. I am also giving My faithful of today a similar confidence in My power over the devil, the Antichrist, and the false prophet. Have no fear, for My angels will protect you at My refuges."
Tuesday, August 7, 2018:

Jesus said: "My people, beware of the lies and deceitful ways of the devil. He is trying to devour souls from Me, and you need to be more focused on following My Will. If you ask to follow My Will, then anything I tell you to do, will not be sinful. Otherwise, you should ask yourself, if the action you are about to carry out, is against My laws or not. Adam and Eve were deceived into eating the forbidden fruit because the devil told them they would be like gods, if they ate it. In the morning you should consecrate yourself and all of your actions over to Me for the day. You do not want to offend Me with your sins because mortal sin can break our love relationship, and your soul would be black and empty of all grace. It is hard for Me to look at so many black souls all over the world. If you do fall into sin, you can restore our love relationship by repenting of your sins in Confession. You also want to make a good Confession by having a firm purpose of amendment not to commit that sin again. Some people are living in fornication, and they should repent and get married because their Confession is not truly honest to continue living in a sinful lifestyle. Converting your addictions and changing any evil lifestyles should be your resolution to follow My Will and My way of life. Imitate My life and that of My Blessed Mother, and you will be on the right path to heaven."
(St. Cajetan)


Jesus said: "My people, this vision is when the boat of St. Peter was tossed about in a storm. St. Peter represents the Pope, and the Church is in the boat. I came to rescue My apostles from the storm, when I walked on water to them. I called St. Peter to come to Me walking on the water, but he began to sink when he saw the fury of the storm. I reached out and I took St. Peter into the boat as I calmed the storm. This is a sign to all of My people today, that you should not lose faith or hope in My saving power. Every day you can call on Me to calm the storms or troubles that you encounter. This requires a strong faith to be persistent in your daily prayers with full trust in My saving power. I watch over you every day along with your guardian angel. So as you leave this celebration, you can read your long form of the St. Michael prayer on your way home."
Wednesday, August 8, 2018:

Jesus said: "My people of America, you have a choice for your country. You can choose to repent and follow My laws, and you will be rewarded with green trees and lush crops with plenty of water. You can also choose to refuse to repent, and continue to live in your sinful lifestyles. This bad behavior will cause droughts, fires, and floods in various places. With such behavior against Me, you will eventually see a desert result with little or no water. I have given you your President as a temporary reprieve from the previous administration that was destroying your country. If your people do not repent of their sins, and change their lifestyles, then what little gain you have achieved, will be taken away from you. Listen to My words and heed My warning from My prophets, or you will face worse natural disasters than you have now. If you continue on your current path, all Christians will be persecuted for proclaiming My Name and My Resurrection. When your lives are threatened, I will call My faithful to the protection of My refuges. Fear not because My angels will protect you there."
Source: John Leary
Urgent call of Jesus the Eternal High Priest
August 9th 2020 from 12:00 am to 6:00 pm - Worldwide day of fasting and of prayer to the Heavenly Father for the protection of Catholic Temples, Shrines and Holy Places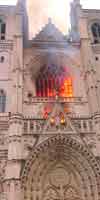 "I make an urgent call to the whole Catholic world for a day of fasting and of prayer to be held worldwide on August 9th with the prayer of the Rosary of my Most Precious Blood and with the prayer of the Exorcism of St. Michael, from 12:00 am to 6:00 pm, asking the Heavenly Father for the protection of my Temples, Shrines and Holy Places, which are being destroyed and desecrated by the forces of evil of this world. I'm counting on you, my Flock." —Jesus the Eternal High Priest
The truth about the Coronavirus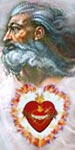 May 1, 2020 - God the Father says: "Today, I invite you to realize that this virus - the coronavirus - is no ordinary disease. It has been created from human ingenuity to specifically target the elderly and physically challenged. This is the plan of future generations to purify the human race around the world. It was released into the general population ahead of schedule - by accident. Those in charge were waiting for less capable government officials in your country (USA) to be in office. Nevertheless, proposed harm is being unleashed on the whole human race."
"I tell you these things to help you to realize the underlying evil at work and hidden in hearts these days. You cannot be confounded by any turn of events. Over all situations, I am in Dominion. No one will be given power over you that is more powerful than your Eternal Father. Therefore, be emboldened with this knowledge. If you persevere in Truth, you have loaded your weapons against what seems to be and discharged them with Truth." (Source: Holy Love)
Help the Lord spread His voice, time is running out
Please help spread these messages of faith, hope, salvation,
defense
against evil (by email, printing, Facebook, Twitter, and other media) to your loved ones, your friends, and all the people you may meet, who seek salvation or who are in danger of being eternally lost. The Lord gives great graces and blessings to those of goodwill who, according to their own possibilities, collaborate with His Plan of Salvation.
Who helps the Lord save a soul predestine his own
, independently from the outcome.