January 17 2018
Urgent call of Jesus ​​in the Blessed Sacrament to His faithful People
Keep your Spiritual Armor ready with prayer
"My children, My peace be with you.
My little Prophet, the days of the great trial are coming for My People; gather yourselves in prayer, fasting and penance, so that you can strengthen your spirit and thus and be victorious in the spiritual battles that are approaching.
My children, I say this to you, because your enemy of the soul and its armies are the forces that you would have to win. The struggle will be against the principalities and powers, against the rulers of this dark world, against the spirits of evil, who dwell in the celestial spaces. (Ephesians 6. 12)
I tell you again, the fight is not with material weapons, but with spiritual ones. All those who engages in spiritual combat without the assistance of heaven, will be lost; because your enemies are not of flesh and blood, your enemies are evil entities, which have command and power over this dark world. Therefore, the only way you will defeat them, will be through prayer, fasting, penance, and the help of heaven.
My children, keep your Spiritual Armor ready and oiled with prayer; put it on morning and night and reinforced It with Psalm 91. Remember that you cannot enter into battle without your Armor, because in doing so, you will be easy prey of my adversary and his hosts of evil.
Before entering the combat, ask for the protection of Our Two Hearts and say:
Hearts of Jesus and of Mary, assist us in the spiritual combat of this day; we take refuge in your Hearts; give us the power to defeat the enemy of our soul and its hosts of evil.
Invoke as well Our Beloved Michael and pray His exorcism, given to Pope Leo XIII.(1) Pray with the Rosary of My Mother(2) and (the Rosary) of My Precious Blood(3) and consecrate yourselves to It, every day morning and night. The power of my Glorious Blood will keep you steady and keep you away from the spiritual demons and incarnate ones.
Ask for the assistance of the Souls of Purgatory, of your Guardian Angel and Guardian Angels; as well as the assistance of the Archangels and Angels of the Celestial Militia (Army), and of the Blessed Souls, especially those who in this world were exorcists. My Apostles must also be invoked in those days, for you to be well protected so that nothing and no one can harm you.
Keep well present in your mind my Beloved Benedict and His exorcism(4), Antonio of Padua and His exorcism(5), Ignatius of Loyola, Patrick of Ireland, with His prayer of the Breastplate(6), Father Pio of Pietrelcina, My John Paul II, and in general all my Beloved Ones who in this world fought against Satan and his demons. Also, do not forget the Invocation to My Holy Angels(7) and the Prayer of the Shield of My Redemptive Blood(8) that I sent you through My Enoch. All these ones are your help and spiritual weapons, with which you will defeat My adversary and his legions of evil.
Start then my Warriors to use them from now on, so that when those days come you are already strengthened and you can face without fear the armies of My adversary. Do not be afraid, stand firm in faith and united in love; if you comply with our instructions and put them into practice, I assure you that no force of evil can harm you.
Remember my little ones that during the Warning, you are going to be clothed with the gifts and charisma that you need to face My adversary. I say to you again, do not be afraid, put your trust in Our Two Hearts and offer your personal purification as an offering of love to My Father and I assure you that you are going to attain the Crown of Life.
My Peace I leave you, My peace I give you. Repent and convert, because the Kingdom of God is near.
Your Beloved, Jesus in the Blessed Sacrament.
Let My messages be known to all humanity, My flock."
Source: mensajesdelbuenpastorenoc.org
(1) The Exorcism against Satan & the Apostate Angels in Latin & English (here)
(2) The Holy Rosary (here)
(3) Chaplet of the Precious Blood of Jesus (here)
(4) St. Benedict Medal With Exorcism & Blessing (here)
(5) Prayer of exorcism taught by Saint Anthony of Padua (here)
(6) St. Patrick's Breastplate (here)
(7) Conjuración a los Santos Ángeles (here)
(8) Consecration to the Precious Blood of Jesus Christ
Consecration to the Precious Blood of Jesus Christ
Conscious, Merciful Savior, of my nothingness and of Thy sublimity, I cast myself at Thy feet and thanks Thee, for the many proves of Thy grace shown upon me, Thy ungrateful creature.
I thank Thee specially for delivering me, by Thy Precious Blood, from the destructive power of Satan. In presence of my dear Mother Mary, my guardian Angel, my patron Saint, and of the whole Heavenly court, I voluntarily consecrate myself , with a sincere heart, O dearest Jesus, to Thy Precious Blood, by which Thou hath redeemed the world from sin, death, and hell.
I promise Thee, with the help of Thy grace and to the utmost of my strength, to stir up and foster devotion to Thy Precious Blood, the Price of our redemption, so that Thy adorable Blood may be honored and glorified by all. In this way, I wish to make reparation for my disloyalty towards Thy Precious Blood of Love, and to make satisfaction to Thee for the many profanations which men commit against the Precious Price of their salvation.  !O, would that my own sins, my coldness, and all the acts of disrespect I have ever committed against Thee, O Holy, Precious Blood, could be undone. Behold, O dearest Jesus, I offer to Thee the love, honor and adoration, which Thy most Holy Mother, Thy faithful disciples and all the saints have offered to Thy Precious Blood. I ask Thee to forget my earlier faithlessness and coldness, and to forgive all who offend Thee. Sprinkle me, O Divine Savior, and all men with Thy Precious Blood, so that we, O Crucified Love, may love Thee from now on with all our hearts, and worthily honor the Price of our salvation. AMEN
The Eucharistic Miracle of Lanciano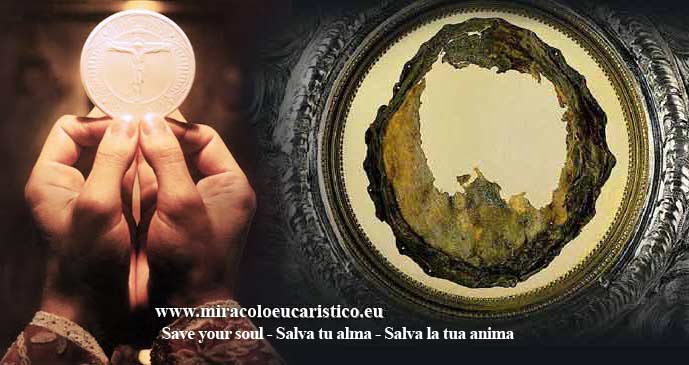 The Eucharistic Miracle of Lanciano happened in the eight century. This is inferred by circumstances and historical concomitance due to the persecution in the East from the Emperor Lion III, called The Isaurico, who started a strong persecution against Church and cult of sacred images. (learn more…)
The truth about the Coronavirus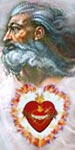 May 1, 2020 - God the Father says: "Today, I invite you to realize that this virus - the coronavirus - is no ordinary disease. It has been created from human ingenuity to specifically target the elderly and physically challenged. This is the plan of future generations to purify the human race around the world. It was released into the general population ahead of schedule - by accident. Those in charge were waiting for less capable government officials in your country (USA) to be in office. Nevertheless, proposed harm is being unleashed on the whole human race."
"I tell you these things to help you to realize the underlying evil at work and hidden in hearts these days. You cannot be confounded by any turn of events. Over all situations, I am in Dominion. No one will be given power over you that is more powerful than your Eternal Father. Therefore, be emboldened with this knowledge. If you persevere in Truth, you have loaded your weapons against what seems to be and discharged them with Truth." (Source: Holy Love)
Help the Lord spread His voice, time is running out
Please help spread these messages of faith, hope, salvation,
defense
against evil (by email, printing, Facebook, Twitter, and other media) to your loved ones, your friends, and all the people you may meet, who seek salvation or who are in danger of being eternally lost. The Lord gives great graces and blessings to those of goodwill who, according to their own possibilities, collaborate with His Plan of Salvation.
Who helps the Lord save a soul predestine his own
, independently from the outcome.