May 15 2017
Urgent appeal of Jesus the Good Shepherd to His flock
Jesus: War can burst at any time and the tribulation will begin
"May My peace be with you, sheep of my flock.
Only the arrival of My Warning is to come before my Mercy gives the path to my Justice.
The night is coming, the tense calm is about to collapse. Do not be afraid, that your heart does not feel troubled and your spirit does not feel worried.
I will be with you until the end of time.
My flock, nations are preparing for war, peace will last for a little while then it will go away; war can burst at any time and the world will be under the power of darkness.
It will be the pride and the selfishness of man to awake the time of my Justice.
With war, the time of tribulation will begin and my People will walk through the desert of purification.
A third of mankind will disappear because of the war; Famines, plague and the silent death will be responsible for decimating another part of the world's population.
What sadness I feel in My Heart in seeing that pride, selfishness and thirst for power will prevail over dialogue and reason!
My flock, since the moment in which war begins, make chains of prayer, so that the power of prayer does not allow this war to expand.
Because if it lasts for too long, it will endanger the very existence of the earth and of the universe.
I tell you this because the weapons of mass destruction the great powers possess have the ability to destroy the earth. If Heaven does not intervene, man will destroy God's creation.
My flock, the existing war armament can make humanity go back to the Stone Age.
I address an urgent appeal to you, little sheep of my flock, to intensify prayer.
No more being passive, no more being spiritually lukewarm: everything is going to be upside down and you, my flock, are still asleep!
If you knew the magnitude of the approaching disaster, you would wake up from your spiritual lethargy and you would already be praying, fasting and doing penance.
The war takes place because of human will, it is man with his selfishness and his pride, to unleashit.
It does not depend on God, remember that I respect your free will: but it is you, children of the mud, to cause so much misery and sorrow in the creation.
It is you, kings of this world, to be on the verge of release the demon of War, which will make the whole world mourn.
My flock, be ready, because at the outbreak of the war, you will also begin the days of your purification.
Days of spiritual battle in which you must remain united to Me, like the branches to the vine.
Truly, I say unto you, the one who will turn away from Me will perish.
Pray without ceasing to make of you, of your being, a spiritual fortitude, because the days of your purification are near.
Allow yourselves to be shaped by Me, I want to make new creatures of you, spiritual beings, filled with the grace of God, so that you may be living in the future into My New Creation.
I leave you peace, I give you My peace. Repent and convert because the kingdom of God is near.
Your Master, Jesus the Good Shepherd
Let my messages be known to all mankind, little sheep of my flock."
Source: jacarei-medjugorjebrasiliana.net/messaggi_enoch
The truth about the Coronavirus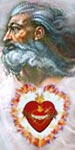 May 1, 2020 - God the Father says: "Today, I invite you to realize that this virus - the coronavirus - is no ordinary disease. It has been created from human ingenuity to specifically target the elderly and physically challenged. This is the plan of future generations to purify the human race around the world. It was released into the general population ahead of schedule - by accident. Those in charge were waiting for less capable government officials in your country (USA) to be in office. Nevertheless, proposed harm is being unleashed on the whole human race."
"I tell you these things to help you to realize the underlying evil at work and hidden in hearts these days. You cannot be confounded by any turn of events. Over all situations, I am in Dominion. No one will be given power over you that is more powerful than your Eternal Father. Therefore, be emboldened with this knowledge. If you persevere in Truth, you have loaded your weapons against what seems to be and discharged them with Truth." (Source: Holy Love)
Help the Lord spread His voice, time is running out
Please help spread these messages of faith, hope, salvation,
defense
against evil (by email, printing, Facebook, Twitter, and other media) to your loved ones, your friends, and all the people you may meet, who seek salvation or who are in danger of being eternally lost. The Lord gives great graces and blessings to those of goodwill who, according to their own possibilities, collaborate with His Plan of Salvation.
Who helps the Lord save a soul predestine his own
, independently from the outcome.