January 4, 2017: Message to the seer Lily of the Holy Face of Jesus (Giglio del Santo Volto)
Jesus: Very few hours left to the collision and you move very slowly
"My daughter, the Heart of Your Jesus is hurt and in pain, in pain as never before.
The space that I have in the life of those who profess to be Christian is so small!
It hurts, very, very bad.
I have been receiving so many offenses over the centuries and yet I am not accustomed to this continuous and immense suffering.
If you saw My tired and suffering face, you would die.
I have chosen to show you one part of what I go through and to give you some of that physical pain that atrophies Me up to not to be able to move a finger, a single step.
Because I, My beloved, feel the pain today, as I felt it during the hours of the Passion up to the summit of Golgotha.
I am Live Flesh and Hearth throbbing of Life.
I live now, as the same as when I took the human form.
Do not be surprised, therefore, when I say to Mankind this:
"Stop hurting Who Gave Himself for all Mankind."
In tearing My Heart with new spear blows you offend the Father Himself, in addition to give pain to both My Heart and My Mother's One, Mary the Most Holy, Who wept for me and for all mankind at the foot of the Cross.
Ungrateful and devoted to sin, this is what you are turned to; you that have origin in God and do not allow entering but putrid rot that covers like mud both your limbs and souls.
The Spirit who wants to live fully in every human being, created by the Father, cannot act.
He cannot act because you do not want it!
Learn that everything that originates from Love, longs only to the Same.
It seeks, unites, transforms and rejoices in God's Essence.
Love is the center of everything.
It involves sacrifice and total donation.
You have to build a proper dwelling to receive Him and to prepare it requires listening in silence what He desires to communicate to one's heart.
Purify your dwelling and He will enter it.
Love through that Holy Love and cultivate a New Sprout.
Do not ferment hatred.
It poisons you.
My children, there are very few hours left to the collision and you move very slowly.
Everything will happen so fast that you will not even have time to think.
I come to knock at your door and to seek your love; are you able to offer it to Me?
Jesus, Whose Heart Bleeds for Love."
Source: Giglio del Santo Volto

The seer Lily of the Holy Face of Jesus (Giglio del Santo Volto), is a woman from Italy who lives a humble and hidden life. Those people whose heart belong to God, will recognize in these messages the voice of the Good Shepherd, God the Almighty, The Triune God: God the Father, God the Son, God the Holy Spirit, Who call all to salvation. Be the one who listens by abandoning a sinful life, by embracing prayer and by following the eternal 10 Commandments. Time is running out.
The truth about the Coronavirus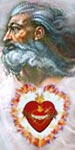 May 1, 2020 - God the Father says: "Today, I invite you to realize that this virus - the coronavirus - is no ordinary disease. It has been created from human ingenuity to specifically target the elderly and physically challenged. This is the plan of future generations to purify the human race around the world. It was released into the general population ahead of schedule - by accident. Those in charge were waiting for less capable government officials in your country (USA) to be in office. Nevertheless, proposed harm is being unleashed on the whole human race."
"I tell you these things to help you to realize the underlying evil at work and hidden in hearts these days. You cannot be confounded by any turn of events. Over all situations, I am in Dominion. No one will be given power over you that is more powerful than your Eternal Father. Therefore, be emboldened with this knowledge. If you persevere in Truth, you have loaded your weapons against what seems to be and discharged them with Truth." (Source: Holy Love)
Help the Lord spread His voice, time is running out
Please help spread these messages of faith, hope, salvation,
defense
against evil (by email, printing, Facebook, Twitter, and other media) to your loved ones, your friends, and all the people you may meet, who seek salvation or who are in danger of being eternally lost. The Lord gives great graces and blessings to those of goodwill who, according to their own possibilities, collaborate with His Plan of Salvation.
Who helps the Lord save a soul predestine his own
, independently from the outcome.