May 1, 2009 – Jesus of Nazareth
St. Michael the Archangel's Hermitage at Holy Hill, Little Sisters of St. Francis Retreat, Danville, NH, USA at 9:15am
"My son,
I come to you today as Jesus of Nazareth, and I come to you bearing gifts of healing for mankind. Once again, I have brought you here to this Holy Hill for rest and recuperation for I am asking much of you in these times in your journey here on Earth.
But, Alas! I am asking much also from all of your brothers and sisters here on Earth, for you are now in the times of extreme importance and urgency for mankind to listen closely to my messages to all of you. For the world is in a very dangerous time now, due to the plans of the dark forces and entities both here on Earth as well as in the dark spiritual realms, who are mustering the foulest and darkest of their arsenal to attack the spiritual nature of all of you.
But fear not in these times for your Lord and Saviour is with you in a very powerful way. I am available to all of you who call upon me in prayer and meditation by calling out to me silently and in prayer: Oh Jesus of Divine Mercy, hear my pleadings to you, for I am here to do your will!
I will answer forthrightly the prayers of all of you who call out to me in this prayerful manner, for I recognize that there is a stirring in all of you, because of the signs of the times that are so clear to you now.
Foolish are the ones who do not recognize that the power and majesty of the Holy Trinity is in charge of all that there is.
For it is in these times when the power of the One Lord of Heaven, as manifested to you through the Holy Trinity, will convey incredible and unbelievable blessings to all of mankind.
However, it is important for all of you to recognize that the power of the Holy Spirit is within you already, waiting for you to answer the call of your Creator to become a powerful prayerful warrior for His mission to bring all of humanity into an Era of Peace.
The journey will be marked with great peril, for the evil, which is being manifested among you by the minions of the dark one, is clearly evident in the world today.
Be wary of those who are making promises to you from positions of power and authority, who continue to disappoint you time and time again.
Their promises to humanity are empty and hollow and intended only to deceive you, for they are minions of the dark one, and they are attempting to usher in his plan of domination for the world.
Their master in hell already knows that he is defeated, and he is deluding his minions in a last gasp of breath to spit in the face of his own Creator, the Creator of all that there is, the Father in Heaven, who is now represented to you through His Son, and through the power of the Holy Spirit.
Do not be deceived by your leaders who have evil intentions for the domination of the world.
Do not be fooled by their attempts to control you and to instill fear into your hearts, minds, and souls, for this is the work of the evil one operating through his earthly minions.
Pay close attention to your health, as well as the health of your family members, and friends, and, Alas! – even for your enemies, for all the brothers and sisters on the face of the Earth are the creations of God, although so many of you are following the instructions of the dark one.
Be leery of claims of dangers that are engineered to control you in a very dark way.
Use discernment in your responses to claims of health risks that are intended to put your lives in great peril.
Be aware of the toxins and poisons that are being offered as cures, for they are exactly the opposite, and are not intended to heal, but to bring further illness and disease to people throughout the world.
Pray and meditate for the discernment on how to conduct your lives in a healthy way and avoid treatments that you do not understand or comprehend in a manner that you are assured that such prescriptions are really for the benefit of your spiritual, physical, and emotional well being.
For the minions of the dark one are preparing to control the people of the world with very dark and sinister chemical creations, which are distortions of the biological processes that have been gifted to you by the one true God, your Father and Creator, who has only one plan for the goodness of all humanity, that plan being the Original Order of Creation.
Any science or discipline that does not accept and recognize, and pay homage to the Creator of all that there is will not be for the benefit of mankind.
So judge your treatments of disease and your manner in which you protect your health only through disciplines that are of the Lord God and not of the minions of darkness who are attempting to control you.
I ask all of you my brothers and sisters to find a time very soon in your lives for prayer and meditation in solitude, for it will be very difficult for all of you in the near future to contend with the events that are soon to come – without the benefit of the power of the Holy Spirit acting strongly within you to guide you through these End Times.
This then is a glorious time for you to be alive and to be a part of God's plan for the future of humanity.
For those of you who answer my call, the journey will be exciting and exhilarating, for you will be part of the greatest miracle that will be bestowed upon the people of the Earth.
It will be a miraculous event that you must be prepared to accept and receive into your hearts, minds, and souls.
For those who are not prepared for the miraculous events to come, you who are prepared will have a great responsibility to care for the others, who do not understand, who are not prepared, and who are living in darkness.
For they have been put into a death-like sleep by the dark forces, and they are not prepared to even accept that there is a Lord and Creator of all, who is their own Lord and Saviour, so dark is the place to which they have fallen here on Earth, because they do not accept that their creation in itself is the work of a loving and merciful God who wants only the most wonderful existence for all of His children.
My son, go forth now and preach my words to all who will listen and do so with great urgency. However, you must temper yourself to do this work for the weight of the missions that I give to all of you may also become too much for you to bear, unless you temper your mission with a balance in your lives. Allow time for prayer and meditation, and at times, for complete solitude so that you can spend time with me alone, while you are on your journey.
The Father in Heaven, and I as His Son, and through the power of the Holy Spirit are anointing all of humanity in these times to not only survive the troubling times ahead, but to actually relish the work of the Holy Trinity to bring the Era of Peace to fruition.
My brothers and sisters continue to pray powerfully now and to call on me with these words: Oh Jesus of Divine Mercy, hear my pleadings to you, for I am here to do your will!"
Message ended 9:50am
From: Jesus of Divine Mercy
Ned Dougherty's Near-Death Experience and His Visions of the Future
In his mid-thirties, Ned Dougherty (an Irish name, pronounced "Dock-erty") had everything: money, women, property, prestige, and power. He was a real estate broker for twenty-six years owning popular nightclubs in Palm Beach, Florida, and the Hampton's, Long Island's exclusive playground for the rich and famous. He lived in the fast lane every hour of the day, pursuing every pleasure money could buy. Despite his religious upbringing as a Roman Catholic, he had no interest in a spiritual life because he didn't believe in an afterlife.
He was too busy searching for a good time to be bothered with such things. This all changed on July 2, 1984 when he had a near-death experience (NDE) resulting from a heart attack after a heated – almost murderous – fist fight with a business associate.
Dougherty's NDE caused him to undergo a radical life transformation in which he gave up his nightclub business and party lifestyle and embraced his hitherto neglected Catholic religion. His NDE gave him a conscious awareness of his mission in life which was to embark upon charitable and missionary work. During his NDE, a wonderful "Lady of Light" (whom he identified as the Virgin Mary) revealed to him future global catastrophes many of which have already occurred which you will read in this article.
Today, Dougherty is a featured speaker, a former director and media spokesperson for the International Association for Near-Death Studies (www.iands.org). He also founded a spiritual center as revealed in his NDE called the Mission of Angels Foundation (www.fastlanetoheaven.com) through which he speaks on life-after-death issues, NDEs, Marian apparitions, and other spiritual matters.
He also hosts End Times Daily (www.endtimesdaily.com) – a Catholic news site focusing on eschatology – where he publishes interior locutions he has been receiving on a monthly basis since 2005.
Book: Fast Lane to Heaven: Celestial Encounters that Changed My Life
Published in March of 2001. This book documents his amazing NDE and visions of Earth's future.
Ned Dougherty's End of Days Website:
Fr. Michel Rodrigue explaines The Events of the End Times
Do you want a quick overview of the end times? Then read "The great events of purification will begin this fall". If you want all the details of the unfolding events, then go to "Virtual Spiritual Retreat with Fr. Michel Rodrigue about the End Times".
The Pope's approval of homosexuality
Beware of the 'New World Order'
The Rosary is the weapon of these times
The truth about the Coronavirus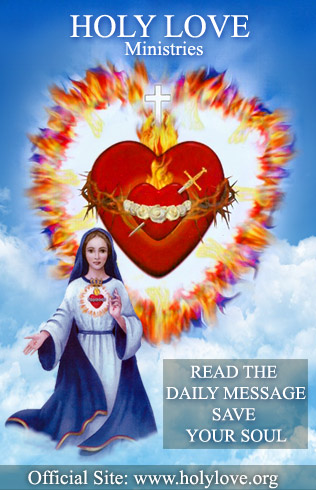 Read the daily messages
Catholics, we have entered the Pre-Tribulation, observe the Commandments, go to Confession; receive the Holy Eucharist; pray at least 3 Rosaries a day to keep your faith and save your loved ones. Prepare for the events that will devastate our planet: plagues, famine, WW3, cataclysms, antichrist's World Order