September 5, 2016: Message to the seer Luz De Maria
My Beloved People:
YOU ARE NOT CHILDREN WITHOUT A MOTHER!
MY MOTHER IS BOTH THE MOTHER OF HUMANITY AND THE QUEEN AND LADY OF ALL CREATION. 
Turn to Our Mother, She stretches out Her Hand to you so that you maintain the necessary strength in this instant and not be lost. My Mother comes to give you Her Motherly Love so that you, My faithful ones, be those who take the Good News of My Second Coming to your brothers and sisters. 
 
My Beloved People:  CONVERSION DOES NOT COME ON ITS OWN OR WITH MINIMAL EFFORT ON MAN'S PART.
WHOEVER DESIRES FROM THE HEART TO ATTAIN THE SOUL'S SALVATION MUST ERADICATE FROM THEIR LIFE: 
* Evil deeds, evil thoughts, evil desires, greed, avarice, despair …
* Pride, impatience, counter-witness, falsehood, evil, judging one's neighbor …
* Denying assistance to one's fellow human being, fear, coldness, bad feelings, intolerance …
* Competitiveness, eagerness for material things, the denial of growth in the spirit …
* They must stop living out of human free will, they must subject their intelligence to My Will and eradicate all that is contrary to Works of Mercy and to the Divine Laws, among which are the Sacraments.
MAN ONLY SEES HIS PHYSICAL BODY: skin with its different layers that compose it, eyes, nose, hands and feet, without stopping to give thanks for breathing, for the enjoyment of sight, without thinking of others among his brothers and sisters who do not have these faculties.
MAN DOES NOT GIVE THANKS TO OUR TRINITY for everything that the human body executes.
MAN ACTS MECHANICALLY AND THINKS THAT HE CAN LIVE WITH HIS SPIRITUAL organism IN THIS WAY.  A great mistake! Whoever does not feed his spiritual organism does not grow and does not come to Me with the speed that all My children should attain.
In the action and work of man Our Work and Action are embodied. Painfully, My children truncate and ruin this work and action in their spiritual organism, and because of this, they do not ascend but fall back, without managing to live in Spirit and Truth, in Our Likeness.
My Beloved People: 
YOU HAVE NOT BEEN CALLED ON OUR PART TO LIVE IN OR LIVE WITH SIN, BUT TO ELEVATE YOUR SPIRITUAL SENSES THAT SIN HAS SUBJUGATED IN EVERY PERSON. 
Children, you must not be kept bound to the lowest level on the spiritual plane, but you are called to ascend and to awaken the whole supernatural organism that you possess, so that it freely empower the human self so that the latter be more of Heaven than of Earth.
My People, I ORDER YOU TO TAKE THIS CALL OF MINE SERIOUSLY, so that formally and with urgency you be conscious of the reality in which your are living for the personal and communal good, or of the distance that you keep with My House.
Each person is the manager of the soul's destiny. You are faced with two paths and the decision is a free one, but at the same time it must be nurtured by what man might not know, and therefore deny himself Eternal Salvation.
In this instant, Humanity is about to experience with greater force and power a variety of events among which are volcanic eruptions, which are the result of a strong reaction that manages to create a process with volcanic substances such that these substances come out forcefully.
IT IS NOT THROUGH FEAR THAT MAN COMES TO LOVE US, man loves Our Trinity for the Truth that is born from Our Trinitarian Heart, but we ask man to hold back anger and the desire for revenge, which has great negative force.
Man loves Our Trinity because he experiences Our Assistance, Our Love, Our Protection when human reason does not close itself to Our Truth, which carries Divine Love manifested in every detail, not only within man himself, but in all Creation.
HUMANITY WALKS IN THE FOOTSTEPS OF NOVELTY, WITHOUT THINKING THAT NOVELTY IS STEALING ITS SOUL. The novelty of sin in its greatest expression makes an unrecognizable creature of man, as he rages against his own brothers and sisters in order to eliminate them. The novelty of evil, which grafts itself onto the one that accepts it, transforms him with the poison of evil, with the worst thoughts, the most abrupt actions and the greatest heresies in human history.
My People, novelty is the aggression, it is the experience of how to serving satan, paying him homage until it takes possession of the human creature and penetrates within, endowing him with power and malevolent attributes with which the creature thinks he possesses everything, ignoring the fact that thought does not belong to man when he hands himself over to satan, since satan does not respect free will, but subjects it to its evil interests, since his goal is dominion over man.
THE INSTANT IS PASSING, MY CHILDREN ARE BEING LOST … AND WHERE IS THE ORDER THAT I GAVE TO MY CHURCH TO SAVE SOULS?
Pray children, pray for Ecuador, it will suffer in its land and its volcanoes will awaken.
Pray children, pray for Greece, the land shakes and the soil is invaded by water.
Pray, My children, the threat to Humanity is approaching from the Universe (A second Sun – learn more), you will see it approaching. My children will be afraid.
Pray children, pray, provocation at sea will no longer be provocation and an error will unleash horror.
Pray for United States, the land will shake forcefully.
Pray for Japan, it continues to pollute Humanity. 
MY BELOVED PEOPLE, THE DEVIL ATTACKS MY CHILDREN, it hurls seduction in order for it to go round Earth like the wind and so that My children might be prey to this sin.
The Earth will be saturated by infestations of evil, men possessed by the devil will roam the streets rushing forward to kill large numbers of human beings. Evil has families in its sights so as to dismember and break them up. Unity makes evil furious. For this reason, disunity is a triumph for evil, and gradually disperses man in order that he does not live in brotherhood.
MY PEOPLE, UNITED AND GATHERED IN MY BODY, BLOOD, SOUL AND DIVINITY, ARE ILLUMINATED BY MY HOLY SPIRIT. Hence the awareness that being My Child is not a phrase, but the fulfillment of My Precepts and the unshakable Faith that My People are the apple of My Eye.
Lukewarmness is not a good companion, it is the inclination to grant whims to the human ego so as not to commit to the fulfillment of the Truth. My poor children who are in lukewarmness! – they will be vomited out of My Father's mouth.
My People, Love of My Heart! I COME TO YOU AS A BEGGAR OF LOVE IN THIS INSTANT OF TRUTH IN WHICH I AM SPEAKING TO YOU, SO THAT YOU DO NOT BE LOST AND THAT YOU RETURN TO THE WAY OF TRUTH THAT OUR LOVE EXUDES TOWARDS HUMANITY, INSTANTS AWAY FROM BEING EXAMINED BY OUR DIVINITY.
Amen.
Your Jesus.
HAIL MARY MOST PURE, CONCEIVED WITHOUT SIN
HAIL MARY MOST PURE, CONCEIVED WITHOUT SIN
HAIL MARY MOST PURE, CONCEIVED WITHOUT SIN
Source: Revelaciones Marianas
Luz de María de Bonilla
The life of Luz de Maria has been one guided by God from her birth in a small Central American country: Costa Rica. At present she resides in Argentina. She comes from a family with deep Christian roots in which, along  with her siblings, she grows up surrounded by an atmosphere of spirituality, with the Eucharist as the center of her life. Her  youth is spent alongside the presence of her beloved Guardian Angels and of the Blessed Mother who are her companions and confidants. Since then they share with her Heavenly. Manifestations, thus foreshadowing what would materialize little by little years later.  
Along with the development of her professional life, she forms a home which is constituted today of 15 members, who accompany her as Divine Manifestations begin to take place in her home: such as exudations from  religious images, inexplicable aromas, among others, in this way  making her family and loved ones witnesses of Luz de Maria's spiritual experience. 
During Holy Week of 1990, the definitive encounter takes place with the Blessed Mother, who announces to her the physical recovery from an  illness Luz de Maria was suffering and receives her in a special way to prepare  her for the encounter with Her Divine Son. So begins a long path  long which  they begin to subtly clarify to Luz de Maria the mission Heaven had designated  for her.   
Thus begins a new stage in her mystic experience, which would  lead her to experience profound ecstasy not only in the presence of her family, but also of people close to her that would later gather to pray, so forming a Cenacle that accompanies her to this day.  
As the years pass, Jesus and the Blessed Mother form her so that she is a useful instrument in the hands of the Divine Potter and so she abandons herself in the Will of the Lord, bearing along with Christ the pain of the Cross that penetrates physically in her body and in her soul.
After a long wait during which Christ and the Blessed Mother gradually prepare her asking her discretion in that period, Heaven orders her to communicate the Divine Word she has received, and continues to receive, to all of humanity. From that moment, Christ opens the way for her and directs her steps wherever the Divine Will desires Heaven's Call to reach. 
After they give her the Divine Order to make herself known, and under the inspiration of the Holy Spirit, she begins to visit various countries, especially those of Latin America, giving radio interviews and conferences open to the public. From there have arisen brothers and sisters desirous of putting into practice the teachings of the Divine Word, forming Cenacles of prayer and praxis of the Gospel, remaining in a constant battle to reach a life full in the fulfillment of God's Will and the love of neighbor.  
Luz de María begins to perceive that as time goes by, the Word of Christ and of the Blessed Mother takes on a different voice regarding its magnitude and intensity, due to the proximity of the events humanity will face. 
In each Divine Call, however, prevails Love, Mercy and at the same time Divine Justice. And they announce and denounce the reality of the purification of the  human race — a purification that is a fruit of the disobedience of present-day  man and of the mismanagement he has given to advances in all fields, with man thus transforming himself into his own scourge. 
Christ makes known to her the persecution, injustice, defamation and slander  which she will face from those who do not accept these Divine Calls and who  will not tire of persecuting her so as to end this Work, but she accepts,  knowing that as an instrument of Christ she must follow the same path Christ walked on Earth. 
The Blessed Mother is her counselor, and hand-in-hand with the Mother, up to this day, she continues to be a faithful disciple of Christ, living various mystic experiences in which Christ shares His suffering on the Cross.  
Beside her, Priests from several countries have remained who guide her, but as Christ himself tells her" "I am your true spiritual director," for it is Christ who guides each one of her steps and  all that she does.  Father Jose Maria Fernandez Rojas, who from the beginning of the manifestations has been beside her as her confessor, has also accompanied her prayer group of which three women religious have been an inseparable part since the Cenacle was formed 24 years ago, with one of these women religious having a degree in theology, the most strict observance and analysis of the revealed word has been maintained.
The Mission of Luz de Maria, in total obedience to Christ, is to be an instrument of the Divine Truth in this instant and to announce and denounce what Our Lord Jesus Christ and Our Blessed Mother indicate to her so that the children of God continue to fight for their own conversion and that of all their brothers and sisters, recognizing and strongly battling the evil that surrounds them, and dedicated, continue on the path of Salvation in all aspects of life. 
It is thus that the Divine Word that Luz de Maria receives invites humanity, as children of the same Father, to reach unity of all brothers and sisters, fulfilling the First Commandment and echo of the Call of Christ that calls His People to be one. 
Fr. Michel Rodrigue explaines The Events of the End Times
Do you want a quick overview of the end times? Then read "The great events of purification will begin this fall". If you want all the details of the unfolding events, then go to "Virtual Spiritual Retreat with Fr. Michel Rodrigue about the End Times".
The Pope's approval of homosexuality
Beware of the 'New World Order'
The Rosary is the weapon of these times
The truth about the Coronavirus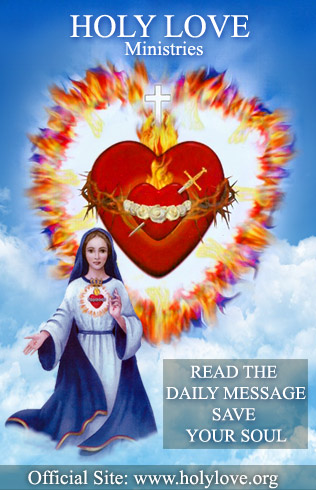 Read the daily messages
Catholics, we have entered the Pre-Tribulation, observe the Commandments, go to Confession; receive the Holy Eucharist; pray at least 3 Rosaries a day to keep your faith and save your loved ones. Prepare for the events that will devastate our planet: plagues, famine, WW3, cataclysms, antichrist's World Order