June 18, 2016: Message to the seer Lily of the Holy Face of Jesus (Giglio del Santo Volto)
Jesus: The Spirit of God the Father will forge you for a new, final, great Mission
But they were adamant and said, "He is inciting the people with his teaching throughout all Judea, from Galilee where he began even to here."
(Luke 23: 5)
Many nations shall come, and say, "Come, let us climb the mount of the LORD, to the house of the God of Jacob, That he may instruct us in his ways, that we may walk in his paths." For from Zion shall go forth instruction, and the word of the LORD from Jerusalem.
(Micah 4:2)
"Take the anointing oil and anoint the Dwelling and everything in it, consecrating it and all its furnishings, so that it will be sacred."
(Exodus 40:9)
I have competed well; I have finished the race; I have kept the faith.
(2 Timothy 4:7)
"Dear daughter, never doubt about what is written in the Word of God.
Everything will be fulfilled, according to the plans of the Most High.
The Gospel will be spread from East to West, from North to South, as predicted.
Nothing can stop the strength of the messengers sent by the Spirit of the Lord.
You all have been prepared in a very hard way with personal chastisements for your own purification and you are still for the moment under Divine forging.
But you are ready.
It is a final touch, this one.
My time has now come.
It is quickly said that the Warning will come down on the people of Earth and nothing will escape to the light that brings everything to the surface.
Go ahead and grow up(1), from now on.
The Spirit of God the Father will forge you for a new, final, great Mission.
You will have signs; do not worry.
Chosen people, the route has been established, you will know that My coming is only a brief moment away.
Jesus Christ King of the Nations and Your Savior."
(1) Spiritually
Then shall they wander from sea to sea and rove from the north to the east In search of the word of the LORD, but they shall not find it.
(Amos 8:12)
Send to the kings of Edom, of Moab, of the Ammonites, of Tyre, and of Sidon, through the ambassadors who have come to Jerusalem to Zedekiah, king of Judah
(Jeremiah 27:3)
Source: Allison Misti
Fr. Michel Rodrigue explaines The Events of the End Times
Do you want a quick overview of the end times? Then read "The great events of purification will begin this fall". If you want all the details of the unfolding events, then go to "Virtual Spiritual Retreat with Fr. Michel Rodrigue about the End Times".
Messages of Holy Love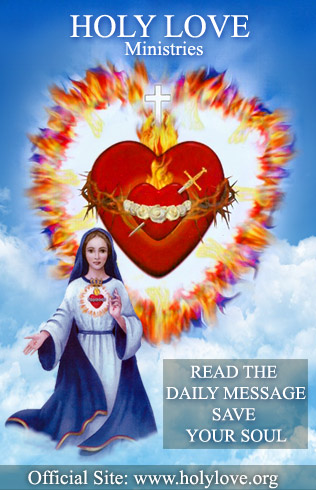 Read the daily messages
Catholics, we have entered the Pre-Tribulation, observe the Commandments, go to Confession; receive the Holy Eucharist; pray at least 3 Rosaries a day to keep your faith and save your loved ones. Prepare for the events that will devastate our planet: plagues, famine, WW3, cataclysms, antichrist's World Order