August 1, 2016: Message to the seer Luz De Maria
Jesus: The earth shakes. Pray for Chile, Japan, the West Coast of the United States, India
My Beloved People:
My children, receive My Blessing.
MY LOVE AND MERCY DO NOT DECREASE BEFORE THE SLIGHTS THAT MAN UTTERS AGAINST ME. 
I call you to repentance and conversion. My Love and Mercy do not decrease; at the same time My Justice remains present.
My Beloved People:
YOU HAVE THE KNOWLEDGE OF WHAT WILL HAPPEN IN THIS INSTANT, YOU HAVE COME TO KNOW IT IN SACRED SCRIPTURE.
Men will revolt against My Love and will come to mock Me and everything that reminds them of the Love of Our Trinity, above all of the Redemption of humankind. And this revolt is occurring at this instant, so this is the instant referred to in Sacred Scripture.
You have forgotten the suffering of those disobedient children who, of their complete free will, handed themselves over to punishment for their sins. Punishment, the fruit of their constant sins, ignoring the Warnings of Our Trinity.
CONCUPISCENCE RULES; EVERYTHING THAT IS AFFIRMED BY SACRED SCRIPTURE AND OF WHICH MY MOTHER HAS FOREWARNED YOU IN HER APPEALS, IS IGNORED AND SCORNED SO THAT MY PEOPLE DO NOT FEAR. 
This is not My Will, although, not all who claim to spread My Word are genuine, My instruments are criticized harshly when I or My Mother warn you and explain to you what you are living and what you will live in expiation. Man perished with the Flood, and a with new deluge of fire the wicked will perish.
This generation would have to remain united to Me so that the errors of the previous generation would not be repeated. This has not happened. Past errors, offenses and sins have multiplied everywhere; offenses are greater, as are the inventions of sin. 
THE DEVIL IS DEMONSTRATING HIS CUNNING AT THIS INSTANT, MORE SO THAN IN PREVIOUS INSTANTS …
SATAN MAINTAINS THIS INSTANT AS HIS GOAL, AS THE FINAL INSTANT FOR SPREADING HIS EVIL AND MAKING IT GROW IN MEN.
A great number of My children claim to love Me and pretend to do so, persecuting My faithful children in secret, sowing discord so that unity cannot bring My People close into one peacemaking consensus. 
The demolisher of Humanity finds ground prepared upon which to be well-received: sin has increased, and the power of evil over man goes as far as man, with his free will, allows it to go, before a Grace diminished by man's constant refusal of Salvation.
In the depths of their being, every one of My children maintains the recognition that I Am the Truth, but they refuse to recognize Me. I do not command man to act outside of his possibilities; I do not call you to be as you cannot be. Those who do not act rightly, do so not because they cannot act rightly, but because the world and the flesh have become entrenched in them and are stronger than their own will and good intentions.
MY BELOVED PEOPLE, IT IS URGENT FOR YOU TO TAKE MY APPEALS AND THOSE OF MY MOTHER WITH GREAT SERIOUSNESS.
THE INSTANT IS NOT AN INSTANT… WHAT MUST BE FULFILLED HAS BEEN REVEALED TO YOU AND IS BEING FULFILLED. WAKE UP! 
Do not be among those who go on as if evil did not contribute to the suffering of this generation that suffers, that suffers and will suffer the unthinkable. 
At this time, the interests of the leaders of powerful nations are centered on their own personal interests. Therefore, the suffering of man will be continuous until the antichrist is defeated.
MY PEOPLE MUST PREPARE THEMSELVES SPIRITUALLY, ASCEND AND STAY UNITED TO MY HOLY SPIRIT SO THEY DO NOT ERR.
Man's thinking has not expanded, rather it has been limited spiritually and has been limited more in this instant, so he does not to react to My Appeals and continues surrendering to evil.
My calling you to transcend, to be mainly spiritual applying My Teachings and Commands in all your works and deeds, is described as being "out of the bounds" of which I can direct My People, and therefore those who think themselves learned, describe you as followers of the so-called new age.
YES, CHILDREN, I WANT YOU TO COMPLY WITH MY REQUESTS, I WANT A NEW MAN, RENEWED, WHO THINKS AND KNOWS ME FULLY, OPEN TO HEARING MY HOLY SPIRIT, SINCE I HAVE NOT RESERVED HOLINESS FOR SOME BUT HAVE IT AVAILABLE FOR ALL MY PEOPLE.
Children, new ideological currents want to limit you with the goal of keeping you in the traps that satan places before you, hindering you with incorrect definitions of a false religiosity, from being more spiritual and less worldly.
The spiritual man is not the one who stays far from the world, but the one who is not worldly and whose life is a testimony of My Love present in the fulfilling of what Our Divine Will has commanded of you.
YOU RECEIVE GREATER DIRECTION FROM OUR HOUSE DUE TO THE PROXIMITY OF GREAT EVENTS, BUT DO NOT TRUST THOSE WHO DO NOT REAFFIRM SACRED SCRIPTURE TO YOU, because there is no man on Earth who possesses the Truth of Our Trinity. Man cannot attain absolute Truth, for it is above the human spirit.
My People, how many falsehoods are being communicated to you! World power is on the shoulders of great contenders against Our Truth.
That power is hiding what is coming to Humanity, what is in the Universe and will come to impact the Earth.
Much of science is willingly muzzled and at the service of the powerful. Human power over man is more important for those who govern the great powers than the very safety of human life throughout the planet.
They refuse the loving Legacy of My Mother and My Warnings so Humanity does not enter into panic, and thus they hide the soul's Salvation from man, hindering him from being primarily spiritual.
They saturate man with science that is misused and bent on a technology that makes man a plaything under the dictatorship of satan, in order to create in man a false spiritual regeneration and growth of evil, with the intention that man be the one to break the unity with Our House and his brothers, seeing everyone who is at his side as an enemy.
My Beloved People:
WAKE UP BEFORE IT IS TOO LATE! …
Pray, My children, pray for the United States: misused technology has invaded homes, it has led them to feel supremacy over Humanity. In this instant, My Heart aches for this nation that will suffer due to the earth's shaking; the offenses against Our Trinity are innumerable; the devil takes control in that nation. Terror has been formed on its own soil and My children will suffer in broad daylight. Nature scourges it, the politics of this nation will be news.
Pray, My children, pray, communism progresses, underhanded in its falsehood. What has seemed good is not – on the contrary, it has dressed itself as a lamb in order to invade other territories and gain power.
Pray children, for Germany, it will weep before terror.
Pray for Russia, Nature scourges it.
Pray My children, in the world's great meeting sin reigns in all its forms. Pain looms forcefully.
Pray My children, the winds strike unexpectedly, the waters surprise man, the seas are not the same as in the past, deformed sea creatures are emerging.
Pray, the earth shakes. Pray for Chile, Japan, pray for the West Coast of the United States, pray for India.
My Beloved People, from Heaven you will see looming that which will make man tremble; fire is approaching without Humanity being aware. Selfishness will allow it.
BE MESSENGERS OF PEACE, BE UNITY.
I PROTECT MY PEOPLE: YOU, MY CHILDREN.
I LOVE YOU AND PROTECT YOU, I KEEP GUARDING YOU, I AM KING AND LORD.
I love you with Eternal Love. I bless you from My Sacred Heart.
I love you.
Your Jesus.
HAIL MARY MOST PURE, CONCEIVED WITHOUT SIN
HAIL MARY MOST PURE, CONCEIVED WITHOUT SIN
HAIL MARY MOST PURE, CONCEIVED WITHOUT SIN
Source: Revelaciones Marianas
Luz de María de Bonilla
The life of Luz de Maria has been one guided by God from her birth in a small Central American country: Costa Rica. At present she resides in Argentina. She comes from a family with deep Christian roots in which, along  with her siblings, she grows up surrounded by an atmosphere of spirituality, with the Eucharist as the center of her life. Her  youth is spent alongside the presence of her beloved Guardian Angels and of the Blessed Mother who are her companions and confidants. Since then they share with her Heavenly. Manifestations, thus foreshadowing what would materialize little by little years later.  
Along with the development of her professional life, she forms a home which is constituted today of 15 members, who accompany her as Divine Manifestations begin to take place in her home: such as exudations from  religious images, inexplicable aromas, among others, in this way  making her family and loved ones witnesses of Luz de Maria's spiritual experience. 
During Holy Week of 1990, the definitive encounter takes place with the Blessed Mother, who announces to her the physical recovery from an  illness Luz de Maria was suffering and receives her in a special way to prepare  her for the encounter with Her Divine Son. So begins a long path  long which  they begin to subtly clarify to Luz de Maria the mission Heaven had designated  for her.   
Thus begins a new stage in her mystic experience, which would  lead her to experience profound ecstasy not only in the presence of her family, but also of people close to her that would later gather to pray, so forming a Cenacle that accompanies her to this day.  
As the years pass, Jesus and the Blessed Mother form her so that she is a useful instrument in the hands of the Divine Potter and so she abandons herself in the Will of the Lord, bearing along with Christ the pain of the Cross that penetrates physically in her body and in her soul.
After a long wait during which Christ and the Blessed Mother gradually prepare her asking her discretion in that period, Heaven orders her to communicate the Divine Word she has received, and continues to receive, to all of humanity. From that moment, Christ opens the way for her and directs her steps wherever the Divine Will desires Heaven's Call to reach. 
After they give her the Divine Order to make herself known, and under the inspiration of the Holy Spirit, she begins to visit various countries, especially those of Latin America, giving radio interviews and conferences open to the public. From there have arisen brothers and sisters desirous of putting into practice the teachings of the Divine Word, forming Cenacles of prayer and praxis of the Gospel, remaining in a constant battle to reach a life full in the fulfillment of God's Will and the love of neighbor.  
Luz de María begins to perceive that as time goes by, the Word of Christ and of the Blessed Mother takes on a different voice regarding its magnitude and intensity, due to the proximity of the events humanity will face. 
In each Divine Call, however, prevails Love, Mercy and at the same time Divine Justice. And they announce and denounce the reality of the purification of the  human race — a purification that is a fruit of the disobedience of present-day  man and of the mismanagement he has given to advances in all fields, with man thus transforming himself into his own scourge. 
Christ makes known to her the persecution, injustice, defamation and slander  which she will face from those who do not accept these Divine Calls and who  will not tire of persecuting her so as to end this Work, but she accepts,  knowing that as an instrument of Christ she must follow the same path Christ walked on Earth. 
The Blessed Mother is her counselor, and hand-in-hand with the Mother, up to this day, she continues to be a faithful disciple of Christ, living various mystic experiences in which Christ shares His suffering on the Cross.  
Beside her, Priests from several countries have remained who guide her, but as Christ himself tells her" "I am your true spiritual director," for it is Christ who guides each one of her steps and  all that she does.  Father Jose Maria Fernandez Rojas, who from the beginning of the manifestations has been beside her as her confessor, has also accompanied her prayer group of which three women religious have been an inseparable part since the Cenacle was formed 24 years ago, with one of these women religious having a degree in theology, the most strict observance and analysis of the revealed word has been maintained.
The Mission of Luz de Maria, in total obedience to Christ, is to be an instrument of the Divine Truth in this instant and to announce and denounce what Our Lord Jesus Christ and Our Blessed Mother indicate to her so that the children of God continue to fight for their own conversion and that of all their brothers and sisters, recognizing and strongly battling the evil that surrounds them, and dedicated, continue on the path of Salvation in all aspects of life. 
It is thus that the Divine Word that Luz de Maria receives invites humanity, as children of the same Father, to reach unity of all brothers and sisters, fulfilling the First Commandment and echo of the Call of Christ that calls His People to be one. 
Fr. Michel Rodrigue explaines The Events of the End Times
Do you want a quick overview of the end times? Then read "The great events of purification will begin this fall". If you want all the details of the unfolding events, then go to "Virtual Spiritual Retreat with Fr. Michel Rodrigue about the End Times".
The Rosary is the weapon of these times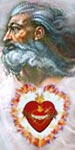 God the Father: "Children, the best way to change the conscience of the world and this country (U.S.A.) in particular is much prayer and many sacrifices. You may not see the effects of your efforts but persevere and do not be discouraged. Use your Rosaries as the mighty weapons that they are. A Rosary said from the heart is more powerful than any weapon of mass destruction. The Rosary is the weapon of these times. Do not let the daily news frighten you. Often, what you hear is not the Truth and only meant to influence your opinions..." (Read more..)
The truth about the Coronavirus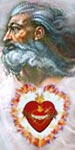 God the Father: "Today, I invite you to realize that this virus - the coronavirus - is no ordinary disease. It has been created from human ingenuity to specifically target the elderly and physically challenged. This is the plan of future generations to purify the human race around the world. It was released into the general population ahead of schedule - by accident. Those in charge were waiting for less capable government officials in your country (USA) to be in office. Nevertheless, proposed harm is being unleashed on the whole human race." (Read more...)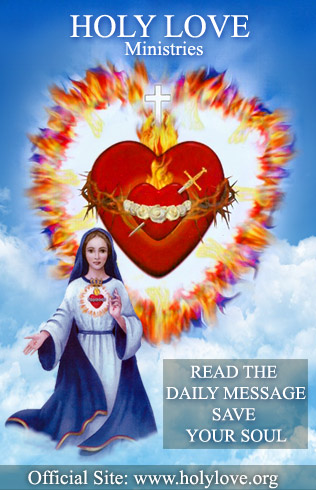 Read the daily messages
Help the Lord spread His voice, time is running out
Please help spread these messages of faith, hope, salvation, collaborate with God's Plan of Salvation. Who helps the Lord save a soul predestine his own, independently from the outcome.