Friday, March 24, 2017:
Jesus said: "My people, there were many dark or difficult moments in My life. You remember My Agony in the Garden, when I had to follow God the Father's Will, but angels helped Me. On the road to Calvary, I had to carry the heavy cross of the sins of the world, but Simon helped Me. I was on the cross and darkness came over the world. I felt alone and abandoned, but My Blessed Mother and St. John were at the foot of My cross. I am mentioning these difficult times, because My people go through troubled times in their lives also. The vision shows you My Light and grace that are always available to help you to carry your cross. Just call on Me and My Blessed Mother, and we will help you in your needs with our help and My angels. Do not fear, but have total trust and faith in our help. We love you so much and we know your needs. You can always come to My tabernacle for your discernment in any of life's problems. Listen for My Word in silence, and I will touch your heart for what you need."
(4:15 p.m. Mass) Jesus said: "My people, I want you to pray for My priest sons, bishops, cardinals, and the Pope. You are seeing a decline in the number of priests, but you need fertile ground for priestly vocations. Parishes that have prayer groups, and places of Adoration of My Blessed Sacrament, will have plenty of vocations. My people need to pray for vocations to the priesthood, and nourish your seminarians so they can enter the priesthood. You need My priests because I am acting through them in the confessional and in their counseling of couples for marriage. You can remember through the years of all of your Masses, Confessions, First Holy Communions and Baptisms of your children, and your bishop sharing Confirmation. Without the priests, your parishes would die, so you need to encourage and pray for your parish priest. The priests and the seminarians are under constant attack from the devil and the demons. This is why they need your prayers, and they need to wear My weapons of crosses, holy medals, Benedictine crosses, blessed salt, and My Blessed Mother's scapular. Rosaries and the breviary are a priest's weapons of protection. Every priest is a gift to you, so you need to support them in their ministry, and pray to Me to send My angels to protect them. I love My priests because they have dedicated their lives to Me, and they are called to evangelize souls, and even pray deliverance prayers over souls afflicted by demons. Give praise and thanks to Me for all of the priests, especially the priests who gave you your daily Masses."
Thursday, March 23, 2017:
Jesus said: "My people, My Church was built on the rock of St. Peter, but I am the cornerstone of My Church. I am showing you each layer of blocks which represents the succeeding generations. Your blocks are held together with the mortar of faith in My Words of the Scriptures. The strength of the mortar is measured by how strongly you live My Words in your actions. When the faith is weak, the blocks could fall apart. You can see how the faith of My people is losing its original fervor, and as parents pass on their faith, it is getting weaker. This is why parts of My Church are crumbling away. I told you that you will see a coming division in My Church from the masons and demons like Beelzebub. Then there will be a crumbling of the schismatic church because they will only believe in New Age teachings that do not worship Me, but things as crystals. It is My faithful remnant church that will stand firm because they will stay strong in their faith of Me through My apostles. Trust in Me because I am more powerful than the demons. I will protect My faithful at their refuges with My angels, and I will provide for all of their needs."
Prayer Group:
Jesus said: "My people, during Lent you are more focused on repenting of your sins, and your additional prayers, and almsgiving. Tonight and on Saturday you have access to Confession and a chance to cleanse your souls from your sins. When you come out of the confessional, you are freed from your sins, and you are full of My sanctifying grace. When your soul is pure from mortal sin, then you are worthy of receiving Me in Holy Communion."
(Barnabus devotion) Jesus said: "My people, this devotion to My Agonizing Cross is a great prayer to honor My Crucifixion, especially during Lent and Holy Week. These prayers are powerful in fighting the evil forces around you. Take some time to learn about this devotion which is helpful in breaking addictions and for healing in faith."
Jesus said: "My son, I have asked you to pray the Stations of the Cross on every Friday, but even more so during Lent. You pray your Divine Mercy Chaplet to honor My death on the cross at 3:00 p.m. When you pray My Stations of the Cross, you understand more how important it is to pick up your own cross and carry it for My sake. Your penances of fasting between meals, and any other pleasures that you give up, help your body to fend off temptations to sin. You realize that you can live without some of your pleasures and comforts. It is better to deny yourself, so you can detach yourself from worldly things, and dismiss some of your earthly desires."
Jesus said: "My people, every dollar that you share in donations, helps store up heavenly treasure in heaven. I have asked you to be a cheerful giver, so you do not give grudgingly with only a token donation. I have also asked you to tithe, or to give 10% of your income to charity. Those people, who do so, are having their reward multiplied even on earth. A time may come when you are in need of someone's financial help, so this favor will be returned to you. I have mentioned before: 'Where your treasure lies, there lies your heart.' If you hold on to your money as a god, your heart will be loving the world. If your treasure is with Me, then your heart will be with Me every day."
Jesus said: "My people, I know you pray a certain amount of prayers every day. During Lent I want you to make more quiet time in your day for more prayers and spiritual reading. Spend some time with informal prayer and some time in quiet contemplative prayer. You need to work harder on removing any addictions or any sinful bad habits. By working harder to improve your spiritual life, you will please Me and ease your physical burdens. Carry your cross of life to Calvary with love in your heart to follow Me."
Jesus said: "My people, as you draw closer to Easter at the end of Lent, you are seeing many signs of spring that will bring on a season of new life. You are happy to see sunny days, and warmer days without the snow. This spring time is how I bring My Light and the joy of My Resurrection. You are suffering through your Good Friday of pain, so you can appreciate your reward in your Easter moments. You will be seeing Holy Week come in a few weeks, so be ready to attend your Triduum services at your local church. This is the most blessed week of the Church Year, so make time for Me during that week. You should be thankful for how I gave up My life for you out of love."
Jesus said: "My people, you are happy to share your messages and Fr. Michel's experiences with your people at the coming God the Father Conference on March 26. Pray for the protection of your speakers, and pray that the people's hearts will be open to receive My Word, and allow My Word to change the people's lives. This is a great grace and opportunity for people, but the evil one will try to cause problems. Exorcize the place of speaking with blessed salt, and pray to stop any evil attacks on this conference. I love all of you, and it is a joy for all of My faithful to come together in My love."
Wednesday, March 22, 2017:
Jesus said: "My people, the Ten Commandments were given to Moses and his people as guides to live a saintly life. They are guides for all of My people. They are truly the laws to love Me and to love your neighbors. I told you in the Gospel that I came to fulfill the law, and not to change it. My laws are a covenant of love with man, and not one letter will be changed, because My law and My Words are forever. I came to the earth so I could be the Lamb of God offered up to God the Father, as the perfect sacrifice to make reparation for all of your sins. I died for love of all of you. I have given you My sacrament of Reconciliation, so you could have your sins absolved by the priest in Confession. I want you to obey My laws, but it is the spirit of the law that is most important, so you are loving Me, and you do not want to offend Me. I want to keep a loving relationship with all of My faithful. You want to be close to Me throughout your life, so I can welcome you as My friend into heaven at your death."
Jesus said: "My people, 'What goes into the mouth does not defile a man; but it is what comes out of the mouth that defiles a man.'(Matt. 15:11) 'Do you not realize that whatever enters the mouth passes into the belly and is cast out into the drain? But the things that proceed out of the mouth, come from the heart, and it is they that defile a man. For out of the heart come evil thoughts, murders, adulteries, immorality, thefts, false witness, and blasphemies. These are the things that defile a man; but to eat with unwashed hands does not defile a man.'(Matt. 15:7-20) I was taking the Pharisees to task for following mere human precepts, but their hearts are far from Me. For I look into everyone's heart, and I see the intentions of their actions. Some people may be clever in fooling you with their actions, but I am reading the heart, and you cannot fool Me in what you intended to accomplish. So My friends, you need to keep a pure soul and a heart with only good intentions. By following My ways instead of man's ways, you will be on the right path to heaven."
Source: John Leary
Help the Lord spread His voice, time is running out
Please help spread these messages of faith, hope, salvation, defense against evil (by email, printing, Facebook, Twitter, and other media) to your loved ones, your friends, and all the people you may meet, who seek salvation or who are in danger of being eternally lost. The Lord gives great graces and blessings to those of goodwill who, according to their own possibilities, collaborate with His Plan of Salvation. Who helps the Lord save a soul predestine his own, independently from the outcome.
The truth about the Coronavirus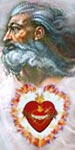 May 1, 2020 - God the Father says: "Today, I invite you to realize that this virus - the coronavirus - is no ordinary disease. It has been created from human ingenuity to specifically target the elderly and physically challenged. This is the plan of future generations to purify the human race around the world. It was released into the general population ahead of schedule - by accident. Those in charge were waiting for less capable government officials in your country (USA) to be in office. Nevertheless, proposed harm is being unleashed on the whole human race."
"I tell you these things to help you to realize the underlying evil at work and hidden in hearts these days. You cannot be confounded by any turn of events. Over all situations, I am in Dominion. No one will be given power over you that is more powerful than your Eternal Father. Therefore, be emboldened with this knowledge. If you persevere in Truth, you have loaded your weapons against what seems to be and discharged them with Truth." (Source: Holy Love)