Sunday, June 4, 2017: (Pentecost Sunday)
The Holy Spirit said: "I am the Spirit of God, the Paraclete, and the Consoler. You receive Me, Jesus, and God the Father every time you receive Holy Communion worthily. I am honoring your wish to send you the tongue of fire over you, as I did for the apostles. I am happy that you call on Me to help give your talks, just as Jesus said not to worry about what words to speak, because I would give them to you. I also help you to write down your messages, even as I inspired all the writers of the Bible to write down their words, as in the vision. You know how much We love all of you, and I am truly the Spirit of love that moves you to love Us and your neighbors. In the Gospel you read how a great wind went toward the upper room where the apostles and the Blessed Mother were present. They all received tongues of fire, and the apostles were even able to speak different languages that the various peoples could understand. It is My Spirit of love that enters all of your hearts so you can speak the language of love to Us and your neighbors. It is the love in the family that brings forth children, and you are inspired to pass your love and faith on to your children. When I bless you, especially at Confirmation, I bestow My seven gifts upon you to help you in spreading the words of salvation to all the nations. So go forth, and I will truly give you the words to proclaim in your evangelization efforts."
Jesus said: "My people, for about three hundred years after My death, Christians were killed or martyred for My Name's sake. This is why Christians sought out the catacomb caves as a hiding place from the authorities. It was not easy to live a Christian life in search of saving souls. Today, you have some persecution of Christians, but mostly in Arab countries. Christians in America are criticized, but their lives are not threatened. As more churches will be closed, it will be harder to find a church for Mass, let alone places of Adoration. You will be seeing more criticism, and eventual persecution as you approach the time of the tribulation. You have seen in vision how the authorities will use Guillotines to martyr Christians for their faith. When your lives are in danger, I will call My faithful to My refuges and even caves. These places of hiding will be your new catacombs. I will have an angel guarding each refuge so you will be protected from anyone trying to kill you. Call on Me so I will lead you to safe havens where you will have food and water multiplied for your survival. Seeing the catacombs is a preview of how you will be hiding from the authorities. Pray for My protection throughout the coming tribulation."
Saturday, June 3, 2017:
Jesus said: "My people, many of you are aware of My First Commandment where I told you: 'I am the Lord, your God, and you should not have any false gods before Me.' Some people believe in Me, but others have let things of the world as possessions, sports, or fame become gods for them. When people come to Me in My Warning experience, they will see that they can only come into heaven through Me. People, who have different beliefs or are atheists, are going to see that I am the only God of the world. I love all of you so much that I died for your sins, and this is a historical fact that God has visited you in person. No other god can have this love for you, and I am the only power who created everything, and I can overpower all of the demons. So follow Me and love Me,and you will be on the right path to heaven."
Friday, June 2, 2017:
Jesus said: "My people, you have read in the Gospels how Judas betrayed Me and St. Peter denied Me three times. Judas could have sought My forgiveness, but he was led by Satan to commit suicide by hanging himself to death. St. Peter denied Me in a different way for fear of his life. Later, he was sorry for his denial of Me, and he told Me three times how he loved Me. Then I told him to feed My sheep, because he would be Pope and leader of My Church. I have instituted the sacrament of Reconciliation when I told My apostles that whatever they bind on earth would be bound in heaven, and whatever they retained on earth would be retained in heaven. I call all sinners to return to Me in Confession to the priest, so I can forgive their sins and restore sanctifying grace to their souls. You need to make time to come to Confession at least once a month. You also need to make a good Confession by reviewing your past sins, and have a properly formed conscience. You all have the opportunity to come to Confession, so there should be no souls with mortal sin. Some souls ignore Me, or they were not trained about Confession. But those souls, who know better, should not forget to guard their souls, and have it cleansed in frequent Confession. I love all of you, and I wish to restore My friendship with all of you in the confessional with My forgiveness."
Thursday, June 1, 2017: (St. Justin)
Jesus said: "My people, in today's first reading St. Paul used some knowledge of the Pharisees and Sadducees to cause a dispute, so the Sanhedrin would not convict him. He told them the he was a Pharisee, and he was on trial for teaching about the resurrection of the dead. The Pharisees believed in the resurrection of the dead, but the Sadducees did not. So there was a serious dispute between the two parties. The tribune had to rescue St. Paul from these people. These same Jewish leaders were constantly testing Me as well. They knew the people did not like paying taxes to the Romans. So the Pharisees tested Me by asking if it was proper to pay taxes to the Romans. I confounded them when I told them: 'Give to Caesar what is Caesar's, and give to God what is God's.' In many other ways I was able to avoid the taunts of the Jewish leaders. I applaud My faithful who are brave enough to witness My Name among the unbelievers. At least they heard of My Word and they were given a chance to be saved. You will be seeing a worsening persecution of Christians by atheists and Muslims. But fear not, because I will protect you at My refuges."
(Funeral Mass for Fr. Michael Costanzo)
Fr. Michael said: "I am happy to meet Jesus and all of my deceased relatives and friends. I thank all of my friends and family for coming to my funeral Mass. My niece and nephew had great words about me, but I told them to be brief. I also want to thank Fr. Graf who was a true friend to me. I want to thank my sister and all the people who took care of me. I am with Jesus now, and I can understand more about your mission, John. Thank you for your friendship and all of the prayer group at Lise's place. I am thankful for all of my life's experiences, and for all of the people who I met in life. I will be praying for my family and friends so you all can meet me in heaven."
Prayer Group:
Jesus said: "My people, some people were taken back by your President when he withdrew from the Paris Accords on Global Warming. There are many nations who signed this accord, but like China, there is still a lot more pollution going on. You were choking on the smoke in one of China's cities. There is no enforcement of these accords, and the whole purpose was to establish carbon credits which would set up a world welfare program. There truly are many injustices in these accords. You can pray to preserve your resources and stop pollution, but the one world evil people are behind this movement."
Jesus said: "My people, you saw your military drop a huge bomb on the tunnels in Afghanistan that killed some Taliban soldiers. It appears this latest car bomb was also massive and made a huge crater that killed and injured many people in Kabul, Afghanistan. It could have been a retaliation for the first bomb. Getting through all the security, puts a question on how this happened. The terrorists kill people just to show their power, and they carry out their jihad according to the Koran. Pray for less killing, and make reparation for those souls who were killed before any preparations for death could be made."
Jesus said: "My people, about the same number of people died in Manchester, England and in Egypt. The one bombing in England was covered all over the world. Very little was mentioned how Christian pilgrims were killed ruthlessly, and even children were machine gunned by Muslim terrorists. Most all of the killings you have read about were carried out by Islamic terrorists. Pray for less killing and peace in your world where hate and anger are inspired by the devil."
Jesus said: "My people, you can see the hate of your liberal press when a woman was photographed with a mock beheading of your President. This was so violent and over the line display of hatred that both of your political parties were strongly opposed to it. This woman was recently fired from one job because of her vile action. You have seen many attacks against your President by the left liberals, and it is becoming hard for your President to carry out his plans. Another fake news attack has been to try and impeach your President with no proof for such an action. Pray for your President because he is still being attacked by witches with their hexes, spells, and curses."
Jesus said: "My people, you have seen a lot of wind, floods, and tornado damage all across your country. Many areas have seen record rainfalls or droughts as in Florida. Some of this destruction is part of a punishment for all of America's mortal sins of abortion, fornication, homosexual acts, and euthanasia. Millions of babies are being killed in the womb, and you still ask why you are being punished? If your people do not stop your sinful living and start praying, you will see worse punishments for your sins."
Jesus said: "My people, you have seen many spring flowers blooming in your gardens. This is a part of the beauty of My creation, and you need to take time to thank Me for all of these beautifully colored flowers. Amidst all the troubles in your world, it is calming to take in all of the beautiful spring flowers that are right in front of you. Take a moment to look at the beauty of My creation, and thank Me for all that you are viewing."
Jesus said: "My people, you have only a few more days of your Holy Spirit Novena to go before you celebrate Pentecost Sunday. Keep remembering your prayers for this feast day of the Holy Spirit. Think of all the gifts that the Holy Spirit bestows upon all of you. He has helped you in writing down these messages, and he strengthens you to evangelize souls for the faith. I encouraged My apostles to spread My Good News among the nations. It was the coming of the Holy Spirit that gave My apostles the inspiration to carry out My desire to save souls."
Source: John Leary
The truth about the Coronavirus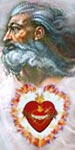 May 1, 2020 - God the Father says: "Today, I invite you to realize that this virus - the coronavirus - is no ordinary disease. It has been created from human ingenuity to specifically target the elderly and physically challenged. This is the plan of future generations to purify the human race around the world. It was released into the general population ahead of schedule - by accident. Those in charge were waiting for less capable government officials in your country (USA) to be in office. Nevertheless, proposed harm is being unleashed on the whole human race."
"I tell you these things to help you to realize the underlying evil at work and hidden in hearts these days. You cannot be confounded by any turn of events. Over all situations, I am in Dominion. No one will be given power over you that is more powerful than your Eternal Father. Therefore, be emboldened with this knowledge. If you persevere in Truth, you have loaded your weapons against what seems to be and discharged them with Truth." (Source: Holy Love)
Help the Lord spread His voice, time is running out
Please help spread these messages of faith, hope, salvation,
defense
against evil (by email, printing, Facebook, Twitter, and other media) to your loved ones, your friends, and all the people you may meet, who seek salvation or who are in danger of being eternally lost. The Lord gives great graces and blessings to those of goodwill who, according to their own possibilities, collaborate with His Plan of Salvation.
Who helps the Lord save a soul predestine his own
, independently from the outcome.