Friday, March 31, 2017:
Jesus said: "My people, you are not long before Holy Week, when you will read again about how much I suffered and died for saving My people from their sins. In the vision you are seeing how God the Father sent His only Begotten Son to save you from your sins. My coming is a blessing for all sinners who repent and seek the forgiveness of their sins. I truly died even for those people who do not love Me, but you can pray for such souls to be saved. Just as I came to evangelize sinners, so I am also calling on My faithful to reach out and evangelize people to the faith. Even if you cannot go out physically to evangelize, you can still pray for the conversion of poor sinners. You also have a duty to pray for the poor souls in purgatory so they can come to heaven sooner. I have told you before that saving sinners with My help, is your most important task on earth. All of My faithful are called to save souls, so listen to My words, and act on them."
Jesus said: "My people, hell was prepared for the fallen angels, and it is truly eternal in My now outside of time. I am showing you this vision so people can understand how horrific it is to be in hell. The soul bodies are all black and ugly from the constant flames of hell. A person recoils in pain when that person is burned by a flame or touches a hot oven. Imagine every inch of your body on fire but not being consumed by the flames. You would be in extensive pain for all eternity. The demons torment these souls, and there is only hate with no love. These souls have no hope of ever leaving this torture, and they will never see Me, a good angel, or anyone else but more condemned souls. The demons there are also black and hideous. All souls who come to hell are there because they chose it of their own free will. Prayers will not help these condemned souls, and you will not get any word from these souls. There is a fixed abyss between heaven and hell. In the Warning, sinners who have a mini-judgment to hell, will feel what hell is all about, so they will know what they are choosing. Keep praying to save sinners from hell, because you do not want to see anyone go to hell. This is why My faithful should be working hard to save as many souls from hell as you can."
Thursday, March 30, 2017:
Jesus said: "My people, during the Exodus of the Jewish people in the desert, it was hard to understand how they would have food and water. The people needed faith in Me as Moses struck the rock with his staff to produce water. They also had manna on the land, and they received quail at night for meat. While Moses took a long time to receive the Ten Commandments on Mt. Sinai, the people built a golden calf to worship instead of Me. There was a division in the people, and those people, who worshiped the golden calf, were slain. In your world today, you have people who are worshiping other idols than Me. People are worshiping idols of money, material things, and fame. Whenever you spend a long time on something other than Me, you are worshiping your addictions instead of Me. At times your entertainment, computers, drugs, smoking, or any other addictions are controlling you. You need to break away from these things, and let Me lead you in what you should do. You have many distractions in your world, but do not be a slave to them. Your place is to follow Me and worship only Me, instead of any earthly idols. When you worship such idols, you are sinning against My First Commandment, which says you are only to worship Me and no other false gods. By living your lives according to My Will and My ways, you will see that My ways are always better than man's ways."
Prayer Group:
Jesus said: "My people, this is a second message about an important figure who will die soon. The empty outdoor white wicker chair was empty as a sign of a missing person. This second message is a confirmation of the first message. The time and identity will come as this event happens."
Jesus said: "My people, you had some serious revelations at your recent conference. Those people, who have copies of the video, need to listen closely to what was said. Fr. Michel gave a good mission at Holy Spirit Church, and some interesting talks at your conference. Many people came and there were some healings when you were blessed by Fr. Michel. You all need to be thankful for Fr. Michel's coming, as he touched and healed some souls of their problems. Pray for his mission and the success of his seminary and the seminarians."
Jesus said: "My people, I am showing you a view of the stars in the heavens, because you may be able to see an unusual event with binoculars or a good telescope. This event will be a sign to you of one of My prophecies that I gave in previous messages. When you see this event in the sky, you will know of its significance."
Jesus said: "My people, there is an ongoing war in the Middle East that is involving your troops, but the extent of your troop involvement is not being fully reported. There is an ongoing goal to take out the ISIS troops, and this effort is being stepped up. This is why more funds are being requested for your Defense Department. There is a planned build up of your Defense forces, which were badly depleted by your previous President. Pray for your country to be prepared for some future wars, and terrorist activity."
Jesus said: "My people, this vision of a large spike on a seismograph is a warning of a coming severe earthquake that could take some lives. You have been having reparation Masses for the victims of natural disasters who will not have any time to prepare for their judgment before Me. Your Masses will help these souls who will be in dire need of your help. When people are killed suddenly in natural disasters, be ready to pray your Divine Mercy Chaplet for these souls. Any severe disaster could affect your people in the rest of your country. Keep praying and offering Masses for these victims."
Jesus said: "My people, you have seen some significant testing of missiles in both North Korea and Iran. This is presenting a nuclear threat to North Korea's neighbors and Israel. Such testing could lead to another war with possible pre-emptive strikes against these rogue countries. Pray for peace, but the devil is stirring up trouble in these areas."
Jesus said: "My people, you have seen a surge in the buying of rifles, hand guns, and the ammunition. Your country is becoming an armed camp because of the many divisions and terrorist attacks. People want to defend themselves at their homes. Your current President is defending the right to bear arms, but these weapons could be used if there was a revolution between your divided people. Pray that such an internal struggle does not happen, because it could result in a takeover of your country. When your lives are in danger, I will call My faithful to My refuges."
Source: John Leary
The truth about the Coronavirus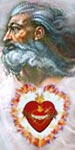 May 1, 2020 - God the Father says: "Today, I invite you to realize that this virus - the coronavirus - is no ordinary disease. It has been created from human ingenuity to specifically target the elderly and physically challenged. This is the plan of future generations to purify the human race around the world. It was released into the general population ahead of schedule - by accident. Those in charge were waiting for less capable government officials in your country (USA) to be in office. Nevertheless, proposed harm is being unleashed on the whole human race."
"I tell you these things to help you to realize the underlying evil at work and hidden in hearts these days. You cannot be confounded by any turn of events. Over all situations, I am in Dominion. No one will be given power over you that is more powerful than your Eternal Father. Therefore, be emboldened with this knowledge. If you persevere in Truth, you have loaded your weapons against what seems to be and discharged them with Truth." (Source: Holy Love)
Help the Lord spread His voice, time is running out
Please help spread these messages of faith, hope, salvation,
defense
against evil (by email, printing, Facebook, Twitter, and other media) to your loved ones, your friends, and all the people you may meet, who seek salvation or who are in danger of being eternally lost. The Lord gives great graces and blessings to those of goodwill who, according to their own possibilities, collaborate with His Plan of Salvation.
Who helps the Lord save a soul predestine his own
, independently from the outcome.