Traslation available in English, Spanish, Portuguese and Italian, click on the below tabs
August 28 2016: Message to the seer Luz De Maria
English
Spanish
Portuguese
Italian
Pray for the United States, it continues its purification
"My beloved people: in every beat of My heart My people remain present.
 None of you should exclude himself or herself from My people, you are all My children. 
 I need you to recognize one another as brothers and sisters. I am gathering My people from all over the world so that, united in my love, you be the force of goodness that expands throughout creation, throughout the universe.
 Some may ask: "how is he going to gather us"?
 In the encounters that each person has with Me: in prayers, in our encounter in the Eucharist, in the meditation of my passion, in the meditation of the seven sorrows of My Mother, in the meditation of the holy Trisagion, in confession, in love of neighbor, in love within the family, in the fulfillment of the divine law, in sacrifices, in obedience, in hope, in charity, in faith and in being true Christians in spirit and truth. 
 My people's strength will remain, it will not diminish, My people are faithful and true. 
Because of this, I call My priests not to feel that they are in heaven in advance but to be worthy of their magisterial office, at every instant serving My people with humility, sharing with humanity the right to eternal salvation.
My bishops must live in humility, they should not live in palaces: with decorum, yes, but without excess, they should not have luxuries but should assist the poor, the needy.
 I grieve over those ministers who have given themselves over to the service of Freemasonry, usurping My church and taking her along completely wrong paths. Imposing themselves at this instant from within My house, they are taking advantage in order to prepare the arrival of the usurper. 
Woe to those who are handing over My church! They will experience My people's lament and the severity of My hand, for these allies of evil the separation I come to make of the wheat and the chaff will be a great sorrow.
 Ministers who call themselves faithful to Me will mourn with tears of blood for having disowned Me, having deceived and having given themselves over to evil, directing My people wrongly.
 I do not accept lust, excess, opulence, arrogance, the lack of charity, the denial of what I make explicit to My people, and woe to My servants who are not devoted to My mother!
 My people, in this instant of discernment, you must remain in constant proximity to Our will; otherwise, I will see you deteriorating even more, with there being a greater number of those who muddy themselves, and their nauseous stench will be irresistible.
 Evil binds its followers, those who accept it, those who do not resist it, it traps them in its claws… 
 My people, do not mistreat each other; let it not be the members of My church who strike her, smear her, denigrate her when they enter into arguments against each other. Unite, do not engage in criticizing one another but in uniting in My sacred heart and in that of My most holy mother.
May it not be My own people who stone one another out of petty envy or unjustified jealousy. No grouping within My church is greater than another, all tend towards a single purpose: giving back to Us the Earth that we have left for you. 
 I come to call you to continue sharing My Cross. Let each person take up his or Her personal cross, in order that you do not desert on this way of Mine and not be a part, in this decadent instant, of this generation that offends Me to the point of nausea as never before.
 Peace is a fleeting memory for humanity, terror has taken hold of various countries, spreading and taking leadership in Europe.
My church is sick, confused by the division that exists; this is not good because these are signs of the instant in which My church will experience agony and then fall into schism.
A ray of lightning alerted My people about what is to come, and about My people's strength, and although they intend to destroy My people, the forces of evil will not succeed in removing Me from the heart of My people.
Our will has entrusted My Mother with the command of the heavenly legions in order that She be the one to crush the head of satan and, as the Queen that She is of all creation, guide the spiritual struggle that humanity is living through in these instants.
Hence the importance of rapport with the prayer of the Holy Rosary, hence the awareness of praying the Rosary and of the meaning of every word and every act performed in said offering.
Do not wear the rosary around your neck if you are not aware of what it means, because to do otherwise is to offend Me.
 You possess a weapon which the devil fears with horror and fright: it is the weapon of the Holy Rosary, not recited but consciously meditated.
Evil will appear to triumph, but will never prevail. At this instant unbelief prevails, you constantly offend Me, I am despised, a great number of My children have declared themselves among My enemies, the worst and greatest enemies, willing to serve satan as solicited by it, not knowing that after carrying out its purpose, it will send them to the eternal flames.
Because My people have been taught to see My Mercy without meditating on our Divine Justice, at this instant it horrifies them that My prophet obeys Me and conveys My constant warnings for you to wake up. Scripture contains in the gospels: "I have come to bring fire on the earth …" (Lk 12: 49)
 To purify, to separate the one who fulfills My law from the one who does not fulfill it.
 I warn you, My Mother has warned humanity, and man does not pay heed and denies the nauseous state of his soul…, you are stiff-necked.
 My Word is not given in order that you see evil as something with which My children live and continue doing evil, causing My teachings to be forgotten and supplanted.
 Those who are stiff-necked will not succeed in changing until they are aware that, away from the Sacraments, they are hindered from being assisted by Grace on the path of conversion. 
My people, some of you are harder than others, some are determined not to listen to Me, to deny Me, and because of pride, they continue along the road to perdition.
 The lack of humility of this generation is the weapon of satan. You forget humility, all think that they are wise without recognizing that "whoever remains stiff-necked after many rebukes will suddenly be destroyed—without remedy." (Prov 29: 1)
 My beloved people, I come to purify this generation with fire. You have two paths: good or evil, there is no in-between. Comply with My Word! 
Pray My children, pray for the United States, it continues its purification, fire will emerge with the feared roaring of the great volcano. Nature and man emanate pain.
Pray My children, pray for India, it will be scourged by nature.
Pray My children, pray for Chile, the Earth moves from inside its core, forcefully stirring the sea.
Pray My children, Spain will suffer, Italy will suffer greater pain.
Pray My children, mankind has attracted purification and this has not been denied. 
Coastal countries will suffer and famine will come to the great cities.
 Man with his anger is a mean that stirs up evil in order to cause situations of emergency in various countries, where agitation will cause social havoc.
Humanity rebels against its rulers and then comes the suffering of all with the grief of seeing the suffering they have caused. Man, in all he develops, manifests rebellion towards Me. 
 Argentina will suffer chaos. Pray for Argentina, they have disobeyed My Mother's warning. 
 My people, satan is cunning, it will appear to triumph.
 Do not say you are saved by having being baptized. This instant is hard, this instant is for My true people, who are looked at by the whole of creation whose elements aim to assist the faithful.
 The state of man has been lifted up to creation that suffers because of it, causing a chaos that makes the cosmos in general suffer; the universe is shaking and is amazed at man's disobedience.
 Many will be scandalized and will betray and hate one another, "but he who endures to the end will be saved." (Mt 24:13)
 My blessing is with the one who strives to overcome his or her human ego and to ascend to My house.
 My Mercy is ready to receive you.
 I love you.
 Your Jesus."
Hail Mary most pure, conceived without sin
Hail Mary most pure, conceived without sin
Hail Mary most pure, conceived without sin
Oren por Estados Unidos, continúa su purificación
"Amado Pueblo Mío:
EN CADA PALPITAR DE MI CORAZÓN SE MANTIENE PRESENTE MI PUEBLO.
NINGUNO DE USTEDES DEBE EXCLUIRSE DE MI PUEBLO, TODOS SON MIS HIJOS.
Necesito que se reconozcan como hermanos. Estoy reuniendo a Mi Pueblo de todas partes del mundo para que, unidos en Mi Amor, sean la fuerza del bien que se expande por la Creación, por el Universo.
Algunos se preguntarán: ¿cómo nos va a reunir? 
En los encuentros que cada uno mantiene conmigo: en las oraciones, en nuestro encuentro en la Eucaristía, en la meditación de Mi Pasión, en la meditación de los Siete Dolores de Mi Madre, en la meditación del Santo Trisagio, en la Confesión, en el amor al prójimo, en el amor en el seno de la familia, en el cumplimiento de la Ley Divina, en los sacrificios, en la obediencia, en la esperanza, en la caridad, en la fe y siendo verdaderos cristianos en espíritu y verdad.
LA FUERZA DE MI PUEBLO SE MANTENDRÁ, NO DECAERÁ, MI PUEBLO ES FIEL Y VERDADERO.
Debido a ello, llamo a Mis Predilectos a no sentirse en el Cielo por adelantado sino a ser dignos de su Magisterio,  sirviendo cada instante con humildad a Mi Pueblo, COMPARTIENDO A LA HUMANIDAD EL DERECHO A LA SALVACIÓN ETERNA. Mis Obispos tienen que vivir en la humildad, no deben vivir en palacios, sí con decoro pero no con excesos, no deben poseer lujos sino auxiliar al pobre, al necesitado. 
Me duelo por esos Ministros que se han entregado al servicio de la Masonería, usurpando Mi Iglesia y llevándola por caminos totalmente equivocados. Imponiéndose en este instante desde dentro de Mi Casa, se aprovechan para preparar la llegada del usurpador. ¡AY DE AQUELLOS QUE  ENTREGUEN A MI IGLESIA!, VIVIRÁN EL LAMENTO DE MI PUEBLO, Y LA DUREZA DE MI MANO, siendo para estos aliados del mal  una gran pena la separación que llego a hacer del trigo y de la cizaña. Los Ministros que se llamen a sí mismos fieles a Mí, lamentarán con lágrimas de sangre el haberme repudiado, el haber engañado y haberse entregado al mal, encaminando mal a  Mi Pueblo.
No acepto la lujuria, el exceso, la opulencia, la soberbia, la falta de caridad, la negación de cuanto Yo explicito a Mi Pueblo y  ¡ay de Mis Servidores que no son devotos de Mi Madre!
Pueblo Mío, en este instante de discernimiento, tienen que mantenerse en constante cercanía a Nuestra Voluntad; de lo contrario les miraré degradarse aún más, siendo un número mayor el que se enfangue y su hedor nauseabundo será irresistible.
EL MAL ATA A SUS SEGUIDORES, A QUIENES LE ACEPTAN, A QUIENES NO SE RESISTEN, LOS ATRAPA ENTRE SUS GARRAS…
Pueblo Mío, no se maltraten unos a otros, no sean los miembros de Mi Iglesia los que la golpean, la enlodan, la denigran cuando entran en contiendas unos contra otros. ÚNANSE, NO SE DEDIQUEN A CRITICARSE SINO A UNIFICARSE EN MI SAGRADO CORAZÓN Y EL DE MI MADRE SANTÍSIMA. No sea Mi propio Pueblo el que se lapide por envidias banales o por celos injustificados.  Ninguna agrupación dentro de Mi Iglesia es mayor que otra, todas tienden a un fin único: RETORNARNOS LA TIERRA QUE LES LEGAMOS.
Yo vengo a llamarles a continuar compartiendo Mi Cruz. CADA UNO TOME SU CRUZ PERSONAL, PARA QUE  NO DESERTEN EN ESTE MI CAMINO y no sean parte, en este instante decadente, de esta generación que Me ofende hasta el hartazgo, como nunca antes.
La paz es un recuerdo efímero para la Humanidad, el terror se ha apoderado de varios países extendiéndose y tomando liderazgo en Europa.
Mi Iglesia se encuentra enferma, confundida por la división que existe; esto no es bueno debido a que son signos del instante en que Mi Iglesia vivirá la agonía y luego caerá en el cisma.
Un rayo alertó a Mi Pueblo sobre lo venidero, y sobre la fuerza de Mi Pueblo, y aunque intenten destruirlo las fuerzas del mal no lograrán sacarme del Corazón de Mi Pueblo. (*)
Nuestra Voluntad ha entregado a Mi Madre el comando de las Legiones Celestiales para que Ella sea quien aplaste la cabeza de satanás, y como Reina que es de todo lo Creado, tome la guía de la lucha espiritual que la Humanidad vive en estos instantes. Por ello la trascendencia de la compenetración con la oración del Santo Rosario, por ello la conciencia de orar el Santo Rosario y del significado de cada palabra y de cada acto efectuado en dicho ofrecimiento.
No lleven el Rosario al cuello si no son conscientes de lo que ello significa, pues de otro modo, es ofenderme.POSEEN UN ARMA AL QUE EL DEMONIO TEME CON HORROR Y ESPANTO: ES EL ARMA DEL SANTO ROSARIO, NO RECITADO SINO MEDITADO CONSCIENTEMENTE.
El mal parecerá triunfar, pero nunca prevalecerá. En este instante prevalece la incredulidad, Me ofenden constantemente, soy despreciado, una gran cantidad de Mis hijos se han declarado como parte de Mis enemigos, los peores y mayores enemigos, dispuestos a servir a satanás con cuanto les solicite, ignorando que después de cometido su propósito, les enviará a las llamas eternas.
Debido a que Mi Pueblo ha sido enseñado a mirar Mi Misericordia sin meditar en Nuestra Justicia Divina, en este instante les causa horror el que Mi Profeta Me obedezca y transmita Mis constantes alertas para que despierten. La Sagrada Escritura contiene en los Evangelios:
"HE VENIDO A ENCENDER FUEGO A LA TIERRA…" (Lc 12, 49) A PURIFICAR, A SEPARAR AL QUE CUMPLE MI LEY DEL QUE NO LA CUMPLE.
LES ALERTO, MI MADRE HA ALERTADO A LA HUMANIDAD, Y EL HOMBRE NO ATIENDE Y NIEGA EL ESTADO NAUSEABUNDO DEL ALMA…, SON DUROS DE CERVIZ.
MI PALABRA NO ES DADA PARA QUE MIREN EL MAL COMO ALGO CON LO QUE MIS HIJOS CONVIVEN Y CONTINÚEN HACIENDO EL MAL, LLEVANDO MIS ENSEÑANZAS A SER OLVIDADAS Y SUPLANTADAS.
LOS DUROS DE CERVIZ NO LOGRAN CAMBIAR HASTA QUE SEAN CONSCIENTES DE QUE LEJOS DE  LOS SACRAMENTOS, SE ENCUENTRAN IMPEDIDOS PARA QUE LA GRACIA  LES AUXILIE EN EL CAMINO DE LA CONVERSIÓN.
Pueblo Mío, algunos son más duros que otros, algunos se empeñan en no escucharme, en negarme y debido a la soberbia, continúan el camino hacia la perdición.
La falta de humildad de esta generación es el arma de satanás. Olvidan la humildad, todos creen ser sabios sin reconocer que  "EL HOMBRE QUE SE OBSTINA ANTE LA CORRECCIÓN SERÁ DESTRUIDO PRONTO Y SIN REMEDIO." (Prov 29, 1)
Amado Pueblo Mío, Yo vengo a purificar esta generación con fuego. Tienen dos caminos: el bien o el mal, no existe un intermedio. ¡ACATEN MI PALABRA!
Oren hijos Míos, oren por Estados Unidos, continúa su purificación, el fuego saldrá con el temido rugir del gran volcán. La Naturaleza y el hombre emanan dolor. (1)
Oren hijos Míos, oren por India, será flagelada por la Naturaleza.
Oren hijos Míos, oren por Chile, la tierra se mueve en sus entrañas, con fuerza agita el mar. (2)
Oren hijos Míos, España padecerá, Italia padecerá mayor dolor. (3)
Oren hijos Míos, la Humanidad ha atraído la Purificación y esta no se ha negado.
Los países costeros sufrirán y la hambruna llega a las grandes ciudades.
El hombre con su ira es medio que agita el mal para causar situaciones apremiantes, en varios países, en donde la agitación causará estragos sociales. La Humanidad se rebela en contra de sus gobernantes y luego llega el padecer de todos con el lamento al mirar el sufrimiento que han causado. El hombre en cuanto desarrolla, manifiesta la rebeldía hacia Mí.
Argentina padecerá el caos. Oren por Argentina, desobedecieron la alerta de Mi Madre. (4)
Pueblo Mío, satanás es astuto, parecerá triunfar.
No se digan salvos por haber sido bautizados. Este instante es duro, este instante es para Mi verdadero Pueblo, el que es mirado por toda la Creación y cuyos elementos tienden a auxiliar a los fieles.
EL ESTADO DEL HOMBRE SE HA ELEVADO A LA CREACIÓN QUE PADECE POR ELLO, CAUSANDO UN CAOS QUE LLEGA A PADECER EL COSMOS EN GENERAL, EL UNIVERSO SE ESTREMECE Y ASOMBRA ANTE LA DESOBEDIENCIA DEL HOMBRE.
MUCHOS SE ESCANDALIZARÁN Y SE TRAICIONARÁN Y SE ODIARÁN MUTUAMENTE, "PERO EL QUE PERSEVERE HASTA EL FINAL, ESE SE SALVARÁ." (MT 24, 13)
Mi bendición está con el que lucha por vencer su yo humano y ascender a Mi Casa. 
Mi Misericordia se encuentra presta a recibirles.
Les amo.
Su Jesús."
 AVE MARÍA PURÍSIMA, SIN PECADO CONCEBIDA
AVE MARÍA PURÍSIMA, SIN PECADO CONCEBIDA
AVE MARÍA PURÍSIMA, SIN PECADO CONCEBIDA
 (*) Noticia referente al Rayo caído en el Vaticano, leer…
(1) Profecías sobre EE.UU.
(2) Profecías sobre Chile
(3) Profecías sobre Italia
(4) Profecías sobre Argentina
Tab Content
Rezai pelos Estados Unidos, continua a sua purificação
"Meu Povo amado:
EM CADA PULSAR DO MEU CORAÇÃO O MEU POVO MANTÉM-SE PRESENTE. 
NENHUM DE VÓS DEVE EXCLUIR-SE DO MEU POVO, TODOS SÃO MEUS FILHOS.  
Preciso que vos reconheçais como irmãos. Estou a reunir o Meu Povo de todas as partes do mundo para que, unidos no Meu Amor, sejais a força do bem que se dissemina pela Criação, pelo Universo. 
Alguns perguntar-se-ão: como é que nos irá reunir?  
Nas reuniões que cada um tem Comigo: nas orações, na nossa reunião na Eucaristia, na meditação da Minha Paixão, na meditação das Sete Dores da Minha Mãe, na meditação do Santo Triságio, na Confissão, no amor ao próximo, no amor dentro da família, no cumprimento da Lei Divina, nos sacrifícios, na obediência, na esperança, na caridade, na fé e sendo verdadeiros cristãos em espírito e verdade.   
A FORÇA DO MEU POVO MANTER-SE-Á, NÃO DECAIRÁ, O MEU POVO É FIEL E VERDADEIRO.  
Devido a tal, apelo aos Meus Prediletos a não se sentirem no Céu com antecedência, mas a serem dignos do seu Magistério, servindo a cada momento com humildade ao Meu Povo, PARTILHANDO COM A HUMANIDADE O DIREITO À SALVAÇÃO ETERNA. Os Meus Bispos têm de viver na humildade, não devem viver em palácios, mas sim com decoro e não com excessos, não devem possuir luxos, mas ajudar os pobres, os necessitados.  
Doo-me por esses Ministros que se entregaram ao serviço da maçonaria, usurpando a Minha Igreja e levando-a por caminhos completamente errados. Impondo-se neste momento de dentro da Minha Casa, aproveitam-se para preparar a chegada do usurpador. AI DAQUELES QUE ENTREGUEM A MINHA IGREJA! VIVERÃO O LAMENTO DO MEU POVO E A DUREZA DA MINHA MÃO, sendo para estes aliados do mal uma grande pena a separação que venho fazer do trigo e do joio. Os Ministros que se dizem fiéis a Mim, lamentarão com lágrimas de sangue o terem-me repudiado, o terem enganado e terem-se entregue ao mal, encaminhando mal o Meu Povo. 
Não aceito a luxúria, o excesso, a opulência, a soberba, a falta de caridade, a negação do que Eu explicito ao Meu Povo e ai dos Meus Servos que não são devotos da Minha Mãe! 
Meu Povo, neste momento de discernimento, tendes que manter-vos em proximidade constante com a Nossa Vontade; caso contrário, ver-vos-ei degradarem-se ainda mais, sendo mais os que se denigrem e o seu fedor nauseabundo será insuportável.   
O MAL ATA OS SEUS SEGUIDORES, ÀQUELES QUE O ACEITAM,  ÀQUELES QUE NÃO LHE RESISTEM, PRENDE-OS ENTRE AS SUAS GARRAS…  
Meu Povo, não vos maltrateis uns aos outros, que não sejam os membros da Minha Igreja, que a enlameiem, a denigram quando entram em contendas uns contra os outros. UNI-VOS, NÃO VOS DEDIQUEIS A CRITICARDES-VOS MAS SIM A UNIRDES-VOS NO MEU SAGRADO CORAÇÃO E NO DA MINHA MÃE SANTÍSSIMA. Que não seja o Meu próprio Povo que se lapide por invejas banais ou ciúmes injustificados. Nenhum agrupamento dentro da Minha Igreja é maior do que outro, todos tendem a um único propósito:DEVOLVER-NOS A TERRA QUE VOS LEGÁMOS. 
Eu venho para apelar-vos a continuardes a partilhar a Minha Cruz. QUE CADA UM CARREGUE A SUA CRUZ PESSOAL, PARA QUE NÃO DESERTEIS NESTE MEU CAMINHO e não façais parte, neste momento decadente, desta geração que Me ofende até à exaustão, como nunca antes. 
A paz é uma memória fugaz para a Humanidade, o terror apoderou-se de vários países propagando-se e assumindo a liderança na Europa. 
A Minha Igreja está doente, confundida pela divisão que existe; isto não é bom dado que são sinais do momento em que a Minha Igreja viverá a agonia e depois cairá no cisma. 
Um raio alertou o Meu Povo sobre o que está para vir e sobre a força do Meu Povo e ainda que as forças do mal tentem destruí-lo, não conseguirão arrancar-me do Coração do Meu Povo. 
A Nossa Vontade entregou a Minha Mãe o comando das Legiões Celestiais para que Ela seja quem esmague a cabeça de satanás e, como Rainha de toda a Criação, assuma a orientação da luta espiritual que a Humanidade vive nestes momentos. Daí a transcendência da compenetração com a oração do Santo Rosário, daí a consciência de rezar o Santo Rosário e o significado de cada palavra e de cada ação realizada nesta oferenda. 
Não leveis o Rosário ao peito se não estais conscientes do que este significa, porque, caso contrário, tal é ofender-me. TENDES UMA ARMA À QUAL O DEMÓNIO TEME COM HORROR E ASSOMBRO: É A ARMA DO SANTO ROSÁRIO, MAS NÃO RECITADO E SIM MEDITADO CONSCIENTEMENTE. 
O mal parecerá triunfar, mas nunca prevalecerá. Neste momento, prevalece a incredulidade, Ofendeis-me constantemente, Sou desprezado, muitos dos Meus filhos declararam-se como fazendo parte dos Meus inimigos, os piores e maiores inimigos, dispostos a servir a satanás, no que lhes solicite, ignorando que depois de perpetrar o seu objetivo, enviá-los-á para as chamas eternas. 
Porque o Meu Povo foi ensinado a ver a Minha Misericórdia sem meditar sobre a Nossa Justiça Divina, neste momento causa-vos horror que o Meu Profeta Me obedeça e transmita os Meus alertas constantes para que desperteis. As Sagradas Escrituras contêm nos Evangelhos:   
"EU VIM LANÇAR FOGO À TERRA…" (Lc 12, 49) PURIFICAR, SEPARAR O QUE CUMPRE A MINHA LEI DO QUE NÃO A CUMPRE. 
ALERTO-VOS, A MINHA MÃE ALERTOU A HUMANIDADE E O HOMEM NÃO OUVE E NEGA O ESTADO NAUSEABUNDO DA ALMA… SOIS DE DURA CERVIZ. 
A MINHA PALAVRA NÃO É DADA PARA QUE ENCAREIS O MAL COMO ALGO COM QUE OS MEUS FILHOS CONVIVEM E CONTINUEIS A PRATICAR O MAL, LEVANDO OS MEUS ENSINAMENTOS A SEREM ESQUECIDOS E SUPLANTADOS. 
OS DE DURA CERVIZ NÃO CONSEGUEM MUDAR ATÉ QUE ESTEJAM CONSCIENTES DE QUE AFASTADOS DOS SACRAMENTOS, SE ENCONTRAM IMPEDIDOS DE QUE A GRAÇA  OS AUXILIE NO CAMINHO DA CONVERSÃO.  
Meu Povo, alguns são mais difíceis do que outros, alguns empenham-se em não Me ouvirem, em negarem-me devido à soberba, continuam no caminho rumo à perdição. 
A falta de humildade desta geração é a arma de satanás. Esqueceis a humildade, todos creem ser sábios sem reconhecerem que "O HOMEM QUE, APESAR DAS ADMOESTAÇÕES, SE OBSTINA SERÁ LOGO IRREMEDIAVELMENTE ARRUINADO." (Pv 29, 1)
Meu Povo amado, Eu venho para purificar esta geração com o fogo. Tendes dois caminhos: o bem ou o mal, não existe meio-termo. ACATAI A MINHA PALAVRA!  
Rezai Meus filhos, rezai pelos Estados Unidos, continua a sua purificação, o fogo sairá com o temido rugir do grande vulcão. A natureza e o homem emanam dor.  
Rezai Meus filhos, rezai pela Índia, será fustigada pela natureza. 
Rezai Meus filhos, rezai pelo Chile, a terra move-se nas suas entranhas, agita vigorosamente o mar.  
Rezai Meus filhos, Espanha padecerá, Itália padecerá maior dor.  
Rezai Meus filhos, a Humanidade atraiu a Purificação e esta não se fez rogada.  
Os países costeiros sofrerão e a fome chega às grandes cidades.
O homem com a sua ira é o meio que agita o mal para causar situações prementes, em vários países, onde a agitação causará estragos sociais. A Humanidade rebela-se contra os seus governantes e, depois, chega o padecimento de todos com o lamento ao verdes o sofrimento que haveis causado. O homem em tudo o que desenvolve, manifesta a rebelião contra Mim.   
A Argentina padecerá devido ao caos. Rezai pela Argentina, desobedeceram ao alerta da Minha Mãe.   
Meu povo, satanás é astuto, parecerá triunfar. 
Não vos considereis salvos por terdes sido batizados. Este momento é difícil, este momento é para o Meu verdadeiro Povo, aquele que é visto por toda a Criação e cujos elementos tendem a auxiliar os fiéis.   
O ESTADO DO HOMEM ALARGOU-SE À CRIAÇÃO QUE PADECE POR ELE, CAUSANDO UM CAOS QUE CHEGA A FAZER PADECER O COSMOS EM GERAL, O UNIVERSO ESTREMECE E ASSOMBRA-SE PERANTE A DESOBEDIÊNCIA DO HOMEM.
MUITOS ESCANDALIZAR-SE-ÃO E ATRAIÇOAR-SE-ÃO E ODIAR-SE-ÃO MUTUAMENTE,"ENTRETANTO, AQUELE QUE PERSEVERAR ATÉ AO FIM SERÁ SALVO." (MT 24, 13)  
A Minha Bênção está com o que luta para vencer o seu eu humano e ascender à Minha Casa.  
A Minha Misericórdia está pronta a receber-vos. 
Amo-vos. 
O Vosso Jesus. 
 AVE MARIA PURÍSSIMA, CONCEBIDA SEM PECADO
AVE MARIA PURÍSSIMA, CONCEBIDA SEM PECADO
AVE MARIA PURÍSSIMA, CONCEBIDA SEM PECADO
Pregate per gli Stati Uniti, la loro purificazione continuerà
"Amato Popolo Mio:
IL MIO POPOLO È PRESENTE IN OGNI PALPITO DEL MIO CUORE. 
NESSUNO DI VOI DEVE ESCLUDERSI DAL MIO POPOLO, SIETE TUTTI MIEI FIGLI.
Voglio che vi riconosciate fratelli. Sto riunendo il Mio Popolo in tutte le parti del mondo di modo che, uniti nel Mio Amore, siate la forza del bene che si diffonde nella Creazione, nell'Universo. 
Alcuni si chiederanno: come farà a riunirci?
Negli incontri che ognuno di voi continua ad avere con Me: nelle preghiere, nell'Eucaristia, nella meditazione della Mia Passione, nella meditazione dei Sette Dolori di Mia Madre, nella meditazione del Santo Trisagio, nella confessione, nell'amore per il prossimo, nell'amore in seno alla famiglia, nel compimento della Legge Divina, nei sacrifici, nell'obbedienza, nella speranza, nella carità, nella fede ed essendo veri cristiani in spirito e verità. 
LA FORZA DEL MIO POPOLO PERDURERÁ, NON VERRÁ MENO, IL MIO POPOLO È FEDELE E VERO.
Per questo invito i Miei Prediletti a non sentirsi già in Cielo, ma ad essere degni del loro Magistero, servendo il Mio Popolo con umiltà, CONDIVIDENDO CON L'UMANITÁ IL DIRITTO ALLA SALVEZZA ETERNA. 
I Miei Vescovi devono vivere in umiltà, non devono vivere nei palazzi, devono vivere con decoro, ma non negli eccessi, non devono concedersi dei lussi, ma devono aiutare i poveri, i bisognosi.
Mi dolgo per quei Ministri che si sono consegnati al servizio della Massoneria, usurpando la Mia Chiesa e portandola su vie completamente sbagliate. In questo momento si stanno imponendo nella Mia Casa e ne stanno approfittando per preparare l'arrivo dell'usurpatore. 
GUAI A QUELLI CHE CONSEGNERANNO LA MIA CHIESA! VIVRANNO IL LAMENTO DEL MIO POPOLO E LA DUREZZA DELLA MIA MANO, perché per questi alleati del male, sarà molto dolorosa la separazione del grano dalla zizzania che sto per fare. 
I Ministri che si autodefiniscono fedeli a Me, piangeranno lacrime di sangue per avermi ripudiato, per avermi ingannato e per essersi consegnati al male, incamminando il Mio Popolo sulla via del male.
Io non accetto la lussuria, l'eccesso, l'opulenza, la superbia, la mancanza di carità, la negazione di quanto sto esplicitando al Mio Popolo e guai ai Miei Servitori che non sono devoti di Mia Madre!  
Popolo Mio, in questo momento di discernimento, dovete mantenervi costantemente vicini alla Nostra Volontà, altrimenti vi vedrò degradare ancora di più, aumentando il numero di quelli che cadono nel fango e il vostro odore nauseabondo diventerà insopportabile.
IL MAL INCATENA I SUOI SEGUACI, QUELLI CHE LO ACCETTANO, QUELLI CHE NON VI OPPONGONO RESISTENZA, LI INTRAPPOLA NEI SUOI ARTIGLI…
Popolo Mio, non maltrattatevi a vicenda;, che non siano i membri della Mia Chiesa quelli che la colpiscono, che la infangano, che la denigrando, quando entrano in contese gli uni contro gli altri.  UNITEVI, NON CONTINUATE A CRITICARVI MA UNIFICATEVI NEL MIO SACRO CUORE ED IN QUELLO DELLA MIA MADRE SANTISSIMA. 
Non sia il Mio stesso popolo a lapidarsi a causa di banali invidie o per un ingiustificato zelo.  Nessun gruppo all'interno della Mia Chiesa è superiore agli altri, tutti tendono ad un unico fine: RESTITUIRCI LA TERRA CHE VI ABBIAMO DATO.
Io vengo ad invitarvi a condividere la Mia Croce.  CIASCUNO PRENDA LA SUA CROCE PERSONALE, PER NON DISERTARE SU QUESTO CAMMINO e non fare parte, in questo momento, della decadenza di questa generazione che Mi offende fino alla nausea, come mai prima d'ora.
La pace è un ricordo effimero per l'Umanità, il terrore si è impossessato di vari paesi, e si sta estendendo e sta prendendo piede in Europa. 
La Mia Chiesa è malata, è confusa dall'attuale divisione; questa non è una buona cosa, perché questi sono i segni del momento in cui la Mia Chiesa patirà l'agonia e quindi cadrà nello scisma.
Un fulmine ha dato l'allerta al Mio Popolo su quanto sarebbe successo e sulla forza del Mio Popolo ed anche se le forze del male cercheranno di distruggerlo, non riusciranno a scacciarmi dal Cuore del Mio Popolo.
La Nostra Volontà ha affidato a Mia Madre il comando delle Legioni Celesti, perché sia Lei a schiacciare la testa di satana ed in quanto Regina di tutto il Creato, ha assunto la guida della lotta spirituale che l'Umanità sta vivendo in questi momenti. Per questo è importante una trascendente sintonia con la preghiera del Santo Rosario, per questo è importante la consapevolezza nel pregare il Santo Rosario ed il significato di ogni parola e di ogni atto durante questa offerta.
Non mettetevi il Rosario al collo, se non siete consapevoli di quello che significa, altrimenti è come offendermi.   
AVETE UN'ARMA CHE IL DEMONIO TEME CON ORRORE E CON TERRORE: È L'ARMA DEL SANTO ROSARIO, NON RECITATO, MA CONSAPEVOLMENTE MEDITATO.
Il male sembrerà trionfare, ma non prevarrà mai. 
In questo momento sta prevalendo l'incredulità, vengo continuamente offeso, vengo disprezzato, moltissimi dei Miei figli si sono schierati con i Miei nemici, con i Miei peggiori e più grandi nemici, disposti a servire satana con quello che chiede loro, ignorando che dopo aver raggiunto il suo scopo, li spedirà al fuoco eterno.
Siccome al Mio Popolo è stato insegnato a guardare alla Mia Misericordia, senza meditare sulla Nostra Giustizia Divina, gli fa orrore che il Mio Profeta Mi ubbidisca e trasmetta le Mie costanti Allerte, affinché si svegli.
Nella Sacra Scrittura, nei Vangeli, è scritto:
"SONO VENUTO A PORTARE IL FUOCO SULLA TERRA… (S. Luca 12,49)
A PURIFICARE, A SEPARARE  CHI RISPETTA LA MIA LEGGE DA COLUI CHE NON LA RISPETTA.  
IO VI ALLERTO, MIA MADRE HA ALLERTATO L'UMANITÀ MA L'UOMO NON DÀ SEGUITO ALLE SUE PAROLE E NEGA LO STATO NAUSEABONDO DELL'ANIMA…
SIETE DURI DI CERVICE.   
LA MIA PAROLA NON VIENE DATA PERCHÉ CONSIDERIATE IL MALE COME QUALCOSA CON CUI I MIEI FIGLI CONVIVONO E QUINDI POSSANO CONTINUARE A FARE IL MALE, PORTANDO I MIEI INSEGNAMENTI AD ESSERE DIMENTICATI E SOPPIANTATI.
CHI È DURO DI CERVICE NON RIESCE A CAMBIARE, FINO A QUANDO NON SI RENDE CONTO CHE LA LONTANANZA DAI SACRAMENTI GLI IMPEDISCE CHE LA GRAZIA LO AIUTI SUL CAMMINO DELLA CONVERSIONE.
Popolo Mio, alcuni sono più cocciuti di altri, alcuni si impegnano nel non ascoltarmi, nel negarmi e a causa della superbia, vanno avanti sulla strada della perdizione.
La mancanza di umiltà di questa generazione è l'arma di satana. 
Hanno dimenticato l'umiltà, tutti si credono saggi senza rendersi conto che: "L'UOMO CHE DI FRONTE ALLA CORREZIONE SI OSTINA, SARÀ COLPITO ALL'IMPROVVISO E SENZA RIMEDIO." (Proverbi, 29-1)
Amato Popolo Mio, Io verrò a purificare questa generazione con il fuoco. 
Avete due cammini: il bene o il male, non c'è via di mezzo. 
RISPETTATE LA MIA PAROLA!
Pregate, figli Miei, pregate per gli Stati Uniti, la loro purificazione continuerà; con il temuto ruggito, del grande vulcano uscirà il fuoco. La Natura e l'uomo emanano dolore. (1)
Pregate, figli Miei, pregate per l'India, sarà flagellata dalla Natura.
Pregate, figli Miei, pregate per il Cile, la terra si muoverà nelle sue viscere, agiterà il mare con forza.  (2)
Pregate, figli Miei, la Spagna soffrirà, l'Italia patirà un dolore maggiore.  (3)
Pregate, figli Miei, l'Umanità ha attirato la Purificazione, che non  si è tirata indietro.
I paesi costieri soffriranno e la carestia raggiungerà le grandi città.
L'uomo con la sua ira è il mezzo che satana scatena per causare situazioni difficili in molti paesi, dove l'agitazione causerà disordini sociali.
L'umanità si ribellerà contro i propri governanti ed in seguito arriverà la sofferenza per tutti, con il rammarico nel vedere la sofferenza che hanno causato.
L'uomo, non appena comincia a svilupparsi, manifesta la sua ribellione nei Miei confronti.
L'Argentina patirà il caos.  Pregate per l'Argentina, ha disobbedito all'allerta di Mia Madre. (4)
Popolo Mio, satana è astuto, sembrerà trionfare.
Non ritenetevi salvi perché siete stati battezzati. Questo momento è difficile, questo momento è per il mio vero Popolo, che viene tenuto in considerazione da tutta la creazione, i cui elementi tendono ad aiutare i fedeli.
LO STATO DELL'UOMO HA RAGGIUNTO LA CREAZIONE CHE SOFFRE PER QUESTO MOTIVO, CAUSANDO UN CAOS CHE FA PATIRE IL COSMO IN GENERALE. L'UNIVERSO TREMA E SBIGOTTISCE DI FRONTE ALLA DISOBBEDIENZA DELL'UOMO.
MOLTI SI SCANDALIZZERANNO, SI TRADIRANNO E SI ODIERANNO A VICENDA, "MA COLUI CHE PERSEVERERÁ FINO ALLA FINE, SI SALVERÁ." (S. Mt. 24,13)
La  Mia benedizione è con colui che lotta per vincere il proprio ego ed ascendere verso la Mia Casa.
La Mia Misericordia è pronta per accogliervi.
Vi amo.
Il vostro Gesù."
 AVE MARIA PURISSIMA, CONCEPITA SENZA PECCATO 
AVE MARIA PURISSIMA, CONCEPITA SENZA PECCATO
AVE MARIA PURISSIMA, CONCEPITA SENZA PECCATO 
(1) Profezie sugli Stati Uniti
(2) Profezie sul Cile
(3) Profezie sull'Italia
(4) Profezie sull'Argentina
Source: Revelaciones Marianas
Luz de María de Bonilla
The life of Luz de Maria has been one guided by God from her birth in a small Central American country: Costa Rica. At present she resides in Argentina. She comes from a family with deep Christian roots in which, along  with her siblings, she grows up surrounded by an atmosphere of spirituality, with the Eucharist as the center of her life. Her  youth is spent alongside the presence of her beloved Guardian Angels and of the Blessed Mother who are her companions and confidants. Since then they share with her Heavenly. Manifestations, thus foreshadowing what would materialize little by little years later.  
Along with the development of her professional life, she forms a home which is constituted today of 15 members, who accompany her as Divine Manifestations begin to take place in her home: such as exudations from  religious images, inexplicable aromas, among others, in this way  making her family and loved ones witnesses of Luz de Maria's spiritual experience. 
During Holy Week of 1990, the definitive encounter takes place with the Blessed Mother, who announces to her the physical recovery from an  illness Luz de Maria was suffering and receives her in a special way to prepare  her for the encounter with Her Divine Son. So begins a long path  long which  they begin to subtly clarify to Luz de Maria the mission Heaven had designated  for her.   
Thus begins a new stage in her mystic experience, which would  lead her to experience profound ecstasy not only in the presence of her family, but also of people close to her that would later gather to pray, so forming a Cenacle that accompanies her to this day.  
As the years pass, Jesus and the Blessed Mother form her so that she is a useful instrument in the hands of the Divine Potter and so she abandons herself in the Will of the Lord, bearing along with Christ the pain of the Cross that penetrates physically in her body and in her soul.
After a long wait during which Christ and the Blessed Mother gradually prepare her asking her discretion in that period, Heaven orders her to communicate the Divine Word she has received, and continues to receive, to all of humanity. From that moment, Christ opens the way for her and directs her steps wherever the Divine Will desires Heaven's Call to reach. 
After they give her the Divine Order to make herself known, and under the inspiration of the Holy Spirit, she begins to visit various countries, especially those of Latin America, giving radio interviews and conferences open to the public. From there have arisen brothers and sisters desirous of putting into practice the teachings of the Divine Word, forming Cenacles of prayer and praxis of the Gospel, remaining in a constant battle to reach a life full in the fulfillment of God's Will and the love of neighbor.  
Luz de María begins to perceive that as time goes by, the Word of Christ and of the Blessed Mother takes on a different voice regarding its magnitude and intensity, due to the proximity of the events humanity will face. 
In each Divine Call, however, prevails Love, Mercy and at the same time Divine Justice. And they announce and denounce the reality of the purification of the  human race — a purification that is a fruit of the disobedience of present-day  man and of the mismanagement he has given to advances in all fields, with man thus transforming himself into his own scourge. 
Christ makes known to her the persecution, injustice, defamation and slander  which she will face from those who do not accept these Divine Calls and who  will not tire of persecuting her so as to end this Work, but she accepts,  knowing that as an instrument of Christ she must follow the same path Christ walked on Earth. 
The Blessed Mother is her counselor, and hand-in-hand with the Mother, up to this day, she continues to be a faithful disciple of Christ, living various mystic experiences in which Christ shares His suffering on the Cross.  
Beside her, Priests from several countries have remained who guide her, but as Christ himself tells her" "I am your true spiritual director," for it is Christ who guides each one of her steps and  all that she does.  Father Jose Maria Fernandez Rojas, who from the beginning of the manifestations has been beside her as her confessor, has also accompanied her prayer group of which three women religious have been an inseparable part since the Cenacle was formed 24 years ago, with one of these women religious having a degree in theology, the most strict observance and analysis of the revealed word has been maintained.
The Mission of Luz de Maria, in total obedience to Christ, is to be an instrument of the Divine Truth in this instant and to announce and denounce what Our Lord Jesus Christ and Our Blessed Mother indicate to her so that the children of God continue to fight for their own conversion and that of all their brothers and sisters, recognizing and strongly battling the evil that surrounds them, and dedicated, continue on the path of Salvation in all aspects of life. 
It is thus that the Divine Word that Luz de Maria receives invites humanity, as children of the same Father, to reach unity of all brothers and sisters, fulfilling the First Commandment and echo of the Call of Christ that calls His People to be one. 
Fr. Michel Rodrigue explaines The Events of the End Times
Do you want a quick overview of the end times? Then read "The great events of purification will begin this fall". If you want all the details of the unfolding events, then go to "Virtual Spiritual Retreat with Fr. Michel Rodrigue about the End Times".
The Pope's approval of homosexuality
Beware of the 'New World Order'
The Rosary is the weapon of these times
The truth about the Coronavirus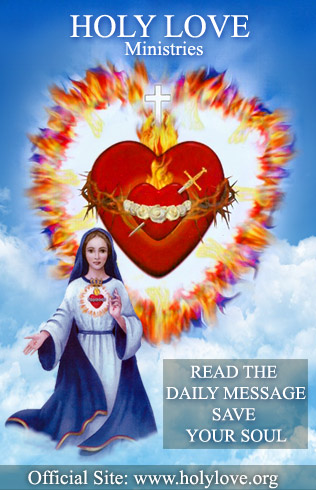 Read the daily messages
Catholics, we have entered the Pre-Tribulation, observe the Commandments, go to Confession; receive the Holy Eucharist; pray at least 3 Rosaries a day to keep your faith and save your loved ones. Prepare for the events that will devastate our planet: plagues, famine, WW3, cataclysms, antichrist's World Order