September 12th, 2016: Message to the seer Luz De Maria
My Beloved People:
EVERYONE FORMS A PART OF MY CROSS, YOU ARE IMPREGNATED IN MY CROSS.
I come to you with the explication of My Word, in this instant in which only and only the foolish continue denying that My Word is what I am giving to My own in these Calls.
Children: are you among those who fulfill My Word, among those who live out Our Will, or are you among those who believe that they can serve two masters?
No third way exists for attaining Salvation; there is only the path of good and the path of evil on which, if you do not repent, you lose Salvation.
When I rebuke you, you rebel against Me out of pride, out of stubbornness.
I present to you how you live, the evil that you accept and in which you may perish, and instead you harden your hearts and turn away from Me.
You judge My Word with the same foolishness with which you carelessly judge My instrument who is conveying this Call of Mine to you.
You judge a priori, without thinking about it, and what difference is there between you and those who, carried along by momentum, sentenced Me to the Cross?
Some of the so-called learned of this time are, to My Sorrow, the same ones who serve and represent Me, they are those who could transform so many souls if they shared My Love, if they did not confuse My People with banal assumptions, unsettling My Flock, scattering them so that they give themselves over to the clutches of evil in this instant when they should return to Me.
My own do not see the talents with which I endow some of My children in order to warn My People, nor do they see the suffering of these people who, for love of Me, in fulfilling My assignment, suffer indignities. My instrument does not walk alone, I continue receiving the offenses, since the Word that she conveys is not her own but comes from Me. 
Do not forget that I did not come to bring peace but division; for some My Truth is unpleasant, upon not committing to true conversion: LOVE.
When man resists My Truth he becomes hostile, not only towards Me but towards those who do not share his way of thinking. 
Stay alert – you should not accept everything; in the end there will arise many false prophets who will deceive many, and as iniquity grows more every day, the love of many shall grow cold.
BUT ONE THAT ENDURES TO THE END WILL BE SAVED. THE ONE THAT ENDURES TO THE END, THROUGH INSULTS, INDIGNITIES, INSULTS, SLIGHTS, CALUMNIES, THIS SON OR DAUGHTER WHO HAS DECIDED TO SERVE ME WILL BE SAVED.
My people, in this instant you are living under strong pressure to act contrary to everything that is My Law, before the lack of commitment to be pleasing to Me and save your soul, you only want to live in what is easy and does not imply effort and decision.
So much evil cannot coexist with good; evil will be eradicated, but beforehand, My People will be purified in order that they be worthy of Our Trinity and the Love of My Most Holy Mother.
My children:
NOT ERADICATING THE EVIL IN YOURSELVES, OF YOUR OWN FREE WILL, EVIL WILL LEAD YOU TO PERISH TO THE FLAMES OF HELL. WHEN MY CHILDREN GIVE UP AND DO NOT FIGHT AGAINST EVIL, THE LATTER DEFEATS MAN AND MAN LOSES ETERNAL LIFE.
Evil does not delay, it has entered My Church, precipitating disregard for the Divine Law, causing confusion so that you rise up against each other, and so that My warnings be denied.
Humanity has acted in consent towards the tentacles of evil, ESPECIALLY THE TENTACLE THAT ACTS AGAINST THE TEMPLE OF OUR HOLY SPIRIT, THE BODY: abortion, immorality, impurity, drugs, fornication, pornography, misused science, acts against purity, evil thoughts, killing deliberately and with premeditation, and so on; it is in one of the tentacles of evil, and man accepts them as good, without thinking, indulging the desires of evil and acting against Our Will.
By pleasing the devil, humanity has entered into chaos, into upheaval, and that which is around man enters into this upheaval which is in constant movement, dragging along with it that which is nearby.
Hence at this instant, evil is taking possession of some souls with such ease.
MY BELOVED PEOPLE, IT IS URGENT THAT YOU RESIST EVIL, THAT YOU CONSECRATE YOURSELVES TO OUR SACRED HEARTS, SO THAT YOU ARE NOT OVERCOME BY EVIL.
Pray, My children, pray for Finland, it is urgent. 
Pray, My children, for India, it will suffer. 
Pray for Mexico, its volcanoes arise and the land suffers a severe shaking. 
Pray children, pray for Puerto Rico, its purification is near. 
Pray for the United States, it is seized by panic.
MY PEOPLE, IT IS ESSENTIAL FOR EACH OF MY CHILDREN TO BEGIN A PERIOD OF SPIRITUAL AND PHYSICAL AMENDMENT.
 Man's physical senses must come into harmony with the spirit.
You will begin with the sense of sight for a week, every instant you will devote yourselves to cleansing the sense of sight, until your sight is surrendered in order to please Our Will and the soul's greater good.
FIRST DAY: 
I offer the gift of sight on this day to the Most Sacred Hearts of Jesus and Mary, I offer you this Gift of sight in this instant for the Divine Glory and for the good of souls. 
In every present act of my sight, 
give me the strength to see only that which is for the good of my soul and of my brother or sister. 
I cry out to You Blessed Mother, so that you take me as Your disciple, 
guide my life, and my path be directed towards meeting Your Son.
ON WAKING I OFFER: 
I have sight, and with it I see good and evil from this instant on, 
I offer my constant effort in order that this Gift be made more spiritual, 
prioritizing the Divine desire for my personal salvation. 
I propose to free my sight from occasions of sin, 
seeking the Divine purpose in everything I see, 
finding the good in every brother and sister and in each thing created by the Eternal Father. 
I do not want to sin any more with the sense of sight, I surrender it to the Sacred Hearts so that, being Your child, my Lord, you lift me out of sin.
I do not want my sight to come to provoke me to evil thoughts 
nor that I neglect the Divine kindnesses that lead me to remain in a state of Grace.
Sacred Hearts, sustain my thinking so that it subjugates my sight and my sight see the good and the qualities
that every human being possesses and which are hidden from me in his or her work and action. 
May I possess the courage to oppose to myself forcefully and not allow my sight to be used for evil. 
I hold back my free will and subject it immediately and surrender it to the Sacred Hearts, 
and thus they mold my sight so that it turn away from human pettiness. 
May my sight be cleansed in the Purifying Water of Love coming from the Sacred Hearts.
Amen.
MIDDAY: 
Review together with Our Mother the morning's efforts and note down weaknesses.
BEFORE GOING TO SLEEP: 
I give thanks to the Sacred Hearts of Jesus and Mary Most Holy, to whom I pray for succor for this purpose, in order to be a better child of God.
Our Father, three Hail Mary's and Glory Be.
My People:
OUR TRINITY WILL TRIUMPH AND IT IS MY MOTHER WHO WILL CRUSH THE HEAD OF SATAN. 
IN THIS INSTANT, MY PEOPLE, CONVICTION AND DETERMINATION ARE THE DOWRY AND MORE FOR YOU TO SUCCEED IN UNITING WITH ME.
I bless My children, and I tell you that whoever does not bear witness to My Love will receive little or nothing from Me.
Your Jesus.
HAIL MARY MOST PURE, CONCEIVED WITHOUT SIN 
HAIL MARY MOST PURE, CONCEIVED WITHOUT SIN 
HAIL MARY MOST PURE, CONCEIVED WITHOUT SIN
Source: Revelaciones Marianas
Luz de María de Bonilla
The life of Luz de Maria has been one guided by God from her birth in a small Central American country: Costa Rica. At present she resides in Argentina. She comes from a family with deep Christian roots in which, along  with her siblings, she grows up surrounded by an atmosphere of spirituality, with the Eucharist as the center of her life. Her  youth is spent alongside the presence of her beloved Guardian Angels and of the Blessed Mother who are her companions and confidants. Since then they share with her Heavenly. Manifestations, thus foreshadowing what would materialize little by little years later.  
Along with the development of her professional life, she forms a home which is constituted today of 15 members, who accompany her as Divine Manifestations begin to take place in her home: such as exudations from  religious images, inexplicable aromas, among others, in this way  making her family and loved ones witnesses of Luz de Maria's spiritual experience. 
During Holy Week of 1990, the definitive encounter takes place with the Blessed Mother, who announces to her the physical recovery from an  illness Luz de Maria was suffering and receives her in a special way to prepare  her for the encounter with Her Divine Son. So begins a long path  long which  they begin to subtly clarify to Luz de Maria the mission Heaven had designated  for her.   
Thus begins a new stage in her mystic experience, which would  lead her to experience profound ecstasy not only in the presence of her family, but also of people close to her that would later gather to pray, so forming a Cenacle that accompanies her to this day.  
As the years pass, Jesus and the Blessed Mother form her so that she is a useful instrument in the hands of the Divine Potter and so she abandons herself in the Will of the Lord, bearing along with Christ the pain of the Cross that penetrates physically in her body and in her soul.
After a long wait during which Christ and the Blessed Mother gradually prepare her asking her discretion in that period, Heaven orders her to communicate the Divine Word she has received, and continues to receive, to all of humanity. From that moment, Christ opens the way for her and directs her steps wherever the Divine Will desires Heaven's Call to reach. 
After they give her the Divine Order to make herself known, and under the inspiration of the Holy Spirit, she begins to visit various countries, especially those of Latin America, giving radio interviews and conferences open to the public. From there have arisen brothers and sisters desirous of putting into practice the teachings of the Divine Word, forming Cenacles of prayer and praxis of the Gospel, remaining in a constant battle to reach a life full in the fulfillment of God's Will and the love of neighbor.  
Luz de María begins to perceive that as time goes by, the Word of Christ and of the Blessed Mother takes on a different voice regarding its magnitude and intensity, due to the proximity of the events humanity will face. 
In each Divine Call, however, prevails Love, Mercy and at the same time Divine Justice. And they announce and denounce the reality of the purification of the  human race — a purification that is a fruit of the disobedience of present-day  man and of the mismanagement he has given to advances in all fields, with man thus transforming himself into his own scourge. 
Christ makes known to her the persecution, injustice, defamation and slander  which she will face from those who do not accept these Divine Calls and who  will not tire of persecuting her so as to end this Work, but she accepts,  knowing that as an instrument of Christ she must follow the same path Christ walked on Earth. 
The Blessed Mother is her counselor, and hand-in-hand with the Mother, up to this day, she continues to be a faithful disciple of Christ, living various mystic experiences in which Christ shares His suffering on the Cross.  
Beside her, Priests from several countries have remained who guide her, but as Christ himself tells her" "I am your true spiritual director," for it is Christ who guides each one of her steps and  all that she does.  Father Jose Maria Fernandez Rojas, who from the beginning of the manifestations has been beside her as her confessor, has also accompanied her prayer group of which three women religious have been an inseparable part since the Cenacle was formed 24 years ago, with one of these women religious having a degree in theology, the most strict observance and analysis of the revealed word has been maintained.
The Mission of Luz de Maria, in total obedience to Christ, is to be an instrument of the Divine Truth in this instant and to announce and denounce what Our Lord Jesus Christ and Our Blessed Mother indicate to her so that the children of God continue to fight for their own conversion and that of all their brothers and sisters, recognizing and strongly battling the evil that surrounds them, and dedicated, continue on the path of Salvation in all aspects of life. 
It is thus that the Divine Word that Luz de Maria receives invites humanity, as children of the same Father, to reach unity of all brothers and sisters, fulfilling the First Commandment and echo of the Call of Christ that calls His People to be one. 
Fr. Michel Rodrigue explaines The Events of the End Times
Do you want a quick overview of the end times? Then read "The great events of purification will begin this fall". If you want all the details of the unfolding events, then go to "Virtual Spiritual Retreat with Fr. Michel Rodrigue about the End Times".
The Pope's approval of homosexuality
Beware of the 'New World Order'
The Rosary is the weapon of these times
The truth about the Coronavirus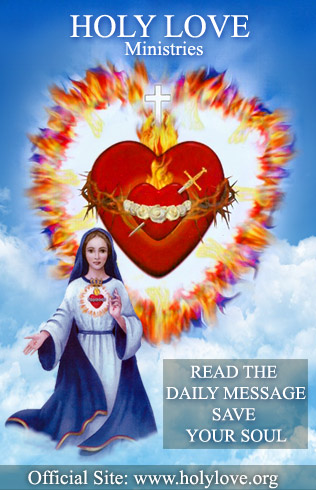 Read the daily messages
Catholics, we have entered the Pre-Tribulation, observe the Commandments, go to Confession; receive the Holy Eucharist; pray at least 3 Rosaries a day to keep your faith and save your loved ones. Prepare for the events that will devastate our planet: plagues, famine, WW3, cataclysms, antichrist's World Order