Tuesday, May 16, 2017:
Jesus said: "My people, you are aware of the communist symbols of the hammer and sickle. The communist dictators have pride in suppressing their people, so they can spend money on weapons and control of their people. In North Korea the people are fortunate to find enough food to eat. Their leader is threatening all countries, including America, with their nuclear tipped missiles. The communist mentality is affecting the people of Venezuela who are also finding it hard to get food, because of the tyranny of its leaders. All of the people who have a progressive leaning, are favoring Godless socialism or communism, yet they prefer having all of the conveniences of their Democratic Republic. When you see the face and live in a communist country, then people would realize how evil is behind such a Godless control. You need to pray the rosary for peace, like My Blessed Mother warned at Fatima, or Russia and other communist countries will spread their errors all over the world."
Monday, May 15, 2017: (St. Isidore)
Jesus said: "My people, in the first reading you read how St. Paul healed a lame man who was born with that condition. It was the miracles of healing in My Name that caused many to come to the faith. Even when I was on the earth, I healed many people. The apostles also had gifts of healing that helped to convert many souls. Even in your world of today, you have witnessed miracles of healing when people have faith in My healing, and can be healed. You have also seen a few miracles in your chapel that are a sign of the miracles to come in the tribulation time. The greater miracles are the miracles of people who are converted or re-converted to the faith. The healing of sinners causes great celebration in heaven for each soul that is saved from hell. This is why it is important each day to pray for the conversion of poor sinners. These souls, who were saved from hell, will be thanking you and praying for your souls."
Jesus said: "My son, this last week has really tested your patience when you hurt your shoulder on a lawnmower that would not start. You also had a serious problem with one of your cars that needed a valve job on one of the cylinders. You now have another electric start lawnmower, and your car should be fixed shortly. Even your painful shoulder is back to normal, just as I told you I would heal it. You can see that even in your trials, I have worked them out for you, so you are right with all of your problems. This is another example why you should have no worries, but trust in My help in all that you do. Other people have problems also with health, finances, or their cars and homes. This is a part of your lives, but do not lose hope or get depressed, because if you stay close to Me in your daily prayers, I will work things out for you. Remaining faithful to Me is more important than what happens to your health or your possessions. Give thanks and praise to Me for working out all of your problems."
Sunday, May 14, 2017: (Mother's Day)
Our Lady of Fatima said: "My dear children, I am still sad for the state of your world in all of its sin, but I am joyful as a mother to all of you on your celebration of Mother's day. Heaven is happy for all the faithful prayer warriors who are still praying my rosaries every day for my intentions. Remember to offer up all of your children in your family to my care, and I will place my mantle of protection over them. Keep praying for your family members, and pray to double your prayers for sinners and the souls in purgatory. Your world is at a crossroad, as you see the evil ones of the tribulation who are about to have their reign. Pray for My Son's protection for all of my faithful children at my Son's refuges."
Jesus said: "My people, you have seen many different kinds of cyber attacks that steal data, destroy files, destroy hard drives, and now you are seeing ransomware to pay money to unlock files. This attack has paralyzed hospitals and some banks. A solution was found to free the data without paying the ransom, but this is only temporary. This is another case of determining how valuable your files are. Your work files that you type in, should be backed up on several computers and different hard drives so it can be replaced and not lost. You can also have problems with data if you have a power outage for an extended time. Then you could not access your money or medical files in a hospital. This disruption could also happen with an EMP attack that could paralyze all of your technology, including your cars. At My refuges you will not have any working electronic machines, so the evil ones cannot control you. Give thanks and praise to Me for your protection, because all you need is My love, and My multiplication of what you need to survive."
Saturday, May 13, 2017: (Our Lady of Fatima-100th anniversary)
Our Blessed Mother said: "My dear children, today I have tears of great joy, and tears of great sorrow. I am happy that you are celebrating the 100th anniversary of my messages given to the three children at Fatima in 1917. You have given me another opportunity to share My rosary, my scapular, and the Five First Saturdays. I was happy to hear your priest say that he will have Mass on the first Saturdays in my honor. You can also understand my sadness as many of my children are not praying every day, and some have even fallen away from coming to Sunday Mass. I want to thank all of my faithful prayer warriors who are still praying their three rosaries every day for families and peace in the world. You, my son, have been faithful at your Blue Army meetings, and your own Blue Army cell prayer group for over forty-three years. I love all of you so much as I bring all of you to Jesus through me."
Friday, May 12, 2017: (Sts. Nerues, Achilleus, Pancras)
Jesus said: "My people, today's Gospel is read at many funeral Masses. (Jn 14:1-6) I told My apostles that there are many mansions in heaven, and I go to prepare a place for every soul who is worthy of heaven. When St. Thomas asked Me how he would know the way to follow Me, I told him. 'I am the Way, and the Truth, and the Life. No one comes to the Father but through Me.' (Jn 14:6) When I was explaining the Warning to you in your life review, I said that you can only come into heaven through Me. I am the Gatekeeper, and it does not matter what faith you believe, because you have to know and love Me in order to enter heaven. You need to repent of your sins, and allow Me to be the Master of your life before you can enter heaven. Many souls may require purification in purgatory to make up for the reparation due for their sins during life. This is why I call My faithful to have a pure soul with frequent Confession. You can also minimize your time in purgatory by gaining a plenary indulgence when you fulfill the Divine Mercy devotion on Divine Mercy Sunday. Pray the chaplet, come to Confession, and pray the Divine Mercy Novena."
Jesus said: "My people, the devil's time is running out, so you will soon see events moving toward the time of the Antichrist's reign. This darkness that the door opened up to, will be an evil time that you have yet to experience. You need to have your soul purified, when I will bring My Warning experience to everyone. You will be warned not to take a chip in the body, and not to worship the Antichrist. You will be working at a fever pitch to have your family members converted and come to Confession. It will not be long after My Warning that I will call you to come to My refuges of safety. Call on Me to help you bear this time of evil that I will shorten for the sake of My elect. Do not be frightened by the evil ones because their time will be short. Once you live into the time of tribulation, you will be assured of living in My Era of Peace, whether you are martyred or not. Look forward to this reign of Mine that will prepare all of you to be saints, ready for heaven. The evil ones will be cast into hell and they will be chained there. You will see more marriages and babies born in My Era of Peace, where you will all be vegetarians without eating meat. There will be no more survival of the fittest, but you will have peace and love for each other, even among the animals."
Thursday, May 11, 2017:
Jesus said: "My son, as you read all of the accounts of My disciples traveling from city to city in the Acts of the Apostles, you recognized a familiar story in your own evangelization efforts as you travel from state to state. My disciples would have gone further and faster, if they had your cars and planes of today. I send you out, My son, to share My Word with all the people who you meet. Be thankful that you have this gift of My inner locutions that you are sharing and encouraging people in the faith. My words are straight forward, and they are always reaching out to save souls out of love and not fear. I have many messengers guiding My people with similar warnings of being prepared for the coming tribulation. Do not be concerned about dates, but have your souls always ready to meet Me in a pure soul, so you are ready for My Warning experience. Events will be getting more serious, but do not be afraid because I will protect you, and help you through your trials. If you encounter demonic situations, then pray your St. Michael prayer, and call on Me to send you My angels to defend you. Go forward and preach My Good News to all the nations. You can thank Me for getting your car to the repair shop."
Prayer Group:
Jesus said: "My people, you are aware of the Masons at the high level who belong to the one world people. Some of them even worship Satan and carry out his plans. There are also Masons infested in the Vatican, and they will be instrumental when My Church is divided between the schismatic church and My faithful remnant. Pray much for your Pope and the hierarchy in the Vatican."
Jesus said: "My people, I call on My faithful to build up My Church in evangelizing souls to be baptized. The real Church are the people who come to share at My Eucharistic table. I am the cornerstone on which My Church rests. My believers are the ones to spread My Good News, and invite people to come to Me to be initiated into the faith with Baptism. Bring your children,grandchildren and great grandchildren to the church for Baptism. You can encourage them to come every Sunday to Mass because it is part of My Third Commandment to honor Me every Sunday."
Jesus said: "My people, My Blessed Mother is reminding you to pray at least three rosaries every day so your constant prayers can help save all of your family members. It is My prayer warriors who have the heavy responsibility to keep praying for their family members, even those who do not come to Sunday Mass. Keep giving your family good example in your daily rosaries and Sunday Masses. Be careful in your speech so your family does not hear you swearing or getting violent. Live good Christian lives so you do not look like hypocrites."
Jesus said: "My people, you have been seeing flood damage, tornado damage, and fires in Florida. Some people have been forced out of their homes, and they need your help and your prayers. Your people need to realize that some of these natural disasters are punishment for your sins. Some of your people ignore Me and the atheists do not even believe that I exist. Pray for these people to come to Me so they are not lost in hell. You are celebrating the 100th anniversary of Fatima, and the children were given a vision of hell. If you saw how much the souls in hell suffer, this would be an inspiration for you to evangelize as many souls as possible. Every soul that you save from hell will thank you forever."
Jesus said: "My people, you have been having wars throughout man's history, and the weapons you make are more deadly than ever. Your nuclear weapons are the most dangerous in the hands of those people who would even consider using them. In Japan in World War II you saw how vicious radiation poisoning was on the people. Even sarin gas and other poisonous gases are also inflicting many deaths on the people in Syria. Keep praying to stop all wars, but your country needs to provide a defense for your people."
Jesus said: 'My people, your society has become very dependent on your electricity to run your heaters, lights, ovens, and air conditioners. You need power to run your internet and your banking system. You are also vulnerable to any power outages that could come from many causes. It would be prudent to have some back up means for heating your houses with wood, propane, etc., and some candles or oil lamps for light. You also should have some extra food stored so you would not starve in a long power outage. It is just a matter of time when your power could be destroyed, so you need to think about having water, food, and fuels for your survival. My refuge builders are preparing for independent living when I will multiply your needs. Be ready to leave for My refuges when I give you the word."
Jesus said: "My son, you were given instructions to read the Blessed Mother's messages that were given at Fatima between May 13 and October 13 in 1917. You also saw the Blessed Mother's Peace plan to stop the wars. This information can be found on the internet, and it would be useful to read these messages because they are appropriate for your times as it was in 1917. You may want to list the Blessed Mother's Peace plan after this message."
Our Lady's Peace Plan:
Consecrate yourself to the Immaculate Heart of Mary. Offer up your daily tasks as a sacrifice in reparation for our own sins and the sins of others. Pray the Rosary every day. Wear the brown scapular. Make the five First Saturdays (Confession, Holy Communion, and rosary) with 15 minutes of meditation on the Mysteries of the Rosary. Make visits to the Blessed Sacrament.
Pray the Fatima prayers of Our Lady:
"O my God, I believe, I adore, I hope and I love you. I ask pardon for those who do not believe, do not adore, do not hope and do not love you."

"O Most Holy Trinity I adore you. My God, my God, I love you in the Most Blessed Sacrament."

"Most Holy Trinity, Father, Son and Holy Spirit, I adore Thee profoundly. I offer Thee the most precious Body, Blood, Soul and Divinity of Jesus Christ, present in all the Tabernacles of the world, in reparation for the outrages, sacrileges, and indifference whereby He is offended. And through the infinite merits of His most Sacred Heart and the Immaculate Heart of Mary, I beg of Thee the conversion of poor sinners."
Wednesday, May 10, 2017: (St. Damien)
Jesus said: "My son, you had a problem with your lawn mower not working, and it was difficult to start. In pulling the cord you strained your shoulder, but I told you not to worry, because I will heal it. Just have faith in My healing power, and you will be feeling better. You have also been tested with your cars, but you will resolve your problems. Each day everyone has to struggle with their daily trials, but I am always at your side to help you. Call on My help in your prayers, and I will help you work out your problems. In the first reading you are reading how My disciples worked with the Holy Spirit in spreading the faith and converting souls into My Church. In today's world you are seeing the opposite, in that people are falling away from their former faith ways. My prayer warriors are being called to help re-convert the fallen away Catholics. You are seeing evil forces putting curses and spells on people. If the lukewarm people do not pray and come to Sunday Mass, then they will be drawn away to the world's distractions and addictions. You need to pray deliverance prayers for these fallen away Catholics, to wake them up to how the devil is influencing them. If they listen to your suggestions, and you keep praying for them, then they have a chance to come back to Me. Do not give up on any soul, because all souls are worth saving."
The Blessed Mother said: "My dear children, you are well aware that you are celebrating the hundredth anniversary of my messages given to the three children at Fatima. These messages were not just given for that time, but they apply to your time in the world, today. Many messages have been given, but they are not being heeded or taken seriously by your people. This is why I want you, my son, to research and find all of the messages that I gave to the children on the 13th of the month from May to October in 1917. Read them so you can see that they apply to your times, now. I thank your friends for sharing my message of preparing for some difficult times. My children need to pray their three rosaries and Divine Mercy Chaplet every day. Wear my scapular, and my rosary on your person. You can also carry a St. Benedict Blessed Cross to protect you from the spells and curses of the demons and evil people. Attending daily Mass and occasional Adoration can also help you. Coming to frequent Confession is also important to keep a pure soul. When you go out to evangelize people, you are re-enforcing my messages at Fatima to try and convert as many souls as possible. Continue to praise my Son, Jesus in all that He does for you."
Tuesday, May 9, 2017:
Jesus said: "My people, in My early Church My disciples had to struggle with persecutions and non-believers. But I allowed St. Peter and My apostles to perform great miracles as raising people from the dead. Many people came to believe in Me because of these miracles. At Antioch My disciples were called 'Christians' for the first time. It was not easy to be a Christian because these people had to hide, or they could be martyred. Even now, My faithful are being persecuted for being Christians. A time is coming when My faithful will have to hide at My refuges as the Antichrist and the evil ones will try to kill you."
Jesus said: "My people, your President has been trying to build up your defenses that have been neglected for some years. You have many places where you are defending people in Iraq, Syria, Afghanistan, and South Korea. Your forces have been depleted, and they need to be rebuilt. You have been careful not to put many boots on the ground to fight these wars. You have a lot of firepower, but it is expensive to keep using these weapons. You really do not have a large army to make a big effect on these battles. This is why if any of these small wars are expanded, you may have to use nuclear bombs to hold off any aggressor. Keep praying that nuclear weapons are not used, so many people are not killed."
Monday, May 8, 2017:
Jesus said: "My people, St. Peter was given three visions about eating meat, and signs to accept and convert the Gentiles to the faith. This was a big change in the scope of the mission of My Church, because I originally came to save the lost people of the Jews. Now, both with St. Peter and St. Paul, the Gentiles are being welcomed into My Church. Give thanks and praise to Me because many Americans would not otherwise be a part of My Church. St. Peter and St. Paul were great missionaries for the Gentiles, and they each had visions to promote converts among the Gentiles. The faith kept spreading thanks to My apostles, and the work of the Holy Spirit in the hearts of these new converts. Give thanks also that the Holy Spirit has come into the lives of all of My faithful. As you celebrate My Resurrection and My being the Good Shepherd, know that I am watching out for all of My faithful."
Jesus said: "My people, I have told you that you could see one of your small wars expand into a world war. You are seeing the 100th Anniversary of Fatima when the sun was spinning, and it came close to the earth and dried up the rain. One of the prophecies of the Blessed Mother was if the people did not convert and pray the rosary, that some nations would be annihilated. You are approaching the possibility of a world war, and more nations have nuclear weapons. Most nations do not want to risk nuclear war, but you have some rogue nations as Iran and North Korea who could be foolish enough to use nuclear weapons. North Korea has made many threats to America. Iran also wants to destroy Israel and even America, who is a great Satan in their eyes. If nuclear weapons are used in a war, you could see this Fatima prophecy come true. Pray that such a war does not happen, because millions of people could be killed."
Sunday, May 7, 2017: (Good Shepherd Sunday)
Jesus said: "My people, I am truly the Good Shepherd, for My sheep hear My voice, and you follow Me. I am the Gate, and people can only enter heaven through Me. At the Warning, everyone will know that I am the only way into heaven, no matter what they believe. I also told you, unless you eat My Body and drink My Blood, you will not have eternal life in heaven. I am guiding My sheep on the path to heaven, but they must repent of their sins and accept Me as the Master of their lives. You have seen Me leave the ninety-nine sheep in the desert to go after and find My lost sheep. I call everyone to follow Me, and those people who do, will have eternal life with Me in heaven."
Jesus said: "My people, you have been seeing many rainstorms that have caused a lot of flooding. I am showing you a parting of the clouds as a short reprieve of your recent storms. Pray for the victims of your natural disasters. After this reprieve, you will see a resumption of your disasters, but they will increase in severity. Have your refuges prepared, because you will be seeing an increase in dangers to your lives. When these dangers get worse, there will come a time when I will warn My faithful that it is time to come to My refuges. When I give everyone the sign to leave, then you need to leave immediately so you are not captured by the men in black. Call on Me to have your guardian angels lead you safely to My refuges. Have no fear, because I will guard My faithful from the evil ones."
Source: John Leary
Help the Lord spread His voice, time is running out
Please help spread these messages of faith, hope, salvation, defense against evil (by email, printing, Facebook, Twitter, and other media) to your loved ones, your friends, and all the people you may meet, who seek salvation or who are in danger of being eternally lost. The Lord gives great graces and blessings to those of goodwill who, according to their own possibilities, collaborate with His Plan of Salvation. Who helps the Lord save a soul predestine his own, independently from the outcome.
The truth about the Coronavirus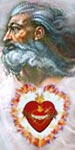 May 1, 2020 - God the Father says: "Today, I invite you to realize that this virus - the coronavirus - is no ordinary disease. It has been created from human ingenuity to specifically target the elderly and physically challenged. This is the plan of future generations to purify the human race around the world. It was released into the general population ahead of schedule - by accident. Those in charge were waiting for less capable government officials in your country (USA) to be in office. Nevertheless, proposed harm is being unleashed on the whole human race."
"I tell you these things to help you to realize the underlying evil at work and hidden in hearts these days. You cannot be confounded by any turn of events. Over all situations, I am in Dominion. No one will be given power over you that is more powerful than your Eternal Father. Therefore, be emboldened with this knowledge. If you persevere in Truth, you have loaded your weapons against what seems to be and discharged them with Truth." (Source: Holy Love)