Oct 1, 2006 – Jesus of Nazareth
The Rock, Shrine of Our Lady of the Island, Eastport, NY at 2:00pm
Jesus of Nazareth:  Take a journey with Me. There is above and beyond the physical reality of the Universe
"I invite you today to take a journey with me to the Eternal Realms of the Father so that you can see what the Father has prepared for you, such a place of beauty for all of mankind to spend with the Father for all eternity.
Our journey begins with the vastness of the Universe. View all that there is to see in the Universe among the stars and planets and galaxies and you are only viewing a small part of the Eternal Kingdom that God the Father provides for you to explore the Universe when you are spending eternity with us here in this magnificent place.
Yet, you are only able to view the Universe as it exists in the material world. There is above and beyond the physical reality of the Universe, above and beyond the view of your telescopes, a more magnificent Universe that is beyond your ability to comprehend. All of this and more is the kingdom awaiting those who choose to follow me.
Let us go now to the place where the souls reside who have chosen to follow me. Here you experience the eternal Love of the Father, a Love that is beyond any grasp of your comprehension of the purity of the Love for the souls who are with me in heaven. It is here where the reunions take place and you experience the Love of being in the perfect family of all mankind, as it was first envisioned by your Father when He created you for this journey to the fulfillment of your lives.
Travel with me now through the cities of light and great beauty that await those of you who follow me. Travel with me now through the celestial countryside where you can choose to reside for all eternity. Come with me into the libraries and places of learning where you can saturate your thirst for knowledge of all that is good and all that is created by the Father. Come with me to the plains and mountains and rivers and lakes and streams where only beauty dwells and where all of the creatures of nature live in harmony with the transformed souls who are living in the Light of the Eternal Father.
Walk with me on the beaches where pristine and pure waters of the eternal oceans soothe the shores where you can swim and play without fear of harm. For in these places where the Father has prepared your eternal home, there is no fear and no anxiety and no worry because all of the pain and suffering and death that is of the material world have been transformed in this place of beauty by the Eternal Love of the Father.
Now that you have seen these images and know that a heavenly place is real and that it has been prepared for you, how can you now return to your earthly life and resume to live in a way that does not recognize that God the Father loves you eternally and wants only the best for you?
Living in the earthly world, you do not think of all that the Father has promised you. I know that the trappings of the material world have caused you to think only of the present and not of the future. But think now, what is really important to you now? Is it your present world with all of its pain and suffering and its disappointment, or the future that you may share for all eternity with your Lord and Saviour?
For the present becomes already past in the blinking of a eye and the future with your Lord and Saviour is eternal in a way that you do not yet comprehend because you are caught up in the trappings of the material world.
Can you see how you can rise above this material world?
Spend the rest of your life in commitment to the Lord. Do only the things that you know are pleasing to Him. Do not focus on your daily problems in your terminal world. Open your minds and hearts to the future and to the eternity that is your destiny, if you follow in the footsteps of the Lord.
Seek your destiny through good works and love for your brothers and sisters here on Earth. Remember that all of the brothers and sisters who you meet on this planet will be with you for all eternity. Think now of your responsibility to them to assure that their eternity is a heavenly place that God that Father has planned for all of you rather than a place of darkness that is chosen by those of you who choose to live in darkness and who turn themselves away from the Light of the Father as well as those who choose to deny me as the Son of the Father.
Much is expected of you in your mission in life to evangelize to your brothers and sisters and to tell them of the future that God has prepared for all of you in the Eternal Realms.
Know that you are accountable for the time that you have spent here on Earth and you will be judged in the final judgment on how you have conducted your life. Know that you will be judging yourself in this regard as you stand before the Father. It is within you, ingrained within your very souls, to review all of your experiences but to see these experiences as the Father sees them.
Can you pass this test when you stand before your Creator in judgment for the time that you have spent here on Earth? Will you be able to face your maker and ask for His forgiveness for the mistakes that you have made in life? Will you be able to pass the test that your life experiences require you to face as you glimpse into eternity awaiting your fate?
It is here at this point where many fallen souls turn away from the Light of the Father and try to hide their sins in their own self-created darkness. It is then that those who turn away from the Father find a place called hell where they by their own choosing pick darkness over light.
Now that you know these things, how will you choose to spend eternity? How will you stand before the Lord when your time has come? Will you have the courage to review your life and ask with all humility to be admitted into the kingdom that God has prepared for you?
For those of you who follow the path of the eternal flame throughout your lives, the rewards are great for you in the heavenly realm. Choose to follow the Light of Christ and you shall be rewarded!
My blessings to you!
Jesus of Nazareth"
Ned Dougherty's Near-Death Experience and His Visions of the Future
In his mid-thirties, Ned Dougherty (an Irish name, pronounced "Dock-erty") had everything: money, women, property, prestige, and power. He was a real estate broker for twenty-six years owning popular nightclubs in Palm Beach, Florida, and the Hampton's, Long Island's exclusive playground for the rich and famous. He lived in the fast lane every hour of the day, pursuing every pleasure money could buy. Despite his religious upbringing as a Roman Catholic, he had no interest in a spiritual life because he didn't believe in an afterlife.
He was too busy searching for a good time to be bothered with such things. This all changed on July 2, 1984 when he had a near-death experience (NDE) resulting from a heart attack after a heated – almost murderous – fist fight with a business associate.
Dougherty's NDE caused him to undergo a radical life transformation in which he gave up his nightclub business and party lifestyle and embraced his hitherto neglected Catholic religion. His NDE gave him a conscious awareness of his mission in life which was to embark upon charitable and missionary work. During his NDE, a wonderful "Lady of Light" (whom he identified as the Virgin Mary) revealed to him future global catastrophes many of which have already occurred which you will read in this article.
Today, Dougherty is a featured speaker, a former director and media spokesperson for the International Association for Near-Death Studies (www.iands.org). He also founded a spiritual center as revealed in his NDE called the Mission of Angels Foundation (www.fastlanetoheaven.com) through which he speaks on life-after-death issues, NDEs, Marian apparitions, and other spiritual matters.
He also hosts End Times Daily (www.endtimesdaily.com) – a Catholic news site focusing on eschatology – where he publishes interior locutions he has been receiving on a monthly basis since 2005.
Book: Fast Lane to Heaven: Celestial Encounters that Changed My Life
Published in March of 2001. This book documents his amazing NDE and visions of Earth's future.
Ned Dougherty's End of Days Website:
Fr. Michel Rodrigue explaines The Events of the End Times
Do you want a quick overview of the end times? Then read "The great events of purification will begin this fall". If you want all the details of the unfolding events, then go to "Virtual Spiritual Retreat with Fr. Michel Rodrigue about the End Times".
The Pope's approval of homosexuality
Beware of the 'New World Order'
The Rosary is the weapon of these times
The truth about the Coronavirus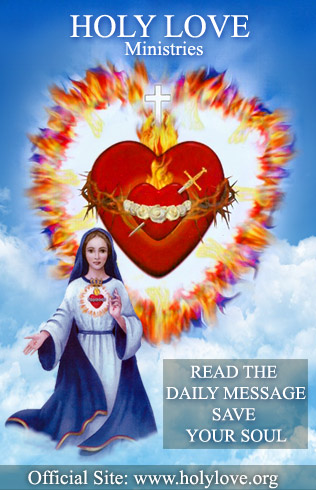 Read the daily messages
Catholics, we have entered the Pre-Tribulation, observe the Commandments, go to Confession; receive the Holy Eucharist; pray at least 3 Rosaries a day to keep your faith and save your loved ones. Prepare for the events that will devastate our planet: plagues, famine, WW3, cataclysms, antichrist's World Order