Tuesday, March 21, 2017:
Jesus said: "My people, you heard My answer to My apostle that you need to forgive people seventy times seven times, or in other words, all of the time with no limit. Not only are you to forgive people, but you need to love them as well. I mentioned the four kinds of forgiveness before. You need to repent and ask My forgiveness the most in Confession. Be able to go and ask the forgiveness of those people who you have harmed, and then bring your gift to the altar. You need to be generous and forgive anyone who seeks your forgiveness. You also need to forgive yourself, and let go of all of your past sins so the devil cannot use them against you. It is easier to forgive those people who you know and accept, but I am asking you to forgive your enemies and those who reject you. You also need to love everyone, even your persecutors and non-believers. I am all love, and I love all peoples. So if you want to be on the road to perfection, you need to imitate My love, even loving your enemies. Pray for all sinners that they can be converted, and pray for the souls in purgatory, who are a part of the Communion of Saints."
Monday, March 20, 2017: (Mary Lincoln Funeral Mass)
Mary said: "My dear family and friends, I am happy that all of my trials are over, and that all of you could come to my funeral. I love my family so much, since you were so much a part of my life. I enjoyed all of my church events, and being close to my Lord and Savior. I thank many of the Holy Name people who I worked with through the years in the choir, cleaning the church, and at Adoration. I will miss all of you, but I am praying for my family and friends."
Sunday, March 19, 2017: (Third Sunday of Lent)
Jesus said: "My people, you have read the account of the Samaritan woman meeting Me at Jacob's well from St. John's Gospel. I talked about the Holy Spirit in the 'Living Water'. A while later I would breathe the Holy Spirit upon My apostles. My apostles went to get food, but I was talking to them about Myself being the Bread of Life in Holy Communion. I share Myself with all of you, as I love all of you as well. You cannot do anything without Me, so you should love Me also. I have asked you to love your neighbors, and even your enemies and persecutors. This is not easy for man, but I will give you the grace to strive for perfection in this loving of enemies. You need to pray for all sinners, including your enemies as well. I am total love, and I want My faithful to imitate My love."
Saturday, March 18, 2017: (St. Cyril of Jerusalem)
Jesus said: "My son, I am giving you a message that a famous figure will die soon, and you are seeing all these flowers on the altar for a funeral. In the Gospel you read about My parable of the 'Prodigal Son', who eventually returned to his father. I have given you this message many times that I am like the father in the parable, that I am waiting for My children to return to Me in Confession. At most every Mass you see everyone get up and come to receive Holy Communion. You know that it is a mortal sin of sacrilege to receive My Eucharist with mortal sin on your soul. Yet, people are embarrassed to remain in their seats, since others would think they are in mortal sin. So they receive Me in Holy Communion, when they should stay in their seats. You know that some people are living together in fornication or other mortal sinful states. So pray for these souls who are receiving Holy Communion unworthily, because they are committing another mortal sin of sacrilege. I love all of My children, but you need to come to frequent Confession, at least once a month, to keep a pure soul. If you are in mortal sin, you need to come to Confession immediately, or you could lose your soul in hell if you die in that state. Keep close to Me with a pure soul, and you will be always prepared to meet Me at your judgment, when you die. Remember the joy of the father on getting his son back in the parable. All of heaven rejoices over even one sinner who repents of his or her sins. You were lost in sin, and now you will be found in My grace with Confession."
(4:30 p.m. Mass) Jesus said: "My people, the Samaritan woman was surprised that I asked her for a drink of water, because Jews do not usually associate with Samaritans. Then I offered her My 'Living Water' of the Holy Spirit, and I told her that if she drank My water, she would not have to return to this well. She did not understand that I was speaking of a spiritual gift, and not physical water. I then told her about her five husbands, and the man she was with who was not her husband. She then asked about the coming Christ, and I told her that I am the Christ. Many of the people of the town came to believe in Me by My words that I preached to them. My son, you also will be needing physical water for the survival of the faithful who will come to your refuge. You have water in your barrels that I will multiply, but you also have water for washing from your sump wells, the rainwater, and you will have a spring that you will be pumping from the ground. You will also have the bread of life in My Eucharistic Hosts from Mass or My angels. You will also share in My 'Living Water' as you will receive the gifts of the Holy Spirit in Adoration. Trust in Me to supply all of your needs for those people who will come to your refuge. Continue making any final preparations for the people to come."
Friday, March 17, 2017: (St. Patrick's Day)
Jesus said: "My people, in the first reading Joseph's brothers wanted to kill him, so they had to choose what to do. They first threw him into a dry cistern, then later they sold Joseph to the Ishmaelites for twenty pieces of silver on their way to Egypt. In the Gospel I spoke a parable about how a king left tenants to provide him the produce from his vineyard. The tenants killed his servants and also killed his son outside the vineyard. I told the Pharisees that their leadership would be given over to a group faithful to Me. But I am the Son of God that they killed outside the city on a cross. I was betrayed like Joseph for thirty pieces of silver by Judas. I am the cornerstone whom the builders rejected. I formed My Catholic Church around St. Peter as the first Pope. My faithful should be grateful, for I brought salvation to all those people who repent and accept Me as Master of their lives. This is everyone's choice in life whether to obey Me for heaven, or reject Me on a path to hell."
Jesus said: "My people, I am showing you the plans of the one world people. In the vision you are seeing the powerful one world people who control the heads of governments, and even your own House of Representatives and Senate people. These powerful people all worship Satan, and they are working with the Antichrist for a world takeover. Your new President is upsetting all the one world plans for taking over America and forming the North American Union. This is why they are attacking your President constantly, because they want to have him removed as President. These Masons will try and block his plans in Congress, and with the controlled judges who are going beyond their authority. Their last resort will be to have him assassinated. I have placed My angel power around your President, which is why these evil ones are being confounded by your President's actions. All the evil forces and liberals are attacking your President. These evil ones are having witches try and put hexes and curses on him. Eventually, the evil ones will have their way for a brief reign. Then I will bring My Comet of Chastisement on the world, and the evil ones will be killed and placed in hell. My faithful remnant will be protected, as I will place them in My Era of Peace. You will celebrate My victory as you will be trained as saints in My Era of Peace."
The truth about the Coronavirus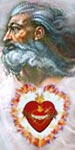 May 1, 2020 - God the Father says: "Today, I invite you to realize that this virus - the coronavirus - is no ordinary disease. It has been created from human ingenuity to specifically target the elderly and physically challenged. This is the plan of future generations to purify the human race around the world. It was released into the general population ahead of schedule - by accident. Those in charge were waiting for less capable government officials in your country (USA) to be in office. Nevertheless, proposed harm is being unleashed on the whole human race."
"I tell you these things to help you to realize the underlying evil at work and hidden in hearts these days. You cannot be confounded by any turn of events. Over all situations, I am in Dominion. No one will be given power over you that is more powerful than your Eternal Father. Therefore, be emboldened with this knowledge. If you persevere in Truth, you have loaded your weapons against what seems to be and discharged them with Truth." (Source: Holy Love)
Help the Lord spread His voice, time is running out
Please help spread these messages of faith, hope, salvation,
defense
against evil (by email, printing, Facebook, Twitter, and other media) to your loved ones, your friends, and all the people you may meet, who seek salvation or who are in danger of being eternally lost. The Lord gives great graces and blessings to those of goodwill who, according to their own possibilities, collaborate with His Plan of Salvation.
Who helps the Lord save a soul predestine his own
, independently from the outcome.