Saturday, May 6, 2017:
Jesus said: "My people, I do not know why your people are not complaining more about all the chemicals your government is spewing all over your people. Since the turn of the century, you have seen chemtrails all over your skies. They are spreading aluminum oxide, polymeric fibers, barium ions, and many viruses in these trails. This is why people are having memory problems, and upper respiratory problems. If you knew the exact relationship of chemtrails to your health problems, more people would be complaining. This is supposed to be a global warming project, but the real reason is to lower your immune systems for making people sick. It is in combination with the HAARP machine that these things are meant to eventually reduce the population. When you read investigations of this, it never gets into your news because these are secret projects controlled by the one world people. Pray that more light uncovers the real reasons behind these detriments to your population."
Jesus said: "My son, when you look around, you can see how you are controlled in many ways. The use of chipped credit cards and your cell phones can already tell your communications people where you are, and where you bought things. Your credit cards can be hidden in aluminum shields, but once you use them, people know where you are. Your cell phones are directly linked to cell towers and satellites. The police have used these devices to track thieves and drug people. Even your social media tells others all about who you are. Your computers can trace where you are as well over your internet. My son, this is why you have avoided cell phones and GPS equipment. Your money and investments are electronically controlled, and someone could wipe out your accounts. Your privacy today is being invaded by your electronic devices. The one world people and the Antichrist can use these things to control even your soul, so do not ever take the mark of the beast, or a computer chip in your body. When you come to My refuges, your devices will not work, so leave them at home. My angels' invisible shield will block signals, smells, and infra-red signatures. So after the six weeks after the Warning, get rid of your TVs, computers, cell phones, and GPS gadgets so you do not look at the Antichrist's eyes. Allow Me to control your lives and souls, and do not let the world control you, or allow addictions to control you. So follow Me and avoid your devices when I call you to My refuges. Trust in Me and I will provide for all of your needs."
Friday, May 5, 2017:
Jesus said: "My people, I told you in past messages how you would see continuous disasters. You first saw a major wind storm with plenty of power outages. Then you had a heavy snow storm, and now you are witnessing unusually heavy rains that are causing floods in several places. Your weather is changing dramatically, as you are seeing one record being broken after another. In the first reading of Mass, you read the account of Saul's conversion to the faith, and his name was changed to Paul. He became one of My strongest missionaries for Christianity. His epistles are read constantly at your Masses. In the Gospel some of My disciples left Me when I told them how they had to eat My Flesh and drink My Blood. This belief in My Real Presence and the transubstantiation of the bread and wine into My Body and Blood, takes faith to believe, because it is a mystery for you to comprehend. Even though there does not seem to be any difference in the appearances of the bread and wine, you still believe the consecrated bread and wine are My Body and My Blood. I am giving you your spiritual food which sustains your soul and your body with My grace. Give praise and thanks to Me for this gift of Myself, that you can have Me as a part of your life in love. Receive Me often in Holy Communion, and you can visit Me in Adoration of My Blessed Sacrament."
Jesus said: "My son, this whirling motion is another sign of the coming Warning, so My people are ready to leave for My refuges at the proper time. It is one thing to be ready, but do not leave until I give you My inner locution to tell you when to leave. Some refuges do not have a source of water on the land. Do not worry, since I will have springs of water come up so you will need a short digging to have water. I have shown you My son, the area where you have a spring of water. Water will be available, but not enough for everyone to have a shower. You will be taking sponge baths for most of your washing. When you have a lot of people in a confined area, you will all have to be patient with each other getting food, water, and at your outhouse. This tribulation will only last a short time, so bear with your crowded conditions."
Thursday, May 4, 2017:
Jesus said: "My people, water is precious because you need a source of fresh water for your survival. In areas where water is plentiful, it is taken for granted. In desert areas it is treated with more respect. In your area you are seeing a 50% increase in your rainfall, and you are seeing flooding problems and lake erosion. In the first reading you read how St. Philip baptized the Ethiopian eunuch in the water, and then St. Philip disappeared. You use water to drink, for cooking, for washing clothes and dishes, and for flushing your toilets. At your refuges water will also be a necessity for many people on limited land. You are fortunate to have a spring on your land for drinking and washing. Your water usage will be limited, so you will need the outhouse with holes that will be dug in the future. This is another reason to get your outhouse roof piece cut and screwed into place. You also need brackets to lift it into a place over the hole in the future. I will multiply your water and your latrine facilities for more people. Trust in Me to multiply your food, clothes, bedding, and even more buildings."
Prayer Group:
Jesus said: "My people, you are seeing cooler temperatures and excessive rains that are causing floods in many of your states. You are seeing more vegetation than normal. When the hot winds of summer come, these green things will dry out, and this brush could be a fuel for more fires. It is difficult for farmers to plant their crops with the excess rain, making it difficult for the tractors to move through the mud. Pray that you will have drier weather with some sun to grow your crops."
Jesus said: "My people, you are seeing a lot of damage from tornadoes and high winds. You also are seeing many rainstorms that are unusual to last so long. Many of your jet streams are carrying storms that appear to be caused by the HAARP machine, because low pressure systems keep going over the same areas one after another. Pray that these severe rains will lessen back to your normal weather."
Jesus said: "My people, it is important that the Health Care mandate is being changed because people were having to pay penalties to avoid paying high premiums. Some people had insurance, but with high premiums and high deductibles, it is becoming unaffordable with no real coverage. People needing more care will have to pay more in premiums, even with some subsidies. Your current Health Plan was failing as exchanges were closing. This is a difficult problem to satisfy everyone. It remains to be seen what will happen in the Senate. Pray for a solution with lower premiums and lower deductibles than the current Obamacare."
Jesus said: "My people, some people have had to go to shelters for their needs, when their homes were flooded. You may be asked to help fund these families until flooded places could be restored to normal. You can pray for these families, and contribute to your local food shelves who are providing food for these needy families. Many areas will require Federal funds for any flood control with sandbags. Where possible, you may share your homes with these victims."
Jesus said: "My people, there appears to be little or no compromise between your two political parties. Each party does not want to give in to the other party, because their differences are so far apart. This gridlock in your Congress could stifle any progress to move your country forward. Eventually, some compromise will be needed to get any needed legislation passed. Continue to pray for your leaders to settle their differences for the sake of your people's welfare."
Jesus said: "My people, some of your people have difficulty running their businesses because they have regulations that force them to do things against their faith. It is hard when some businesses do not want to sell abortion pills, or hormone pills to stop conception because this goes against their faith. Such pills could be purchased elsewhere. These cases are coming to your Supreme Court, now that it has nine justices. Pray for a fair ruling so people are not restrained in their beliefs."
Jesus said: "My people, My Resurrection is a focal point of your faith because I died for your sins, and My faithful will all be resurrected as well on judgment day. All of the people who believe in Me and love Me by repenting of their sins and following My Will, will receive their reward in heaven. This is your goal to be with Me forever in My peace and love. I want My prayer warriors to reach out to convert all souls who are wandering in the darkness of their sins. Those people, who ignore Me or reject Me for following their own ways, are on the path to hell. Wake these souls up before it is too late, and they could be lost."
Wednesday, May 3, 2017: (St. Philip & St. James)
Jesus said: "My people, you have been witnessing many missile launches and underground nuclear bomb tests coming from North Korea. It is just a matter of time until they have the capability of launching an ICBM with a nuclear bomb toward America. You are seeing in this vision where North Korea could send a missile toward the United States. This could definitely send your country into war against North Korea, possibly with nuclear weapons because of their large army. My people need to pray that such a war does not happen, or millions of people could be killed in a war that could lead up to World War III."
Jesus said: "My son, you were anxious to get out in your local park to take some pictures of the flowers, trees, and the animals. Spring flowers are so beautiful, and you enjoy experiencing My creation by taking your pictures. You have been away for a week, and you had many cloudy days. Today, was a beautiful, sunny day to take in all the beauties of My creation. You were a little late for some of the flowers and flowering trees, but you still had nice pictures of the lilacs and other flowers. Every part of your spring puts forth different varieties of flowers at various times. Rejoice every year when you have an opportunity to witness My paintbrush of colors among your spring flowers."
Source: John Leary
Fr. Michel Rodrigue explaines The Events of the End Times
Do you want a quick overview of the end times? Then read "The great events of purification will begin this fall". If you want all the details of the unfolding events, then go to "Virtual Spiritual Retreat with Fr. Michel Rodrigue about the End Times".
The Pope's approval of homosexuality
Beware of the 'New World Order'
The Rosary is the weapon of these times
The truth about the Coronavirus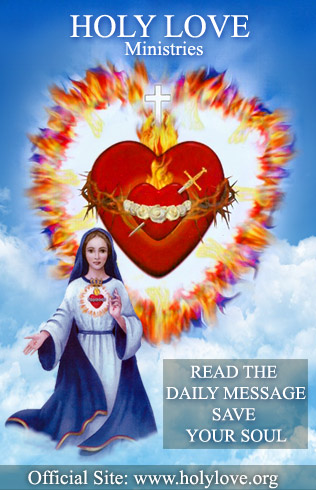 Read the daily messages
Catholics, we have entered the Pre-Tribulation, observe the Commandments, go to Confession; receive the Holy Eucharist; pray at least 3 Rosaries a day to keep your faith and save your loved ones. Prepare for the events that will devastate our planet: plagues, famine, WW3, cataclysms, antichrist's World Order