Tuesday, April 4, 2017: (St. Isidore)
Jesus said: "My people, in the first reading from Exodus, the Israelites were not happy with the manna they had in the desert, and they even called it 'wretched food'. As a punishment I sent seraph serpents that killed some of the people. The people complained to Moses of their sin, and he fashioned a bronze serpent on a pole, and told the people, whoever looks on it, will be healed of their snakebite. There are two messages for My faithful who will be protected by My angels at My refuges. Do not complain about the food that you will have, because I will be sending you daily Holy Communion from a priest or My angels. You will have My very Self in this manna of the tribulation. My refuge builders will have other food as well in cans, MREs, or dehydrated food. The second gift will be that you will have either a luminous cross in the sky or healing spring water. When you look on My luminous cross or drink the spring water, you will be healed of all of your ailments, so you will not need any pills or doctors. My angels will make your refuges invisible to your enemies, and people without crosses on their foreheads cannot enter or harm you. Be thankful for how I will protect and feed My faithful at My refuges, during the tribulation of the Antichrist."
Monday, April 3, 2017:
Jesus said: "My people, you have seen many cases where people have been falsely accused of a crime that they did not commit. It is even more of an injustice for those evil people who purposely frame people to hide their own crimes. You are seeing more fake news accusations in your current politics, which is another form of harassment. In the Book of Daniel you saw how Daniel confronted the two lustful judges, and he had them put to death as they tried to put Susanna to death for not sleeping with them. They were convicted of their own perjury when they answered falsely to Daniel's questions. In the Gospel, people wanted to stone an adulterer to death. I wrote the crimes of those people in the dirt, and I told them to only cast a stone if they had no sin themselves. I did not condemn the woman, but I told her to avoid the sin she committed, and sin no more. There are many people who are committing fornication, adultery, homosexual acts, masturbation, or using birth control devices, which are all mortal sins. These sins need to be confessed in Confession before receiving Holy Communion. So do not accuse other people of sins, because you are all sinners. I am the only judge of people."
Jesus said: "My people, you are seeing in the vision how a man was desperate to get down from a tall skyscraper, and he was half way down. The building was on fire from a major terrorist attack, and it was difficult to come down the elevator. Many people were in danger of being killed in this event. The whole vision seemed very real, and you could feel the tension in the people trying to escape this building. These types of incidents are hard to prepare for, so pray for the souls of the victims in such terrorist attacks. You will be seeing more terrorist attacks that could lead your country into another war."
Sunday, April 2, 2017:
Jesus said: "My people, you are all so happy to be alive to experience your warm sunny day after so many cloudy, rainy days. In the Gospel I was weeping over the death of My friend, Lazarus. Mary and Martha were sad that I did not come sooner to heal Lazarus, their brother. I asked Martha if she believed that I could raise Lazarus from the dead. Then I said: 'I am the Resurrection and the Life; he who believes in Me, even if he die, shall live; and whoever lives and believes in Me, shall never die.' (John 11:25,26) I later had the people roll back the stone from the tomb, and I called: 'Lazarus come forth!' Lazarus was renewed by the Spirit, and he was unwrapped from his burial clothes and alive. This raising someone from the dead is an example of how at the judgment, all of My faithful will be raised up in their glorified bodies. You are My Easter people, so rejoice that you will be raised up in the Spirit one day, and never to die again."
Saturday, April 1, 2017:
Jesus said: "My son, in this vision you are seeing a new three stage ballistic missile being set up for a launch. This new development would give North Korea the ability to send a nuclear missile to hit America. This also could be used to cause an EMP (electromagnetic pulse) attack that could shut down your electronic devices for years. Such a launch would cause a great threat that could even precipitate a pre-emptive strike on such facilities. As more countries acquire nuclear weapons and the long range missiles to hit America, you will have your electric grid in even more danger of being destroyed. Your country's viability depends on electricity for your electronic devices. This could be another reason to add more protection to your grid. Pray for your country's protection from such harm."
Jesus said: "My people, you are finally seeing a little sun after days of clouds and heavy rains. You can see a long stem flower in your vision, and even some flowers are breaking through the surface in your own backyard. After a long winter snow, it is good to see the green grass and buds dropping off the trees. You are still enduring the fasting and your penances for a few more weeks of Lent. You see that you can get by on less eating, but it still takes work at night to avoid snacks. You can also see that it is possible to control your free will, if you are adamant about doing it. This is the lesson of your Lenten devotions, that you can change your lifestyle. Call on Me in your prayers to help you follow My ways, instead of falling weak to your body's desires."
Source: John Leary
The truth about the Coronavirus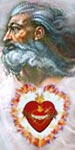 May 1, 2020 - God the Father says: "Today, I invite you to realize that this virus - the coronavirus - is no ordinary disease. It has been created from human ingenuity to specifically target the elderly and physically challenged. This is the plan of future generations to purify the human race around the world. It was released into the general population ahead of schedule - by accident. Those in charge were waiting for less capable government officials in your country (USA) to be in office. Nevertheless, proposed harm is being unleashed on the whole human race."
"I tell you these things to help you to realize the underlying evil at work and hidden in hearts these days. You cannot be confounded by any turn of events. Over all situations, I am in Dominion. No one will be given power over you that is more powerful than your Eternal Father. Therefore, be emboldened with this knowledge. If you persevere in Truth, you have loaded your weapons against what seems to be and discharged them with Truth." (Source: Holy Love)
Help the Lord spread His voice, time is running out
Please help spread these messages of faith, hope, salvation,
defense
against evil (by email, printing, Facebook, Twitter, and other media) to your loved ones, your friends, and all the people you may meet, who seek salvation or who are in danger of being eternally lost. The Lord gives great graces and blessings to those of goodwill who, according to their own possibilities, collaborate with His Plan of Salvation.
Who helps the Lord save a soul predestine his own
, independently from the outcome.