Monday, March 27, 2017:
Jesus said: "My people, in the first reading from Isaiah, you are seeing a description of the Era of Peace. At the end of the tribulation of the reign of the Antichrist, I will bring My victory over all the evil ones, and they will all be cast into hell. My faithful will be protected, and I will renew the earth, as in the Garden of Eden. I will then bring My faithful back down to the new earth, and they will live a long time. This is why it is said that he who dies after only a hundred years, will be considered a youth in My Era of Peace. Then My faithful will be trained to be saints, and one day they will be able to climb the stairs in the vision up to heaven. This will be like the people climbing Jacob's ladder to heaven. Once you come to your prepared level of heaven, you will enter the house of your mansion in heaven. I love all of My faithful, and one day you will be with Me in Paradise, just like I promised the good thief on the cross."
Jesus said: "My son, I want you to tell My people to get to Confession so they can have a pure soul for what is about to happen. It is true that I will be bringing about a supernatural intervention for all souls on the earth at the same time. Everyone will see their souls as I see them. You know this experience as the Warning, and I have shown you a little of what that experience will be like. You will come outside of your body and outside of time, and you will be drawn to My Light, and you will see My face. I will show all of you your individual life reviews of all of your actions from your conception until the moment of this experience. Your focus will be on your unforgiven sins and sins of omission. At the end of your life review, you will have My mini-judgment of where your life has taken you. You will see heaven, hell, or purgatory, and you will experience your place of judgment. I am giving all of you this chance to prepare your souls by Confession, so you can avoid any experience of seeing yourself in hell. After this Warning, you will have six weeks of time to convert your lives to be faithful to Me. If you are faithful to Me, My angels will mark a cross on your forehead, so you will be able to come into My refuges during the tribulation. You will receive a just judgment, so keep your soul pure for when I will bring you in front of Me. I love all of My people, and I will give every sinner one last chance to be saved from eternity in hell. Love Me and accept Me as your Master, and you will receive your reward in heaven. Repent of your sins, and I will save you."
Sunday, March 26, 2017:
Jesus said: "My people, the eyes are the light to the soul. If a soul is loving and faithful, that soul will be gleaming and joyous to be united with My love. If a soul is in mortal sin, there will be darkness in that soul, and no light will come forth. When you see the eyes of the demons, you want to shy away from the ugliness of hate and burned embers. Call on your guardian angel and My angels if you are attacked by the demons. When a faithful soul goes out into the world, you are sharing My Light and My love with all the people who you meet. Use this Light and love to convert sinners into My faithful fold. When you are in My Light, you need to share My Word and love with everyone. People will see My love in your eyes, and they will desire to be like you, with My love in their heart and soul. The more you share My Light, the less darkness of evil there will be in the world."
Saturday, March 25, 2017: (Annunciation of the Blessed Mother)
Our Blessed Mother said: "My dear son and daughter, your wife discovered that Fr. Michel did not have a statue of myself in his place, so she offered one of your statues to him. Fr. Michel was happy to receive this gift, and you both are generous to give this statue. You are celebrating my feast of my Annunciation when I gave my 'fiat' to St. Gabriel. I was blessed by Jesus to be sinless, even without original sin. Only my Son and I are sinless, but my children are all weak in their sins because of Adam's sin. Both my Son and I are your models for you to imitate. You can strive to be holy by your prayers, and frequent Confession. You are called to follow my Son's Divine Will in the intentions of your actions. It is your striving for perfection that is your goal. You can pick yourself up from your sins by coming to the priest who acts in place of my Son to forgive your sins. We need your prayers to make reparation for the sins of the world, so continue to be faithful to my rosaries every day. My Son's graces are being sent over all of my children so you can share the faith of My Son with those people who need conversion."
(4:00 p.m. Mass) Jesus said: "My people, in today's Gospel I was called to heal a blind man from birth, when I used some spital and clay to rub on his eyes. Once he washed his eyes in the Pool of Siloam, he could see. This disturbed the Pharisees because I healed him on the Sabbath. This account of My healing of the blind man is more than just a physical healing, but it is also a spiritual healing of blindness in the soul. How I wish to wake up all souls who are spiritually blind, or spiritually asleep in their faith. I need souls to open the door to their souls so I can let My Light of grace shine into their hearts, and wake them up to My love. Once My souls are strong in their faith, then I can use them to evangelize souls, and shine their light on other souls to wake them up. The evil one has put blindness over many souls, but I want to heal and forgive sinners who open their hearts to My love. It is a free will choice to be open to My love, so listen to My call of the Gospel to come and follow My Will as your Master. I love all of you, and I desire to bring as many souls to heaven who accept Me and give praise to Me in Adoration. So do not remain in your sin and spiritual blindness, but be healed and see Me as I am in love."
Source: John Leary
Fr. Michel Rodrigue explaines The Events of the End Times
Do you want a quick overview of the end times? Then read "The great events of purification will begin this fall". If you want all the details of the unfolding events, then go to "Virtual Spiritual Retreat with Fr. Michel Rodrigue about the End Times".
Messages of Holy Love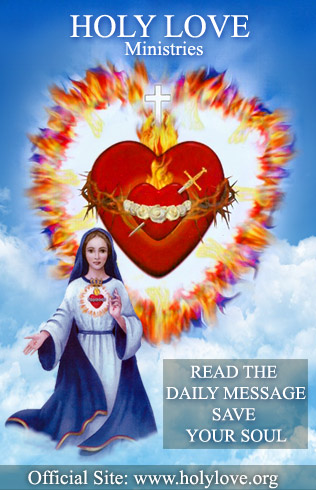 Read the daily messages
Catholics, we have entered the Pre-Tribulation, observe the Commandments, go to Confession; receive the Holy Eucharist; pray at least 3 Rosaries a day to keep your faith and save your loved ones. Prepare for the events that will devastate our planet: plagues, famine, WW3, cataclysms, antichrist's World Order