15 January 2017: Message to the seer Lily of the Holy Face of Jesus (Giglio del Santo Volto)
Jesus: Entire Nations will be shaken. Costa Rica, Chile, Italy to suffer God's Wrath
Down I went to the roots of the mountains; the bars of the nether world were closing behind me forever, But you brought my life up from the pit, O LORD, my God
(Jonah 2:7)
Before the sun is darkened. and the light, and the moon, and the stars, while the clouds return after the rain;
(Ecclesiastes 12:2)
My children, the Father and I want you to know, that when the fate of a country, of a nation, is designated, it's all based on the human behavior that offends the Fatherhood and the Love of God, but the fact remains that if men decide to repress hate and return to the Path that leads to the Celestial Kingdom, the Father can recede from the judgment issued in their disfavor.
He is always vigilant about the human behavior because He loves you a Love beyond measure and bears, suffer, for the distance of the creatures from His Immense and Generous Heart.
What parent would not suffer in similar circumstances?
The doubt, the despair, the gravity of the significance of the world events already in progress; tell Me, do they not wake you up from the sleep of the bad daily life?
How can you fail to understand the global upheaval in which you live?
Submerged lands, continents that no longer have the proper climate, earthquakes of magnitude higher than normal… is there anything else to mention?
Tell me, my dear ones; do you not see the bricks of the Church fall one after another?
Should you accept, you who are Mine, the slanders freely aimed to the One Who sacrificed Himself to save you all from the clutches of sin and from the death of the soul?
What else my father must allow to happen to wake you up and make you understand?
Who and what are you chasing, if not but the unhappiness and a fate that does not give any hope to survive eternally!
Entire Nations will still be shaken.
A multitude of children will weep in New Zealand.
Finland will collapse under a huge burden; its economic resources will suffer gravely.
Costa Rica, Chile and Italy will suffer the consequences of God's Wrath.
They have much to implore God's Mercy.
Italy, you that were the jewel so loved by My Heart, are collapsing under the weight that you by yourself  have loaded upon you.
Rome, how much longer will you play games with your God by following false idols?
The rot of your heart, you will see it leaking and you will be swallowed up by it.
Decide to change course.
The extra time granted you is running out.
You will tremble and surrounding areas will follow you.
Rome, dress yourself again of light and welcome the Savior, do not wait until the chastisement or you will not be able to stand up by yourself.
Accept my appeal and the appeals that my Beloved Mother never stops to still give to the world.
Many are the voices that are suffocated at this moment, accused of not proclaiming the Truth.
Cease to issue judgments and start doing what you are being asked.
Love, love and ask for Mercy.
Your task is to save yourselves and all humanity.
Collaborate and do not judge because this conforms to the Law of God, it can only come from Himself.
Your Jesus, the Most High and Eternal High Priest. "
As the heavens in height, and the earth in depth, the heart of kings is unfathomable.
(Pro 25:3)
Thus says the LORD: When the juice is pressed from grapes, men say, "Do not discard them, for there is still good in them"; Thus will I do with my servants: I will not discard them all.
(Isaiah 65:8)
Know this first of all, that there is no prophecy of scripture that is a matter of personal interpretation,
(2Peter 1:20)
Source: Lily of the Holy Face of Jesus
The truth about the Coronavirus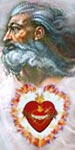 May 1, 2020 - God the Father says: "Today, I invite you to realize that this virus - the coronavirus - is no ordinary disease. It has been created from human ingenuity to specifically target the elderly and physically challenged. This is the plan of future generations to purify the human race around the world. It was released into the general population ahead of schedule - by accident. Those in charge were waiting for less capable government officials in your country (USA) to be in office. Nevertheless, proposed harm is being unleashed on the whole human race."
"I tell you these things to help you to realize the underlying evil at work and hidden in hearts these days. You cannot be confounded by any turn of events. Over all situations, I am in Dominion. No one will be given power over you that is more powerful than your Eternal Father. Therefore, be emboldened with this knowledge. If you persevere in Truth, you have loaded your weapons against what seems to be and discharged them with Truth." (Source: Holy Love)
Help the Lord spread His voice, time is running out
Please help spread these messages of faith, hope, salvation,
defense
against evil (by email, printing, Facebook, Twitter, and other media) to your loved ones, your friends, and all the people you may meet, who seek salvation or who are in danger of being eternally lost. The Lord gives great graces and blessings to those of goodwill who, according to their own possibilities, collaborate with His Plan of Salvation.
Who helps the Lord save a soul predestine his own
, independently from the outcome.