May 1, 2007 – Jesus of Nazareth
The Rock, Shrine of Our Lady of the Island, Eastport, New York at 2:00pm
"My son,
"Today I am going to take you on a journey through time. I want to bring you back to the period of time when I walked the face of the Earth with my apostles and disciples, followed by the early brethren of the Church, brave souls, both brothers and sisters, who chose to turn away from the conformity of the times and to walk with Me as the Redeemer of all mankind. These were adventurous and wonderful times during the formative years of my mission among you because the faithful showed great courage and spirit in following the Chosen One. They did so without any concern for their earthly pursuits or their material possessions because in my Presence they saw that the Father in Heaven was answering their call that had been foretold to them through Scripture that the Son of the Father would come into the world and redeem the world of its sins.
In the beginning of my journey with the brethren, it was difficult for Me to convince the followers of who I AM but as the miracles that I performed became more real to them and as the healings in spirit and body that I performed defied all previous knowledge of healing, the followers became more convinced that I indeed was the Chosen One that the Father had chosen to incarnate as the Son and Redeemer of the world.
In the earliest days of my ministry among you, I emphasized to the apostles and disciples that it was my plan to have them continue in my footsteps when I returned to the Father. They did not know as I did that my days with them would be, oh, so short, and that I would leave them in body, but not in spirit, before my life would have run its natural course, if I had not been crucified to fulfill the covenant as provided by the Father.
It is important for you today in these times to recognize that my instructions to the apostles and disciples through Peter, Simon, whom I chose to lead my Church into the future, these instructions were intended for all the priests who were to follow in the succession of the Church that I had established as desired by the Father.
During my ministry on Earth, my instructions to the apostles and disciples called upon them to continue the good works that I had performed to cast out demons and evil spirits, to heal the injured and the sick, and to pay closer attention in this regard to the poor, the fallen away sinners, and the weak and homeless.
So much of the poverty of the spirit that exists among many of you, my brothers and sisters, is caused by the darkness of the evil one who is bent on destroying the plans of the Father. Know now that the evil one will never succeed in his plans to destroy humanity because of the Father in Heaven, and I, as His Chosen Son and Redeemer, and through the power of the Holy Spirit. The Divine plan of the Father will be realized through the course of time despite the attempts of the evil one and his minions to destroy you.
It is important that all sons and daughters who continue to follow me in these times realize that my instructions to you today are the same as they were to your predecessors who walked with Me in those times. You are to heal the sick and injured, and to cast out the demons. The conditions of today in this regard and in regards to my instructions are the same today as they were then. The power of the Holy Spirit works among you and within you to accomplish great things for the benefit of humanity. The early followers recognized that they were given the gifts by Me and with the blessings of the Father to heal and cure and to cast out demons, but, alas, in the world of today my followers themselves are not responding to the calling to recognize that there is great power in prayer and a prayerful life for those who follow me with a fervor and love that is required of all of you, if you want to gain access to the kingdom of Heaven.
Why is it in these times that you place less importance on your spiritual life and your prayer life and more time on the material things of the world? Do you not realize that this existence is temporary and most fleeting in context of the time that you will spend in eternity? This does not mean that you should view your prayer life here on earth with less importance than your eternal life for your journey here is very important in the eyes of the Father who has chosen all of you to be co-providers in the redemption of humanity from the sins of the world.
Recognize that all of humanity was chosen by the Father to participate in the eternal kingdom but only a few of you are answering His call and your own mission to change the world for the better. The mission that the Father expects of you is very simple. Please, do not complicate it with distractions. Live a prayerful life; perform good works; recognize the presence of the Holy Spirit within you every moment and hour of the day. Be prayerful with your children for you are living in a time when the children are being stripped of their innocence and their youth by darkness, and they do not even know of the love of the Father for them, nor of my love for them.
At this very moment, my son, I am going to take you to task, and likewise, for each and every one of your brothers and sisters who hear My words through these messages. At this very moment, I ask each of you to pause for a moment of silent reflection and allow me to enter into your souls and provide you with a spark to re-ignite the flame from the spark that already exists within you. If you allow yourself to turn your thoughts over to me at this very moment, I will come to you through your spirit and re-ignite the Divine spark, the eternal flame that resides within your very soul. I ask each and every one of my brothers and sisters to spend a period of time each day in silent and prayerful meditation. Choose a particular time of the day to prepare yourself for My Presence and during this time I will come to you and make you worthy to be welcomed into the kingdom of Heaven.
I must have your cooperation in this regard. You have been given the gift of free will. Please choose to use this will for a closer relationship with Me, and, therefore, with the Divine Father. How simple it will be for you if you take this time each and every day to visit with me. The path to eternity can be a burden for those of you who choose to follow a different path and it can be a path of excitement, joy, and wonderment, if you give yourself to me each and every day for a period of time so that I can fill you with the Spirit of the Father, Son, and Holy Spirit, the triune power that will provide you with the blessings and graces to perform great things in your life for yourself as well as for your brothers and sisters.
I am closer to all of humanity today than I have been at any other period of time, since I walked the face of the Earth, because of these special times that are now happening throughout the world. These are times that are filled with both the goodness of mankind and the worst of mankind as you are well aware from all the death and destruction, sickness and disease, hopelessness and poverty. But, alas, think about the power that you have within you; a power to change the world for the better through your own powerful prayers and your good works and intentions. This power to make changes for the better is available to all of you through prayer and meditation to those of you who call upon me as your Lord and Saviour.
Now that you have the secret that has been available to all mankind since the beginning of time that has been renewed by Me through my life, death, and resurrection, you now have the secret that will provide you with eternal glory when you return home to the heavenly kingdom. Your journey here is short; it will end for each and every one of you in the blinking of an eye. For a period of time that is so short, do you not wish to please Me and the Father in Heaven, my Mother, and all the angels and the saints? Do you not wish to be part of the plans that all of us share in reaching out to humanity? I do not think you have chosen this course.
So I ask you today to take the time to be with Me in quietness and solitude and to take this time with Me each and every day for the rest of your lives. If you do this for Me, you will be doing this for yourself because you will be led to a more prayerful and faithful existence. You will live without fear or depression or remorse. You will recognize that above and beyond the darkness of this world that paradise awaits.
Will you join with Me today and answer this calling?
Bless all of you, my sons and daughters.
Jesus of Nazareth"
End: 2:49pm
Ned Dougherty's Near-Death Experience and His Visions of the Future
In his mid-thirties, Ned Dougherty (an Irish name, pronounced "Dock-erty") had everything: money, women, property, prestige, and power. He was a real estate broker for twenty-six years owning popular nightclubs in Palm Beach, Florida, and the Hampton's, Long Island's exclusive playground for the rich and famous. He lived in the fast lane every hour of the day, pursuing every pleasure money could buy. Despite his religious upbringing as a Roman Catholic, he had no interest in a spiritual life because he didn't believe in an afterlife.
He was too busy searching for a good time to be bothered with such things. This all changed on July 2, 1984 when he had a near-death experience (NDE) resulting from a heart attack after a heated – almost murderous – fist fight with a business associate.
Dougherty's NDE caused him to undergo a radical life transformation in which he gave up his nightclub business and party lifestyle and embraced his hitherto neglected Catholic religion. His NDE gave him a conscious awareness of his mission in life which was to embark upon charitable and missionary work. During his NDE, a wonderful "Lady of Light" (whom he identified as the Virgin Mary) revealed to him future global catastrophes many of which have already occurred which you will read in this article.
Today, Dougherty is a featured speaker, a former director and media spokesperson for the International Association for Near-Death Studies (www.iands.org). He also founded a spiritual center as revealed in his NDE called the Mission of Angels Foundation (www.fastlanetoheaven.com) through which he speaks on life-after-death issues, NDEs, Marian apparitions, and other spiritual matters.
He also hosts End Times Daily (www.endtimesdaily.com) – a Catholic news site focusing on eschatology – where he publishes interior locutions he has been receiving on a monthly basis since 2005.
Book: Fast Lane to Heaven: Celestial Encounters that Changed My Life
Published in March of 2001. This book documents his amazing NDE and visions of Earth's future.
Ned Dougherty's End of Days Website:
Fr. Michel Rodrigue explaines The Events of the End Times
Do you want a quick overview of the end times? Then read "The great events of purification will begin this fall". If you want all the details of the unfolding events, then go to "Virtual Spiritual Retreat with Fr. Michel Rodrigue about the End Times".
Messages of Holy Love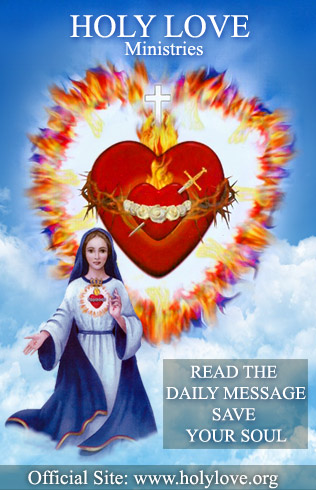 Read the daily messages
Catholics, we have entered the Pre-Tribulation, observe the Commandments, go to Confession; receive the Holy Eucharist; pray at least 3 Rosaries a day to keep your faith and save your loved ones. Prepare for the events that will devastate our planet: plagues, famine, WW3, cataclysms, antichrist's World Order