MESSAGE FROM OUR LORD JESUS CHRIST
TO HIS BELOVED DAUGHTER LUZ DE MARIA GIVEN IN COSTA RICA
OCTOBER 12, 2017
Italy and Spain are shaken. Italy suffers the fire of its volcanoes
"Beloved People:
OUR BLESSING REMAINS WITH YOU AT ALL INSTANTS.
I do not bless some children and not others, I bless all Humanity and everyone decides whether to accept My Blessing or reject it.
My Mother, as Mother of all Humanity, blesses and intercedes for everyone, whether they love Her or not. Only the human will can reject the Blessing of My Mother upon each one of you.
You are aware of this instant, but you do not wish to acknowledge that you are in "the pains of childbirth" (Rom 8:22) of this generation that goes against everything that comes from Our House.
MY PEOPLE ARE IN GREAT CONFUSION, BECAUSE OF WHICH I COME AS CHRIST, KING OF THE UNIVERSE, TO CALL YOU TO FULFILL THE COMMANDMENTS, THE SACRAMENTS, TO BE CREATURES WHO GIVE GOODNESS, TO FULFILL THE LAW OF LOVE AND BE TESTIMONIES OF MY WORK AND ACTION.
I love you and I know that some, overcome by confusion and having stayed away from Me, will be prey to evil and will turn away from Me out of fear. That is why you must remain vigilant and not accept what goes against the Law of God. From My Side was born My Church and the Sacraments: do not despise them.
COME AND RECEIVE ME IN THE EUCHARIST, BREAD OF LIFE WHERE I GIVE MYSELF AS FOOD AND DWELLING PLACE.
These are not instants for hesitation: I need My People to be constantly practising My Truth. Evil has taken over so many of My children, who are becoming indifferent to Me, supporting diabolical initiatives instigated against human life and morals. My children cling to what is sinful and worldly when they follow their brothers in shouting "no to life" and giving their consent to immorality.
Evil does not rest, it is carrying out its final preparations for welcoming the antichrist, it has taken hold of My People and My People accept the insinuations of evil, erring and going against the Commands of My Father's House, and with misused freedom they have drawn towards themselves all the misfortunes that you are suffering at this instant and will suffer.
I see My People … My Angels see My People and weep at seeing such rebellion and more than this, the consequences that you will suffer within each of you as My children.
THE SOUL, CHILDREN, THE SOUL IN SIN DISSOCIATES MEMORY, UNDERSTANDING AND WILL FROM ITSELF, AND THUS THE CREATURE IS MORE UNITED TO EVIL AND BECOMES DISPERSED IN WHAT IS NOT OF ME.
Because memory does not accept good, but evil, understanding penetrates the darkness and the will devotes itself to living and feeding off what is sinful. But you do not want to understand this, My children … How much damage you are doing to yourselves by accepting sin!
My People do not want to acknowledge that they are living in sin, they do not want to recognize sin in its forms and therefore they are constantly incurring it. Thus they accept what is contrary to the Truth and instant by instant they consume high doses of error against Our Divine Will and against the Salvation of man's soul.
This generation is groaning and will groan the unwanted 'woe, woe, woe' of lamentation, of alienation from Our Will and the denial of Our Divinity, which is above all!
This generation is surrendering to the "… second death" (Rev 21: 8); it is far from the good and given over to evil.
This generation surrenders to evil very easily and accepts errors of all kinds without thinking, since it makes it impossible for itself to think. You accept errors and follow them, you change the Commandments and you unhesitatingly distort what is found in Sacred Scripture.
GREAT ERRORS ARE BEING OFFERED TO MY PEOPLE AND MY PEOPLE CELEBRATE THEM. YOU THROW AWAY THE EXPLANATION OF MY WORD IN THESE CALLS OF LOVE BECAUSE YOU PREFER TO WELCOME EVERYTHING CONTRARY TO SACRIFICE, TO SELF-GIVING, TO DEVOTION, TO THE NARROW WAY.
O MAN, HOW YOU WILL SUFFER WITHOUT OUR TRINITY UTTERING A WORD!
My People, how much fire will burn upon you, how much the earth will shake so much, to the point that it will seem like hours to you, how much fear at the arrival of an asteroid that will appear without warning, how water will lash you!
MAN WILL SCOURGE HIMSELF AND CONTAMINATE THE EARTH, THEN I WILL INTERVENE AS THE SECOND PERSON OF THE MOST HOLY TRINITY, IN UNION WITH MY MOTHER AND YOUR TRAVELING COMPANIONS. OTHERWISE, WHAT WOULD BECOME OF MY PEOPLE, OF THE HOLY REMNANT, OF THOSE WHO THROUGH MARTYRDOM – NOT ONLY PHYSICAL BUT SPIRITUAL – WILL CONTINUE BEING FAITHFUL AND FULFILLING OUR WILL?
You have abhorred the Word coming out of Our Mouth…
The abomination has taken hold of Our children…
My Mystical Body is contaminated, poisoned with what is improper, and the word is not true …
Licentiousness is a matter of the first order…
Shamelessness nauseates Me; a few react and these few manage to be reparation, atonement and love.
I DO NOT REJECT THE REPENTANT SINNER, I FORGIVE THE SINNER WHO HAS REPENTED AND AMENDED THEIR ERRORS.
The devil is cunning, he dresses himself with truth in order to confuse you and bring you into his nets. Once in his nets, My People are sedated with inordinate sin and chained to sin so that they become accustomed to it.
How much My Mother suffers from men's lack of love towards Our August Trinity!
IN THE HEAVENS THE GLORY OF OUR TRINITY IS SUNG… AND ON EARTH MAN GIVES HIMSELF OVER TO THE DEVIL…
Repent, repent, children! It is not too late for a person who wants to save their soul.
Pray children, pray for Chile, it suffers at the shaking of its soil, water enters and causes havoc.
Pray children, pray, the United States continues to be scourged by Nature with great force. Its government will suffer.
Pray children, pray, Italy and Spain are shaken. Italy suffers the fire of its volcanoes.
Pray children, pray for Mexico, its suffering is not finished, the earth shakes and some of its volcanoes become active, causing devastation.
Pray, Central America, make reparation and pray!
The ground that did not shake will be shaken, the earth makes itself felt.
BELOVED CHILDREN, "COME TO ME, YOU WHO ARE WEARY…" (Mt 11: 28), COME THAT YOU MIGHT FIND CONSOLATION.
RECEIVE THE BLESSING OF OUR TRINITY.
Your Jesus."
HAIL MARY MOST PURE, CONCEIVED WITHOUT SIN
HAIL MARY MOST PURE, CONCEIVED WITHOUT SIN
HAIL MARY MOST PURE, CONCEIVED WITHOUT SIN
Source: Revelaciones Marianas
Urgent call of Jesus the Eternal High Priest
August 9th 2020 from 12:00 am to 6:00 pm - Worldwide day of fasting and of prayer to the Heavenly Father for the protection of Catholic Temples, Shrines and Holy Places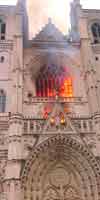 "I make an urgent call to the whole Catholic world for a day of fasting and of prayer to be held worldwide on August 9th with the prayer of the Rosary of my Most Precious Blood and with the prayer of the Exorcism of St. Michael, from 12:00 am to 6:00 pm, asking the Heavenly Father for the protection of my Temples, Shrines and Holy Places, which are being destroyed and desecrated by the forces of evil of this world. I'm counting on you, my Flock." —Jesus the Eternal High Priest
The truth about the Coronavirus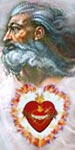 May 1, 2020 - God the Father says: "Today, I invite you to realize that this virus - the coronavirus - is no ordinary disease. It has been created from human ingenuity to specifically target the elderly and physically challenged. This is the plan of future generations to purify the human race around the world. It was released into the general population ahead of schedule - by accident. Those in charge were waiting for less capable government officials in your country (USA) to be in office. Nevertheless, proposed harm is being unleashed on the whole human race."
"I tell you these things to help you to realize the underlying evil at work and hidden in hearts these days. You cannot be confounded by any turn of events. Over all situations, I am in Dominion. No one will be given power over you that is more powerful than your Eternal Father. Therefore, be emboldened with this knowledge. If you persevere in Truth, you have loaded your weapons against what seems to be and discharged them with Truth." (Source: Holy Love)
Help the Lord spread His voice, time is running out
Please help spread these messages of faith, hope, salvation,
defense
against evil (by email, printing, Facebook, Twitter, and other media) to your loved ones, your friends, and all the people you may meet, who seek salvation or who are in danger of being eternally lost. The Lord gives great graces and blessings to those of goodwill who, according to their own possibilities, collaborate with His Plan of Salvation.
Who helps the Lord save a soul predestine his own
, independently from the outcome.