August 18 2016
Urgent appeal of God the Father to humanity and to the kings of this world
 Inhabitants of the Earth stop destroying My creation
"My peace be with you, men of good will.
The warming of my earth will intensify, up to reaching limits that will make many regions of the planet unlivable.  Seek the high places to live, because life in the cities is going to be very hot, especially in coastal regions or in those where rivers cross.
The climate has changed by the hand of man, and through its transformation and the sun is already no longer the same. Its rays are entering more directly earth; its constant eruptions are causing coronal mass ejections that weaken the earth magnetic field, producing global warming.  Deforestation and environmental pollution are destroying the barrier of defense of My earth.
  My creation is crying out for justice and if you do not stop polluting and deforesting it, very soon all elements of nature will revert against you. Pollution and deforestation, together with the evolution of the sun, will bring drought and famine to the inhabitants of the Earth.
Oh, inhabitants of the Earth, if you continue to pollute my creation, soon you are going to have no water! Water is life and you are wasting it. You are not making good use of natural resources. If you continue wasting water and deforesting watersheds, very soon you will die of hunger and thirst.
One more time I tell you: All those who violate My creation shall be a prisoner of guilt; if they do not make reparation for the damage that they are doing to it, My Divine Justice will charge them for their injustice when they reach eternity.
My creation is a living organism, feeling and resenting your abuse and mistreatment. I have given you a paradise called earth, which has life, so that you may live in harmony with it and other creatures.  But this is not happening; man with his technology of death is making it bleeding; he is destroying natural resources and destroying sources of water that are the blood of my creation.
I will not allow you to continue destroying My creation. If you continue polluting and deforesting, I assure you that My Earth will rebel against you and you will know famine and drought. Reforest, reforest, and do not contaminate my creation any longer, because water is running out for you! If you let it run out, you will die of hunger and thirst.
Kings of this world, I am making an urgent appeal to you, so that you will take measures to stop pollution and the abuse of natural resources! Failure to do so will endanger the existence of all creatures, including human life!
Inhabitants of the earth stop your pollution; do not continue destroying My creation! Kings of this world, approve laws that will save the life of the planet, because by keeping on going the way you are going, soon all My creation will be a desert!
Reconsider and be aware that water and your natural resources are being depleted.
Your Father Yahweh, Lord of Nations.
Let my messages be known, people of good will."
Source: mensajesdelbuenpastorenoc.org
Urgent call of Jesus the Eternal High Priest
August 9th 2020 from 12:00 am to 6:00 pm - Worldwide day of fasting and of prayer to the Heavenly Father for the protection of Catholic Temples, Shrines and Holy Places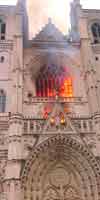 "I make an urgent call to the whole Catholic world for a day of fasting and of prayer to be held worldwide on August 9th with the prayer of the Rosary of my Most Precious Blood and with the prayer of the Exorcism of St. Michael, from 12:00 am to 6:00 pm, asking the Heavenly Father for the protection of my Temples, Shrines and Holy Places, which are being destroyed and desecrated by the forces of evil of this world. I'm counting on you, my Flock." —Jesus the Eternal High Priest
The truth about the Coronavirus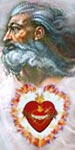 May 1, 2020 - God the Father says: "Today, I invite you to realize that this virus - the coronavirus - is no ordinary disease. It has been created from human ingenuity to specifically target the elderly and physically challenged. This is the plan of future generations to purify the human race around the world. It was released into the general population ahead of schedule - by accident. Those in charge were waiting for less capable government officials in your country (USA) to be in office. Nevertheless, proposed harm is being unleashed on the whole human race."
"I tell you these things to help you to realize the underlying evil at work and hidden in hearts these days. You cannot be confounded by any turn of events. Over all situations, I am in Dominion. No one will be given power over you that is more powerful than your Eternal Father. Therefore, be emboldened with this knowledge. If you persevere in Truth, you have loaded your weapons against what seems to be and discharged them with Truth." (Source: Holy Love)
Help the Lord spread His voice, time is running out
Please help spread these messages of faith, hope, salvation,
defense
against evil (by email, printing, Facebook, Twitter, and other media) to your loved ones, your friends, and all the people you may meet, who seek salvation or who are in danger of being eternally lost. The Lord gives great graces and blessings to those of goodwill who, according to their own possibilities, collaborate with His Plan of Salvation.
Who helps the Lord save a soul predestine his own
, independently from the outcome.