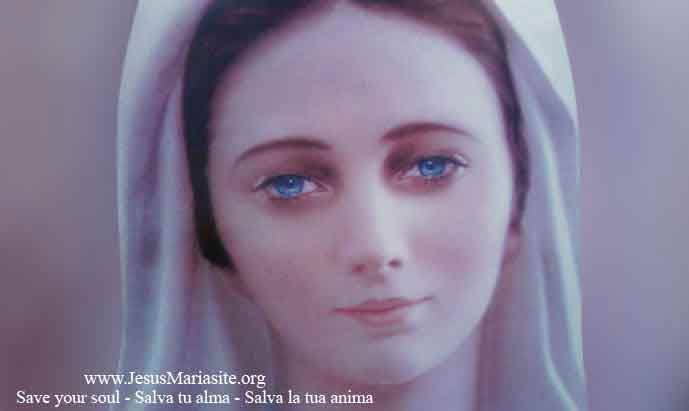 In Order to Keep the Faith
Maria says: (Maria Mother and Teacher, Vol. 1) "My children, here I am at the start of this Lent, which you will seek to spend in the best of ways; here I am to give you my teaching. I am the Mother of Wisdom. It is through this divine wisdom, of which I have been endowed with and of whom I am Mother, that I today intend to instruct and help you.
You too in Baptism have received wisdom, which was given to you in all its fullness on the day of your Confirmation, when the Holy Spirit had come to perfect your Christian life.
By means of eternal Wisdom, to which you have been joined in Baptism, you have been able to acquire the gift of faith which, only by growing in age and with the help of the Holy Spirit, you are able to appreciate.
Here is where I wish to make you come, my children. I want for you to comprehend how precious this flame of faith is that is lit in you and which you must keep.
Like the ten virgins in the parable, you also are on this earth to prepare yourselves for the encounter with the heavenly Bridegroom. That's why you must keep the torch of the faith alight.
In the midst of the maelstrom of the world and the storms of error from which it is agitated, it is easy for the flame to go .out. But I wish to give you some precious advice to help you to keep the lamp that you hold luminous.
A light shines much more brightly the more it is fueled by the air which moves it sweetly and revives its flame. Do not leave the lamp under the bushel, but hold it high; be proud of your faith and renew it often.
If you want to receive the light of the sun, you open the windows and you look up; so, if you wish to receive a stronger faith, you must ask for it from God. He can infuse it in great abundance, if you desire it. Then it's up to you to nourish it.
You continually receive teachings that are a nourishment for your faith, oil that you add to your lamp and which serves to keep it alight. Promise to read every day at least one page of these writings. I assure you it will do you good, it will be like getting used to reflection and it will render you, this reading, masters of the truth, through which at the opportune moment you will know how to rebut error.
I am happy that you go along with me in everything and that you truly love me. Everything speaks to me of your love and desire of good, and I dare still to ask because I know you to be generous and faithful.
The time of Lent is a time of penance, but I do not ask you for great sacrifices on food or on drinks in addition to what the Church desires from you. I ask you for mortification understood in its true sense, that which, making you bow your head before God and men, makes you truly mortified, that is, dead to yourselves and humbled.
This is what I desire from you: that you commit yourselves to acquiring the virtue of humility, so necessary to the Christian and so dear to the heart of God. Humus means earth. This is the meaning of this precious virtue of humility: to make you know that, as you were taken from the earth, so you shall return to the earth and that to a handful of earth, which everyone is, nothing is due by right, but all is a gift that comes to him from God.
O blessed virtue, which makes you see everything in the true light of God, eternal truth, which makes you see your nothingness and makes you consider everything that surrounds you with great respect and gratitude to God and to men!
Seek therefore, to exercise yourselves in this virtue, holding yourselves always worthy of the last place before men, so that the Lord may wish to entrust to you the first place in the Kingdom of the Saints.
My children, I bless you.
Go along with me in these desires: you shall gain great benefits from them."
The thoughts, the reflections and the meditations in this booklet, were inspired by Our Mother Maria, Mother of Jesus, to Carmela Negri Carabelli. They are, however, addressed to all those souls, who, desirous to love the Lord, seek to put into practice his teachings and to live the Christian life more perfectly. May Jesus bless these pages and those who read them with the desire to improve themselves, granting the help of his grace.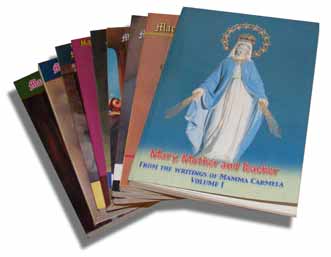 For more information about these magnificent teachings, for any spiritual assistance you may need or to participate and spread throughout the world the cenacles of prayer and the apostolate of the Divine Mercy, please contact:
"CENACOLO DELLA DIVINA MISERICORDIA",
Viale Lunigiana 30, 20125 Milano, Italy
Nihil Obstat: Reverend Gerard Diamond MA (Oxon), LSS,
D. Theol, Diocesan Censor
Imprimatur: Rev. Monsignor Les Tomlinson, Vicar General
Date: 20th July 2007
The Nihil Obstat and Imprimatur are official declarations that a book or pamphlet is free of doctrinal or moral error. No implication is contained therein that those who have granted the Nihil Obstat and Imprimatur agree with the contents, opinions or statements expressed. They do not necessarily signify that the work is approved as a basic text for catechetical instruction.
Catholic Archdiocese of Melbourne