I will separate My sheep from Satan's goats
(Please read all from begin to end)
Thursday, August 9, 2018: (St. Teresa Benedicta of the Cross)

Jesus said: "Jesus said: "My people, the religious leaders of My day were the authorities in the Jewish religion, and they did not want to hear My message of love, because I was a threat to their power. The devil was also behind these leaders, because Satan did not want Me to die for the sins of the people. Even St. Peter was standing in My way, because he thought as man does, and not how I do. I even called him Satan, since St. Peter did not understand that My mission was to save mankind from their sins by My death on the cross. All through the ages people have persecuted Me and My ways, because man's ways are not My ways. It is My miracle that I have protected My Church from the gates of hell through all these years. Man follows the desires of his bodily needs, instead of following the spiritual needs of the soul, which are to love Me and love your neighbors. Every time you try to do good works in My Name, the devil will fight you through using people against you. You can even see this battle going on in your own families. Do not worry about those people who persecute you for My sake, but pray for them and love them as I do."
Prayer Group: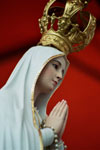 The Blessed Mother said: "My dear son, I want to thank all of the people who attended the all night vigil to honor my birthday at Gospa prayer house, Ca. You heard about my coming to Rowel who had an apparition of me on that early morning. I blessed all the people who came to the all night vigil, and I am blessing all of your prayer group for praying your rosaries. I will give your intentions over to my Son, Jesus."

Jesus said: "My people, some people take their means of traveling in their car for granted, without always remembering how they could have an accident at any time. Whenever you get into your car, you could say a short St. Michael prayer and a guardian angel prayer for safe travel. I have asked you many times to pray the long form of the St. Michael prayer both going and coming to your talks. Call on My help and your angel to guide you safely on your trips."

Jesus said: "My people, you have seen a lot of people dying recently, especially the two people who worked for Queenship Publishing Co. Jamie P. died a few weeks ago and he was their typesetter for many years. Now, in the last week you saw David S. die who ran the operations in Kansas. This was your publisher's son and he was a big loss to his mother, as well as the business. Pray for their souls and for Queenship Publishing that they will be able to continue their book publishing."

Jesus said: "My people, many of you climb stairs every day to get into your house. You do this so often that it becomes very common to enter your earthly home. There is another day when you may have the opportunity to come into your heavenly home. If you are blessed, you could even climb into the higher levels of heaven. If you are doing My good works and saving souls, you could be in the higher levels of heaven. Keep striving to please Me in the best ways that you can, and you will have your reward in heaven."

Jesus said: "My people, you need to keep praying for your farmers so they are able to deliver your fruits to your grocery store without damage. You have seen the heat, the cold, and the floods affecting many farms. The farmers take risks every year to have a good harvest. If your farmers have bad crops, it will be more difficult to put food on your table. Pray also for the poor people who cannot always afford to buy their food. Be thankful for all the food that you eat each day."

Jesus said: "My people, some areas of your country do not always get enough rain to irrigate the crops and provide drinking water. So when you get a nice rain, you need to thank Me during your hot summer. Your farmers depend on a certain amount of rain in order to grow their crops. Some are fortunate to be able to irrigate their farms. Other farms are losing crops due to a lack of rain. Pray again for rain that is needed on a regular basis."

Jesus said: "My son, you have been fortunate to have your friend from Louisiana continue to send you relics of the saints that are difficult to find. You need to thank her for all that she is doing for you without taking any money for them. Keep bringing your relics to your prayer group so the people can venerate them and be fortunate to have such relics available."
Friday, August 10, 2018: (St. Lawrence)

Jesus said: "My people, unless a grain of wheat dies, only then can it grow and produce more wheat. My people are given many gifts and plenty of rich soil to produce abundant fruit. It is up to each person to die to self, so you can bloom where you are planted, and follow My Will. You can share your time, talent, and money with those people in need. For I love a cheerful giver who shares what she or he has in abundance. The more you share, the more treasure you will have in heaven toward your judgment. In some cases like St. Lawrence, he even gave his life for My sake in his martyrdom. This may not be required of everyone, but it is a great sacrifice to give one's life up for their faith in Me. You can also share your prayers for people in their needs. I have given you My love and life itself, so you can return your love to Me by sharing what you have as a thanksgiving for what you have received."

Jesus said: "My people, you are about to see some dirty politics try to take over your government. During the upcoming primaries and elections, you are going to see billionaires and the opposition party pull all kinds of dirty tricks and use money to unseat your current party in power. Beware of more tampering with the ballot boxes that will again be manipulated by the opposition party to change the votes for their candidates by hacking your electronic voting machines. You should have people signing a voting ledger to validate their legal right to vote. You will continue to see dead people, convicts, and illegals padding the vote illegally. If your people do not control the cheating, then you will allow the opposition party to take over. Your people have to rise up and vote out the deep state people who are trying to takeover your government."
Saturday, August 11, 2018: (St. Clare)

Jesus said: "My people, in the vision you are seeing the 'eyes of faith' meaning you are following in My footsteps. When you truly believe in Me, you are seeing the world through My eyes. In My life I gave My apostles a living example to follow without sin. I know you are all weak to sin and the devil, because you inherited the weaknesses of Adam's sin. Even though you are not perfect, I call you to strive to be perfect as My heavenly Father is perfect. This means when you fall into sin, you should repent and seek My forgiveness in Confession, when I can restore My graces to your soul. You have read My Gospels of how to live your lives, now you need to live your lives as if you were looking through My eyes."
(4:00 p.m. Mass)


Jesus said: "My people, you already know how illegal drug trafficking is getting worse with your drug cartels. The drugs are selling because they have a lot of addicted users. Your government wants to do away with cash and coins so you are reliant on chips and charge cards. Many drug raids find lots of cash and drugs. Cash is a way of selling things under the table where there is no paper trail for transactions. You have seen such problems even selling gold and silver. Cash also is a medium for buying drugs. If cash was stopped, the drug people would need a new medium of exchange. The one world people want more control over the people, so going to a cashless society is one of their goals. Be ready to have a year's supply of food, because soon you will need the mark of the beast to buy any food, or anything else. Trust in Me to provide for your needs, especially at My refuges."
Sunday, August 12, 2018:

Jesus said: "My people, as you see these burning candles, you are seeing a sign of light and giving praise to Me for all that I do for you. I died on the cross out of love for all sinners, and I have left you with My gift of My Real Presence in My Eucharist. Every time you receive Me in Holy Communion, you are with Me intimately in your heart and soul. I give you My graces in every sacrament to strengthen you against the devil's temptations. I am always at your side to help you through life's troubles. Just call on Me, and I will support you through any tough times. You can also pray to Me in your prayers and Adoration, so you can keep focused on Me as a daily part of your life. I love you all so much, and I want you to do what is right by your own free will. Trust in My protection and help in your needs."
Monday, August 13, 2018:

Jesus said: "My people, I am showing you in this vision how you purify and refine gold metal from all the impurities. This is how I also desire to purify and refine your souls from the impurities of your sins. You can come to Me in Confession to repent and confess your sins, so I can purify your soul and restore My graces on you. Some people do not desire to love Me, and they need My love to convert them. You need to be persistent in your prayers for these wayward souls, so My graces can open their hearts to be able to love Me as their Creator and Savior. I love all of you, and I desire that all souls could be saved, because I died to give you all salvation from your sins. Every year you could take stock of how you have grown closer to Me in your faith. You need to make some steady improvement in your spiritual lives. Keep refining your faith, because I am calling you to be perfect as My heavenly Father is perfect."
Tuesday, August 14, 2018:

Jesus said: "My people, at times you have a glimpse of the black demons and the flames around them. They try to upset you with trials and distract you from your mission to Me. Do not fear them, because I send you My legions of good angels to help you, especially when you call on their help. You will meet troubles and difficulties in life, but they are only temporary, and when you call on My help, I will heal your ills and fix whatever needs repair. You need to live in full trust of Me, and I will take care of all of your needs. Trust can be difficult if your faith is weak, so pray to Me to increase your faith."
(Vigil of the Assumption of the Blessed Virgin Mary)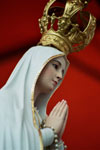 The Blessed Mother said: "My dear children, I thank you all for coming to this vigil of my Assumption into heaven. I bless all of you for praying my rosary. You saw in the vision where they laid my body to rest. Then you saw a gift of my Lord who allowed me to be assumed into heaven with both body and soul. My Lord spared me the corruption of my body, because I was born free of Adam's original sin. Without original sin, I did not suffer all of the consequences of this sin. Even now I am praying for all of my children, and I am united with Jesus and my glorified body. Our two hearts are joined as one heart, and we call all of the faithful to be joined with our two hearts. Rejoice in my Assumption, and the faithful will one day be joined with your glorified bodies at the final judgment."
Wednesday, August 15, 2018:
(Mass for the Assumption of Mary, also to honor the new monastery of the St. Benedict Joseph Labre monastery)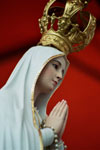 The Blessed Mother said: "My dear children, I am happy to see all of you in your celebration of my Assumption at this Mass. You are seeing in this vision a ship full of souls from purgatory, as they are all graduating to be saints in heaven. On my feast day, I am happy to bring many souls to heaven from purgatory. This is a glorious time for these souls, because some of them have taken a long time to be purified enough for heaven. Continue to pray for the souls in purgatory who have yet to be released. You can have Masses said for these souls, as well as your prayers. This is also a great celebration for Fr. Michel who is realizing one of his dreams to have a new monastery for the priests of the New Era. Heaven has called Fr. Michel for this mission in forming the fraternity of St. Benedict Joseph Labre. He has worked hard through many struggles to bring this fraternity and this monastery to completion. He will also need your prayers and donations to finish the future buildings. My Son, Jesus, and I have blessed his work. Give praise and glory to Jesus, God the Father, and God the Holy Spirit for all they are doing to save souls from hell."
Thursday, August 16, 2018: (St. Stephen of Hungary)

Jesus said: "My people, today's Gospel is all about seeking My forgiveness for your sins in Confession. It is truly seen in My 'Our Father' prayer that I gave My apostles. The one servant was forgiven a huge debt, but he did not want to forgive a smaller debt of a fellow servant who pleaded for mercy. So that first servant had to pay the whole debt in My justice. My people, in life you have two accounts. You have a storehouse of assets on one side, and you have a list of debts or bills that you have to pay with your work. It is similar in your spiritual life. You store your treasure of good deeds in heaven, while I keep a list of your sins or spiritual debts that you need to make reparation for. I am calling all of My faithful servants to be able to forgive everyone, both those who love you, and those people who are your persecutors or enemies. It is not easy to forgive those people who have hurt you in some way, but you must forgive them in love from your hearts all of the time, just as I forgive all of your sins. Even with the souls in purgatory, when a more grievous sin is forgiven, there is more joyful thanks being given by that soul. So in life when you forgive larger debts from someone, they are more appreciative of your generosity. When you give a large donation to a worthy cause, you will receive more thanks from the receiver, and you will receive a great treasure in heaven. So be able to forgive everyone from your heart, so you can grow in your perfection for your judgment."

Jesus said: "My people, I am showing you in the vision a sign of the end days. On one side you are seeing a herd of sheep that represents the souls of My true faithful who will be taken up into heaven. On the other side you are seeing a herd of goats that represents the souls who will be lost, and they will fall into the abyss of hell. At the judgment I will separate My sheep from Satan's goats. This is truly a sign of the end days. These grounds (at the monastery) will be a refuge for the end days, because this fraternity of St. Benedict Joseph Labre has been faithful to My Word and to My calling. During the tribulation, the three archangels of this Chapel will be guarding these grounds from the evil ones with an invisible shield. Be prepared to receive many people who will come here for protection during the tribulation. I will then multiply all the food, water, and fuels for your needs. If you have not done so, these same angels will finish your second monastery and a larger chapel. If necessary, My angels will multiply your buildings to accommodate all the people who will come here. You will have priests for Mass, Confession, and Adoration. Give praise and glory to Me for bringing this all about at the proper time."
Friday, August 17, 2018:

Jesus said: "My people, when you approach the sacrament of Matrimony, this is not to be taken lightly, for this should be a life long commitment of a man and a woman to live together in the sacrament of My love. This married life is the proper way to live and have children. There are some people who live in fornication or homosexual relations that are sinful lifestyles. I did not want My children to divorce, but there may be some real impediments in a marriage that would allow an annulment by My Church. I ask that My children do not abuse this annulment process only for your own pleasure. It is difficult in your present age to live a proper marriage without using an abortion or birth control. Family planning or abstinence is acceptable, but using birth control devices, pills, vasectomies, or tubal ligations, are all mortal sins to be avoided. Authoring life is a precious act, and it should only be conducted in a non-sinful manner. I bless all married couples and their children. This is the third part of this fraternity. Remember to pray your long form of the St. Michael prayer on your way home."
Saturday, August 18, 2018: (4:00 p.m. Mass)

Jesus said: "My people, many faithful take My Eucharist for granted, and some Roman Catholics do not even believe that I am truly Present in My consecrated Host. It is good to have a homily on My Real Presence so the faithful could learn to give Me reverence by genuflecting to Me in the tabernacle, and on two knees when I am Present in the monstrance. This quotation of John 6:54-55 has the most important lines in the Bible: 'Amen, amen, I say to you, unless you eat the flesh of the Son of Man, and drink His Blood, you shall not have life in you. He who eats My Flesh and drinks My Blood, has life everlasting, and I will raise him up on the last day.' Some of My people stopped following Me because they thought I was calling them to cannibalism. It takes true faith in believing that the words of Consecration cause a transubstantiation of the bread and wine into My Body and My Blood. Believe in My Real Presence in Holy Communion, and you will have eternal life with Me in heaven."

Jesus said: "My people, if you truly believe in My Real Presence in the consecrated Host, then you will give Me reverence by not receiving Holy Communion with mortal sin on your soul. If you have a mortal sin on your soul, you need to come to Confession so the priest can forgive you, and absolve your sins. Those people, who have mortal sin on their souls, commit a sin of sacrilege if they receive Holy Communion in a sinful state. Some people do not believe in My Real Presence, even though I am still Present in the consecrated Host. If you truly love Me, and believe in My Real Presence, then such people will come to receive Me in daily Mass, and they will visit Me in daily Adoration. When you love Me in return, you want to be with Me as much as you can. My daily adorers are My special believers, and I hold them close to My Heart."
Sunday, August 19, 2018: (Mass for Jeanne Marie Bello)
Jeanne Marie said: "My dear husband, Al, how I love you so much, and I wish I could show you more somehow. I miss being with you. You were and still are the joy of my life for the few years we were together. Remember all the spiritual things that I shared with you. I am praying for you every day, and I am watching over you like your second guardian angel. I thank John and Carol for coming today to my Mass intention, and for bringing us together. Life with you was a blessing, and I thank the Lord for the gift of being with you. Keep close to Jesus and Mary, and I am waiting for the day when we could be back together again in heaven."
Monday, August 20, 2018: (St. Bernard)

Jesus said: "My people, you have been seeing some large earthquakes recently, and those earthquakes under the ocean floor can cause tsunamis. This vision of a large wave of water coming ashore is another example of a natural disaster. Earthquakes, volcanoes, or fires are other kinds of natural disasters that are happening even now in some parts of your country. I have warned you of an evil event that could be triggered by the HAARP machine. This machine could be used to cause droughts and earthquakes. I also have warned you about the destruction of your Freedom Tower that could be caused by terrorists. An event that would change the way you live, could come from a Yellowstone eruption of a super volcano, or an event that could cause a martial law. Be watchful also if you have an EMP attack that could ruin all of your microchips and stop your vehicles, banks, and electricity. Trust in Me to protect you when your lives will be in danger. If your way of life is changed, you will need to come to the safety of My refuges."

Jesus said: "My people, today, many people own cell phones, so they can keep in touch with their family and friends. This convenience has a price, so others can track your whereabouts as long as you do not disconnect the battery on your cell phone. People with cell phones are also affected by microwaves that could cause cancer, especially if you hold it up to your ear. It is better to use ear buds to keep away from the microwaves that are close to your head. If you do not have a cell phone, and you keep your charge cards in aluminum sleeves, the one world people cannot track you, unless you charge something. The one world people want to control everyone. This is why they want you to have the mark of the beast in your body so this chip could control your mind to make you into their slave. Avoid taking any chip in your body, so you can retain your free will. Even if they threaten to kill you, refuse these chips. When you come to My refuges, your cell phones will not work, so throw them away. Trust in Me fully for your survival, and I will fulfill all of your needs. I will help you both physically and spiritually for all that you will need to endure the coming tribulation."
Source: John Leary
Fr. Michel Rodrigue explaines The Events of the End Times
Do you want a quick overview of the end times? Then read "The great events of purification will begin this fall". If you want all the details of the unfolding events, then go to "Virtual Spiritual Retreat with Fr. Michel Rodrigue about the End Times".
The Rosary is the weapon of these times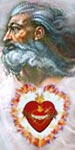 God the Father: "Children, the best way to change the conscience of the world and this country (U.S.A.) in particular is much prayer and many sacrifices. You may not see the effects of your efforts but persevere and do not be discouraged. Use your Rosaries as the mighty weapons that they are. A Rosary said from the heart is more powerful than any weapon of mass destruction. The Rosary is the weapon of these times. Do not let the daily news frighten you. Often, what you hear is not the Truth and only meant to influence your opinions..." (Read more..)
The truth about the Coronavirus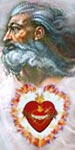 God the Father: "Today, I invite you to realize that this virus - the coronavirus - is no ordinary disease. It has been created from human ingenuity to specifically target the elderly and physically challenged. This is the plan of future generations to purify the human race around the world. It was released into the general population ahead of schedule - by accident. Those in charge were waiting for less capable government officials in your country (USA) to be in office. Nevertheless, proposed harm is being unleashed on the whole human race." (Read more...)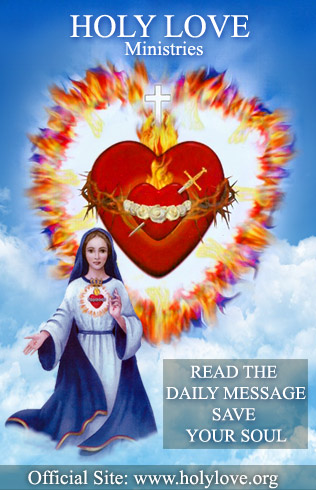 Read the daily messages
Help the Lord spread His voice, time is running out
Please help spread these messages of faith, hope, salvation, collaborate with God's Plan of Salvation. Who helps the Lord save a soul predestine his own, independently from the outcome.