Please read from begin to end…
Sunday, May 24, 2020: (Memorial Day Weekend)
Jesus said: "My people, this weekend you are honoring all the men and women who died defending your freedoms in America. It is appropriate to remember why you were fighting your enemies, which was for your very life in a free America. Now, you have experienced a man-made corona virus that was made purposely to reduce the earth's population. You have tried to limit the deaths from this virus, but you closed down a good number of your businesses to keep from spreading this virus. Now, when you want to bring back your nation's economy, you are getting resistance from some governors who are acting like dictators with unreasonable demands. Some governors are using this virus attack as a political means to try and make your President look bad before your election. Your people need to work together during this crisis, because people's lives and jobs are at stake. If you do not open your states responsibly, your whole economy could fail. It is the plan of the deep state to crash your economy, which is why this virus was purposely made to remove your President for their takeover. These same evil people will bring about an even worse virus in the fall with the intention for a takeover and a reduction in the earth's population. When your lives are in danger from this second virus wave, I will call My faithful to My refuges. I will separate My faithful from the evil ones, and I will cast all the evil ones into hell. My faithful will be brought into My Era of Peace as their reward."
Monday, May 25, 2020: (Memorial Day)
Jesus said: "My people, it is fitting that you honor the dead who died to preserve your freedoms. You also visited your relatives who died. This life is short, and you need to use your time here to evangelize souls, and pray for people to be saved. You are seeing an unusual time when you are told to stop working at non-essential jobs, and stay at home. It is so sad that you are losing jobs and your economy out of fear from this evil made virus. As the good weather is here, your people want to be free to worship Me, and free to work again for those who are unemployed. You have had some stimulus and unemployment checks, but people need regular jobs to pay their bills. Pray for more churches to open, and for more people to be allowed to work. Remember your service people who died in your wars."
Jesus said: "My people, every year you are seeing hotter summers and less water available out West. It gets so dry and hot that you see major fires every summer in California. This year will again see low reservoirs and drier conditions than normal. You have also been seeing some major rain storms that have caused flash floods or broken dams. You will see extremes in both droughts and floods across America. Your sun has seen fewer sunspots, and this minimum could cause cooler weather than normal. Your weather forecasters are predicting more hurricanes than the average. I am warning My faithful to be prepared for unusual weather that is coming. Pray that your people can evacuate safely if they are facing a disaster."
Tuesday, May 26, 2020: (St. Philip Neri)
Jesus said: "My people, I told you how I would be speeding up the time so I could shorten the time of the tribulation of the Antichrist. I will do this to lessen your suffering during the Antichrist's brief reign, for the sake of My elect. Have no fear of the coming virus plague in the fall. I will be calling My faithful to My refuges for their protection. If you have a priest, you can have daily Mass. If you do not have a priest for daily Mass, I will allow you to have the means to view a Mass, and My angels will bring you daily Holy Communion. For just as the sun is your source of light and heat, so I am the center of your lives. This is why it will be a requirement for every refuge to set up a perpetual Adoration of My Eucharist. Without Me, you are nothing, but I am with you every day. So give praise and thanks to Me every day by your daily holy hour before My Blessed Sacrament. I am allowing this evil plague upon you to get your full attention, and to trust in Me for all of your needs. At My refuges My angels will protect you, and provide for your daily needs."
Jesus said: "My people, you have been preoccupied with your corona virus shut down with many people staying in their homes. Some people are still working with essential jobs. As you come into the summer season, you will be concerned with your hot weather, and the beginning of your hurricane season. You are approaching 100,000 deaths in America from this virus, and you are seeing a good number of states phasing in your opening of your businesses. I showed you a burning house when you will see rashes of summer fires in California. You also are beginning to see some disturbed weather with tropical storms as you begin your hurricane season. Now, you will be dealing with a virus epidemic and your seasonal fires and hurricanes. In the fall you will see a returning virus outbreak of a new virus. The deep state is behind these virus attacks, and they will try and force a vaccine on your people that will contain the mark of the beast. Refuse to take any vaccine that could have chips in them. When your lives are threatened, I will call My faithful to My refuges, so have no fear. Eventually, the tribulation of the Antichrist will be allowed to have a short reign before I will cast the evil ones into hell. My faithful will be protected at My refuges, and then I will bring them into My Era of Peace."
Wednesday, May 27, 2020:
Jesus said: "My people, you just read about St. Paul as he was leaving on a ship for Jerusalem. He told his flock of leaders of the faithful to be watchful of the savage wolves of the worldly evil people. Also, he warned them even about those people within the Church that want to divide My Church. My people, you are seeing this vice in the vision which means you are seeing these virus plagues which are being brought upon you as part of the pre-tribulation. There are evil deep state people behind the creation of these viruses. These people are the savage wolves that St. Paul talked about in your time. There are also masons and evil people in My Church who are trying to destroy My Church from within. You will see a division in My Church between a schismatic church and My faithful remnant. When the next virus attack comes in the fall, many people will die. Before this comes, I will call My faithful to My refuges for their protection. You will see My Warning come before the Great Tribulation to give every sinner one last chance to be saved. This is why I have been encouraging My refuge builders to hurry up and finish any projects that still need fixing. Again if it is not possible to finish, I will have My angels fix whatever is needed. Trust in My Word to get your souls prepared with monthly Confession because you are about to see an evil in the Antichrist that you have never seen before. Do not be afraid because I will protect My faithful at My refuges, where I will provide for your physical and spiritual needs."
Jesus said: "My son, you were happy to have your new batteries installed with your new battery cables that are a heavier gauge. Once the old wires were replaced and the new cables connected, you noticed your second PV inverter was not working. You need to sort out what wire changes can fix your PV inverter back to working. You can consult your solar man for answers as he is arriving next week. You have been fixing one problem at a time, so be patient since you will have an answer soon. You are going through various stages so you will be able to have on-grid and off-grid power. Pray that your work will help you have a system that will be ready to provide constant power either with the grid on or off. This is the last of your needed projects. It is good that your wife prompted you to fix your system when it did not work with your last power outage. You need to thank your prayer group members and Alex for the lifting of your many heavy solar batteries into position."
Thursday, May 28, 2020:
Jesus said: "My people, I have told you in many messages how this first wave of the corona virus is why you are living in the pre-tribulation. You have seen many deaths all over the world from this virus, and many nations have used a shut down to try and minimize the spread of the virus. This shutdown is being used to manipulate your leaders by the deep state to control your movements and ruin your economy. There are many evil people who made this virus, and purposely spread it all over the world to gain power and control over the people. This pre-tribulation is a sign that the tribulation is about to be brought about through a deadlier virus that will come in the fall. I have given this message to many of My prophets to prepare the people for an evil that you have not seen before. I told you before that your refuge preparations will be used, and you need to thank Me for having My faithful set up My refuges as your havens of protection during the tribulation. When your lives are in danger from mandatory vaccines and the chip in the body, I will give you an inner locution to leave immediately for My refuges within twenty minutes. My angels will protect you from the evil ones, and multiply your food, water, and fuels for your survival. The angels will expand your refuges to house all those believers who will come in faith. Be thankful to Me for all of My protection."
Prayer Group:
Jesus said: "My people, you are going to see a conflict with other nations that will involve your ships and airplanes. China, Russia, North Korea, and Iran have caused incidents that could lead to a war. Be prepared if a conventional war expands into a nuclear war with nuclear tipped missiles. Pray for peace, but the devil is instigating another war."
Jesus said: "My people, you are familiar with the seven trumpets of the angels in heaven in the Book of Revelation. Each trumpet will bring a challenge to the people of the earth. You need to read about the trumpets in the Book of Revelation that is about to happen. This is the beginning of the Battle of Armageddon. Pray that your people have their souls ready with monthly Confession."
Jesus said: "My son, you are not the only refuge that has had trouble with their solar systems. You had at least four bad batteries out of twelve and low gauge wiring that had to be replaced with a lot of effort. Your solar man will enable you to have power either on or off grid. Thank all the people who are helping you."
Jesus said: "My people, when you set up your refuges, you have to assume that you will be living independently with the protection of My angels. This means you will need a fresh water source as your water well. You will need bedding, food, fuels for heating and cooking. If you can afford solar power systems, you could have electricity. You will also need a team to organize your work groups. You will have daily Holy Communion from a priest or My angels. This will enable you to assign hours of perpetual Adoration around the clock for My faithful. My angels will shield you from harm, and they will multiply your needs. Trust in My help during your trials as I will bring My victory over the evil ones."
Jesus said: "My people, I will send My Warning in a time of chaos to give every sinner an opportunity to be saved. It will require choosing to worship Me and seeking My forgiveness of your sins. You will see a life review and a second chance to turn your life toward loving Me. You will be warned not to take the mark of the beast and not to worship the Antichrist. You will be asked to be ready to come to My refuges when I give people the time to come with My inner locution. Give thanks and praise to Me for this Warning experience."
Jesus said: "My people, you have a short time from now until the fall to stock up on your canned foods before another virus attack. I have warned you about this for several months. When the next virus attack comes, you may not be able to get out to the stores, or the stores may be empty of any foods. Be like the wise virgins by stocking up on canned foods while they are still available. Those people, who do not prepare, are like the foolish virgins who may starve without any food to eat."
Jesus said: "My people, it is the plan of the one world people to force vaccines on everyone in the world when the next virus attacks you. This vaccine will also apply the mark of the beast on those who accept this vaccine. This is why I am warning My faithful to refuse taking this vaccine even if the authorities threaten to kill you if you do not take it. So refuse to worship the Antichrist and refuse to take the mark of the beast so you can save your souls with My help. My people will be choosing their eternal destination by either coming to Me in heaven, or come to the devil into hell."
Saturday, May 30, 2020:
Jesus said: "My people, when St. Paul was in prison in Rome, he still was able to preach My Gospel to those people who visited him, and to those people he wrote letters. Even when you are restricted by this virus shutdown, you can still put My messages on the internet and share your faith with each other. Even though this evil virus plan is causing people to be unemployed, you still need to trust that I will help people in their needs. In the Gospel St. Peter is concerned about why St. John will live longer according to My Word. I told St. Peter not to be concerned about other people's life journey. Sometimes your desire to know things about others, can be a distraction to your own individual mission. You are to help others in their faith, but do not be so curious why I allow certain things to happen. When you have problems, call on Me to help give you some ways to solve them. Be patient, because it may take time to resolve your problems. But trust in Me that I will help you in all of your needs."
Jesus said: "My people, you have seen the first virus wave that has precipitated shutdowns in many countries, and it is destroying many economies. This is part of the one world people's attempt to take over the world under a totalitarian means of control. They are also trying to destroy America, and this is orchestrated by the devil so these evil people can prepare the world for a takeover by the Antichrist. In addition to this first virus attack, now you are seeing groups like Black Lives Matter and Antifa causing riots and looting in your cities in the same plan for a takeover of America. Instead of building up your country's infrastructure, these evil movements are trying to tear down your government to let the leftist communists take over in chaos. Your country was doing well just a few months ago, and now you are on the brink of a martial law. This perpetrated virus attack is the means for giving authority over to this shutdown that your governors are taking advantage of. If your people do not rebel against the loss of your freedoms, then you could lose your freedoms to a dictatorship. The leftist organizations are taking advantage of your weak leadership, as they try to use paid chaos for their takeover. Pray for calm and peace in your cities, instead of constant rioting and looting."
Sunday, May 31, 2020: (Pentecost Sunday)
The Holy Spirit said: "I am the Spirit of God, and you see Me symbolized as a dove. I bring the tongues of fire over all of the faithful of God. Receive My gifts as I am cleansing the earth of all evil. You are seeing the events leading up to the time of the tribulation of the Antichrist. The evil ones will have a brief reign before you will see Us bring down condemnation of the evil ones into hell. Only the believers in God will be spared the punishment that will come with the Comet of Chastisement. The Warning will come first to allow sinners one last chance to be saved. Then I will call My faithful to the protection of My refuges. Pray to save as many souls as you can, especially after the Warning. Trust in My power over the evil ones, as soon I will bring My judgment down over the earth."
Monday, June 1, 2020:
Jesus said: "My people, it is sad that you have evil people paying anarchists to cause destruction and chaos so they can have a takeover of your government. You are seeing police and the National Guard setting up order after these riots and looting. Other people are now cleaning up the debris from the troublemakers who came into town from other places. This was an orchestrated crisis against your government, and it has no place in a country of laws and freedoms. You just celebrated Pentecost Sunday, so now you have the Holy Spirit renewing the earth, and all of its people in love and not hate. You have enough trouble with your virus attack, so now you need to open up your churches and businesses to restore your economy, and put people back to work. Pray for peace among your people as you strive to help people."
Jesus said: "My people, you are seeing the plans of the deep state made clear before your eyes. This is not a plan just against your President, but these evil ones will use any means necessary for a take over of America. The deep state is behind the virus attack, the lock down, and now all of these riot attacks. The deep state will continue to cause events that could take down America's economy and military. These events will continue right up to the fall when there will be another virus outbreak worse than the first. The evil ones' time is short, so they will resort to any means they can use to take over your government. These paid riots are just the beginning. My refuge builders need to quickly finish up their preparations because the time to come to My refuges is getting close. Pray to convert souls while you can, and stock up on some food while you can also."
Tuesday, June 2, 2020:
Jesus said: "My people, it is appalling that your bishops and governors are still keeping My faithful from even coming to daily Mass. In a large church you could wear masks and easily keep your distance. Look at the crowds of protesters in your cities. Many do not have masks, and they are very close together. It is time for My people to start pleading for your right to worship Me. You are allowing the devil's helpers to keep you out of church. There are not enough virus cases anymore, so you should be allowed to come to church. Keep praying every day that you could be allowed back into My churches."
Source: John Leary
Fr. Michel Rodrigue explaines The Events of the End Times
Do you want a quick overview of the end times? Then read "The great events of purification will begin this fall". If you want all the details of the unfolding events, then go to "Virtual Spiritual Retreat with Fr. Michel Rodrigue about the End Times".
The truth about the Coronavirus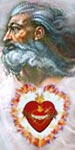 May 1, 2020 - God the Father says: "Today, I invite you to realize that this virus - the coronavirus - is no ordinary disease. It has been created from human ingenuity to specifically target the elderly and physically challenged. This is the plan of future generations to purify the human race around the world. It was released into the general population ahead of schedule - by accident. Those in charge were waiting for less capable government officials in your country (USA) to be in office. Nevertheless, proposed harm is being unleashed on the whole human race."
"I tell you these things to help you to realize the underlying evil at work and hidden in hearts these days. You cannot be confounded by any turn of events. Over all situations, I am in Dominion. No one will be given power over you that is more powerful than your Eternal Father. Therefore, be emboldened with this knowledge. If you persevere in Truth, you have loaded your weapons against what seems to be and discharged them with Truth." (Source: Holy Love)
Help the Lord spread His voice, time is running out
Please help spread these messages of faith, hope, salvation,
defense
against evil (by email, printing, Facebook, Twitter, and other media) to your loved ones, your friends, and all the people you may meet, who seek salvation or who are in danger of being eternally lost. The Lord gives great graces and blessings to those of goodwill who, according to their own possibilities, collaborate with His Plan of Salvation.
Who helps the Lord save a soul predestine his own
, independently from the outcome.