I will bring a Comet of Chastisement to kill the evil ones
(Please read all from begin to end – From Feb. 2 to Feb. 16, 2019)
Saturday, February 2, 2019: (Presentation of the Lord)
Jesus said: "My people, today you are blessing candles on the feast of My Presentation. You had your practice drill last night, and now you have a real appreciation for having a light in the darkness. You also have My Light of faith that puts fire in your hearts for loving Me. You were able to heat your house to 70 F all night and all day with your kerosene burner and your wood burning fireplace. Outside it was 15 F. During the day you will be preparing your meals, and baking bread in your propane oven. You can use your butane burner to boil water. You continue to pray in your chapel all day long. Your people will now understand how I will provide for them, with multiplying your well water, your dried food, and the fuels you are using. Give thanks to Me for inspiring My refuge builders to prepare safe havens for My faithful. I will shorten your tribulation time, and My angels will protect you from the evil ones. Be patient, and soon you will have your reward in My Era of Peace, and later in heaven."
Jesus said: "My people, you have seen the opposition party that has gone over the edge to support killing babies who are born alive. Several left leaning states are pushing the worst form of killing that goes beyond abortion. It is bad enough for that party to support abortion, but to support infanticide, is really calling down My justice. The evil coming out of this party is like Satan himself is leading them. You are going to see My justice carried out against these baby killers. Your whole nation is responsible for your evil abortion laws and decisions. My justice will fall on you so severely, that My faithful will need to come to My refuges to save their lives and their souls. Be ready to leave for My refuges when the next big disaster strikes your people."
Sunday, February 3, 2019: (St. Blaise for throats)
Jesus said: "My people, in the reading St. Paul talked about the virtues of faith, hope, and love, and the greatest of these is love. This is why My Commandments are focused on the love of God, and the love of neighbor. In the Gospel the people of Nazareth wanted Me to heal them, as I did in other towns. But I could see how they did not have faith in My healing power, so I did not heal them. Because I defied them, they tried to kill Me, but I left them. My son, your prayer group people were educated in how they could live a refuge life. You were praying in your chapel, preparing food with your butane burner, and making bread in your propane oven. You had water from your water well for your sinks and toilets. You had lantern lights at night, and the cots for your sleeping. All of you were helping, and you had heat from your kerosene burner, and a wood fire in your fireplace. This third practice run is a sign that your refuge time is near. So be ready to come to My refuges when I give you the Word. Trust in Me to protect you and multiply what you need."
Jesus said: "My son, what you experienced during your practice drill, should be shared with other people who have refuges. I thank all of My refuge builders for all of their efforts and sacrifices to provide safe places for My faithful to come. I keep warning My people that the time to come to My refuges is coming close. You are seeing more divisions in your country that could lead to a time of conflict. I will call My people to My refuges, when I give you an interior locution. In the reading you read how loving your neighbor is so important. Even though certain people or politicians have evil plans or legislation, you still need to love them, and pray for their souls. You do not want to see anyone lost in hell, so pray for your family and all the poor sinners who have not been judged."
Monday, February 4, 2019:
Jesus said: "My people, in the early years of My Church, many faithful Christians had to hide from the Romans in the catacombs. As My faithful get closer to the tribulation, they will be persecuted more by your authorities. You will also be seeking My refuges to hide from those people who want to kill you. My angels will place an invisible shield over My refuges to hide you. You had a successful practice drill with water, food, fuels, and bedding provided for you. You also had lights at night, warmth from your heaters, and you were praying in the chapel. Hopefully, you could have a priest for Mass, but if not, My angels will bring you daily Holy Communion. You could have used more lanterns at night, along with some more rechargeable batteries. You have hosts, wine, priest vestments, candles, and chalices for Mass in your chapel. I thank all of My refuge builders for all of their preparations. Now, that your drill is over, you can work on your sixth DVD."
Jesus said: "My people, remember that everything in this world is passing away. So do not get comfortable with all of your expensive cars and homes, because they will all be taken away from you, including your money. When you use your money just to please yourself, this will not go well with you at your judgment. It is better to share what you have with others in donations, your talents, and sharing your faith. Your goal is to help save as many souls from hell as you can. Some people sell their souls to the devil for fame and fortune, but they will suffer in hell for all eternity. It is better to store up heavenly riches, than to accumulate worthless wealth that can rot or be stolen. Trust in Me for all of your needs, and I will take care of you both here and in heaven."
Tuesday, February 5, 2019: (St. Agatha)
Jesus said: "My people, in the Gospel I am asking everyone to pick up your own cross, and follow Me on the road to Calvary. Life in this world is not easy, when you are working for a living, and helping to support your family. You can follow your own will to failure, or you can give your will over to Me, and let Me lead you through life. I will lead you down the right path to heaven, where you will find your reward with Me for being faithful to My Commandments. It is not easy to give control of your life over to Me, because you have so many cravings for the body to be satisfied in this world. It takes a strong spirit in prayer to follow Me with your cross. When you do everything out of love for Me to help your neighbor, then you have the right motivation. Listen to My ways and the prompting of your guardian angel, and you will be on the right path to heaven."
Jesus said: "My people, because of your latest abortion laws, I was going to bring My justice upon you. Before any event that will kill many people, I will bring My Warning to allow people to change their ways. I will also give a warning to My faithful when it is time to come to My refuges for their protection. My justice will come upon the evil ones who want to kill My babies, especially when the babies are born alive. In other words, I will protect My faithful from all major disasters, especially those people at My refuges. Be ready when I will take away all of these evil ones, and cast them into hell, so they can no longer perform abortions. I told you if you did not stop the abortions your way, then I would stop it My way that will include bringing a major disaster to do away with the evil ones."
Wednesday, February 6, 2019: (St. Paul Miki & companions)
Jesus said: "My people, I have given you your current President to help your country to maintain your freedom a little longer. He has some faults, as all of you do, but he is helping you in many ways. He has the interests of your people at heart, and he is standing up against atheistic socialism, to thwart some new voices in the opposition party. Some of his initiatives are to help against child cancer and AIDS. He continues to want to build a wall at your Southern border to keep out the drugs and criminals. He is appalled by recent legislation in New York state and Virginia that is even killing live babies, called infanticide. When your President is no longer leading you, you will see the beginning of the end of your freedoms. Pray for your country to keep its morals, and stop passing evil legislation against My laws."
Jesus said: "My son, you remember how destructive your ice storm was in 1991, when many branches broke off of your trees. Now, tonight you have a lot of ice already on your bushes and trees. You will be having more rain and possible freezing temperatures which could add to the ice you already have. You were praying your storm prayer before the ice came. You could pray another storm prayer for tonight, so the ice does not get thicker on your trees. Tomorrow will get warmer to melt the ice. Pray that you do not get any wind that could knock branches off of your trees. You have had more damage from ice storms than you have with snow storms. Trust in My protection from any natural disasters. You are being tested with all of these winter storms because of your abortions, and your new abortion laws."
Thursday, February 7, 2019:
Jesus said: "My people, I ask My faithful to follow Me in My footsteps, and give your will over to Me. You are experiencing an ice storm, and you need to be careful, or you could slip and fall on the ice. You are fortunate that you will have a warmer day above freezing to melt the ice. Again you have the symbol of icy cold hearts which is why you have so many problems, because you have taken Me our of your lives. Not only do you need to put 'Christ' back into Christmas, but you need to put Me back into your whole life, all year long. If you ignore Me and do not pray, and do not worship Me on Sunday, then you will have constant problems with your health, your jobs, and your relationships. You need to love Me and love your neighbor to take away your ice cold hearts to gain freedom of the devil's hold on you. Trust in Me for all of your needs, and your life will be much happier."
Prayer Group:
Jesus said: "My people, China, Russia, and North Korea are all communist countries that have nuclear weapons. They are threats to your country, but your President is still reaching out to have talks with them to keep the peace. He is brave to stop making missile treaties, but he does not want to be limited by treaties that are not kept by Russia. Your world is an armed camp of weapons that could kill a lot of people. Keep praying for peace to stop any use of nuclear weapons."
Jesus said: "My people, your trade with China has been one sided, as you have a large deficit of payments with China. Your President is trying to even the playing field of trade that other countries have been taking advantage of you in trade and currency manipulation. This tariff with China has caused your stock market to dip on any news of uncertainty. Pray that you can make acceptable talks with your trading partners."
Jesus said: "My people, I have warned you about the hazards of socialism which is similar to communism that is destroying Venezuela. This use of socialism also is atheistic which tries to take Me out of your lives. Your Constitutional republic was started with Me as your creator, and your traditions were started based on freedom of religion. Socialism would take away your freedoms, and the state would control everything without Me in your midst. Pray to stop any promotion of socialism which would be the downfall of your country. Your President made a point that America would never go socialist when he said so in his State of the Union message."
Jesus said: "My people, you had a brief ice storm that covered your bushes and trees. You prayed your storm prayer to lessen any damage from the ice. Your prayer was answered as your warmer weather is melting the ice. These severe storms are a punishment for your sins, especially your abortions. I have given you time to change your evil ways, but you insist on defying My Commandments, especially in killing My babies by abortion and even infanticide. Because your laws are mocking Me, you will see even more serious natural disasters. Pray to stop your abortions."
Jesus said: "My people, I am grateful that you were able to get together for another practice refuge drill. Every time you have these drills, you learn something for when your refuge time will come. I was especially thankful for all of your round the clock prayers in the chapel. You will need a plan to heat your basement when your gas heater is not working. You also bought more lanterns and rechargeable batteries to run them for light at night. You took some video clips of your practice run so you could use them in your new DVD."
Jesus said: "My son, you have made DVDs of your talks about every two years. So you need to prepare another one for these times. Remember to pray your 24 Glory Be Novena to St. Therese for the success of this new DVD (#6). You could use your practice refuge video and a chart pad for people to follow your talk. You have a limited time to complete this work, so get this together as quickly as possible so you do not waste your time. I will bless your work, so have confidence in My help."
Jesus said: "My son, I am giving you daily messages on many subjects, but the main goal is to convert as many souls to the faith as you can. Saving souls from hell is your most important task for all of My faithful. Use My messages to share the faith with those people who come to your talks. Remember to pray the long form of your St. Michael prayer when you leave and return from your talks. The Holy Spirit will guide you in what to preach to the people. You can also pray your 24 Glory Be novena to St. Therese for the success of your talks as well. I will send My angels to protect you on your travels."
Friday, February 8, 2019: (St. Josephine Bakhta)
Jesus said: "My people, you have seen many tornadoes come across the middle of your country, and they are a sign of great damage where they travel. You are having a windy day which is a sign of chaos and damage in your society. The devil is moving more states to have stronger abortion laws because these people fear that Roe vs Wade may get overturned in the Supreme Court. You are also seeing new voices promoting socialism, and impossible ways of stopping the use of coal, oil, and natural gas in a new 'Green' plan. You are not seeing the atheism that comes along with socialism, that is trying to take My Name out of your lives. Removing Me from your society's thinking, is the worst evil with socialism. So continue to pray for your country to reject socialism, and keep Me at the center of your lives."
Jesus said: "My people, in the vision you are seeing the aftermath of an EMP attack on America. Many people have been warned to have one year's supply of food for everyone in their households. But how many people have acted on this message to go out and buy the food? You, My son, have been stocking up on food for quite a few years, so your refuge is ready, and I will multiply it when it is needed. When your electricity, water, and natural gas are shut down, many people will be in a panic, and all the shelves in the stores will be emptied. You will see My faithful come to your refuge, and they will be desperate for food and water. If too many come, I will expand your buildings and multiply your food, water, and fuels. Those people, who do not have crosses on their foreheads, will not be able to enter a refuge. My refuge angels will put an invisible shield over you so no one will be able to harm you. There will be chaos in the streets when people will be killing each other for food. The military will declare martial law, and only those people who take a chip in the body, will have access to food. My faithful should refuse any chip in the body, and trust that I will feed you at My refuges. This EMP attack is the big disaster that I am showing you after the Warning. Be thankful that My faithful will be protected at My refuges by My angels. Think about how desperate people will be to get any food. Give praise and thanks to Me for all the preparations I have had you prepare for this coming tribulation. Many people will die of starvation because they are not believers, and they are not prepared."
Saturday, February 9, 2019:
Jesus said: "My people, you remember in the Scriptures how I went off into the mountains to pray and rest from the crowds. It is good to take time to pray and think about Me, and how you could improve your life. You also remember the times at the Notre Dame Retreat House, how you spend three days listening to talks, having Mass, and going to Confession. Coming to Me with a contrite heart to repent of your sins, is something everyone should do at least once a month. Once you have your spiritual batteries recharged, then you can do more good works for your neighbor. I saw the crowd looking weary, so I multiplied their food so they had energy to get home from the deserted place. Look to help your neighbor when you see them in need. You can take time out of every day to thank Me in your prayers, and worship Me at daily Mass. Keep close to Me, and I will lead you on the right path to heaven. I love all of you, and I thank those people who love Me also."
(4:30 p.m.) Jesus said: "My people, I performed many miracles that enhanced the faith of My apostles. St. Peter was astounded at the catch of fish, since he had caught nothing all night. He doubted they would catch anything, but he followed My Word. Throughout your lives I am helping everyone to survive, and there are times when miracles will happen to encourage your faith. When you let Me lead your lives, you will see many great things happen. You will learn to trust Me in My Word, and things will work out for you. There will be times when you are tested, but when you pray for My help, I will come to your aid. I am always at your side, so you can call on Me at any time, and I will hear your prayer."
Sunday, February 10, 2019:
Jesus said: "My people, you heard a call to help the 'Food for the Poor' with prayers and donations. When you cannot go out to the missions, you can at least help those people who are feeding and housing poor countries abroad. You saw a crowd in a vision and they need people to bring My word of love and Good News to them. This is part of your mission, My son, to spread My messages to those people who will listen and be converted. You use your mission to spread My Word in your talks, your books, and on your website (johnleary.com). You also share your DVD videos, which is why you need to work hard to finish up what you started. Continue your twenty-four Glory Be novena to St. Therese for the success of your sixth video. I will help you to complete this project."
Monday, February 11, 2019: (Our Lady of Lourdes)
Jesus said: "My people, today's feast of Our Lady of Lourdes reminds you of your trip to Lourdes, France. You felt like an electric shock when you touched the water of the grotto. Your wife went into the baths, and the water dried off quickly as she left. Many people have been healed of their diseases and disabilities at Lourdes. At My refuges I mentioned to you in previous messages how you would have a spring or well water there. Those people, who drink the spring or well water would be healed of their ailments. This would be useful if you did not have a luminous cross for healing. This healing spring water and the luminous cross will only be available during the tribulation at My refuges. Rejoice that you will not need doctors or medicines at My refuges during the tribulation. This is one more note that you could add to your new DVD. Trust in Me to help you in your needs at all times."
Jesus said: "My people, you will be seeing harsher winters and hotter summers, as you keep setting records every year. You will be seeing a global warming that is coming from a decrease in magnetism of the earth's magnetic shield that will allow more warming from the sun. This is more of a cause of heat than from carbon dioxide. You are seeing continuous ice, snow, and rainstorms that are spreading over your country. In the spring and summer you are seeing violent tornadoes and hurricanes. Each year you are seeing heat records that are making it hard to provide enough energy to run your air conditioners. As you face cold and snow storms, Australia is recording record hot summers. Your abortions and sexual sins are also being punished with your violent weather. You are seeing floods, power outages in winter, and fires in the summer. These weather extremes will make it hard to live on the surface of the earth. You will eventually be called to My refuges for protection from the weather and the evil ones. Trust in Me to protect you, and provide for your needs at My refuges."
Tuesday, February 12, 2019:
Jesus said: "My people, when I made the earth, everything was pristine, but man is polluting the air and the water with all kinds of filth. Even your minds and souls are polluted with evil sins and bad thoughts. The devil has tried to destroy man and the beauty of the earth. During the time of Noah, the people were so evil that I sent a flood to kill the evil ones, and I protected Noah and his family in the ark. The earth had to be renewed all over again. Your people are again becoming so evil that I will separate the good people in the arks of My refuges, and I will bring a Comet of Chastisement to kill the evil ones. Then I will renew the earth as a new creation in My Era of Peace without the devil's influence. My faithful will be prepared to be like saints, so they will be worthy to enter heaven when they die. The evil ones will reign for a short time, but in the end I will bring My victory, and all the evil ones and demons will be cast into hell. You will rejoice to have your reward in My Era of Peace, and later in heaven for being faithful to Me as Noah was."
Jesus said: "My son, I have been urging you to make another updated video #6. You spent several days getting your information together of more recent messages. You made some changes to show people all of the work that a refuge builder needs to do. You have been preparing your own refuge with the projects I have given you. You see now how all of My plans have come together to give you an independent refuge. This video includes some excerpts from your third practice run that I also asked you to do. Now you have had your third successful trial run using your well water and your wood and kerosene burners. You also have completed your 6th DVD. You need to review your DVDs and then you can start getting it copied in a new case. Thank you for answering My requests for this drill and the new DVD. Now you can share this with people to show them how to run a refuge. Continue your 24 Glory Be prayers of thanksgiving for the success of your work."
Wednesday, February 13, 2019:
Jesus said: "My son, you have been given two missions: one to spread My messages on your website, your books, and your talks all over; the other mission is to set up a refuge at your house. I have told you to stay close to Me in your daily prayers and Masses so you will have the spiritual strength to carry on with both of your missions. You are following Me down this winding road of life in the vision by your constant faith in Me to lead you. I thank you for your allegiance to Me as My prayer warrior. Keep in mind that saving souls and loving Me and your neighbor are your every day work, and you will have your reward with Me in heaven."
Jesus said: "My people, you are seeing a cold and icy winter in many places all over your country. You have had two small ice storms that coated your trees and bushes with ice. Some areas have had power outages, and your driveway was all ice this morning. Some of these storms are a punishment for your sins and bad laws supporting abortion, as in New York State. Your storms will continue to cause problems with air flights and your power. You are seeing more political battles between socialism and capitalism. Your opposition party is backing some radical plans that are not practical. You finally finished fixing your sixth DVD video that needed some adjustments before having them for sale. It was good to show the people how you ran your refuge practice drill with all of your projects. It was especially good to see your hourly prayers in your chapel around the clock through the night during your drill. Remember that I had you run another drill and make another DVD because you are approaching the Warning, and the time to come to My refuges. Pray for your family members to have faith in Me, so they can have crosses on their foreheads that will be needed to enter My refuges."
Thursday, February 14, 2019: (St. Cyril and St. Methodius)
Jesus said: "My son, in the first reading from Genesis I formed a woman, Eve, from the rib of the man, Adam. Adam was very pleased as he said: (Gen 2:23,24) 'She now is bone of my bone, and flesh of my flesh; she shall be called Woman, for from the man she has been taken. For this reason a man leaves his father and mother, and clings to his wife, and the two become one flesh.' My son, I have given your wife to you to help you through life, and provide your beautiful three daughters. Each spouse has a responsibility to help each other to come to heaven. Your wife has helped you in many ways, and she is the right person to help you in your missions. Give praise and thanks to Me for all that I do for you. This is St. Valentine's day and love of Me and your love for each other makes you a special couple in My field for saving souls."
Prayer Group:
Jesus said: "My people, your President said he would sign the latest agreement to keep the government open in time to prevent another shutdown. This bill would provide $1.3 billion for the wall, which is far short of the $5.7 billion your President was seeking for the wall. Your President will then declare a National Emergency to provide the rest of the money from other sources. This could cause another battle in the courts to test his authority to do so. Pray for your country and all of its border problems."
Jesus said: "My people, I told you I would bring My justice against you for all of your abortions and your new abortion laws. You are seeing flights cancelled, ice storms, and now flooding in parts of your country. A continuing set of natural disasters will be weighing heavily on your economy. You may be seeing local disaster declarations for major disruptions of your air travel. Pray for your people who are suffering from your weather problems."
Jesus said: "My people, in your practice runs you used an infra-red heater to keep people warm in the basement, but it was run on electricity. Using a smaller kerosene heater would make it easier to carry it up and down the stairs, and also provide heat in the basement without electricity. You can try it out to see how it works. You will need a small open window for more oxygen and ventilation for any fumes. You have used various projects and adjustments to provide for your refuge needs. I thank you for carrying out these plans."
Jesus said: "My son, it is not easy to bring in sticks or provide newspaper to start your fires in the fireplace. These treated logs from your neighbor helped you to easily get a fire started. Each practice run has given you an opportunity to try new things. You changed your town water over to your well water which was powered by solar power to run your water pump and deliver water to your sinks and toilets. You ran your propane oven in your sun room to bake your bread. Thank Me for helping you to make some adjustments to fit your needs at your refuge."
Jesus said: "My son, you were fortunate to find another supplier to copy your DVDs. This supplier could have your copies made quicker as well. This is a great help to your publisher and this service could be used for other DVDs at Queenship Publishing. Just as you are finding another supplier, I will also be multiplying your food, water, and fuels as you need them. Trust in Me to help you in all of your needs."
Jesus said: "My son, you will be going out for more talks as the year progresses. You took advantage of your time without talks so you could run your refuge practice drill and make your next DVD #6 video. I have enabled you to have time to make preparations for these two projects. Your time to My Warning grows close, and you will not have much more time to give your talks. Plan what talks you can until I will warn you about your time to open your refuge for protecting My faithful. Pray for My help in all that I ask you to do."
Jesus said: "My people, I am calling My faithful to prepare for the coming Warning by coming to frequent Confession. I have had you do three practice drills so you are ready for the coming tribulation. By sharing your messages on refuges and your new DVD #6, people can learn how to prepare their refuges when people will have to live independently from your present services. I thank all of the refuge builders for their efforts to supply safe havens for My faithful, where My angels will protect you. So do not be afraid of the coming evil tribulation, because you will be led to My refuges of safety with invisible shields."
Friday, February 15, 2019:
Jesus said: "My people, I offer everyone an opportunity to choose to follow My way or your way. As in the vision with the map, you can choose to follow My Will in leading you through life, or you can follow your own will as Adam and Eve did in sin. Following My Will is not easy, because I will ask you to do things that take you out of your comfort zone of the body. Following My Commandments of loving Me and loving your neighbor as yourself, can be a little difficult to human reasoning. I am always calling you to a higher place of spirituality, but it takes My grace to fulfill this mission. In the Book of Genesis I told Adam and Eve not to eat the fruit of the Tree of the Knowledge of Good and Evil, or they would live a short life and die. When you act against My laws, you are committing sin as Adam and Eve committed original sin, when they ate of the forbidden fruit. Every day you are faced with temptations of the devil to take the easy way out. Do not judge the right thing to do by what is pleasing to the comforts of your body. To remain in My grace, I am calling you to obey My laws out of love, and avoid falling into sin or the devils' temptations. When you sin, you can come to Me in Confession for My forgiveness, and then I will cleanse your soul of sin, and give you My sanctifying grace. Keep close to Me in prayer and follow My ways instead of your ways."
God the Father said: "I AM WHO AM is here to give you a message on what you see going on all around you. I have told you before 'When I return, will I find any faith on earth?' You have all heard My Son's words: 'Many are called, but few are chosen.' It is the families who come to Sunday Mass that have enough faith to be saved. It is the children and grandchildren who need your prayers to keep the faith enough to be saved. There are prayer warriors in almost every family who pray the rosary. It is My faithful who need to pray constantly for your family members to be saved. If families do not know Me, and they ignore My love, there is very little chance to save them from hell, unless they wake up at My Warning. Without a faithful person, no one in that family will be prayed for, and they will be lost unless a miracle happens. This is why the parents have a special responsibility to help save their children and grandchildren. You can offer them up to Me, My Son, and the Blessed Mother to watch over their souls. You need to pray for your children and grandchildren every day that they will be saved from hell. Only a minority of the population will be saved. So keep praying for your family."
Saturday, February 16, 2019:
Jesus said: "My people, there are some people who say the first original sin was a 'happy fault' so God the Father would send Me to die for the reparation of your sins. I knew that man would weaken with the devil roaming the earth, so I have given you your own guardian angel to help you. I also have instituted My sacraments as your source of grace, especially Confession to purify your souls, and My Eucharist to heal the damage of your sins. I know you have a weakness to sin because of your fallen nature. But you can lift yourself up out of the filth of your sin, by seeking My forgiveness in Confession. It is important to stay close to Me in your daily prayers, and My sacraments of grace. I love all of you so much that I do not want to see your soul wasting in hell. Keep your eyes focused on Me, and give your will over to My Will, and you will be on the right path to My glory in heaven."
Jesus said: "My people, when you come to Mass, do not look to be entertained, but you come to give Me worship and praise. I died for your sins, so you need to seek My forgiveness, and give Me thanks for all that I do for you. I love all of you, and you need to show Me how you love Me in your prayers and sharing with your neighbor. You have the Beatitudes in the Gospel of St. Luke, and I am encouraging everyone to love Me, and I will take care of your needs. Those people, who are selfish and do not share, may have their possessions and comforts taken away from them. Give thanks to Me for what you have by sharing your prayers and donations with those people who are less fortunate than you. All of your good works will store up treasures for you in heaven."
Jesus said: "My people, I have talked to you before about a possible electric grid failure, and the consequences it could have on your society. Americans are so dependent on electricity that you do not realize how vulnerable you are for your survival. Most people do not store more than a week or two of food in their pantry. If trucks could not deliver food to your stores, or gasoline to your stations, many people could starve in a few months. If you do not have water or natural gas coming into your house, you could die of thirst or freezing in the winter. This is why My refuge builders have obtained water wells, dehydrated food, and some fuels for heating their houses. I have warned people to store one year's supply of dried foods for each family member. Unless you are supplied, you are risking starvation, if the grid goes down for any length of time. Start getting your food storage before it is too late. Trust in Me that I will multiply what My faithful have at My refuges for your survival."
Source: John Leary
Fr. Michel Rodrigue explaines The Events of the End Times
Do you want a quick overview of the end times? Then read "The great events of purification will begin this fall". If you want all the details of the unfolding events, then go to "Virtual Spiritual Retreat with Fr. Michel Rodrigue about the End Times".
The Pope's approval of homosexuality
Beware of the 'New World Order'
The Rosary is the weapon of these times
The truth about the Coronavirus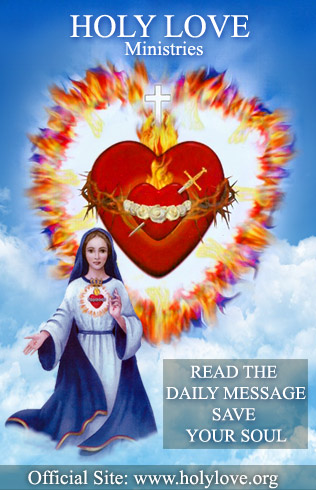 Read the daily messages
Catholics, we have entered the Pre-Tribulation, observe the Commandments, go to Confession; receive the Holy Eucharist; pray at least 3 Rosaries a day to keep your faith and save your loved ones. Prepare for the events that will devastate our planet: plagues, famine, WW3, cataclysms, antichrist's World Order