I have had My angels protecting your President
(Please read all from begin to end – From May 2 to May 20, 2019)
Thursday, May 2, 2019: (St. Athanasius)
Jesus said: "My people, you are seeing an uprising in Venezuela because the people have no food under a communist rule. There is an attempt to overthrow the current leader, but there are Russian planes present. The tank you saw in the vision, could indicate a coming war in this country. You are seeing communist movements in both Central and South America. Three million people have already left Venezuela because of the bad conditions. Even humanitarian aid is hard to get into this country because of the military regime. Pray for these people who are fighting for their freedom."
Prayer Group:
Jesus said: "My people, you saw your President enumerating the attack on the Jewish synagogue in California, and several other attacks on churches. He was standing up for your freedom to worship without threats from terrorists. He also spoke out in defense of all life, even the unborn. Your society is under attack on your basic freedoms, and evil people are behind these killings and shootings. Pray for the victims of these crimes."
Jesus said: "My people, the evil one is inspiring arson attacks on many churches in your country. You saw a recent huge fire that destroyed St. Joseph's Church in Phoenix, Arizona. You know this church because Fr. Michel Rodrigue offered Mass there with you. You also protested abortion with Fr. Michel at a Planned Parenthood clinic in Phoenix, Ar. It was a fire that was on May 1st the feast day of St. Joseph the worker, at this church of St. Joseph. I have mentioned how you will be seeing more attacks on the churches with fires and terrorist attacks with assault rifles. The church and synagogue attacks are going on all over the world."
Jesus said: "My people, you are reading several reports of the protests against the communist leader of Venezuela. The people have little or no food, and hard to find medicines. Many have left the country for survival. This leader is being backed by Russia, and he is mobilizing his military to put down the protests in the streets. Pray for these people because the military is even stopping humanitarian aid from entering the border."
Jesus said: "My people, you are seeing frequent tornadoes in the Midwest and the South that are a continuing punishment for your abortions. In Davenport, Iowa along the Mississippi River, floods are coming into the city. You are seeing even late snow events out West. Your weather has been colder for this time of year, and the trees and flowers are late to come out. Again, pray for the victims of your bad weather and floods."
Jesus said: "My people, now that the Mueller Report did not find collusion with Russia or obstruction against your President, the opposition party is trying to attack your Attorney General. If he pursues an investigation of the FBI leaks and misdeeds, there could be a reverse accusation against the political people who made attempts to unseat your President. The degree of hate among the opposition party and your media has not ever been so long lasting as this attempt to impeach your President. I have had My angels protecting your President from all the attempts to kill him. He has been given some time to stop your takeover, but eventually you will be taken over as further punishment for your abortions."
Jesus said: "My people, you are seeing a liberal control of your colleges, schools, and history books. This is part of a communist movement to rid Me and prayer out of your schools. The teachers are espousing socialism as the only choice for their students. They also are encouraging atheism as they brainwash their students. These same socialists are trying to take over your churches with a global religion without Me. There are also attacks against the family in encouraging homosexual marriages and other sinful perversions in your movies and your politically correct behavior against My Commandments and promotion of abortion. Your society is being broken down by attacks on the family, the church, and your government. Your country was founded on My precepts, and America needs to repent and come back to Me, so I can forgive you of your sins."
Jesus said: "My people, you can come to Me in trust for My help to battle the heretics and paganism in your secular society. Many people have lost their faith, and they need to see the errors in their ways. I will be bringing My Warning to give all sinners a chance to see their errors, and I will give each of you an opportunity to turn your lives around from the evil in your hands. You will have a life review and a judgment that will wake up some sinners when they see hell and purgatory waiting for them. Change your life now in following My Commandments, and you will have less suffering at your Warning. There are only two final destinations: love with Me in heaven, or hate with the devil in hell for all eternity."
Friday, May 3, 2019: (St. Philip and St. James)
Jesus said: "My people, today you are celebrating the feast day of My two apostles, St. Philip and St. James. They were martyred for spreading their faith in Me. Pray for all the Christians who are being persecuted and even killed for their faith in Me. This vision of two moving circles around Me, is a sign of My coming Warning, but it is also emphasizing there are only two final choices for your soul's destination. You have free will to choose to be with your loving Lord in heaven, or you can choose to be with Satan in the flames of hell. Do not be misled by the worldly things and the devil because this world is passing away. My Warning will give all sinners one last chance to see their soul's destination, and a chance to change their lives in getting close to My love. Those people, who refuse to love Me after the Warning, will be passing up My last attempt to save their souls. Pray for the souls of your family that they will all be saved by your assisting prayers, especially during the six weeks of conversion."
Jesus said: "My people, you were experiencing some beautiful faith music, and you heard a great witness of faith from a Steubenville man named John. He talked of how he had to go through his wife's trial with breast cancer that she survived. He also was tested with his son's near fatal car accident where his head was healed by prayer. It is important that you all come to Me in full trust, and give everything over to Me. Would you trust in Me if you lost all of your money? If you lost your spouse? If you lost your son or daughter? If you lost your home? In all that I have given you, I can take it away, and you still need to trust in Me. When you surrender your will to Me, then you will walk with Me through life in faith. This is how your faith is perfected by suffering through all of life's trials. Witness your faith to others, and do not be troubled by worries, anxieties, or fears because the devil tests you with these things. Trust in Me always."
Saturday, May 4, 2019:
Jesus said: "My people, you are still celebrating My Resurrection from the dead, as you know there is an after life, because your soul is immortal and lives on forever. It is the destination of your soul that is most important. This is why every Lent gives you a chance to use your fasting and offering up your penances to improve your spiritual life. You will face My Warning and the tribulation before you see My Era of Peace. But all of My faithful can look forward to sharing My love on the last day, and you will have your own resurrection when your soul will be united with your glorious body. Then you will be whole again to love Me with all My angels and saints. Pray for your priests and deacons who bring you My sacraments and My words of the Gospel."
Jesus said: "My people, the people of Venezuela are starving for food, but that government is keeping food from coming into their borders. Many of the people have left the country for pure survival reasons. The socialists in America do not want to hear about the failures of socialism in Venezuela. When you were there years ago, you could see open signs of communism with Lenin's picture all over. There is no question that this is a communist run country, and this is why the people are protesting and fighting for their freedom. America needs to see this lesson of what happens when socialists take over a country. In a word there are no more freedoms. Pray for these people who are finding it hard to obtain food."
Sunday, May 5, 2019:
Jesus said: "My people, in today's Gospel I appeared to My apostles for the third time. I encouraged them to cast their net out for a catch, and they caught 153 large fish, which is a sign of how they would be fishers of men and women in all the nations. After they had breakfast of the bread and fish, this was another sign of how I multiplied the bread and fish for the 5,000 and the 4,000 people. I then talked to St. Peter, and I asked him three times if he loved Me. St. Peter said 'yes' that he loved Me, and I told him to feed My lambs. This was to atone for the three times that St. Peter denied Me. I forgave him, but now I wanted him to spread My Good News. This forgiveness is like when you come to Confession, and I absolve you through the priest, and you receive a penance to tell Me how you love Me also. It is important that you come to Confession often, at least once a month. Even if you only have venial sins to confess, you need to cleanse your souls. Especially, if you have mortal sin on your soul, you need to come immediately. The more you remain in your sin, the weaker you will be to sin more. Do not forget Confession because My grace keeps you close to Me in love, even if you falter. Encourage all the faithful people to come to Confession. It is needed for your salvation, and to receive Me worthily in Holy Communion."
Jesus said: "My people, when I was on the shore of Lake Tiberias, the apostles did not recognize Me in My resurrected Body at first. After I asked them to cast the net to the right side for a catch, they were able to catch 153 large fish. It was then that St. John recognized Me, and he called out: 'It is the Lord.' My apostles were overjoyed to see Me for the third time. Just as My apostles were elated to see Me, today you all were able to see Me as well when your priest raised the consecrated Host. Every time you receive My Host, you are overjoyed to receive My Real Presence. For a short time you are all like little tabernacles. You can also come to Me in Adoration at My tabernacle, so you can be overwhelmed in My Real Presence. You can understand how My apostles were so happy to be with Me, especially after My Resurrection. At the Mass I have given you the gift of My Real Presence that you can treasure to the end of time. Give praise and thanks to Me for being with you in My Eucharist."
Monday, May 6, 2019:
Jesus said: "My people, in the first reading you read how St. Stephen was winning the debates against his peers because he spoke the truth about Me. Because these evil ones hated St. Stephen, and they wanted to get rid of him, they brought false witnesses against him with their lies before the Sanhedrin. Eventually, they stoned him when he saw a vision in heaven. These are the same tactics of lies that you are seeing today in your own politics. You saw an innocent Bret Kavanaugh persecuted by unconfirmed lies from a woman who complained about Bret, only to try and stop his Supreme Court confirmation. Once her story could not be confirmed, her lies were found out, and Bret was confirmed by the Senate. You are also seeing more lies in the Mueller Report that was falsely brought against your President, who was harassed for speaking the truth. Those people, who lie and support abortion, will pay for their crimes against My laws. When the opposition party could not win an argument of truth with your President, they resorted to lies and false allegations to try and impeach your President. Lies and deceit are the tools of the devil, and I have protected your President from this evil lot, who are trying to take over your country. I love all of My people, but you will soon have to bear the cross of the coming tribulation. This will be a test of your faith, but I will protect My people at My refuges."
Tuesday, May 7, 2019:
Jesus said: "My people, in the first reading St. Stephen called the elders a stiff-necked people. He also accused them of being like their ancestors, who persecuted and killed the prophets, who were preparing the people for the Messiah. In today's world My prophets of the coming tribulation, are also being persecuted because the people do not want to hear about the end times. You, My son, have also been criticized, and some do not let you speak, especially in the churches. Some people do not want to hear about the trials the Antichrist will bring upon you. The evil people will be separated from My faithful people at My refuges. Then I will bring My victory over the evil ones, who will be killed and cast into hell."
Jesus said: "My son, you have accepted My mission to go out speaking My messages to the people in various cities. I gave My apostles a mission to spread My Good News to all the nations. You have given Me your 'yes' to follow in their footsteps. Over the years you have met many friends all over your country. You are sharing your contacts with Fr. Michel Rodrigue, and it is helping his donations for his monastery. You both have a sense that serious events could precipitate another war abroad or some financial disasters. I have told you how your Christian persecution will be getting worse, and this could include arson or terrorist attacks on your churches. This year you need to call on My angels for your protection as you go out to speak My messages. This is in addition to praying your long form of the St. Michael prayer going and coming home."
Wednesday, May 8, 2019:
Jesus said: "My people, I am the Bread of Life, and I am also the Light of the world that shows you the path of your life. My Light replaces the darkness of evil, and I am your source of spiritual energy that urges you to share My Good News with every one. You are My Easter people, and the glorious Light of My Resurrection shines over all of My people. When you see a sunny day, your spirits are lifted up. When you receive My Real Presence in Holy Communion, your soul is invigorated, because you have the Bread of Life uplifting you in your spiritual life. You eat food for your physical energy, but you take My Bread of Life to feed your soul and give you spiritual energy. My consecrated Host can even feed you physically, as some saints have lived solely on Holy Communion. Give thanks and praise to Me for feeding your soul at every Mass. This is what attracts My daily Mass people to be with Me every day, and to bring in My rays of Light at Adoration of My consecrated Host."
Thursday, May 9, 2019:
Jesus said: "My people, an Ethiopian eunuch was a treasurer for the Queen, and he was returning home from Jerusalem. He was reading in Isaiah about a sheep led to the slaughter, which referred to Me dying on the cross. The Spirit of God urged St. Philip to go up to the Ethiopian's carriage. St. Philip explained the Scriptures to him, and then he baptized the Ethiopian into the faith. Then St. Philip disappeared like a miracle. My apostles were given many gifts of the Spirit so they could carry on their mission to spread My Good News. The apostles performed many miracles to help the people believe in My Word. All of My prophets and missionaries are gifted with miracles and talents to help evangelize souls. Pray for your priests, prophets, and missionaries so they will be protected for their missions to the people."
Prayer Group:
Jesus said: "My people, your President is challenging China to change their trade positions which are unfair. China has been stealing secret technology for their industries, and they are unfairly restricting the US imports. China is trying to change the original trade plans. Your President is threatening to increase a 10% tariff to 25% on $200 billion of imports to the US, and this could start tomorrow. China has been stalling in hopes of having a new President in 2020. Pray that your trade deal can be accomplished that is fair to both sides."
Jesus said: "My people, many people have backup generators that are run on natural gas in case you have a power outage. This choice works unless your natural gas pumps stop working. I have advised My refuge builders to have at least two alternative heaters for keeping you warm in the winter. During the tribulation you could have a wood fireplace with plenty of wood available. You could also have kerosene heaters, propane heaters, or solar panels if natural gas is available. Be prepared to be able to heat your home several years when I multiply your fuels."
Jesus said: "My people, as you approach the time of the Antichrist, you are seeing why I am calling you to set up refuges for your physical and spiritual protection. My angels will lead you to My refuges when your lives are in danger, and I call you to come. My angels will also put shields around you so the evil ones cannot see you. I will provide for your water, food, and fuels at My refuges. Be prepared to leave your house in a short time for the refuges."
Jesus said: "My people, you have seen the shelves of your stores go empty when you have hurricanes or massive fires. You also can have a possible famine if your farmers cannot get their crops planted. You are seeing tornadoes and floods already on your news. In addition to having a safe place to hide from a tornado, you also have been advised to have one year's supply of food for each member of your household. When you come to My refuges, your refuge builders have already prepared themselves to have food, water, and fuels for a while. By having extra food, you will be ready for most disasters."
Jesus said: "My people, you know about water, food, and fuels that will be needed for survival at My refuges. My refuge builders also need to have altars for a Mass, or a place for perpetual Adoration. During the tribulation, you will have a priest or My angels bring you daily Holy Communion. You can place a consecrated Host into your monstrance for perpetual Adoration. You should have someone praying in front of My Host around the clock at various hours day and night. My Eucharist will protect you during the tribulation."
Jesus said: "My people, some people have guns in their houses for protection. You also should have your weapons of rosaries, holy water, and blessed salt in your homes to protect you from the forces of evil. You remember the attack of the flies on your chapel, and you used holy water, and your St. Michael prayer to defend yourselves from the evil ones. The spiritual weapons are more powerful in fighting off the demons and evil people. Rejoice that you will be protected by My angels at My refuges."
Jesus said: "My people, you are seeing a division in your people between the capitalists and the socialist communists. With capitalism you have a free market provide for your needs and there is a personal incentive to provide for your family's survival. With socialism or communism, you have the state or the government provide for your needs, but you can see how life is in Venezuela, Cuba, China, and Russia. You also lose your freedoms under communism that promotes atheism and no freedom to worship Me. Pray for your people to protect your Constitutional freedoms, and do not let Satan run your country."
Friday, May 10, 2019: (St. Damien)
Jesus said: "My people, the conversion of St. Paul was a miracle, as I spoke to him directly. I asked him: 'Why are you persecuting Me?' Saul was having the Christians imprisoned, but now he would become Paul, and become one of My great missionaries for the faith. I asked Ananias to heal St. Paul's blindness. Then St. Paul was baptized into the faith. Not all conversions are so dramatic, but this shows My power to change someone's life all around. When you believe in My Word, I can work great miracles in your lives. In the Gospel of St. John, I told the people if they did not eat My Body and drink My Blood, they could not have eternal life with Me. When you receive Holy Communion without mortal sin, you will have eternal life with Me in heaven. My Eucharistic Presence will strengthen your spiritual life as I helped St. Paul."
Jesus said: "My people, there are some people who are in favor of legalizing recreational marijuana, which is what your governor is in favor of. There are others who think marijuana will harm people's brains, and people could get addicted to it. It also could increase car accidents, as it has happened in states where it is legal. It would be better to have legalization of marijuana voted on as a proposition, than pass it as legislation. It is sad that some states have legalized marijuana just for the tax income, but it is ruining many lives. Keep praying that it is not approved in your state."
Saturday, May 11, 2019: (4:00 p.m. Mass)
Jesus said: "My son, you remember well back in 1949 when you received your First Holy Communion at this church. This was your first visit with Me in your soul. Ever since you were 17, you have been a daily Holy Communicant. As you saw a young boy and a young girl receive their First Holy Communion, you admired their new young faith. The pastor gave them both a rosary with the intention to teach them how to pray the rosary. In St. John's sixth chapter of his Gospel, you read again how I told the people: (John 6:51) 'He who eats My flesh and drinks My Blood has life everlasting, and I will raise him up on the last day.'"
Jesus said: "My son, as you are seeing this rotating circle of events, you are reminded of the coming Warning with its life review. I also told you as you see more messages on the Warning, this will be a sign that the Warning is near. Now, I am telling you that you will be receiving more messages about the Warning, because it is indeed close to happening. The best preparation for the Warning is coming to frequent Confession. You also can minimize the severity of the Warning by what you did for your Divine Mercy Novena when you received your plenary indulgence. This cleansed the reparation due for your sins. After the Warning and even now, you need to keep praying to help save your family members who are away from Me. During the six weeks of conversion, you will be praying hard to convert the family members who need to have the faith so they can receive a cross on their foreheads."
Sunday, May 12, 2019: (Mother's Day)
The Blessed Mother said: "My dear children, today is an extra joyful occasion as I am your Blessed Mother, and I am sharing this with all mothers in my month of May crowning. I love all of you so much, and my Son, Jesus and I have our two hearts joined together as the picture in your room. You have another picture of me holding the baby Jesus and a lamb. Your priest was speaking of my Son as the Good Shepherd who is also watching over all of you. It was a nice touch to give roses out to all the mothers after Mass, which was from your Right to Life group. You want all mothers to have their children, instead of aborting them. Babies are God's gifts of life, and they are too precious to kill or discard. Keep praying your intention to stop abortions, because abortions are very offensive to my Son, Jesus."
Monday, May 13, 2019: (Our Lady of Fatima)
The Blessed Mother said: "My son, I am coming to you to celebrate my feast of Fatima, Portugal where I appeared to the three children. You have been to Fatima in 1987 when they celebrated the 70th Anniversary of my appearance with the miracle of the sun in 1917. You are a member of my Blue Army for many years, and your prayer group started as a Blue Army cell for 47 years. I thank you for carrying on with your prayer group and your Adoration of my Son every week. You also have been praying your three rosaries every day. By staying close to me and my Son in your persistent prayer, you have kept your gifts of the Holy Spirit. We have helped you with both of your missions to share my Son's messages and build your refuge. I also thank all of your prayer group for being faithful to your prayers and Adoration of my Son. Your world needs lots of prayer, and there are only a few dedicated prayer warriors left."
Jesus said: "My people, your President was seeking a trade deal with China to try and obtain a fair trading field. You have a large trade deficit with China's imports, and they have been cheating you in many ways over the years. It will be hard to get a fair trade deal while China continues to spy on your companies and discourages buying your goods. China has also been stalling for time, waiting for another President to take office. Both countries have increased their tariffs on each other's imports. This is what caused a big sell off in your stock market. There is a possible increase in prices that could raise inflation with higher tariffs. Pray for fair trade between your countries, or you could see a more aggressive trade war."
Tuesday, May 14, 2019: (St. Matthias)
Jesus said: "My people, there was an obligation to find someone to replace Judas, who betrayed Me. That person had to be someone who was with Me through My three years of public ministry. So the apostles proposed Justus and Matthias, and they called on the Holy Spirit to choose between them. When they cast lots, the vote chose Matthias to replace Judas. Now, there was twelve apostles again, so they could go out two by two to spread My Good News to all the nations. In the Gospel I told My apostles to love one another as I have loved them. If people follow My Commandments of love, then they will show their love in their actions."
Jesus said: "My people, you have seen several oil tankers with large holes from sabotage explosions. You also saw how drones were damaging Saudi Arabian pipelines with bombs. There are signs and even threats to your allies in the Middle East. All of these incidents have caused your President to send an aircraft carrier task force, Patriot missiles, and many soldiers to the region around Iran. Even B-52 bombers were sent to the area. With so many assets in close proximity to Iran, there is a possibility of a war that could be started with any miscalculation. Russia and other countries could be involved to back Iran, which could cause a broader war possibility. The large bowl of oil in the vision is connected to all the oil that is shipped out of the Persian Gulf. You all need to pray a novena that war does not break out in this region."
Wednesday, May 15, 2019:
Jesus said: "My son, you are seeing one portal to hell and there are others all over the earth. Demons can enter and come out of these portals when I allow it. I am showing you hell in the bowels of the earth. Many souls are falling into these eternal flames because they have chosen to reject My love. All souls are given many opportunities to love Me and reject Satan. There are souls who refuse to love Me, and refuse to seek My forgiveness of their sins. These souls have chosen hell of their own free will. It is My justice that they will suffer these flames forever. This is why I am asking My prayer warriors to pray for the souls of all of your family members, even those members who do not pray, nor come to Sunday Mass. It is by your persistent prayers that you could help save your family members from being judged to hell. I love all of you, but it is by your own free will that you choose your eternal destination."
Thursday, May 16, 2019:
Jesus said: "My people, I have told you in past messages that you are going to see more persecution of Christians, and more churches will be destroyed. You have been seeing more incidents of shooting people in synagogues, churches, and schools. You have also seen more churches being burned by arson. This is the goal of Satan and those people who hate the Catholic Church. This destruction and persecution will continue to worsen. Those people, who kill people and destroy churches, need to be brought to justice. Keep praying for your protection at your churches. A time will come when your lives will be in danger, and you will be called to My refuges for your safety. When you feel threatened, you can call on Me, and I will send My angels to protect you."
Friday, May 17, 2019:
Jesus said: "My people, today's Gospel is read at many funeral Masses. Dying is a part of your life, and it is a consequence of Adam's original sin. I have told you how I am going to prepare a place for all of you. In heaven there are many mansions. Some people see these mansions as a sign of the many years of your good works and faithfulness to Me. I told My apostles how I will come on their day of death, and I will take them to Myself at their judgment. You have only two final destinations, either heaven or hell. Many souls will need to be purified in purgatory before they are worthy of entering heaven. Those people, who desire to come to heaven, need to repent of their sins, and seek My forgiveness, as in Confession. By obeying My Commandments and doing good works for your neighbor, you can witness your love for Me and your neighbor as yourself. When St. Thomas asked Me where I was going, I told him he would have to come to Me, because I am the Way, the Life, and Truth. Now, My followers need to go out to all the nations and preach My Good News of My Resurrection. All of My faithful will be resurrected with Me on the last day."
Jesus said: "My people, you have reason to be alarmed at the opposition party's new Equality bill that they passed in the House of Representatives. This would essentially take away your freedom of speech, your freedom of religion, and the ability to exercise your right to refuse anything that violates your religious beliefs. The liberal establishment is trying to dictate what you can do according to their rules. Many of these provisions violate existing laws according to your Constitution. It is doubtful such a bill would pass the Senate, nor your President's veto. Even still, you are looking at your future, once the liberals control your government. Beware of the manipulation of your voting machines, and all the illegal immigrants who are voting illegally. This is how the deep state will take over your government. Be patient through the coming tribulation, because in the end the evil ones will go to hell, and My faithful will go to My Era of Peace and then to heaven."
Saturday, May 18, 2019:
Jesus said: "My son, in your practice refuge runs, you had your prayer group people, who you know and were acquainted with the foods you prepared. During the tribulation time, I will be sending you strangers who may have different customs and different food preferences. They will need to accept what you have for your stored food, bedding, and washing of your bodies. Washing clothes could be difficult without enough electricity to run your washer and dryer. I will multiply your food and water. My angels will make more buildings if needed, and they will multiply your fuels for heating and cooking. Be prepared to assign jobs for people with the needed skills for cooking food, washing clothes, and heating and cooling when needed. Remember that everyone will need to pray certain hours of the day in adoring My Eucharist. If you have a priest and the bread and wine, you can have Mass and Holy Communion every day. If you do not have a priest, My angels will provide daily Holy Communion. Call on Me and My angels to help you with your needs. Have patience and calm the people down with your counseling people."
Jesus said: "My people, in today's world you see many people striving to be first in everything from money to how many possessions they can obtain. This is all based on pride that the devil tricks people into for striving for things that will pass away. People would be better off striving for heavenly things that show your love for Me and your neighbor. At the end of this life, all of your things remain behind, but you have heavenly treasure stored that will last forever. So focus more on doing things to gain heaven, because this is your greatest desire which is to be loving Me in heaven forever. Your next desire it to offer up prayers to help save the souls of all of your family members."
Sunday, May 19, 2019:
Jesus said: "My people, a time will come when all of My faithful people will die, and they will graduate from this life. You are seeing all of the faithful people dressed in their caps and gowns, but most people leave this world in a casket or are cremated. When you come to your judgment, you will be tested on your school of life. Those people, who are on the spiritual honor roll, will be welcomed into heaven. Those faithful people, who need some purification, will face some time in purgatory. Those people, who did not love Me, nor their neighbors, are the souls who failed their school of life, and they will not graduate to heaven. These life failures have chosen the flames of hell by their bad actions in life. So it is important for people to do your life assignments of showing Me love in your prayers, and good deeds in order to pass your final exams. I love all of you and I do not want people to fail in loving Me and your neighbors as yourselves."
Monday, May 20, 2019: (St. Bernadine of Sienna)
Jesus said: "My son, you read in the Acts of the Apostles that it became dangerous in some places for St. Paul and St. Barnabus to proclaim My Good News. They avoided going to Iconium when they realized that they could get stoned by the people there. In a recent message I warned you that you may have to pray novenas for your talks because it will be harder for people to accept My messages. You have had some rejections in some of your venues, so you will have to be more careful where you choose to talk. For now you have not faced physical abuse, but as you approach the tribulation time, you could see more disagreements over My messages. Pray for My angel protection when you could face physical harm. Eventually, you may have to stay at your refuge for your safety."
Source: John Leary
Fr. Michel Rodrigue explaines The Events of the End Times
Do you want a quick overview of the end times? Then read "The great events of purification will begin this fall". If you want all the details of the unfolding events, then go to "Virtual Spiritual Retreat with Fr. Michel Rodrigue about the End Times".
The Pope's approval of homosexuality
Beware of the 'New World Order'
The Rosary is the weapon of these times
The truth about the Coronavirus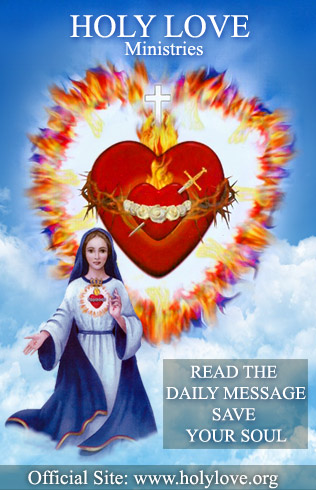 Read the daily messages
Catholics, we have entered the Pre-Tribulation, observe the Commandments, go to Confession; receive the Holy Eucharist; pray at least 3 Rosaries a day to keep your faith and save your loved ones. Prepare for the events that will devastate our planet: plagues, famine, WW3, cataclysms, antichrist's World Order