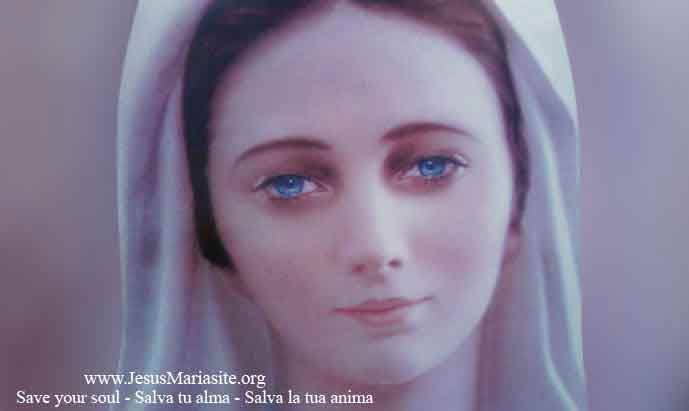 I Defend You
Maria says: (Maria Mother and Teacher, Vol. 1) "My dear children, here I am to give you consolation: I am your Mother whom you love so much.
Every time that injustices occur among you and you do not know how to face them, you take on, as your defenders before the law and society, lawyers who, knowing the law perfectly, are capable of defending you efficaciously, avoiding for you consequences often also grave.
What lawyers do for their fellow citizens, I, Mother of God and men, do in defense of each one of you.
You are miserable and weak and, often, you find yourselves ensnared by evil, you fall and do not know how to get up.
I intervene straight away and I put out my hand to the needy, I defend you in all your needs and from all the dangers and I distance every evil that surrounds you.
When you find yourselves in difficulties and slander is making headway beside you, I, as your advocate, intervene and bring the truth to the surface, even if I permit temporarily at times that you suffer from those calumnies, so that they become for you means of ' sanctification and expiation. I do not permit however, for this heavy cross to go beyond the limits and I bring back love and I give back what is dear to everyone, sometimes, more than life itself.
I am the defence, the advocate, the salvation, the hope of the miserable.
When a devout soul of mine is presented to the Supreme Judge, I, just as in the last hour I employed all my power to lead it to safety, so before Him I interpose all the efficacy of my mercy.
The cases that men defend can be more or less just, and they can go to a happy or sad end; but when your heavenly Advocate defends you, do not doubt that all will go to a good end.
Only one thing I need: that you with all sincerity tell me about your miseries. I know your faults, but the humility with which you come to confide to me sincerely your wrongdoing, gives me so much strength to defend you and puts me like a divine captain at the head of those heavenly hosts who, being charged to keep an eye on you, must render even to God a severe account of your doings.
I direct and I command, I intercede and I obtain mercy and compassion.
It is for all men that I carry out this mission of mine, but in a special way for those who love me and who, my devotees, make the effort to imitate my virtues. Invoke me for yourselves, for your children and for all men of earth. Never forget that, in order to be defended by me, one must not present oneself before God saying that one is without sin; since even the Pharisee said so and was condemned. One needs to acknowledge one's own sins, one's weakness and say: "Mary, our Advocate, defend us!"
Your supplications are not voices that sound in the dark.
Mothers, know that beside your children, who sometimes accuse you, I am there, who at the right time will make known to them your goodness and your innocence.
Spouses, I am with you when you are calumniated. Calumnies are foiled by the Mother who sees all. Be faithful and good and everything shall come to the surface like oil on water.
Children, I bless you."
The thoughts, the reflections and the meditations in this booklet, were inspired by Our Mother Maria, Mother of Jesus, to Carmela Negri Carabelli. They are, however, addressed to all those souls, who, desirous to love the Lord, seek to put into practice his teachings and to live the Christian life more perfectly. May Jesus bless these pages and those who read them with the desire to improve themselves, granting the help of his grace.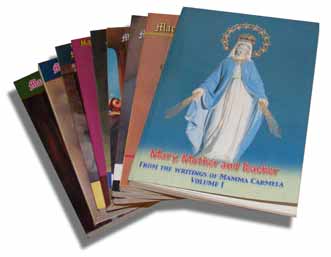 For more information about these magnificent teachings, for any spiritual assistance you may need or to participate and spread throughout the world the cenacles of prayer and the apostolate of the Divine Mercy, please contact:
"CENACOLO DELLA DIVINA MISERICORDIA",
Viale Lunigiana 30, 20125 Milano, Italy
Nihil Obstat: Reverend Gerard Diamond MA (Oxon), LSS,
D. Theol, Diocesan Censor
Imprimatur: Rev. Monsignor Les Tomlinson, Vicar General
Date: 20th July 2007
The Nihil Obstat and Imprimatur are official declarations that a book or pamphlet is free of doctrinal or moral error. No implication is contained therein that those who have granted the Nihil Obstat and Imprimatur agree with the contents, opinions or statements expressed. They do not necessarily signify that the work is approved as a basic text for catechetical instruction.
Catholic Archdiocese of Melbourne